10.28.2014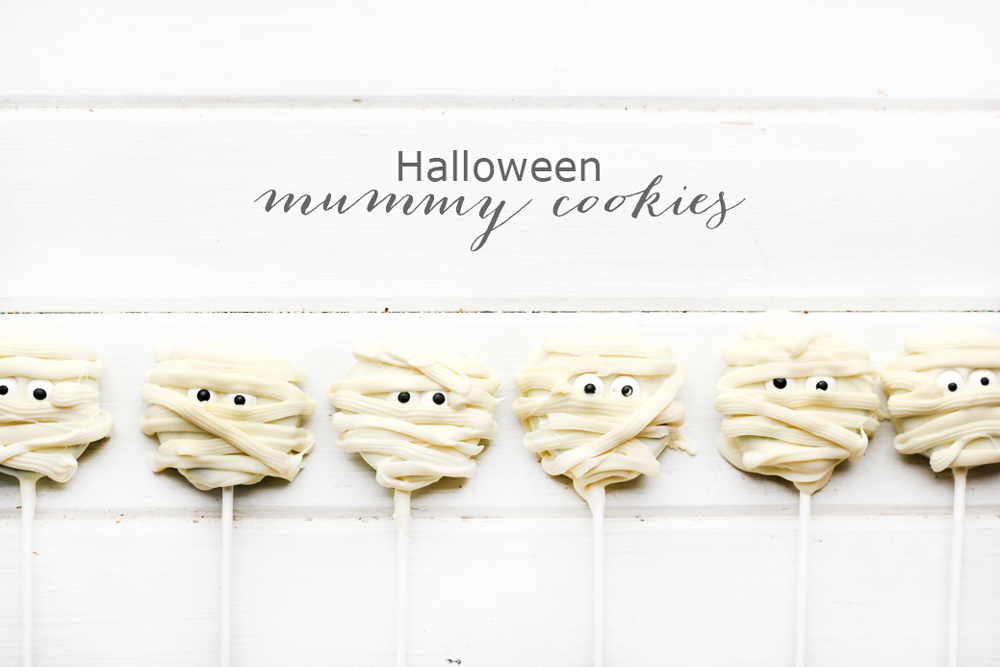 We are back in the kitchen to continue celebrating our week of Halloween! Because we live in the country, we seldom get any trick or treaters at our house. Last year was Olive's first Halloween, so I felt the urge to get into the Halloween tradition – and that included handing out treats. We made candy apples and delivered them to all of her friends the night before Halloween so we could show off her Olive's 'olive' costume because we knew how busy they would all be the next night. This year we decided to do the same thing. As many of you know, I love handmade – and that also goes for handmade Halloween treats. This year we kept our tradition alive by making Halloween Mummy Cookies! You guys, they are so simple to make… and there is no baking required! We are going to pair these with our bat toys and hand them out at daycare this week. I think I'm going to have a hard time prying these away from Daddy! Let me know if you make these Halloween Mummy Cookies! Share them with #27thandolivecreates!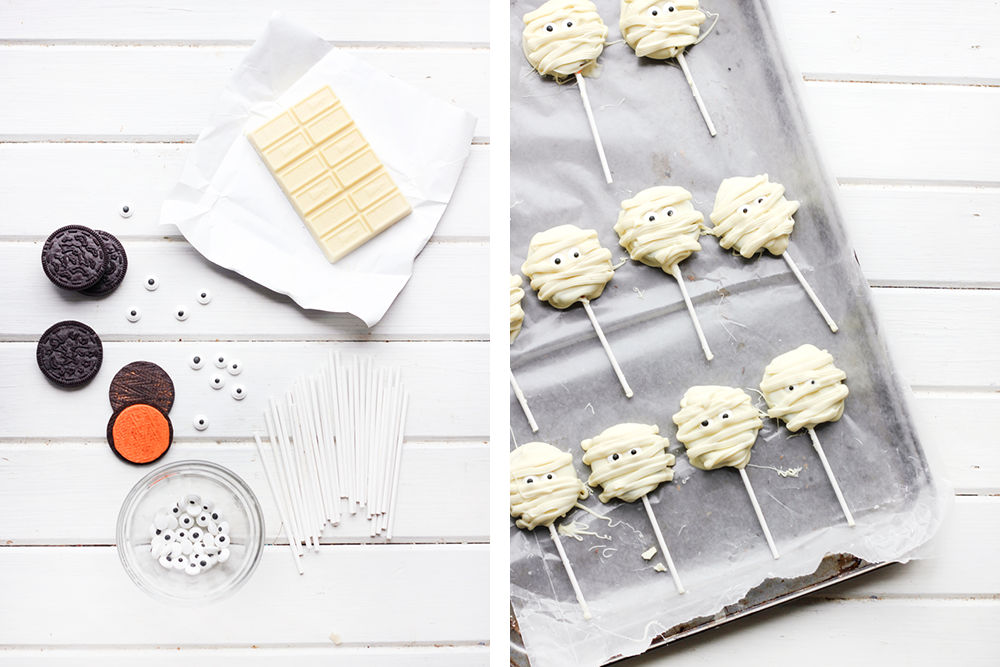 Halloween Mummy Cookies
2014-10-22 08:09:21
1 package of Oreo Cookies
1 package of White Chocolate Melting Chocolate
Sucker Sticks
Candy Goggly Eyes or Chocolate Chips
Wax Paper
Line a cookie sheet with wax paper and set aside.
Melt the white chocolate in a shallow microwave-safe bowl in 30 second increments. Stir after each 30 seconds until the chocolate is completely melted. (Make sure the chocolate does not start to cook)!
While the chocolate is melting, lie out your Oreo cookies and remove the tops from each.
Using the melted chocolate, dip one end of the sucker stick in the bowl and gently press the chocolate coated stick into the frosting centre of the Oreo. Be generous with the chocolate to ensure the Oreo sticks back together.
Gently push cookie back together and let dry for a few moments. I let mine harden in the fridge.
Ensuring the chocolate is still melted, dip both sides of the cookie into the white chocolate. Make sure it is completely covered, and then let rest on the wax paper.
Immediately place the goggly eyes (or chocolate chips). Let the cookie pop cool completely. I let mine harden in the fridge.
Place remaining white chocolate in a pipping bag or plastic bag with the end cut off. I used a ribbon tip to make wider strips. Drizzle white chocolate lines across the cookie, partially covering your eyes to create the Mummy look.
Tip: make sure to melt your chocolate in a shallow bowl. This will make for easier dipping!
27th and Olive http://www.27thandolive.com/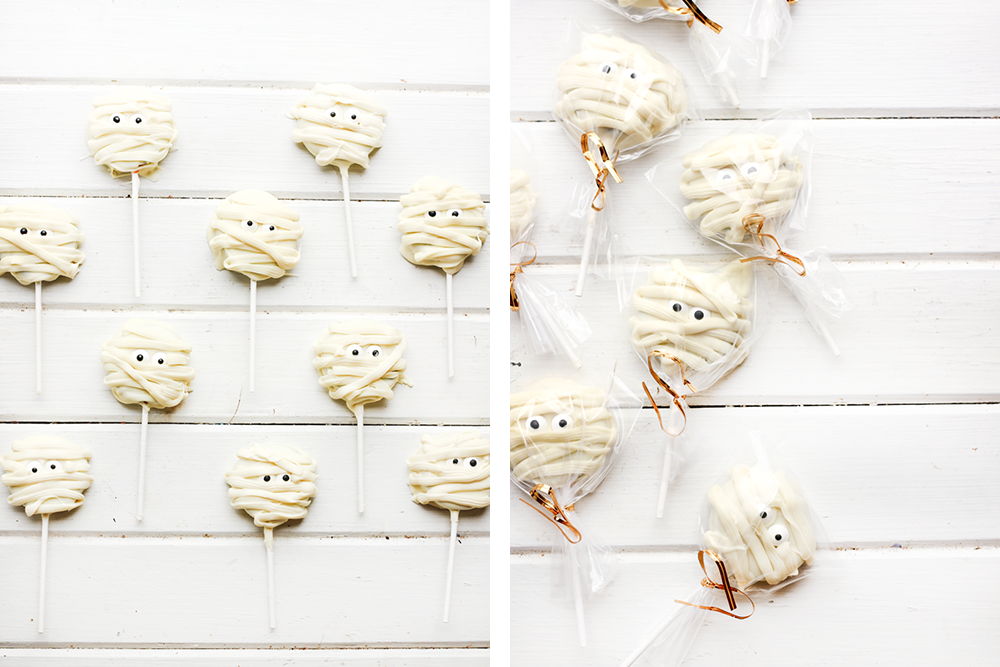 10.27.2014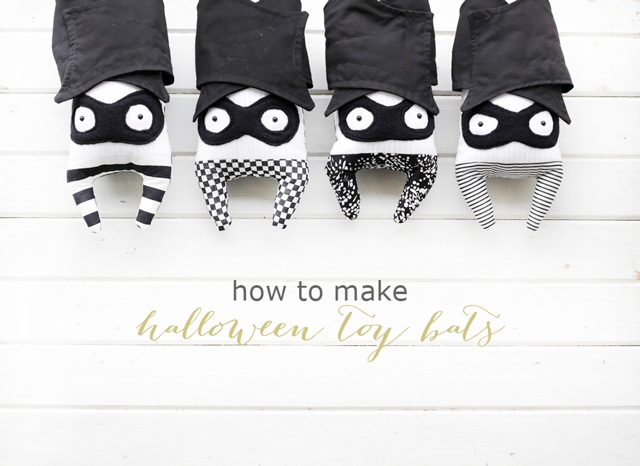 Its Halloween week, and I've never been more excited! Lately I have noticed that my sewing machine is getting a work out. There are weeks where I sew constantly, and then there are weeks where my machines get the rest they deserve. There is something so satisfying about taking an average piece of fabric and turning it into something beautiful. In the last week I have been busy working on Olive's Halloween Costume as well as these little guys for Olive's daycare friends. The older I get, the more spirited I am becoming about different holidays. I've always been a Christmas nut, but now that Olive is here, I can honestly say I'm so excited for Halloween. Today I wanted to share
Continue Reading…
10.24.2014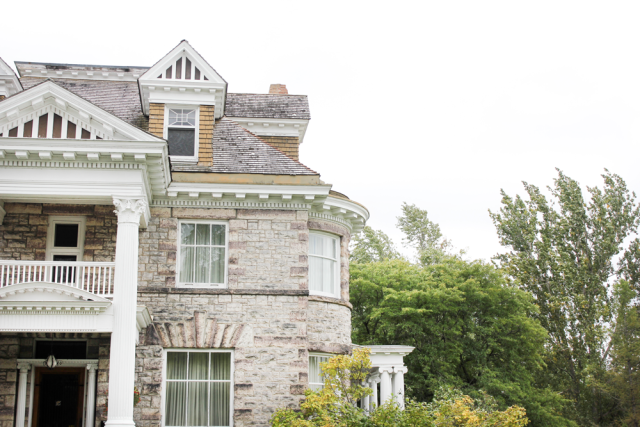 I wear many different hats. Wife, Momma, Baker, Coach, Creator and Engineer. I think the last 'hat' is the one I worked the hardest to become. I am proud to say that I am a civil engineer. It was such a huge accomplishment when I finally received my Iron Ring alongside all my friends. The road was hard, but we did it. After we graduated, we all went on different paths… Some went out west to work in the oil fields and on railroad bridges, some stayed in the east coast working for structural and geotechnical firms, and others headed back to school to earn that elusive Masters degree. For me, the decision brought me home, and on a path that many wouldn't
Continue Reading…
10.22.2014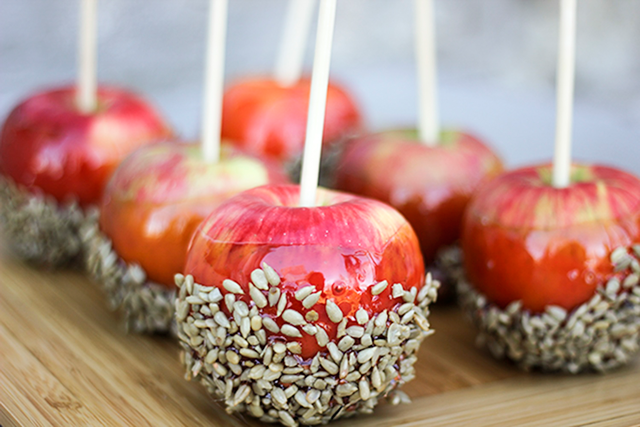 Last year I made my first ever Candy Apple. I can probably count the number of candy apples I have had in my lifetime… It isn't many, but for some reason when I think of Halloween, I think of these! We made a dozen or so, and delivered them to all of Olive's little friends (the ones who had teeth and could eat them)! This year we plan to do the same. If you have been following me for a little while, you will know that traditions are so important to me, and now that we have our own little family, it is time to start our own traditions. The recipe I've included below is the one we used last
Continue Reading…
10.20.2014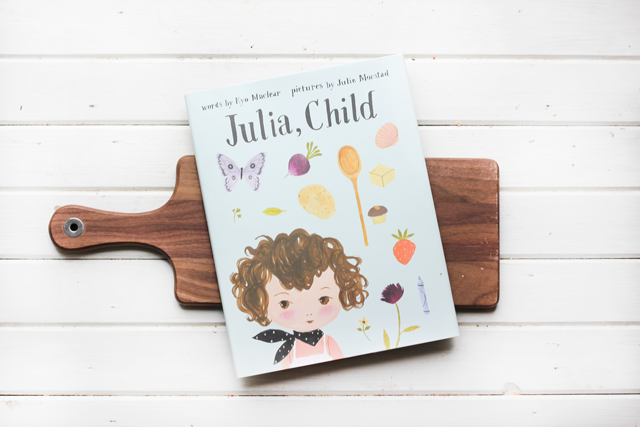 Okay. I have to admit that I totally purchased this book for myself and not Olive, but who could resist a quirky book that plays on the life of one of my butter-loving idols? This great book is not only a book about the joy of cooking, but the wonder of childhood, and, like the best cooking, is meant to be savoured. Author and Illustrator Julie Morstad and Kyo Maclear are genius! Julia and Simca are two young friends who agree that you can never use too much butter, and that it is best to be a child forever. Sharing a love of cooking and having no wish to turn into big, busy people who worry too much and dawdle too little,
Continue Reading…
10.17.2014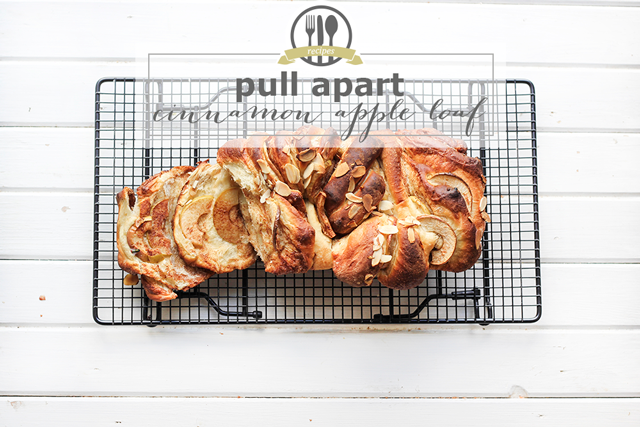 If you have been following me on Instagram, you will know that I have a place in my heart for a good loaf of bread, especially of the cinnamon persuasion. A few short weeks ago Olive and I went on an apple picking adventure, and ever since our kitchen has delightfully smelled of apples and cinnamon. Not a bad problem to have, in my opinion! We are in full swing of continuing to celebrate all that is fall. Our kitchen has been full of apple pies, apple-squash soup, apple tarts, candy apples – you name it. Discovering the simple pleasures this amazing ingredient adds has been heavenly. This past week I decided to make an apple cinnamon pull apart loaf.
Continue Reading…