08.24.2017
I have partnered with AVEENO® to share their amazing new Daily Moisturizing Body Yogurt & Yogurt Body Wash and to celebrate by creating a recipe inspired by this body wash.
Over the last month, my life has gone through a huge, positive change. I went from being a comfortable mom of two to a busy mom of three as we welcomed the arrival of our beautiful, strong-willed daughter Penny. Suddenly, I have found my time being further divided between three tiny humans and the thought of me-time slowly slipping away. I admit, in the past I have struggled with devoting all my time and attention to my well deserving children without giving myself the time I need to refresh and feel like a real person. I have learned that giving your all to someone also requires you to step back and make some time for yourself as well, even if it is for only 30 minutes.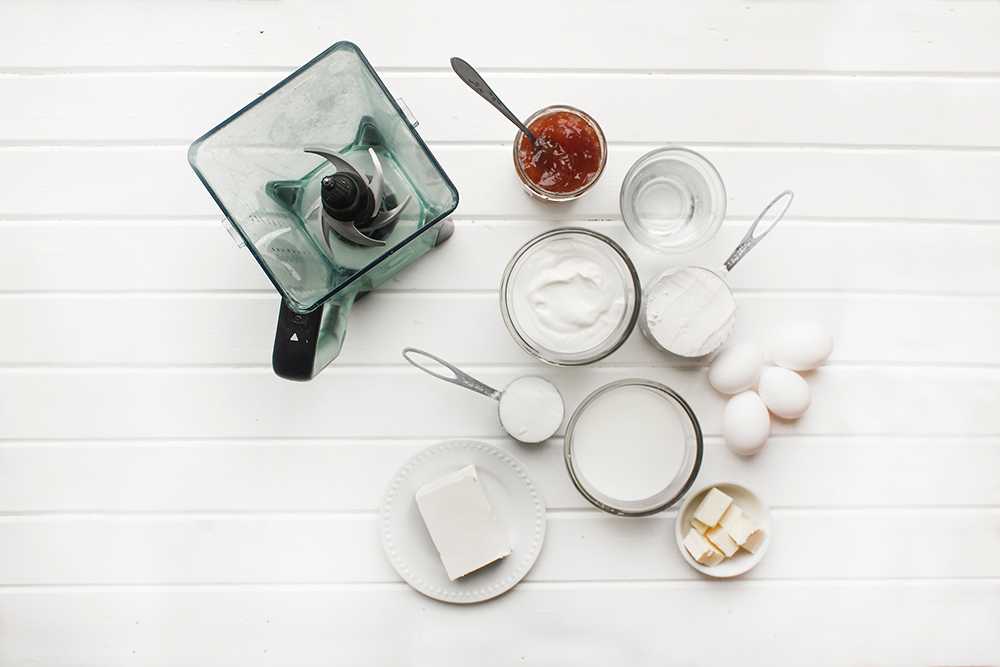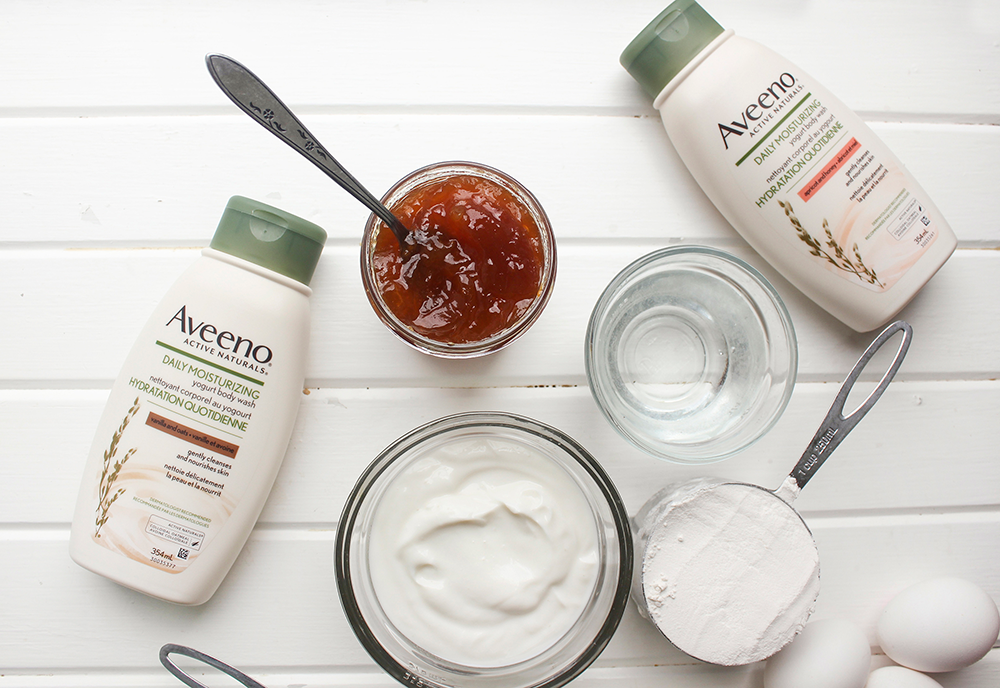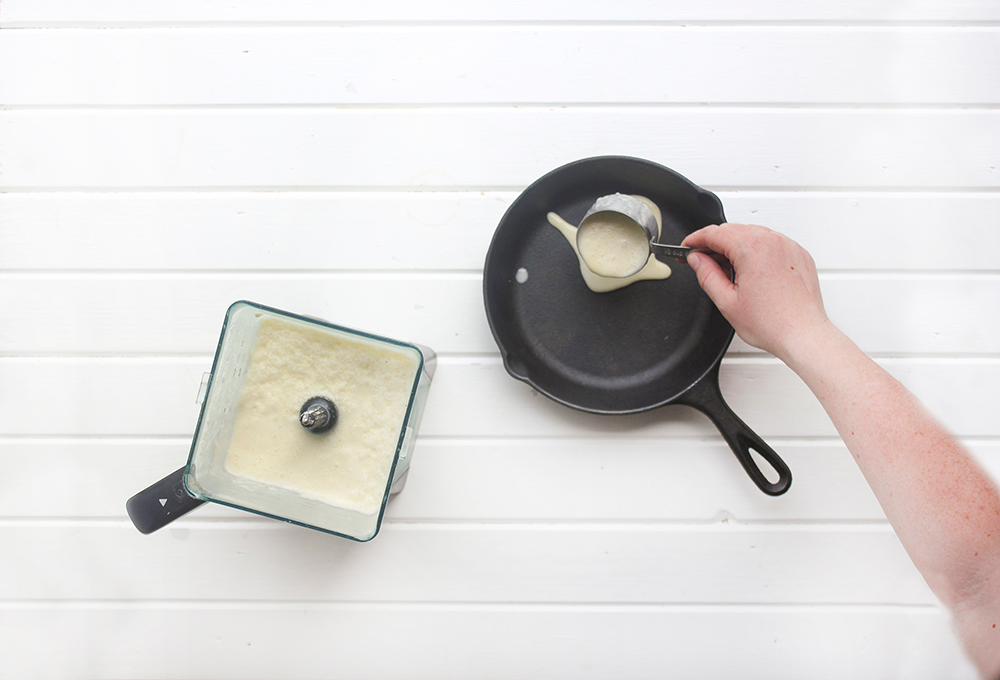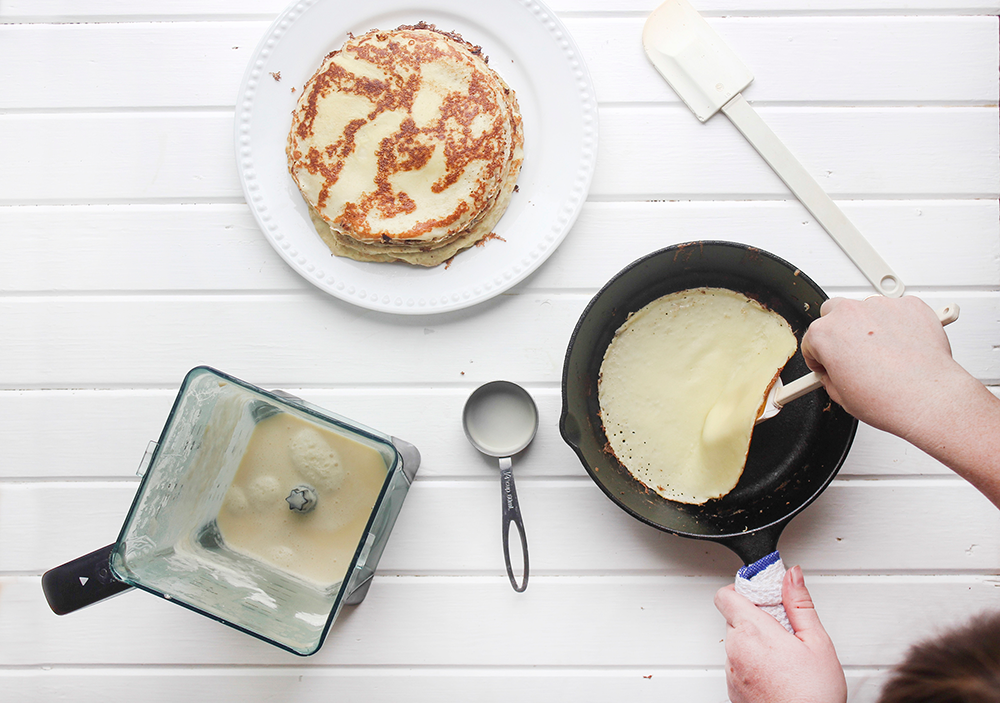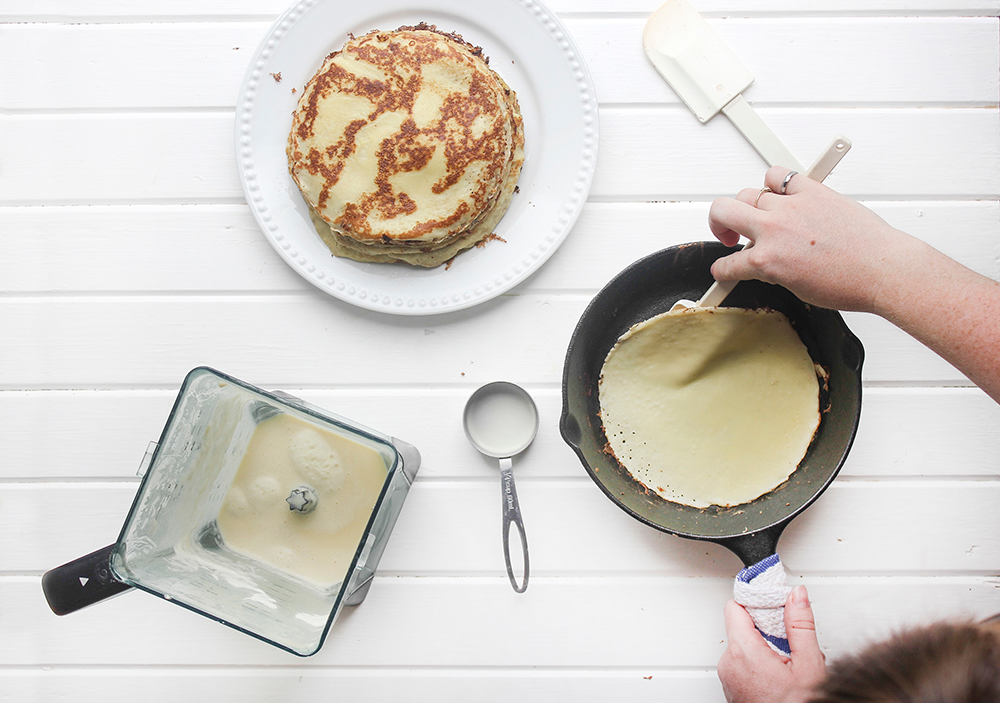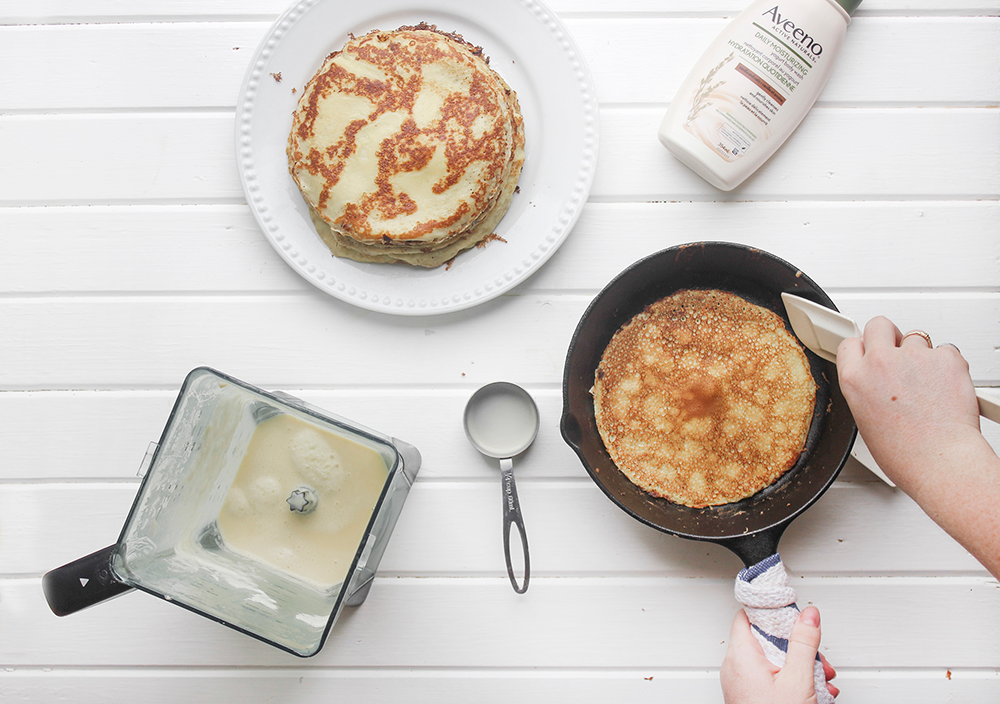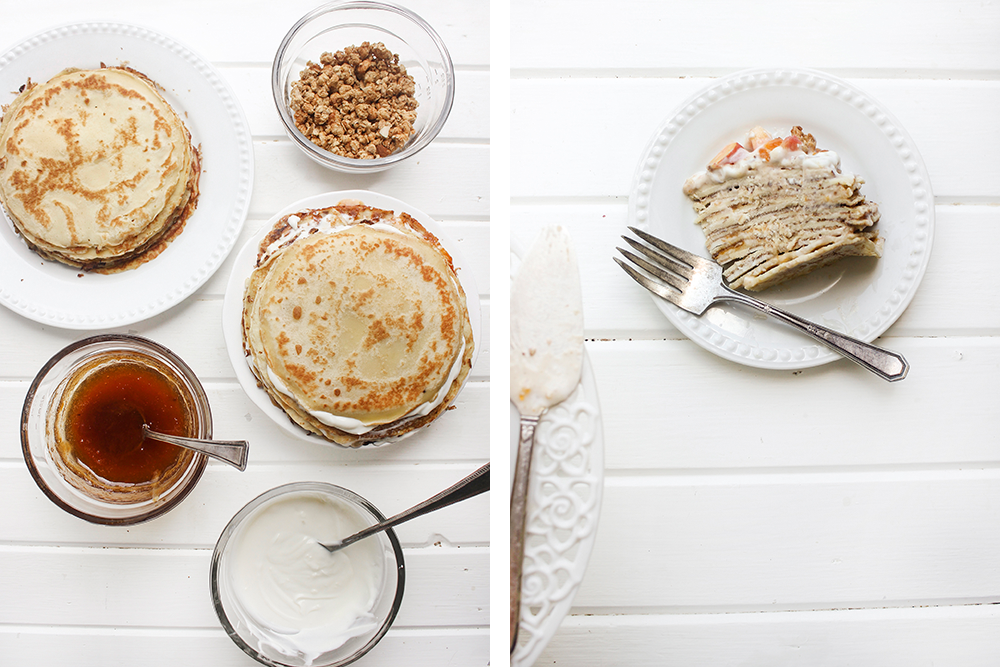 Those of you who know me know that my kitchen is my happy place. Often when I do make time for myself, I am baking. For the past nine months I have been focused on feeding my body the proper nutrition to not only ensure a healthy pregnancy but to also give Penny a strong start to life. Now, as we enter the "fourth trimester", I plan to continue celebrating healthy everyday indulgences, making time for myself, and continuing to nourish my body from the inside-out.
Yogurt has recently been on the forefront of my breakfast meal plan. As great as it is on its own, I have been experimenting with this health conscious ingredient in various ways. I am learning just how powerful and nourishing yogurt can be, not only as a food, but also as a beauty ingredient, containing the essential vitamins, lactose, proteins, lactic acid and lipids to improve the overall health of your entire body. I was eager to learn just how amazing yogurt is for your skin, and even happier to see how low-maintenance skin care can be with the new AVEENO® yogurt body collection. I admit, since being a mom, I have not taken the proper amount of time needed to thoroughly look after my skin, however, after using AVEENO® Daily Moisturizing Yogurt Body Wash & Body Yogurt, I feel I can easily find that daily "me-time" I craved so often in the past to indulge in some yogurt for both my skin and my body.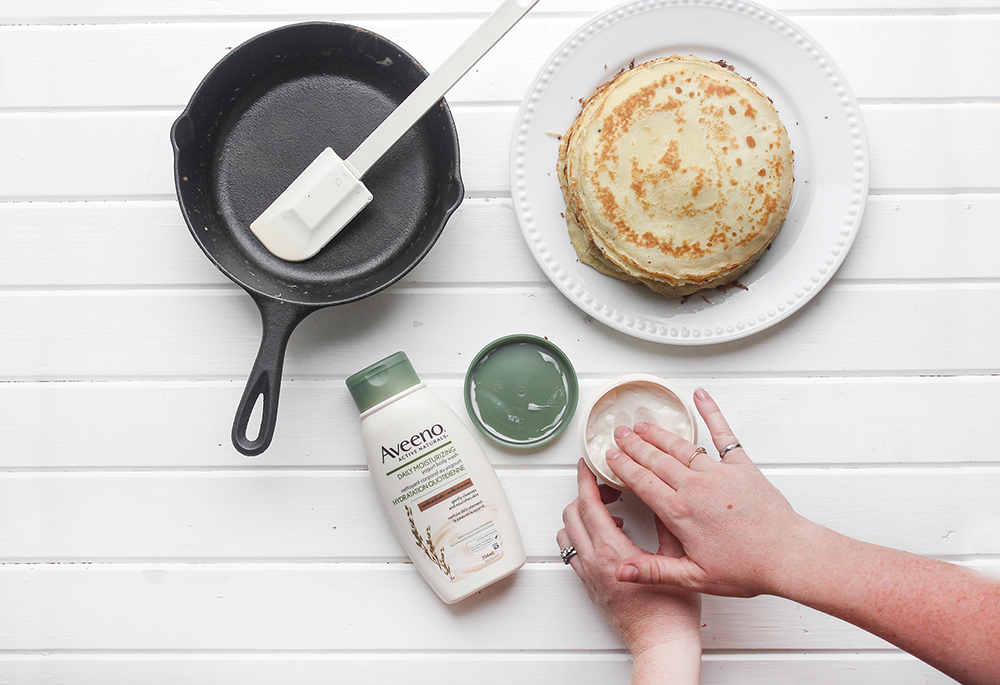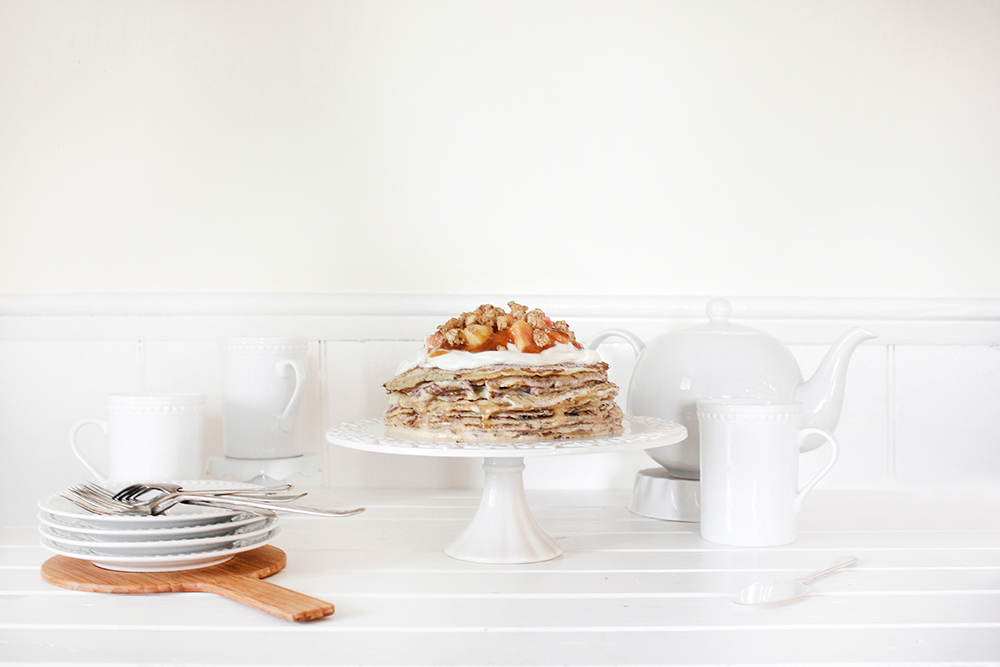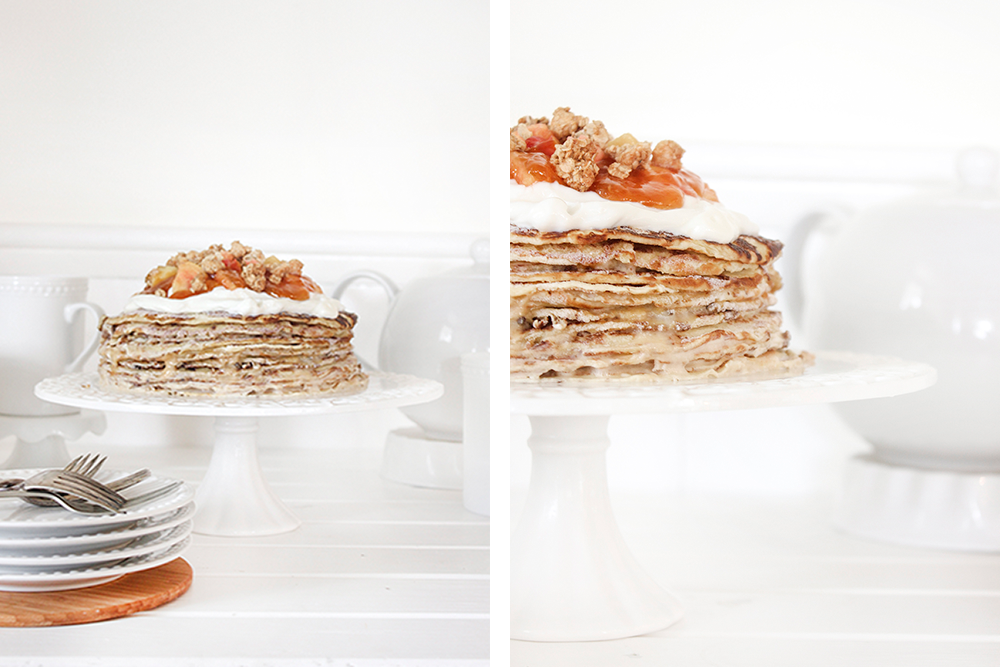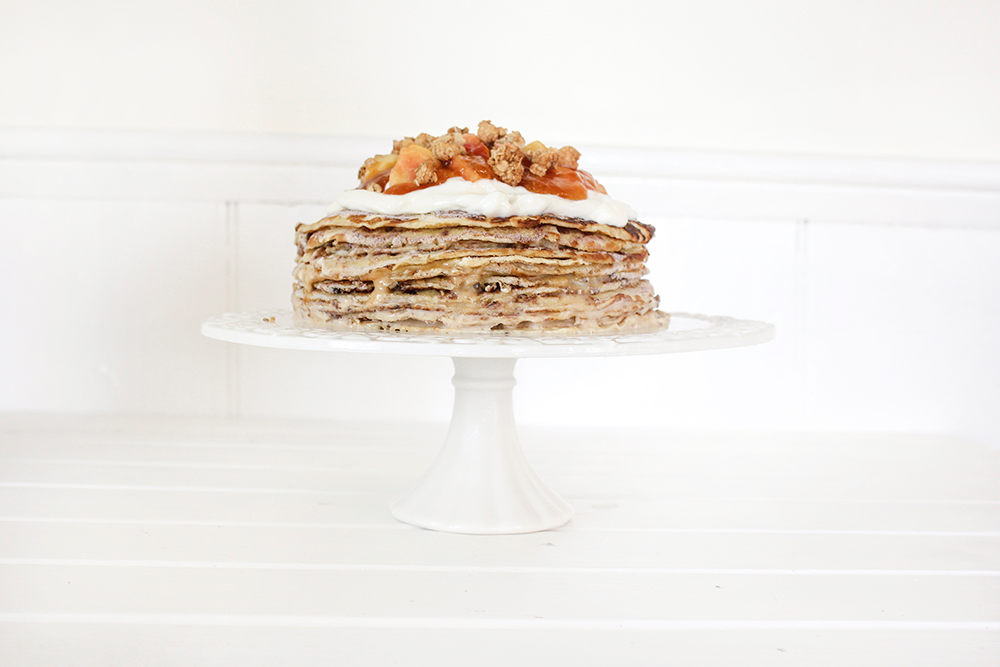 The new AVEENO® Daily Moisturizing Yogurt Body Wash & Body Yogurt blend the power of ACTIVE NATURALS® Oatmeal with the nourishing ingredients found in yogurt to deliver a rich, moisturizing skin experience. The creamy Body Wash is formulated with ingredients to gently cleanse without over stripping or damaging the skin. The new Body Yogurt Lotion maintains all-day contact with the skin providing long-lasting moisture that can actually be felt on the skin, leaving it hydrated for 48 hours. Both the moisturizing body wash and lotion come in two scents: Apricot and Honey (Body Wash / Lotion), and Vanilla and Oats (Body Wash / Lotion). In all honestly, both scents bring around a fresh new nostalgic feeling that any mom would desire after a long day.
Feeling inspired by the natural ingredients used in the new AVEENO® yogurt body collection, I wrapped baby Penny in the carrier, and headed to my peaceful place to develop a new breakfast recipe fit for a family of five. Slicing up the fresh apricots and mixing up a batch of honey oats not only heightened my senses, but also left me feeling relaxed and free. I am realizing that making some time for myself to indulge does not have to come with a handful of guilt.
I recommend following this recipe for a delicious, nutritious morning meal, and then treat your skin and senses to a similar indulgent experience with NEW AVEENO® Daily Moisturizing Body Yogurts & Washes! You will not be disappointed!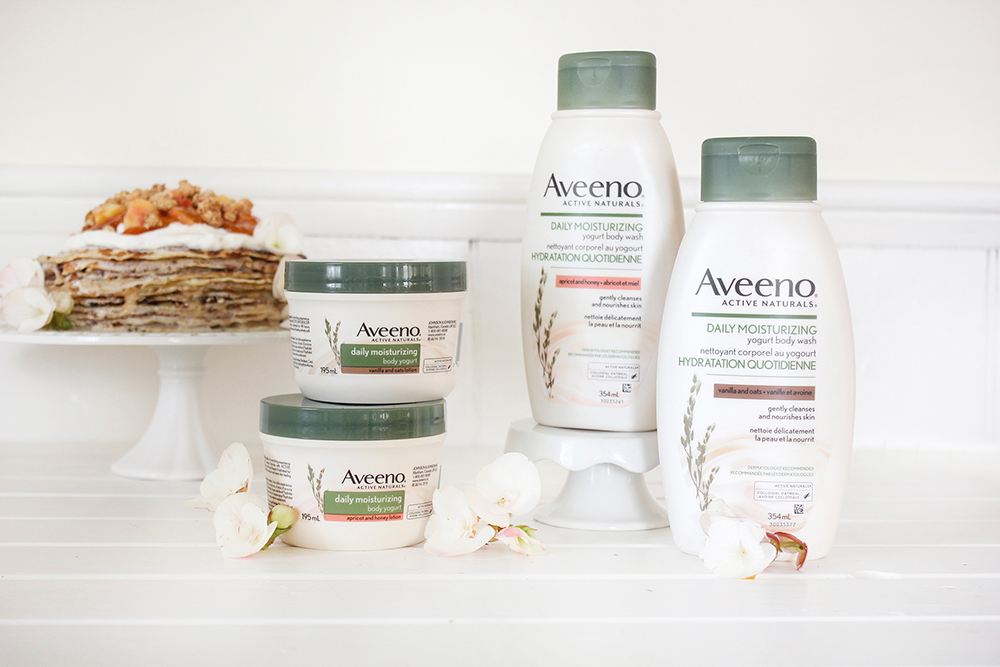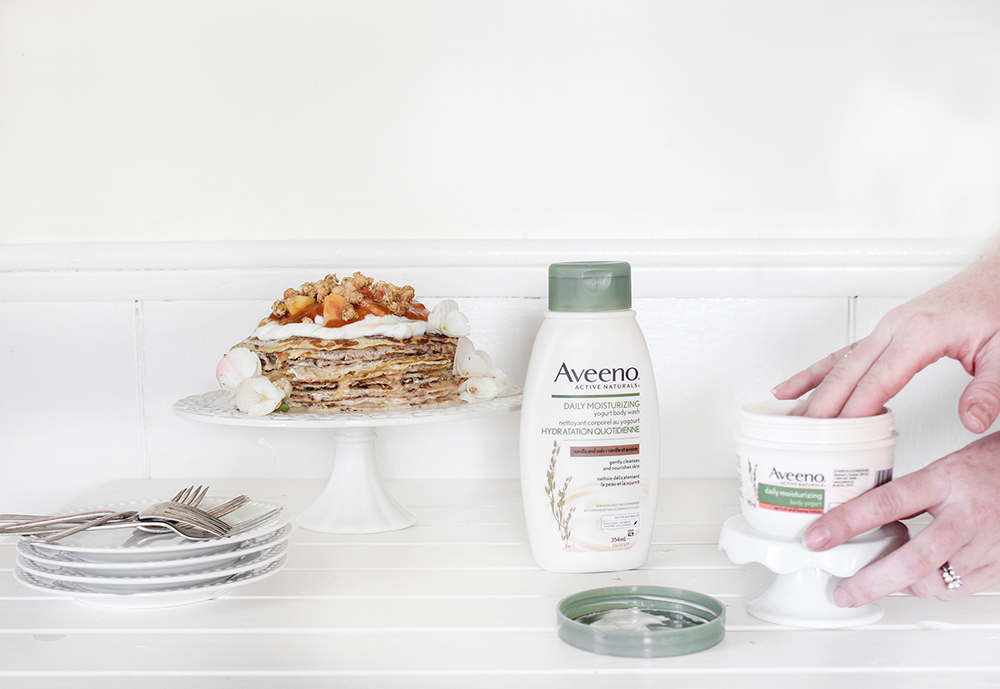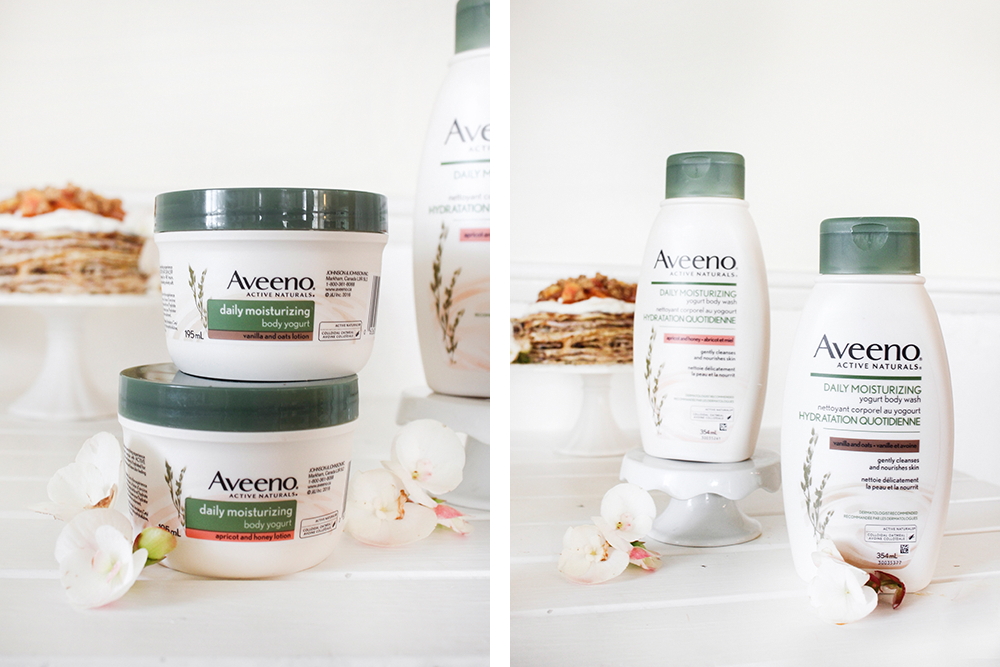 ---
APRICOT AND VANILLA YOGURT CREPE CAKE WITH HONEY OATS
ingredients
crepe batter:
1/2 cup lukewarm water
1 cup milk, room temp
4 large eggs
4 Tbsp. unsalted butter, melted, plus more for pan
1 cup all-purpose flour (you can use 1/2 cup whole wheat flour and 1/2 cup all-purpose flour)
2 Tbsp. sugar
pinch of salt
vanilla yogurt cream:
1 cup vanilla greek yogurt
6 oz. cream cheese, at room temperature
1/3 cup granulated sugar
apricot preserves:
1 lb. ripe apricots, halved and pitted
1 tsp. lemon juice
1/3 cup granulated sugar
2 Tbsp. dark rum (optional)
honey oats:
1.5 cups old fashioned oats
1/4 tsp. salt
3 Tbsp. sugar
3 Tbsp. honey
1.5 Tbsp. coconut oil
1/8 tsp. vanilla extract
1/8 tsp. almond extract (optional)
steps
crepes:
Place all of your ingredients for the crepes batter into your blender in the order they are listed: ½ cup water, 1 cup milk, 4 eggs, 4 Tbsp melted butter, 1 cup flour, 2 Tbsp sugar and a pinch of salt. Blend together for 1 minute or until smooth, bubbly and well combined. Let batter sit for one hour to 24 hours.
Melt a small dot of butter in a good non-stick skillet over medium heat. Add 1/4 cup of crepes batter and swirl the pan right away to distribute the batter evenly and form a thin crepe. Cook until golden on the first side (about 1 min). Using a spatula, slowly work up the edges of the crepe and flip to cook another 15 seconds on the second side. Repeat with the remaining batter. Let crepes cool completely.
vanilla yogurt cream:
In the bowl of your mixer, cream together 6 oz cream cheese and ⅓ cup granulated sugar. Mix in 1 cup Vanilla Greek Yogurt and beat on medium/high speed with the whisk attachment, or until smooth and creamy. Set aside until ready to use. Refrigerate if not using right away.
ALTERNATIVELY: Should you wish to use just the vanilla yogurt cream as a healthier option, do not mix in sugar and cream cheese. Use yogurt as is for the remainder of the recipe!
apricot preserves:
In the bowl of a food processor add: pitted apricots, 1 tsp lemon juice and ⅓ cup sugar and pulse several times or until the apricots are coarsely chopped.
Transfer the apricot mixture to the stove and lightly boil over medium heat, uncovered for 10 minutes, stirring occasionally to prevent scorching. Add more sugar to taste depending on how sweet your apricots were.
Simmer another 1-2 minutes or until apricots are heated through and softened. Keep 1 cup of apricot preserves in the pan, and refrigerate any leftovers.
(Optional) Add in 2 Tbsp of dark, stir and simmer until alcohol is evaporated. If mixture becomes too thick, add a tablespoon of water under you reach your desired consistency.
Allow Preserves to cool completely before assembly.
honey oats:
Preheat oven to 350 degrees.
Pour the oats, salt, and brown sugar into a bowl and stir to combine.
In a small microwaveable bowl, combine honey and coconut oil, and heat for 40 seconds. Stir to dissolve the coconut oil, and add the vanilla and almond extract.
Pour the honey mixture over the oats, and stir so that they are evenly coated.
Pour the oat mixture evenly onto a parchment lined baking sheet.
Bake for 5 minutes, and then stir and spread back to an even layer. Return to the oven for 5 more minutes, or until golden brown around the edges.
Pour the granola onto a piece of wax paper to cool. Spread it out into a thin layer – about 1/2 inch thick. Let cool completely.
ALTERNATIVELY, you can use store bought honey oat granola!
crepe cake assembly:
Ensure all components are completely cooled. If anything is still warm, the yogurt and apricot preserves will melt during assembly!
Place one crepe on the centre of a plate or cake stand. Spread 2-3 Tbsp. vanilla yogurt cream (or regular vanilla yogurt!) onto of the crepe.
Spread 1 Tbsp. apricot preserves over the yogurt. If you enjoy the crunch of granola, you can also top the apricot preserves with a Tbsp. of granola, however, this is optional for each layer!
Place another crepe on top of the first layer and repeat steps 2 and 3 until all crepes are used!
Finish off the top of the crepe cake with another generous spread of vanilla yogurt cream (or regular vanilla yogurt), apricot preserves, and a heap of granola. Additionally, I also sliced up a fresh apricot to top the crepe cake.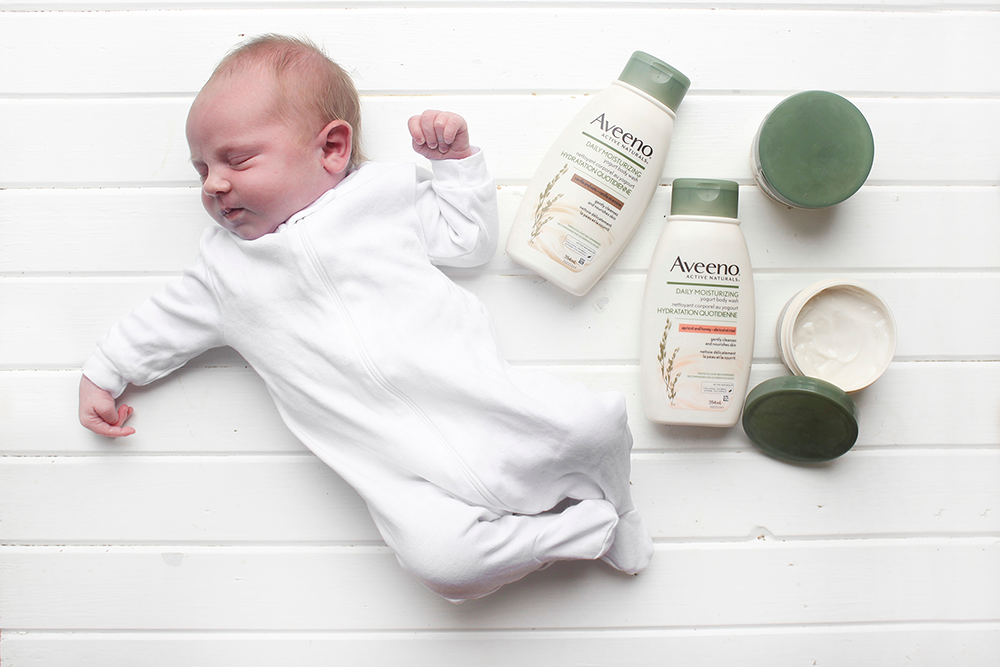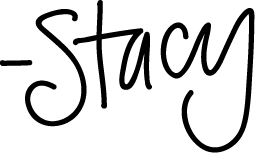 08.22.2017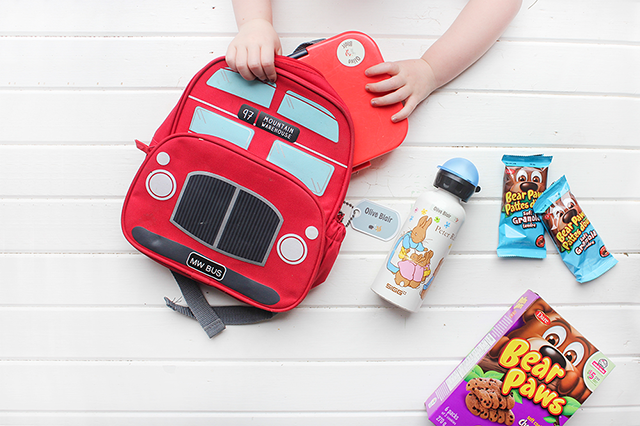 I have partnered with Mabel's Labels and Bear Paws to share how we will be using their healthy and innovative products for back-to-school! Make sure to check below to see how you can get a coupon from Bear Paws to use towards your Mabel's Labels purchase! The day Olive has been waiting for for so long is quickly approaching. She has been talking about this day since she was two and a half years old, and even though she is definitely ready, I don't know if this Momma really is. We have been practicing our ABC's and 123's. We have been reading and writing and drawing and building. We have been running and jumping and singing and dancing. Olive is
Continue Reading…

01.31.2017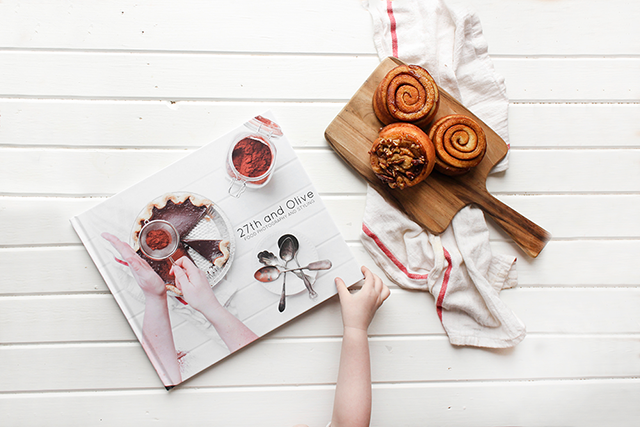 I think it is safe to say that the big boom of digital photography has really wreaked havoc on photo album collections around the world. I, for one, am no exception… During my school days, I was the one who brought my point and shoot film camera to school every day. My collection of albums from days past are still piled high at my parents house, but it is not hard to estimate when I received my first digital camera. It was sandwiched somewhere between my trip to France and my first year of University. Since then, I am ashamed to say, I have not hopped on the digital album train. Instead, my pictures sit idol on my computer, which
Continue Reading…

11.13.2016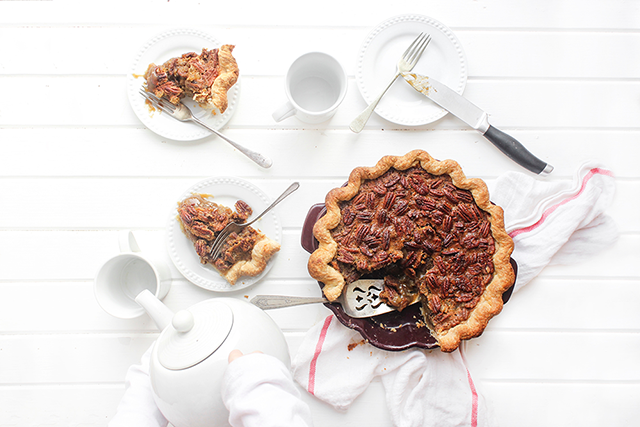 This time of year I often find myself perched in my deep windowsills, wrapped in a warm blanket, comfort food in hand, staring out my window at the overloaded apple tree. I can never get enough of autumn. The colours, the cool crisp air, the flavours… Everything hits you at once following a hot, busy summer, but it is so welcomed. To me, this season feels most like home. I am so often brought back to my childhood once the leaves start changing. From the first days of a new season of skating, to big Thanksgiving meals with extended families, autumn is definitely my jam. These cooler months are often filled with my favourite comfort foods. I try to make
Continue Reading…

10.31.2016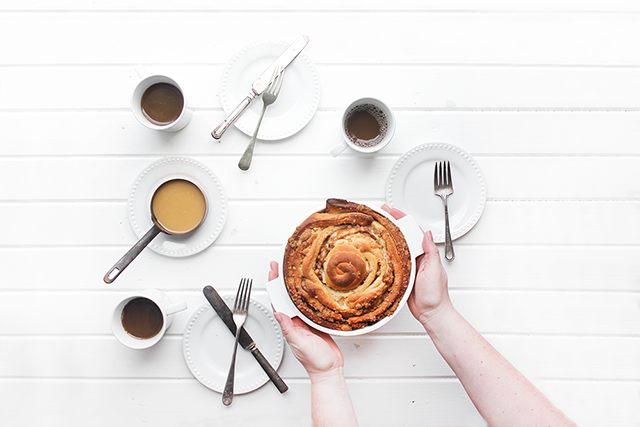 It snowed last week. It is Halloween, and there has already been snow on the ground! It is almost instinct now. As soon as the first few specks of white start falling from the clouds, I find myself in the kitchen, kneading some cinnamon bun dough. For me, snow and cinnamon go hand-in-hand. The only thing that was lacking were the christmas carols in the background. It is amazing how, in an instant, ones perspective can change as soon as a different season makes itself known. One moment I was thinking about pumpkin-spiced-everything, the next I am dreaming of snow cover hills. Is there something that you find yourself engulfed in as soon as the seasons change?
Continue Reading…

09.21.2016
So much has changed since the last Distant Kitchens post just a few short weeks ago. I have returned back to work after a year off with my little growing family and Erin and her husband have been up to their eyeballs in shows and work for Richard Clarkson Studios. It is certainly taking some adjustment for me to get back into the working mom routine and keeping up to date on the blog and instagram. Suddenly I am not allowed to sleep in past 4:30am and I don't have near as much free time during the day to do the things I love the most, however, I am managing, for now! If you are new to Distant Kitchens, Erin and
Continue Reading…