11.13.2016
This time of year I often find myself perched in my deep windowsills, wrapped in a warm blanket, comfort food in hand, staring out my window at the overloaded apple tree. I can never get enough of autumn. The colours, the cool crisp air, the flavours… Everything hits you at once following a hot, busy summer, but it is so welcomed. To me, this season feels most like home. I am so often brought back to my childhood once the leaves start changing. From the first days of a new season of skating, to big Thanksgiving meals with extended families, autumn is definitely my jam.
These cooler months are often filled with my favourite comfort foods. I try to make large batches of soup on Saturdays, wholesome breads on Sundays and everything else in between that uses fresh fall aromas like cinnamon, ginger, nutmeg, roasted pumpkin, and toasted pecans. Sometimes I feel like I am preparing for a long winter, like a squirrel gathering nuts. Instinct makes me hunker down in the kitchen.
If you have been a follower of mine, you understand how important pie is to Olive and me. Like autumn, sifting flour, cutting in the butter, and rolling out pie crust is what brings me comfort. There is something about this process that always calms me down and whisks me away to a place where I don't have to worry about real-world things. This was not always the case, however! I used to find peace in lounging on our kitchen couch while I watched my husband sift, cut in, and roll out pie dough. Ironically, for years I resisted the need to learn how to make pie because my husband was the master (although he would shoot me if he knew I was telling you his well-kept secret. Sorry hunny!). Scott worked the early-morning shift in our local bakery while in high school. It was there he learned to make masterful pies, and delicious breads. I refused to learn for a solid two years of marriage. I loved watching him whip up an apple pie, no recipe required, but one day I caved, and I don't think he has made a pie for me since… I digress.
So now I make the pie (and I don't regret it)! Early in the morning, I haul out the large flour bucket from the pantry. Olive's eyes widen, as she slowly mouths the word "pie"! Within seconds she will have her chair beside me, ready to dig in to her elbows. I really wouldn't have it any other way. This time of year, most people think about apple pies, but I, on the other hand, dream of pecan. As a child, I vividly remember going to my aunt and uncle's house for Thanksgiving, praying the entire way there that Aunt Moni would have her famous pecan pie waiting for me. I would try to sneak as many pieces as I could, but there were many mouths to feed, so I had to learn how to savour each bite.
Over the years I have tried many different versions of the traditional pecan pie. Corn syrup. Nix the corn syrup. Brown rice syrup. Sugar… lots of sugar… Butter. Coconut oil instead of butter. Cinnamon. Nutmeg. Allspice. Whole pecans. Chopped pecans… Did you know you could make it so many different ways? I discovered so many positives (and not-so-positives) with each pecan pie trial that came out of my oven. Still, I cannot say any of my trials lived up to my new favourite version that my friends at King Arthur Flour have come up with. Who knew that maple syrup, bourbon, and three different kinds of ginger could elevate a pie so high above those wet autumn clouds?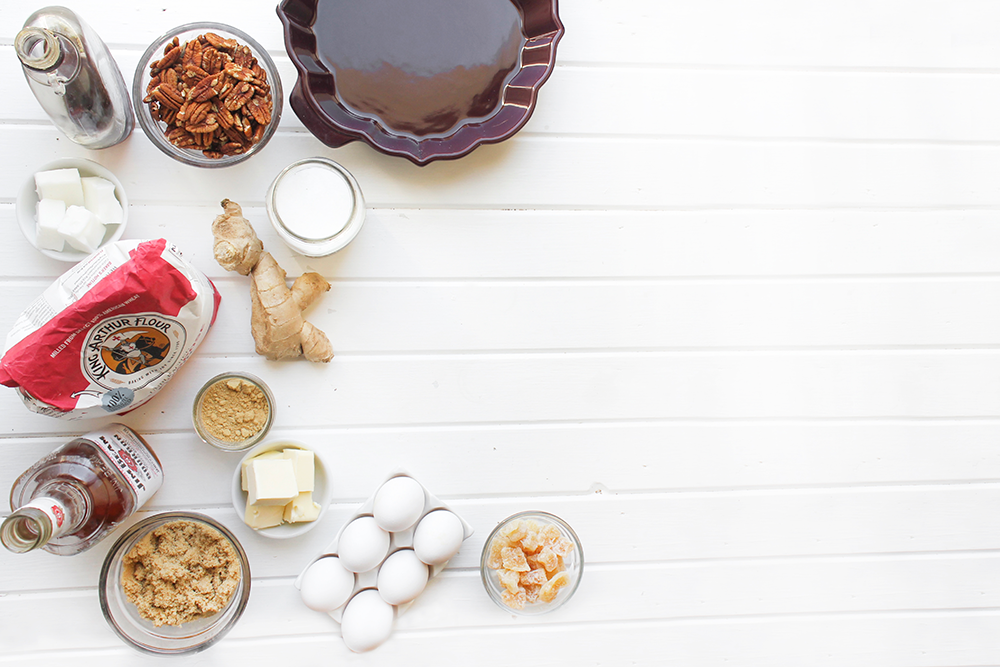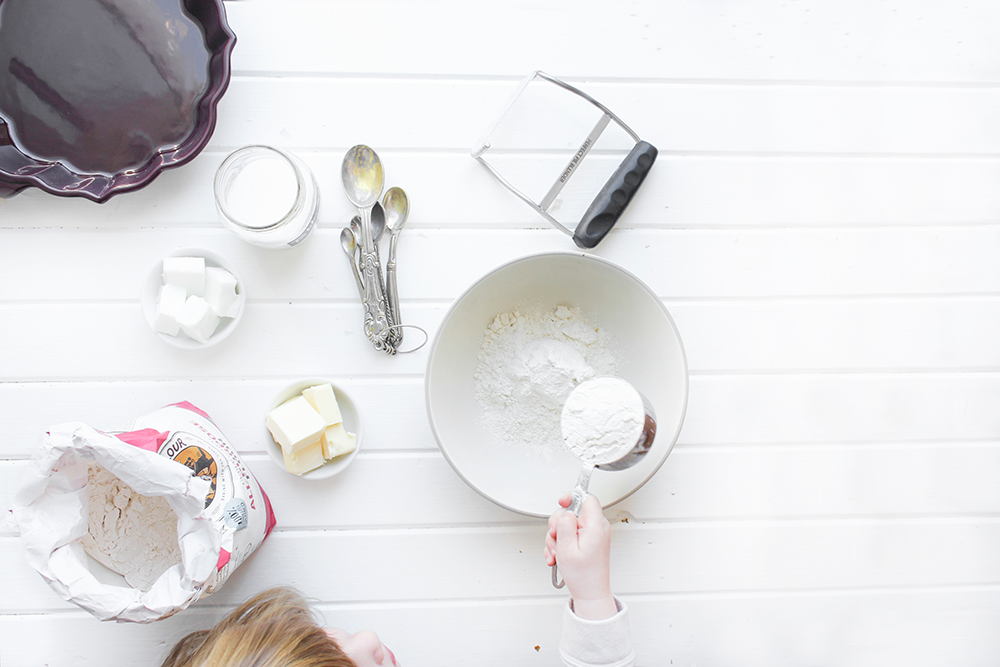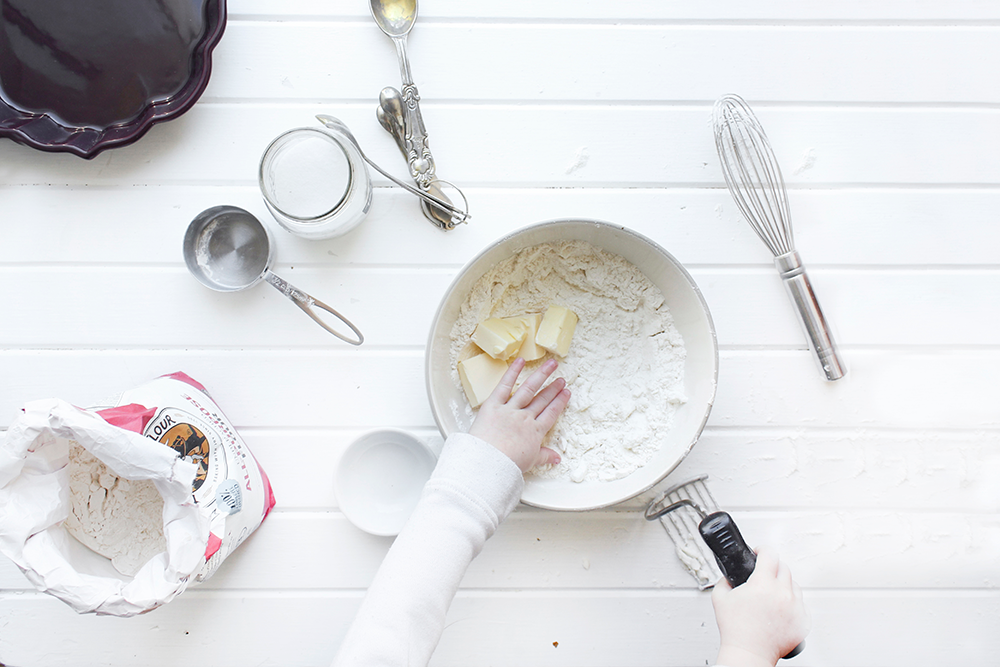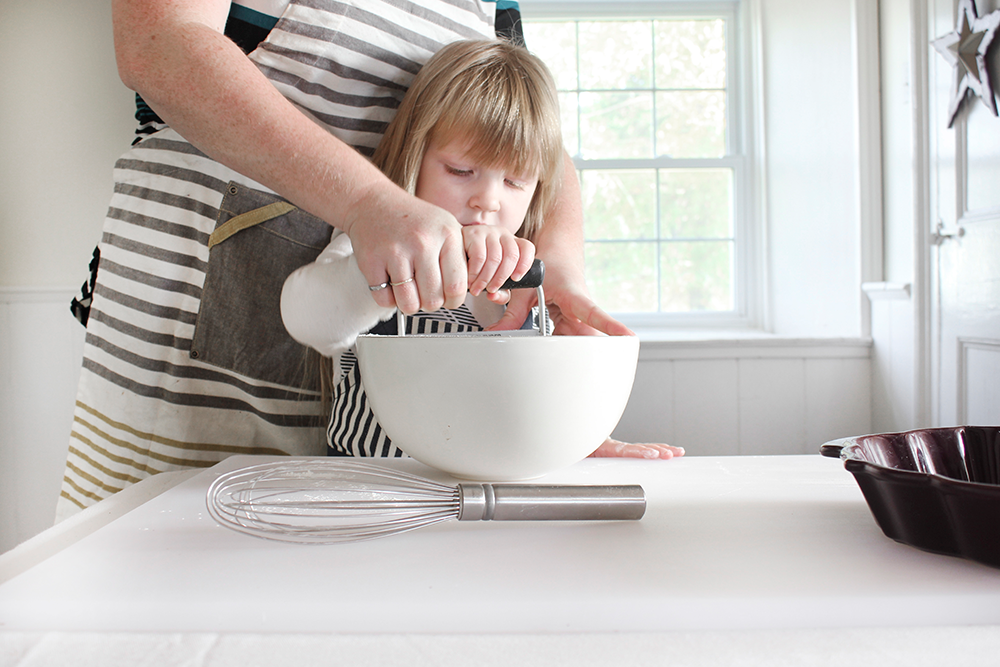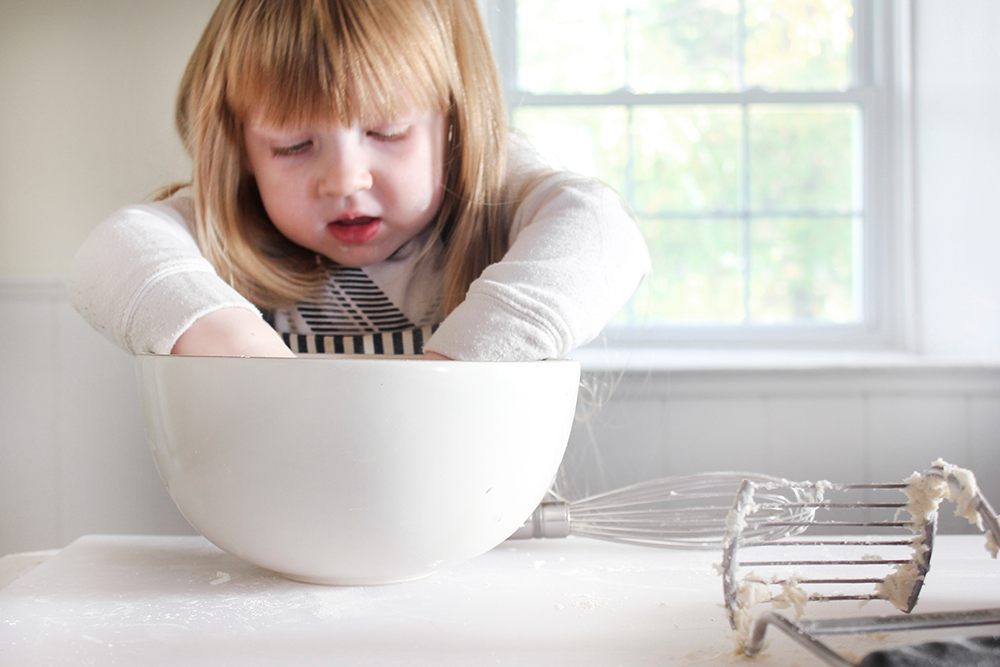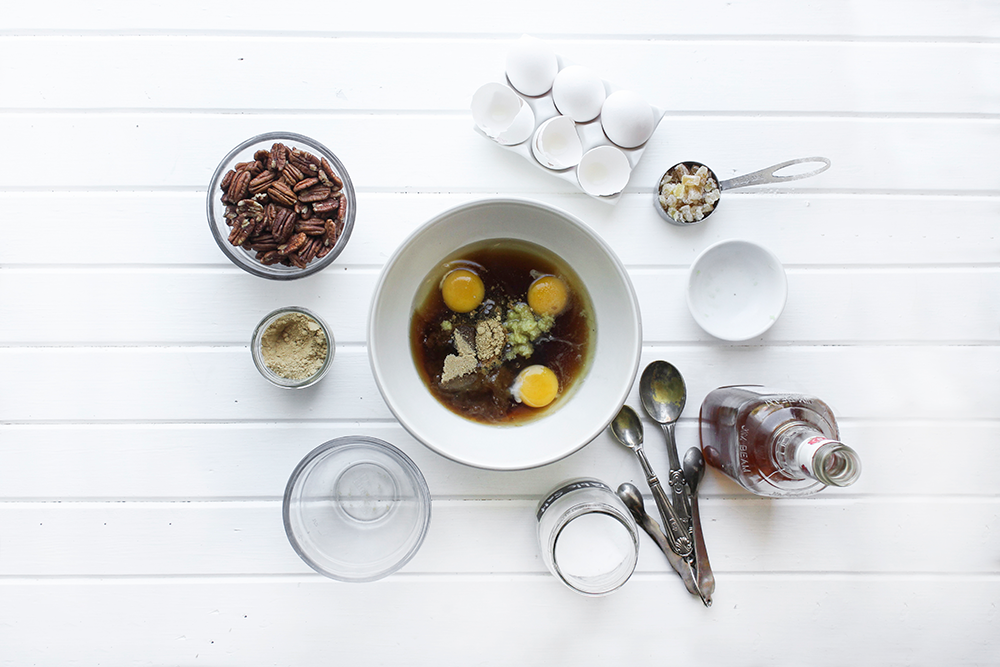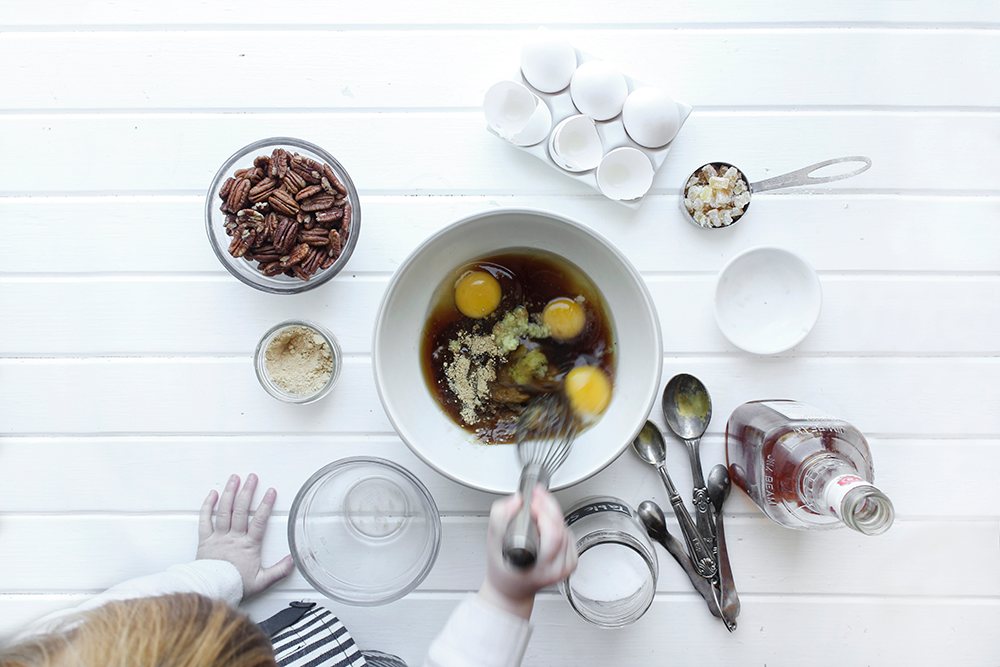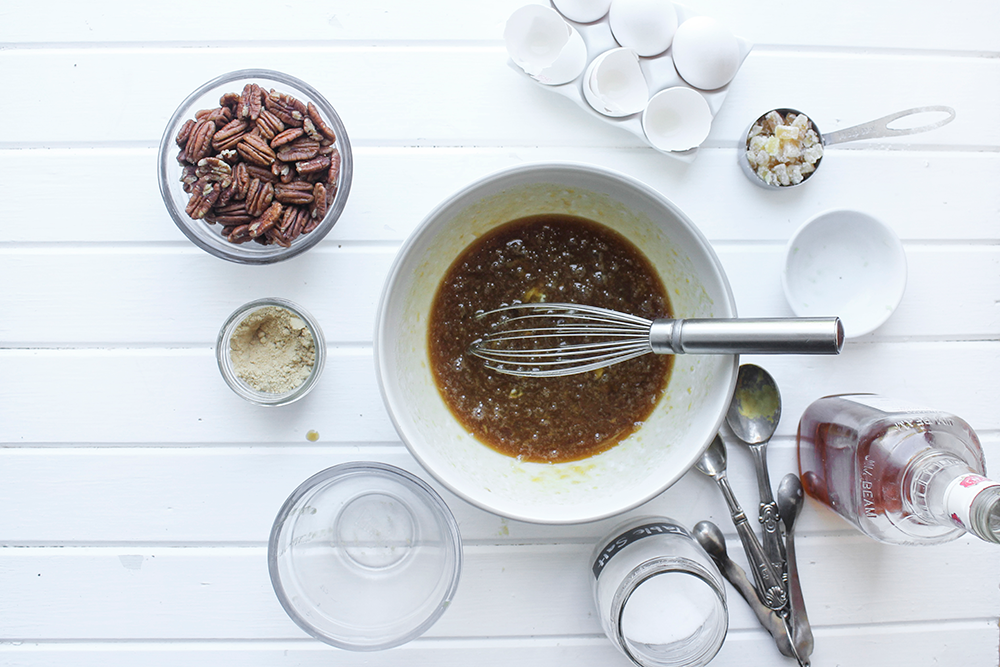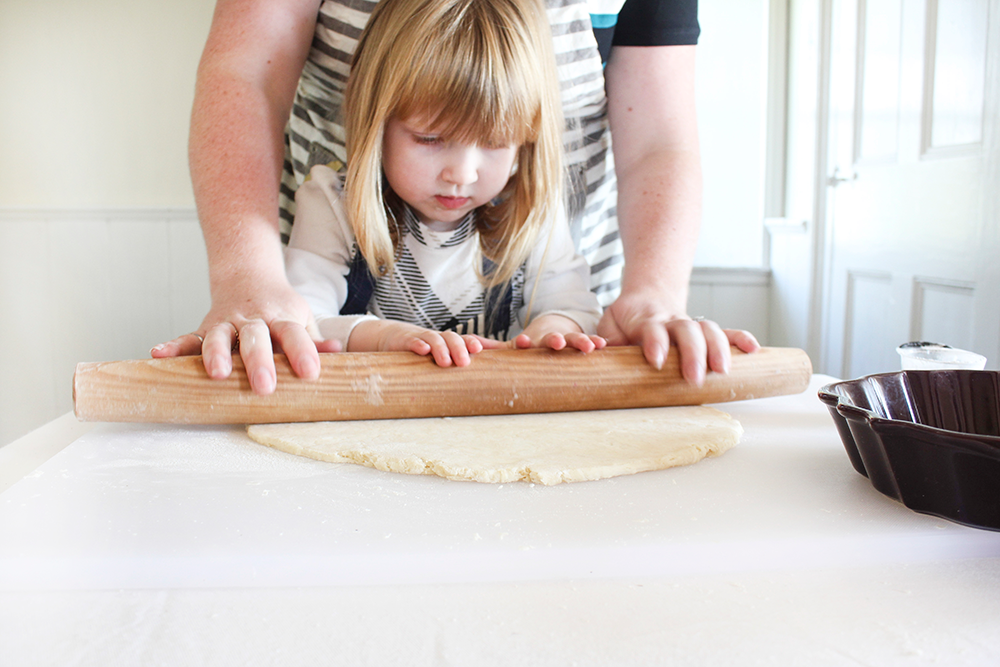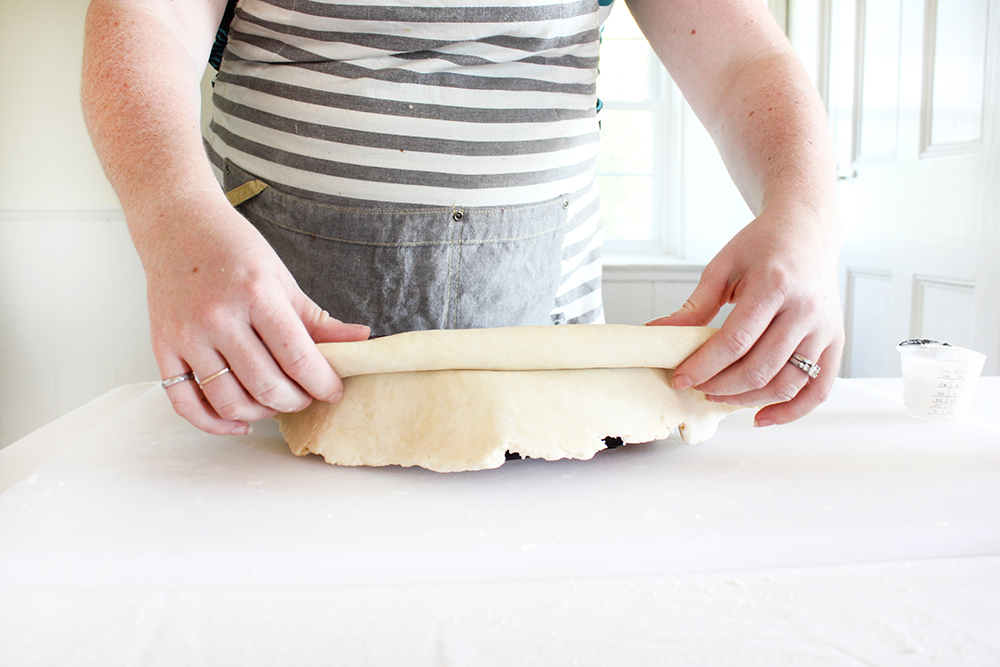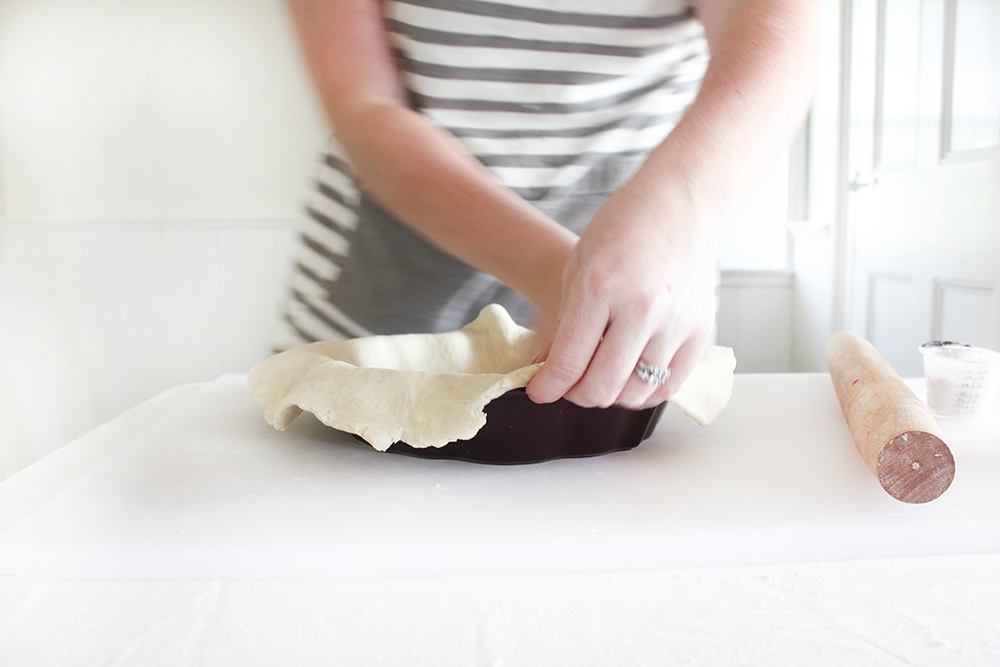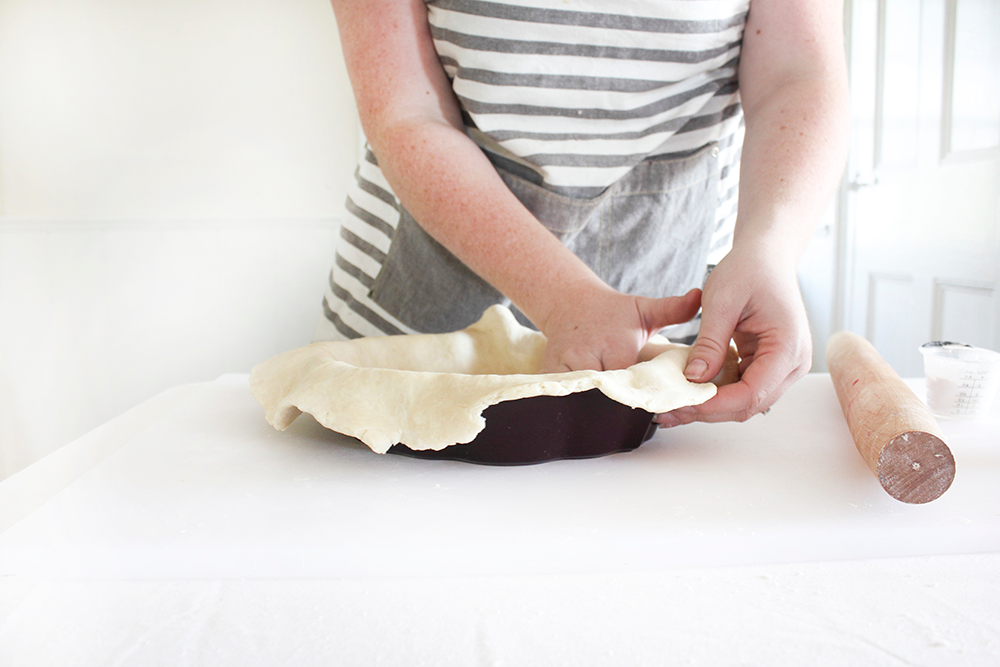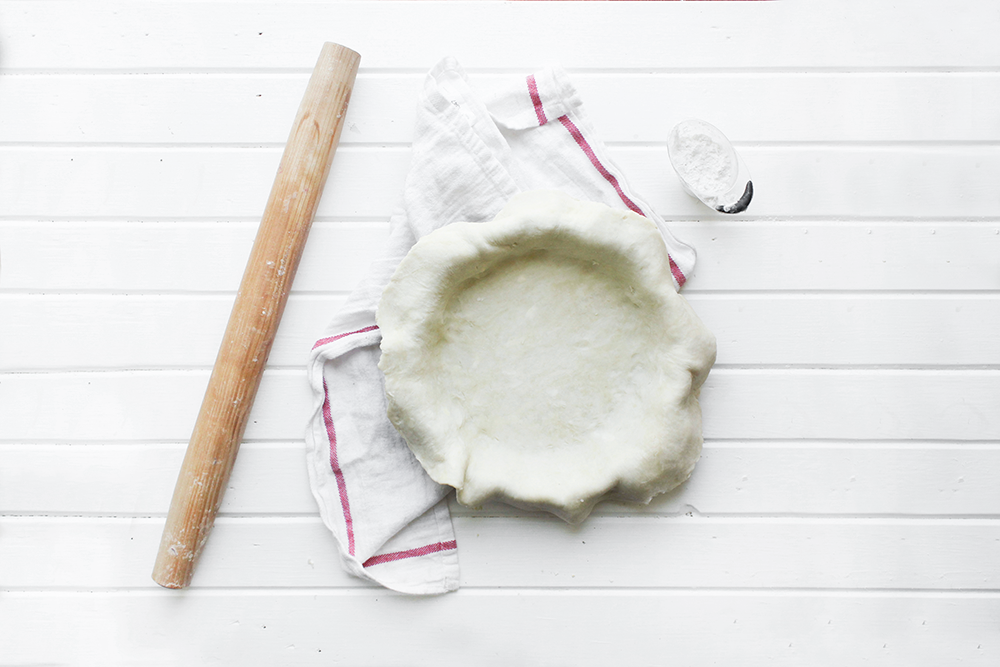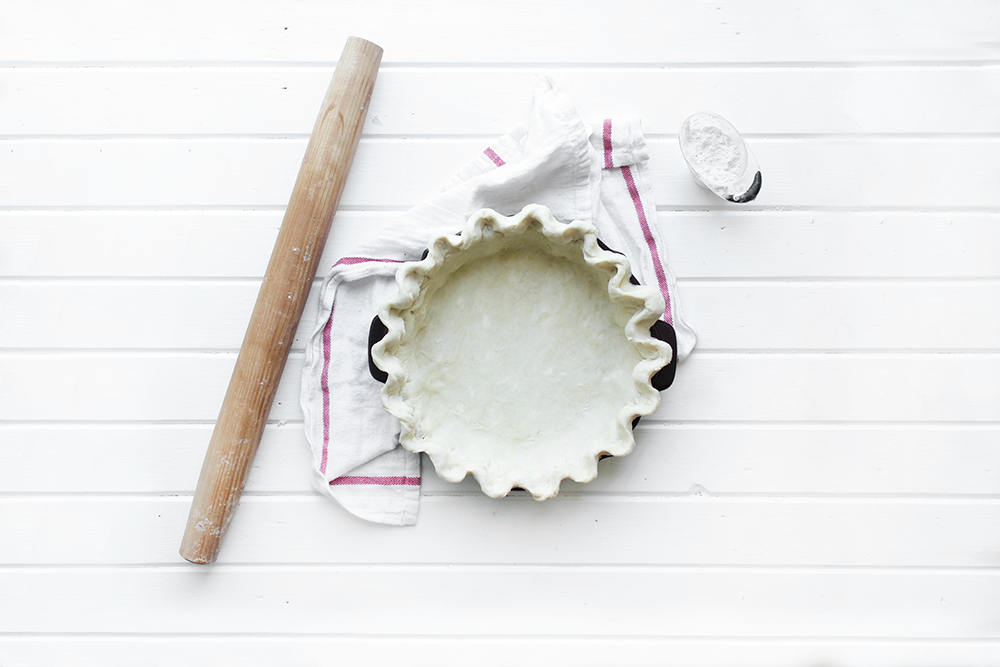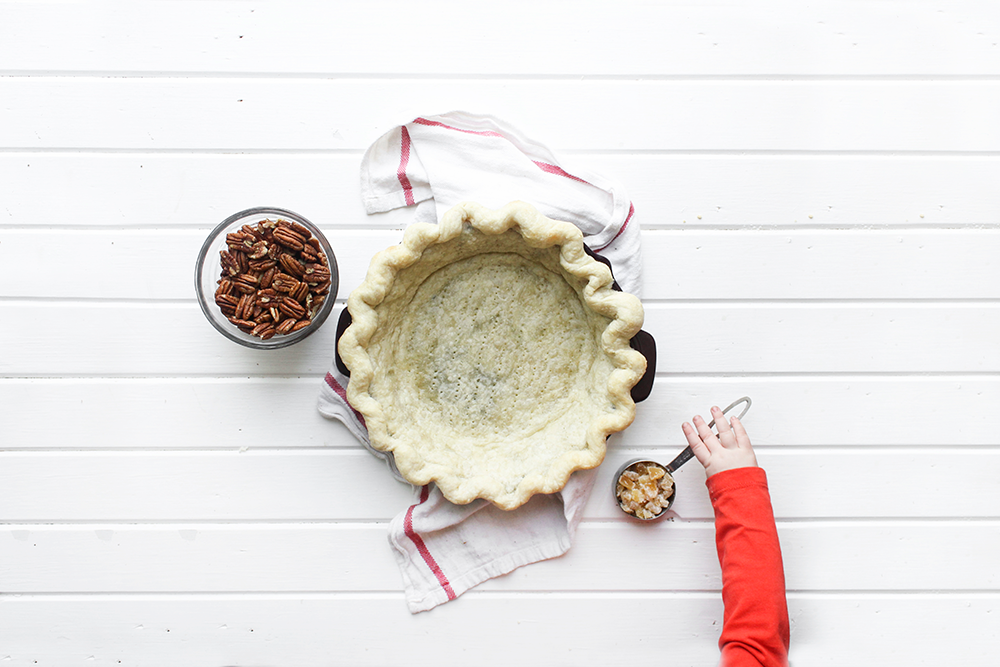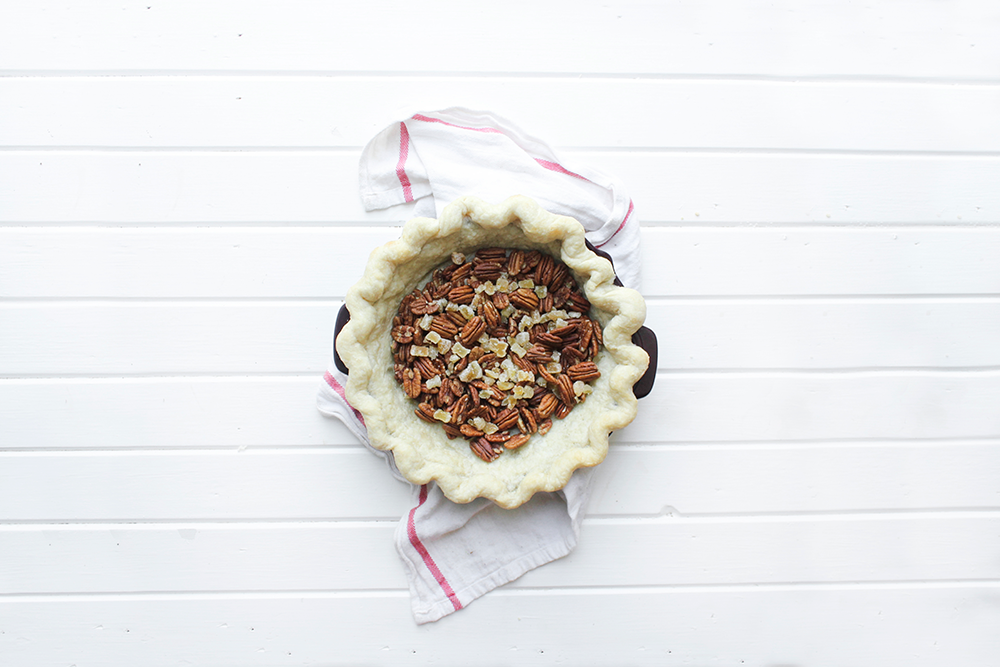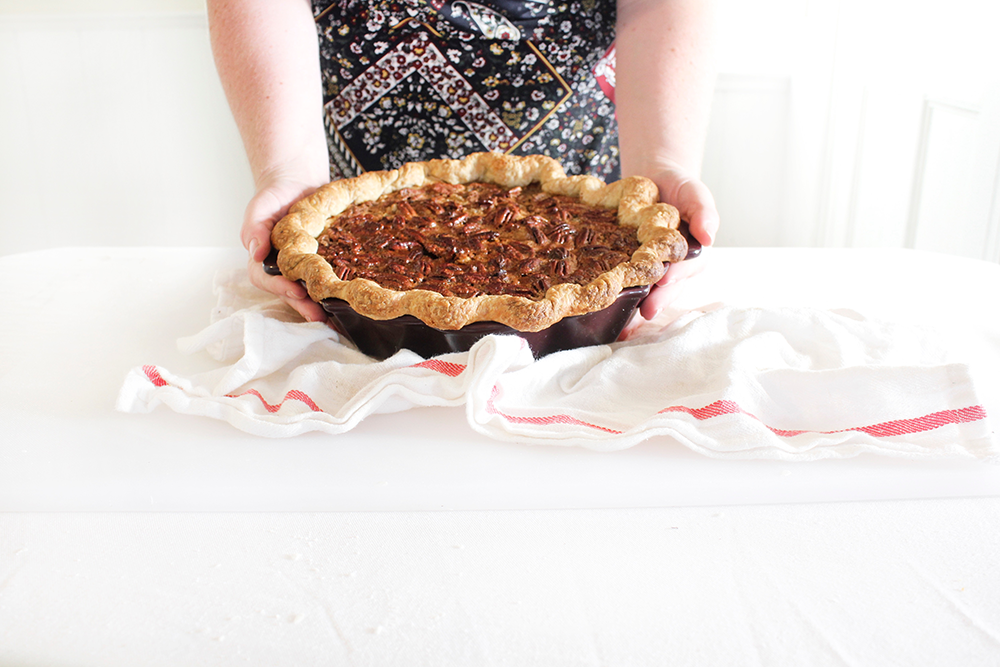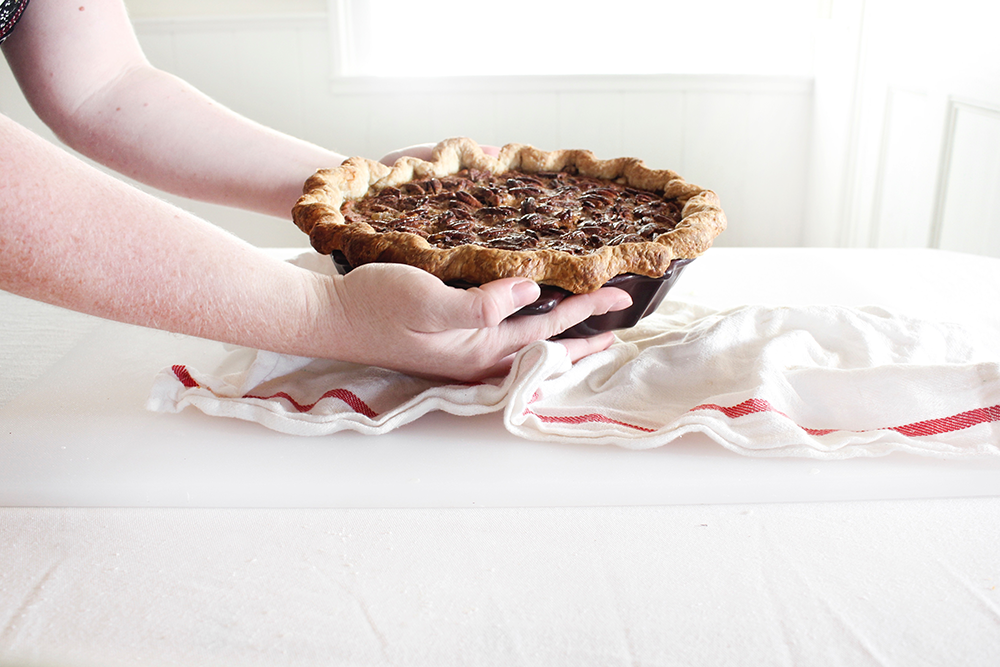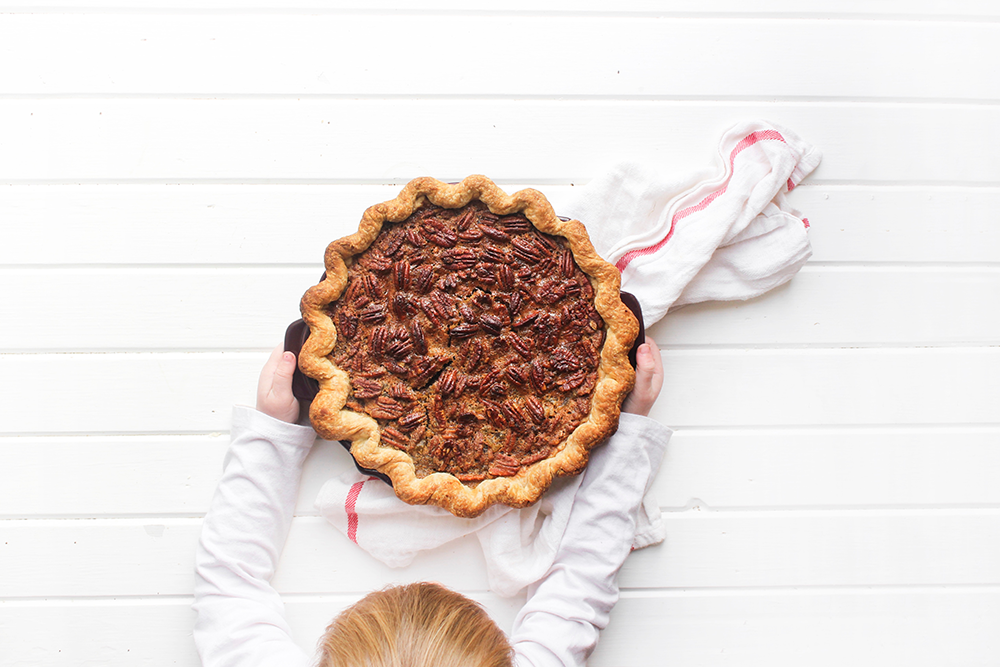 Lets just take a moment to rehash: Autumn in my life is filled with warm sweaters, crisp air, cozy windowsills, and lots of homemade pie. Although pecan is sitting in first class, there are also oodles of other fall pie favourites that I enjoy. To see more of my favourite fall pie recipes, head on over to King Arthur Flour's Holiday Table.
---
BOURBON GINGER PECAN PIE
from King Arthur Flour
ingredients
single crust:
1 1/2 cups King Arthur Unbleached All-Purpose Flour
1/2 tsp. salt
4 tbsp. shortening
6 tbsp. cold butter
3 to 5 tbsp. ice water
filling:
3/4 cup packed dark brown sugar
1/2 cup Grade A very dark maple syrup
3 large eggs, lightly beaten
3 tbsp. good bourbon (optional)
2 tsp. finely graded fresh ginger
1 tsp. ground ginger
1/4 tsp. fine sea salt
1 1/2 cups pecan pieces
1/4 cup mini diced ginger
steps
single crust:
Whisk together the flour and salt.
Add the shortening, working it in until the mixture is evenly crumbly. Add the butter to the flour mixture, and work it in roughly with your fingers, a pastry cutter, or a mixer. Don't be too thorough; the mixture should be very uneven, with big chunks of butter in among the smaller ones.
Add 2 tablespoons of water, and toss to combine. Toss with enough additional water to make a chunky mixture. It should barely hold together when you squeeze a handful, though the remainder may look quite dry.
Scoop the mixture out onto a piece of parchment or waxed paper, and flatten it out a bit. Take a spray bottle of water, and spritz the dry parts with the water.
Using the parchment or waxed paper, fold the dough over on itself — first from one side, then from the other. You'll find that the dry crumbs are becoming incorporated with the cohesive dough. If there are still dry areas, spritz them with additional water, and fold the dough in on itself again. Keep folding and gathering until just a few dry crumbs remain unincorporated; this should only take a few folds.
Shape the dough into a disk about 1″ thick, and refrigerate it for 30 minutes or longer; this resting period allows the flour to absorb the water, making the dough easier to roll out.
When you're "ready to roll," remove the dough from the fridge. If the dough has been refrigerated longer than 30 minutes, let it rest at room temperature for 10 to 15 minutes before rolling, to allow the butter to soften up a bit.
Roll the dough to the size needed (about 12″ for a 9″ pie). Place it in a pie pan and crimp the edges if desired. Place in freezer for 10 minutes while you bring your oven to 425F.
Using a fork, dock the bottom and sides of your pie crust (poke holes)! Place aluminum foil inside the crust and fold around the edges. Fill the pie plate with pie weights of dried beans.
To partially blind bake the crust: Place the pie plate lined with aluminum foil and dried beans into the oven. Bake the crust for 20 minutes, then remove it from the oven. Remove the liner and beans, and brush the crust all over with a beat egg white. Return it to the oven and bake for 3 more minutes. Remove it from the oven and let cool. Lower the temperature to 350°F.
filling:
Whisk together the sugar, syrup, eggs, bourbon, fresh ginger, ground ginger, and salt.
assembly:
Sprinkle the pecans and mini diced ginger into the cooled pie crust. Pour your filling over top and watch as the pecan pieces rise to the top.
Place the pie on an aluminum foil lined baking sheet, and bake for 25 to 30 minutes or until the filling has set and is slightly wobbly in the center. Make sure not to over bake or your pecan filling will start to split. Remove it from the oven and cool it on a rack completely before serving.
---
To see more of my favourite pie recipes, along with three of my best pie baking tips for the season, visit King Arthur Flour's Holiday Table. This post was created in partnership with King Arthur Flour! Thank you for supporting the brands that keep me doing what I love.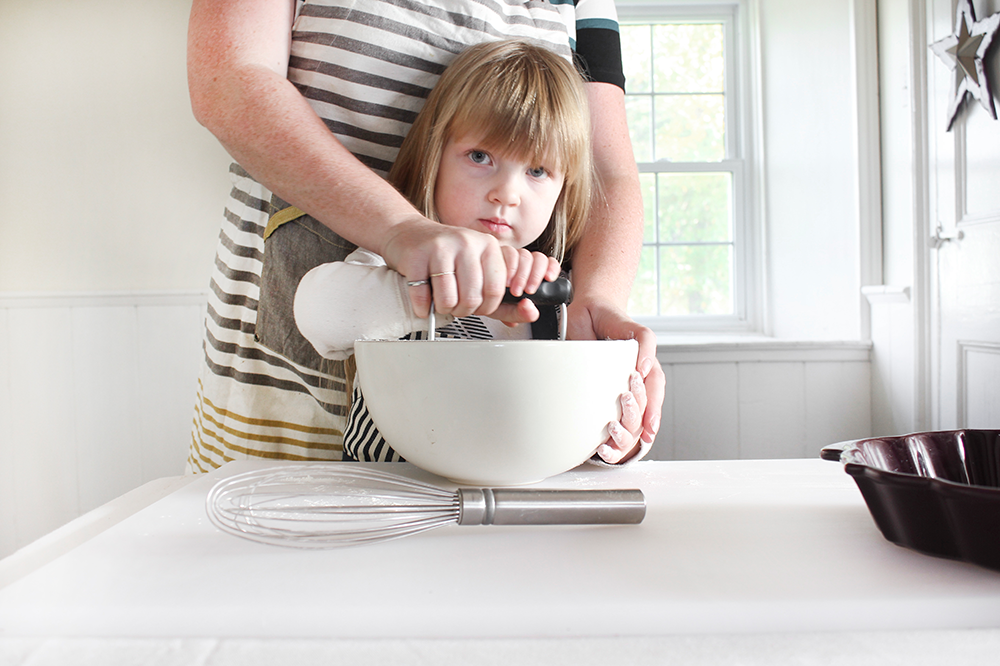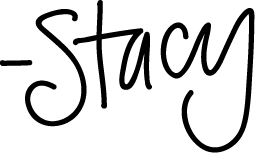 10.31.2016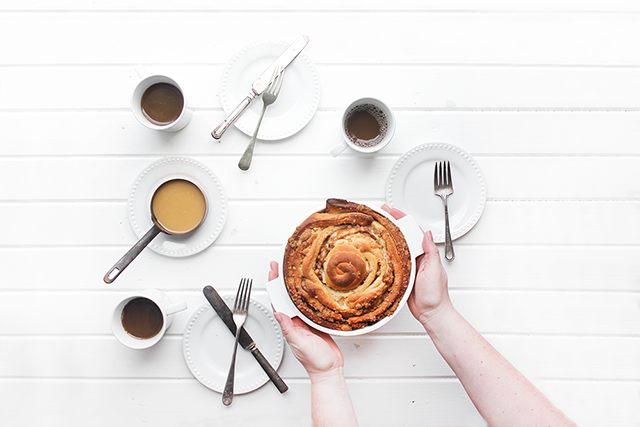 It snowed last week. It is Halloween, and there has already been snow on the ground! It is almost instinct now. As soon as the first few specks of white start falling from the clouds, I find myself in the kitchen, kneading some cinnamon bun dough. For me, snow and cinnamon go hand-in-hand. The only thing that was lacking were the christmas carols in the background. It is amazing how, in an instant, ones perspective can change as soon as a different season makes itself known. One moment I was thinking about pumpkin-spiced-everything, the next I am dreaming of snow cover hills. Is there something that you find yourself engulfed in as soon as the seasons change?
Continue Reading…

09.21.2016
So much has changed since the last Distant Kitchens post just a few short weeks ago. I have returned back to work after a year off with my little growing family and Erin and her husband have been up to their eyeballs in shows and work for Richard Clarkson Studios. It is certainly taking some adjustment for me to get back into the working mom routine and keeping up to date on the blog and instagram. Suddenly I am not allowed to sleep in past 4:30am and I don't have near as much free time during the day to do the things I love the most, however, I am managing, for now! If you are new to Distant Kitchens, Erin and
Continue Reading…

09.12.2016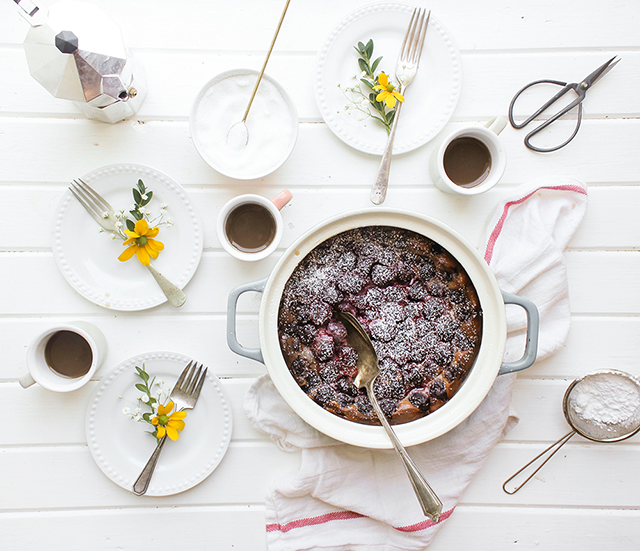 Big changes are happening to our family. After spending a year at home with my favourite little people, I am back to my cubical in Ottawa. I already miss seeing my babies every morning, sharing breakfast while talking about our plans for the day. I have already spent a few days out of my kitchen without baking anything, which just feels wrong. I am trying to get my head back into the engineering mode, but it is quite hard when I have a picture on my desk of two little cuties smiling back at me. Oh how times have changed. It truly is amazing how your view on life changes after having children. I vividly remember a time (well before
Continue Reading…

09.01.2016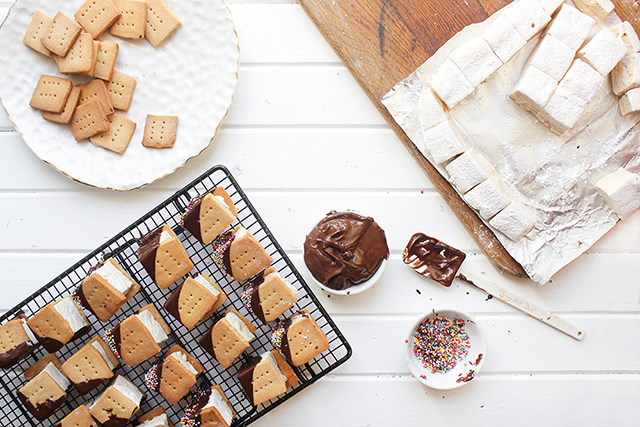 Summer is quickly creeping away on us. I feel like I'm dreadfully waiting for school to start as I count down the days until I return to work after a wonderful year off with my family. Things are changing here, whether we like it or not, so I guess it is time to embrace it, right? I am never good with change. We have had such a dry summer here in Ontario, and with that, comes fire bans. The last few summers, we always had a well stocked s'mores kit to attack whenever we felt like lighting up the campfire and indulging in a gooey chocolate treat in the back yard… But not this summer. This summer we have been trapped
Continue Reading…

08.30.2016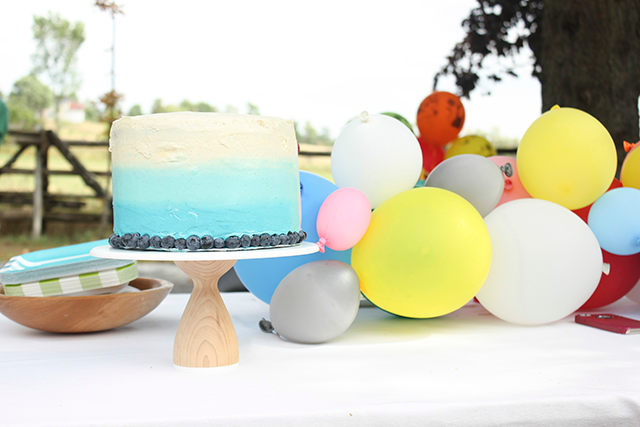 When I asked Olive what type of cake Henry might want for his birthday, I should have predicted her answer. We are all about sparkles and sprinkles over here, so it came as no surprise that we would celebrate with sprinkles. They may not be the most manly thing, but Olive was happy, and Henry didn't care as long as he had two fists full of cake at all times. I was actually pretty excited that she decided on sprinkle cake because I have long since wanted to try making Molly Yeh's Funfetti cake. I remember when she first posted it 2 years ago, so I didn't waste anytime searching her archives. Molly really breaks down her trial and error
Continue Reading…