12.30.2013
A Month Full of Birthdays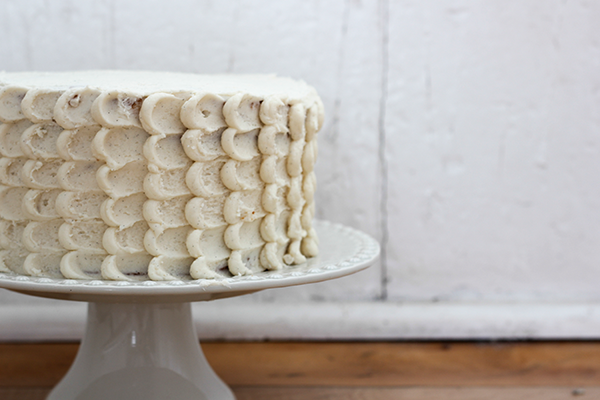 I can't believe it. Christmas has come and gone! Do you feel like you put so much work into the holiday leading up to the day, and then it just flies by like a beautiful cardinal across the sky? A few weeks before Christmas I was playing catch up as we prepared for Santa. I am not a shopper. I never have been and never will be. I get an instant headache when I walk into any mall and it is all I can do to not head for the nearest exit. Add on the massive crowd, stressful (and moody) shoppers, and limited quantities of items and you can just image how I feel. Of course, every October I say I am going to start and finish before the end of the month, and then I look at the calendar and it is already December 20 and I haven't started yet. I have to talk myself up… Prepare myself for the crowd… and head out, knowing right well that the two items I planned to purchase that day will take at least 4 hours. Long story short, I was very busy the week before Christmas!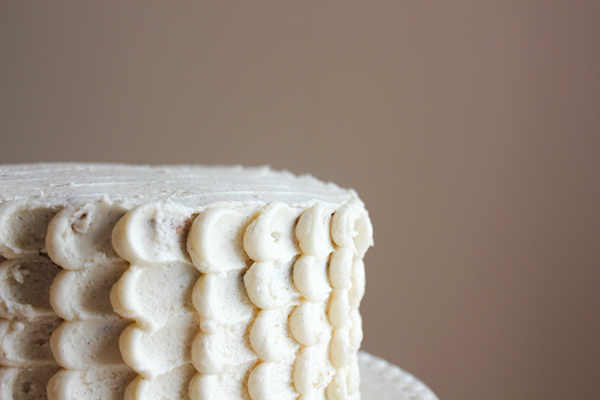 I cannot wait to share some of our photos from Christmas day. Olive was so perfect, and such a trooper all holiday long. How did we get so lucky? But before I share our photos, I wanted to share this awesome cake recipe I tried yesterday. We have many birthdays in December and early January. It starts with Scott's on December 9, and ends with my mom and all 3 of her sisters… All by January 3! I made this fun cake for our get-together, and I must say, it was a success! I was so excited to cut into it, but nervous at the same time because I didn't want a major fail while almost 20 family onlookers awaited their piece. Today is my Mom's 50-something birthday. I always feel like she gets the "end of the stick" when it comes to her birthday. Growing up, I would always forget about her day until it was just about time to put our presents under the Christmas tree. Then I had to make the quick decision which present I was going to save for her birthday 5 days later. Now I try to make her birthday a priority. I try to find something special, something separate from Christmas. She deserves the world. She is the best mom I could have asked for, and has been such an amazing Granny for Olive. Our family has been through a lot in the last few years, and seeing her face light up every time she sees Olive truly makes me feel like I have given her the world. Olive has brought a lot of happiness and peace back into our family, so I know Granny's birthday is going to be one of the best days she has had in a long time!
So what kind of cake to you make for such a special person? A Fluffy Vanilla Cake with Buttercream frosting and a surprise inside!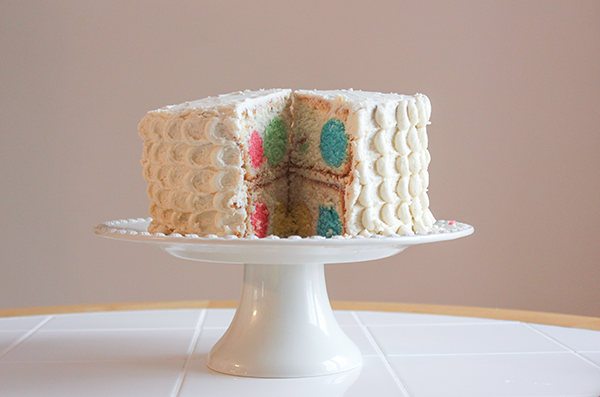 Ingredients
Cake Batter (good for a double layer, 8″ cake)
** I made two batches of this recipe for the special polka dots. If just make a double layer cake, you only need to make this once***
5 large egg whites at room temperature
3/4 cup milk
2 1/4 teaspoons pure vanilla extract
2 3/4 cups cake flour, sifted
1 3/4 cups sugar
1 tablespoon + 1 teaspoon baking powder
3/4 teaspoon salt
12 tablespoons unsalted butter, at room temperature and cut into cubes
Buttercream Icing
8 cups of confectioners' sugar, well sifted
1/2 tsp. salt
1 cup (2 sticks) unsalted butter, softened to room temperature
1 cup regular shortening or high-ratio shortening (or you can use just 2 cups butter & no shortening but it won't be as white)
2 Tbsp. light corn syrup
2 Tbsp. vanilla extract or vanilla paste
1/3 -1/2 cup heavy cream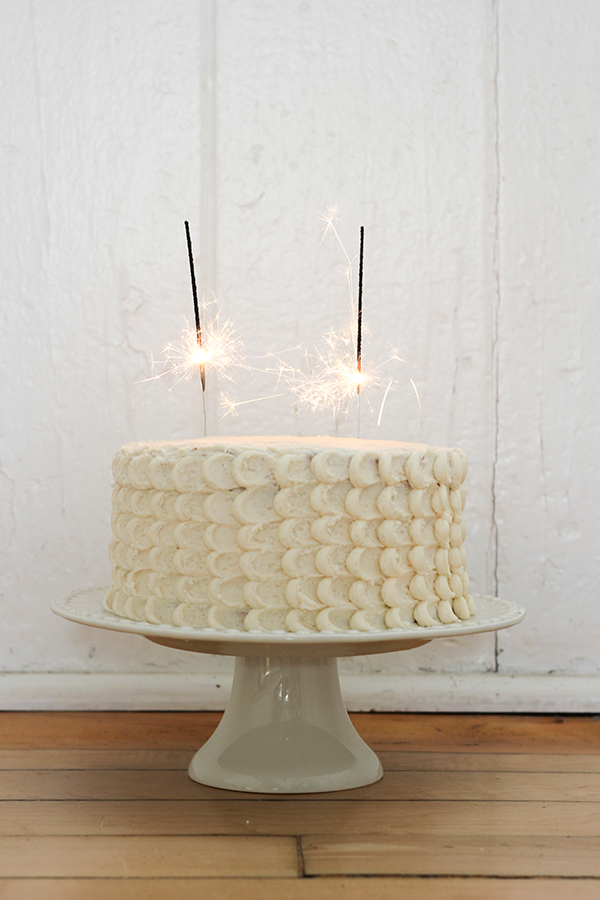 What's Next?
Preheat oven to 350°F (180°C). Grease, line with parchment, and flour two round 8-inch pans.
In a medium bowl or measuring cup, combine and stir the egg whites, 1/4 cup of milk, and the vanilla. Set aside.
In the bowl of an electric mixer fitted with the paddle attachment, combine the dry ingredients together on low speed (I use the "stir" setting on my mixer) for 30 seconds.
Add the butter and remaining 1/2 cup of milk, and mix on low speed until just moistened. Increase to medium speed and mix for 1 1/2 minutes.
Scrape the sides of the bowl and begin to add the egg mixture in 3 separate batches; beat on medium speed for 20 seconds after each addition.
If only making a double layer cake (without the polka dots) skip to step 11.
Divide batter into four separate bowls. Add food colouring until desired vibrance is achieved. (I used at least 30 drops in each to make mine really stand out).
Spoon batter into cake pop trays and bake at 350°F for 20 minutes, or until toothpick comes out clean. Let balls sit for 5 minutes before removing from tray. Let cool on rack. (I made 16 polka dots for each 8″ layer).
Make the cake batter recipe one more time!
Spoon a thin layer of batter into the bottom of two 8″ circular cake pans. Arrange the polka dots in which ever order you desire. I made an outer and inner circle, rotating colours.
Spoon remaining batter into both pans. Be careful not to move (OR CRUSH) your polka dots! Make sure to fill all spaces between the dots.
Bake 25-35 minutes or until a tooth pick comes clean when inserted into the center. Be careful to not overbake. Let cool on racks for 10 minutes before loosening the sides and invert onto greased wire racks. Gently turn cakes back up, so the tops are up and cool completely.
While the cakes are cooling, make your icing. Sift together the confectioners' sugar and the salt, being sure to break up out any stubborn sugar lumps.
In the large bowl of your electric mixer, using the paddle attachment on high speed, cream together the butter and shortening; beat for about three minutes, until light yellow.
With mixer still running, add the corn syrup and vanilla. Stop and scrape the beaters and bowl.
On low speed, add the sugar in 3 additions, beating well after each one. Pour in the cream and blend until the frosting seems of reasonable spreading consistency; if it seems too thick, add in more cream as needed, a teaspoon or so at a time.
Once you cakes have cooled completely (I mean completely! We don't want any melting!), dress up your cake with your yummy icing however you wish!!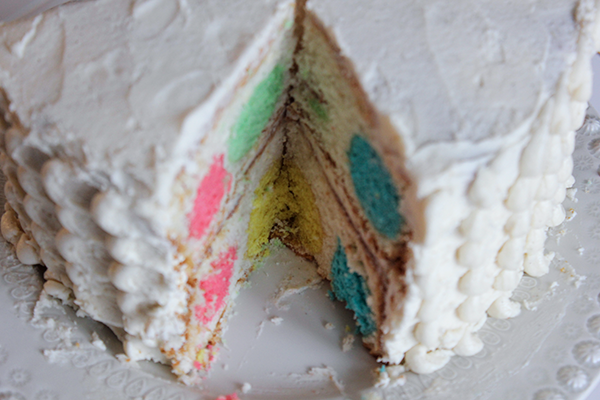 Olive says "SURPRISE!!! I hope you liked it Granny!"