09.29.2014
A Picnic for Two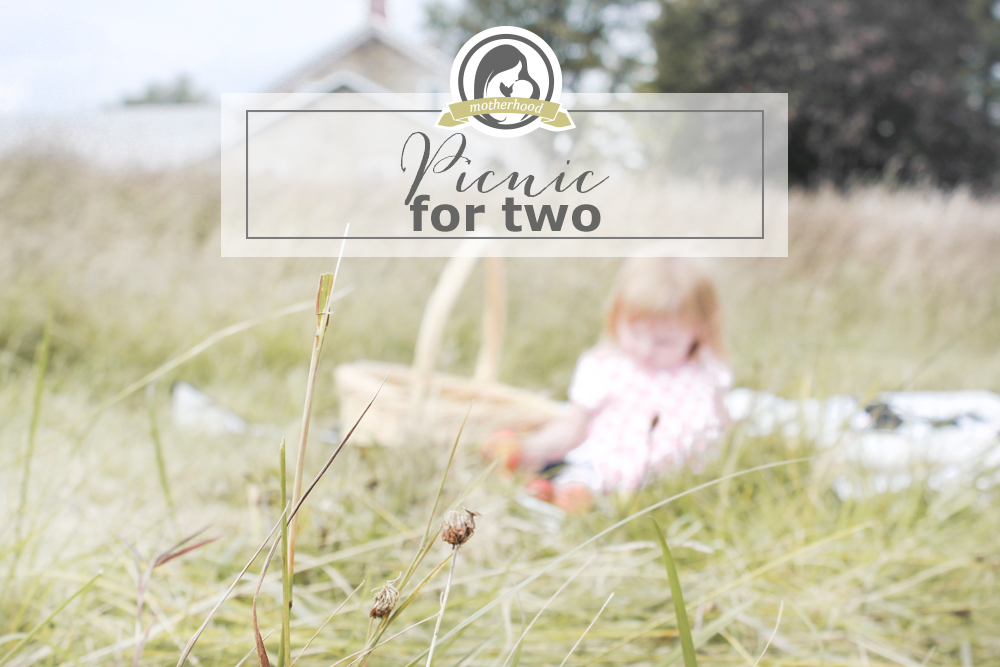 I have wanted to have a picnic with Olive all summer long, but before I knew it summer was gone and fall was here to stay. She simply adores the outdoors just about as much as she loves to eat (seriously, this girl can eat)! I've had a few picnics in my life, however, I honestly cannot recall the last. There is something whimsical about setting out a favourite homemade quilt and decorating it with a basket full of delicious food and beverages. The picture of our future family set up lakeside for the day is so vivid in my mind. I can picture the menu, and the games we will play. I can see our children, after a long day of outdoor adventures, curling up on our laps to enjoy blueberry crumb bars and sips of milk. There is something so beautiful about the simplicity of enjoying the outdoors to its fullest, especially when it is your own backyard!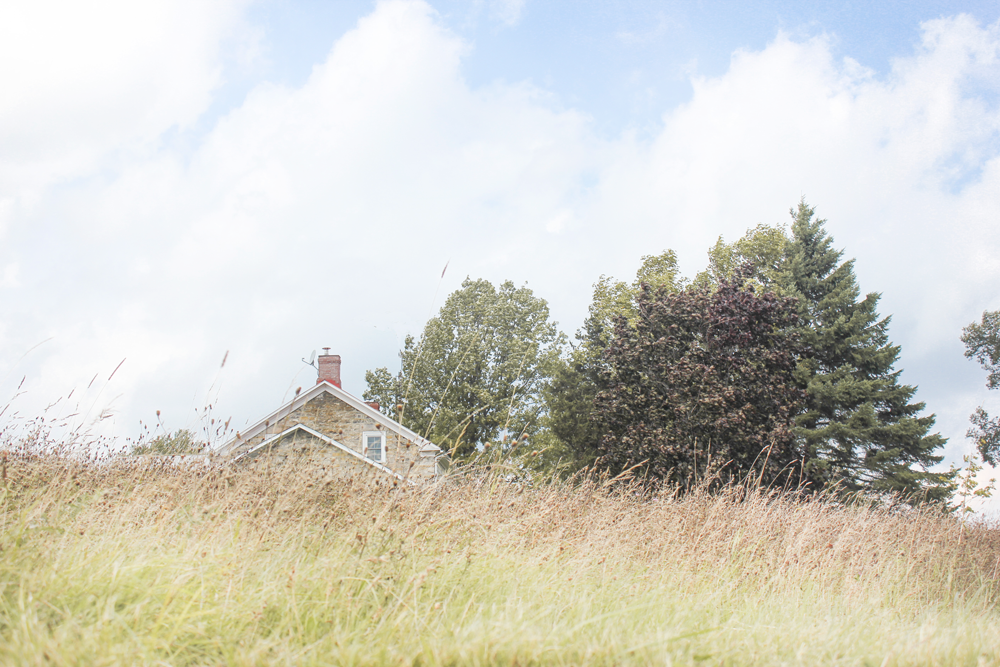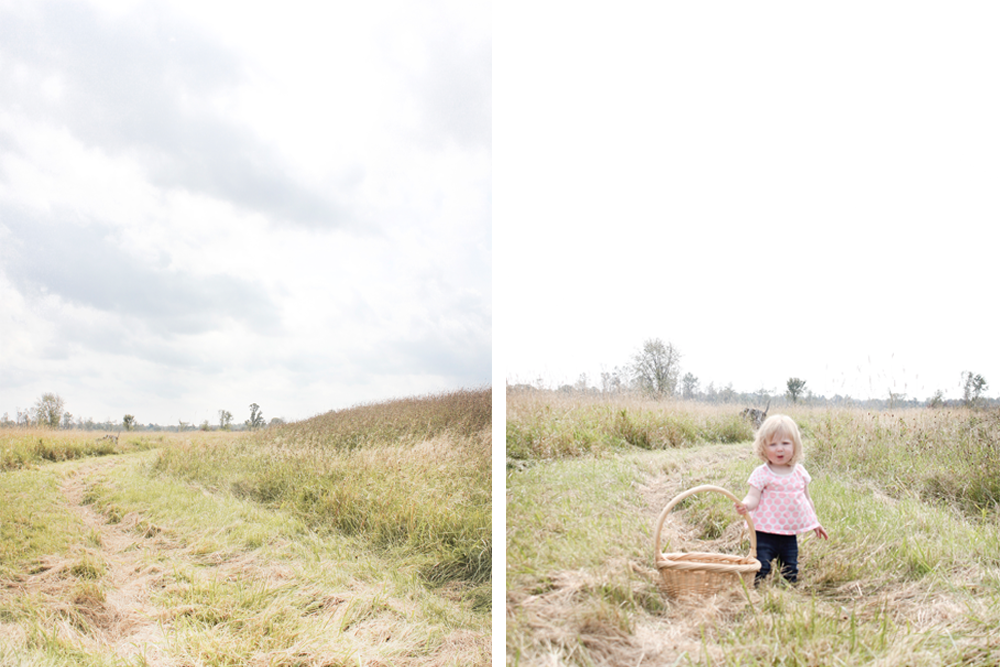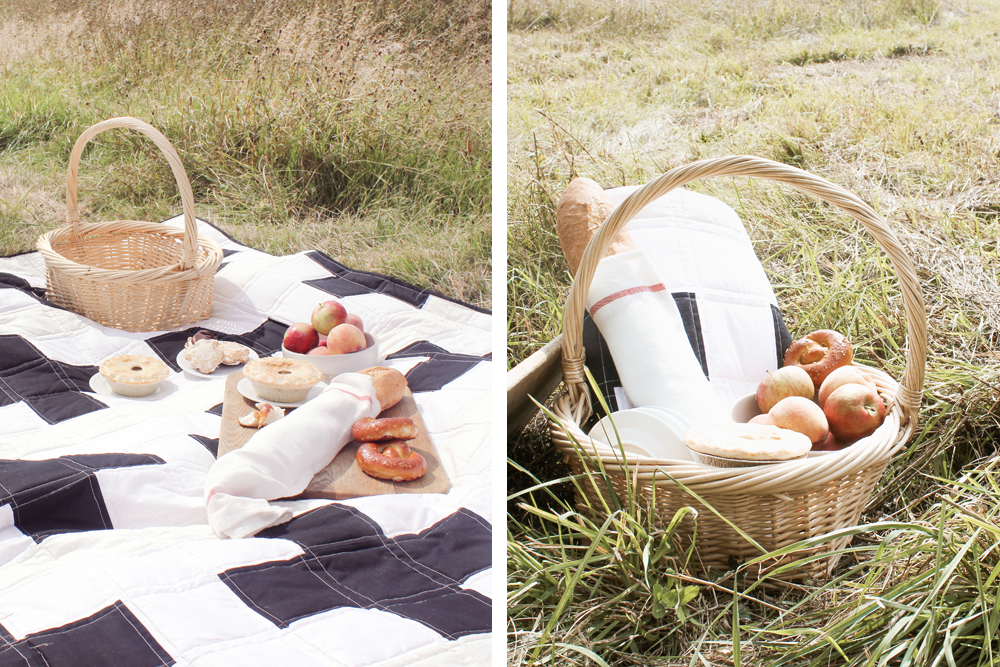 We aren't a "no-tv" rule kind of family, however we rarely take time out of our lives to spend it sitting on the couch catching up on recent shows. Instead, we read books, and play, and go on outdoor adventures. My childhood was spent running through the forest to the creek in the back forty. Those are the kind of memories I want Olive to have. To me, a simple outdoor picnic in the field right next to our house, eating yummy food, reading books, and playing in the hay is far more entertaining than turning on a movie or playing video games. Growing your child's imagination is probably the best gift you can give them.
Despite the sudden temperature drop in our Canadian climate, of which I should not be surprised, I decided to blow caution to the wind and have a little backyard picnic with my favourite girl. The temperature jumped just a little for us to shed our sweaters and run for the field. We dined on homemade mini tortiere, french bread, apples, peaches and kirsch amaretti. I felt like we discovered a whole new world, even though we never left home. We watched the crickets jump across our blanket, read Olive's favourite book (Guess How Much I Love You), and even cuddled up for a wee nap. Although we could hear the passing cars on the highway, I felt that we were in a far off land, hiding among the tall grass, just the two of us. I had no desire to be anywhere else than enjoying these last few splashes of summer with Olive.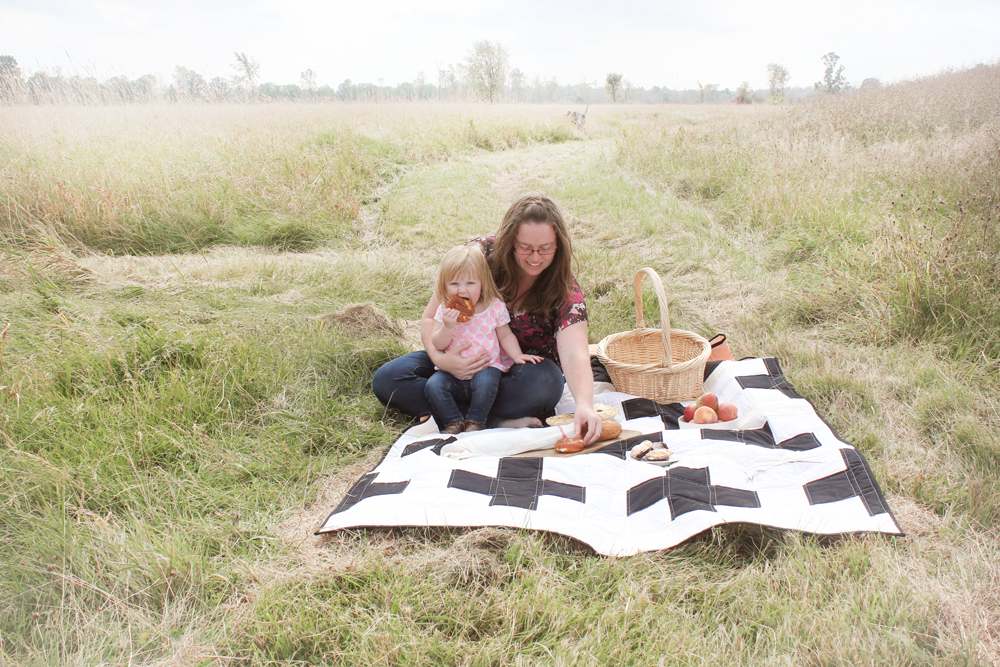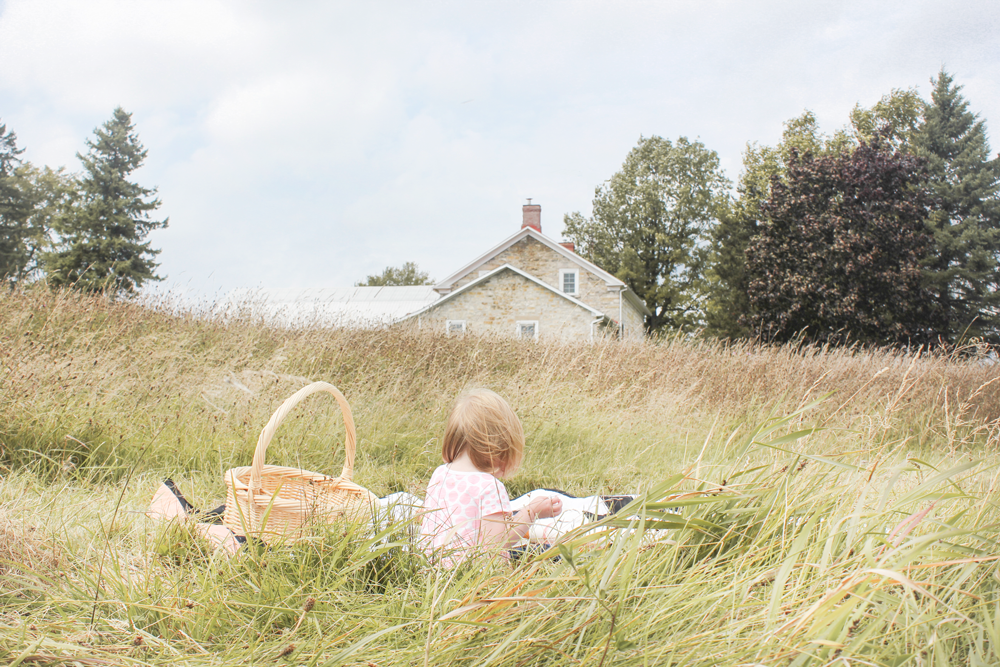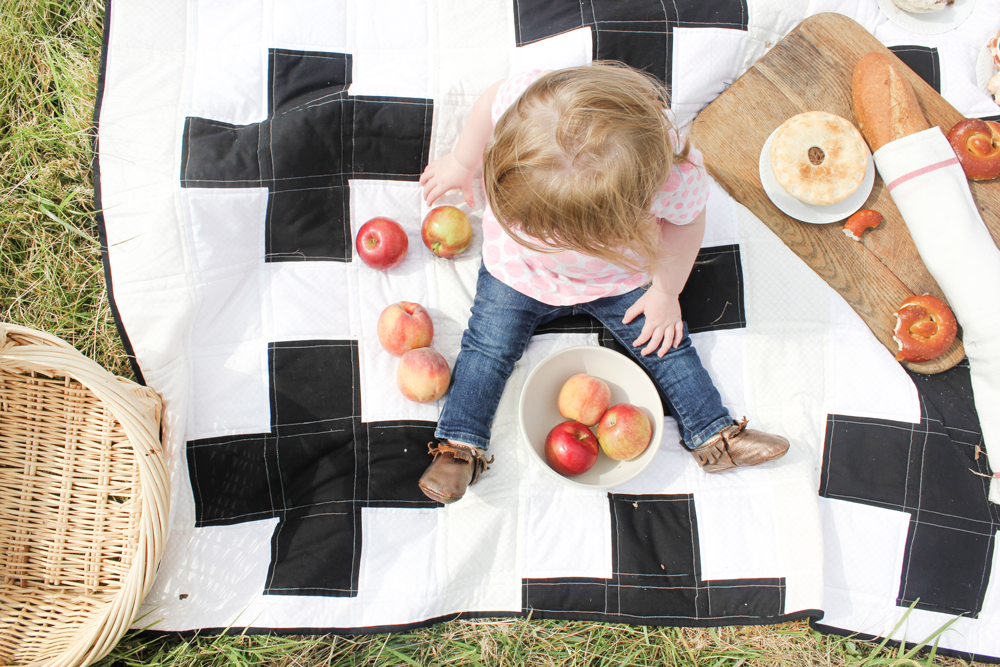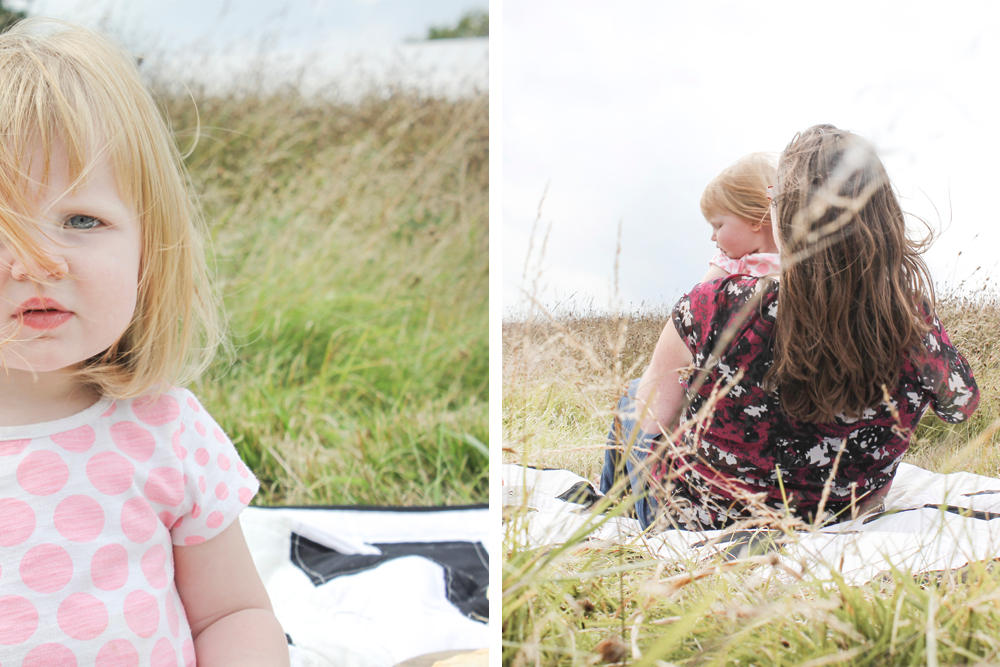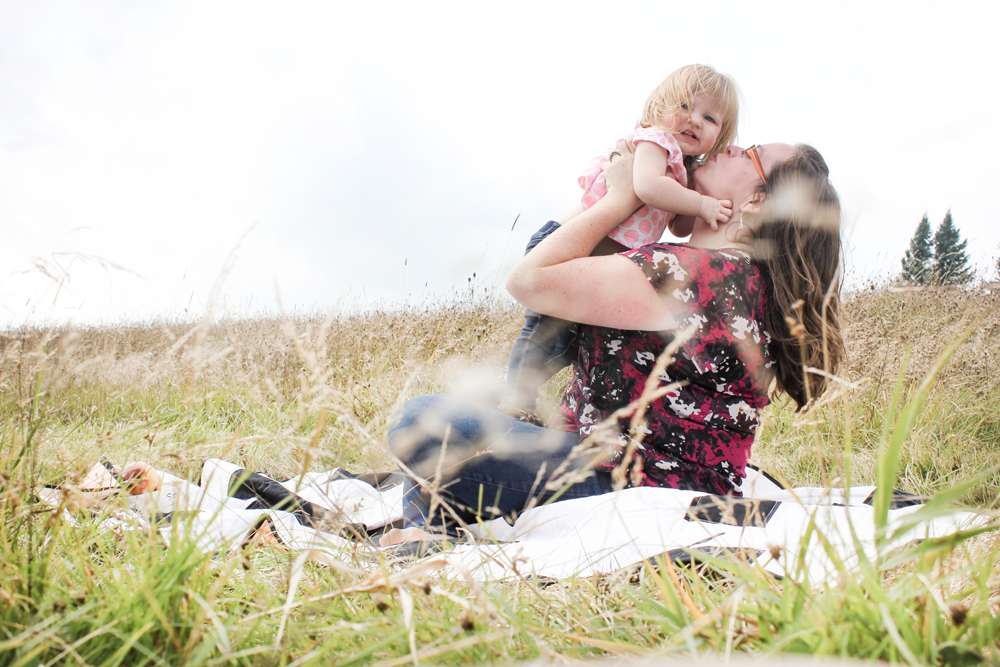 I look forward to more days like these. The kind of days where I can forget about the real world and truly enjoy my time with my family. Far too often I find we get caught up in the day-to-day, forgetting what is standing right in front of us pulling on our shirt tails. It's moments like these that create childhood memories. I want Olive to have the best memories.