01.12.2014
A Recipe for Brunch
Is there anything better than a yummy brunch with family? Okay, I'm sure you can name a few things that are better, but brunch definitely tops my list. It means a morning of sleeping or lounging around the house, not quite energetic enough to make breakfast, but far to hungry to wait until lunch. Today I was in the cinnamon bun baking mood, but I decided to a different route. I found this awesome idea from Sally's Baking Addiction and thought it was the perfect recipe to make . I couldn't wait to try it.. but decided to use my own cinnamon bun recipe because it is tried, tested, and happily approved (but Scott and his beer league hockey team)!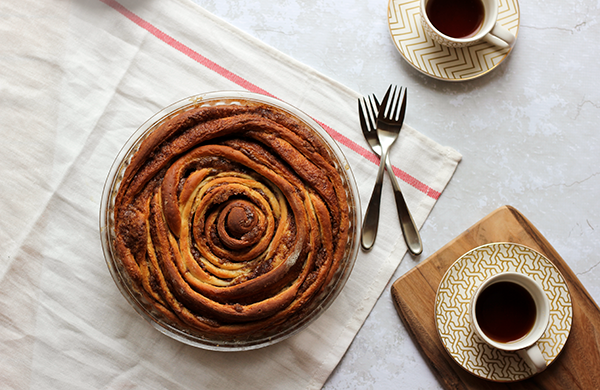 Tonight we are having a (very) belated birthday dinner for my mom. I am now the designated dessert bringer, but I didn't want to bring the usual chocolate cake. I thought this cinnamon bun "cake" would work just right with some cream cheese frosting to top it off!
I think you should try this for your next brunch… or birthday!! A definite win for the recipe box! Warning – Not for those on a diet.. I think I just counted 18 (yes, EIGHTEEN!) tablespoons of butter in this recipe. Making Julia Child proud since 2013!
Ingredients
Dough
1 cup 2% milk
4 tablespoons unsalted butter, softened
1/3 cup granulated sugar
1 teaspoon salt
2 large eggs
1 1/3 cup all-purpose flour (plus some for kneading and dusting)
2 1/2 teaspoons active yeast (follow directions on bottle to activate)
Caramel Glaze (Pan Sauce) – from the Kitchen of my mom-in-law!
6 tablespoons butter
3/4 packed brown sugar
3 tablespoons corn syrup
2 tablespoons heavy cream
Filling
1 cup packed brown sugar
2 1/2 tablespoons cinnamon
4 tablespoons unsalted butter, softened
Frosting
1 package cream cheese (softened)
4 tablespoons unsalted butter
1 1/2 cups confectioners' sugar
1/2 teaspoon vanilla extract
1/8 teaspoon salt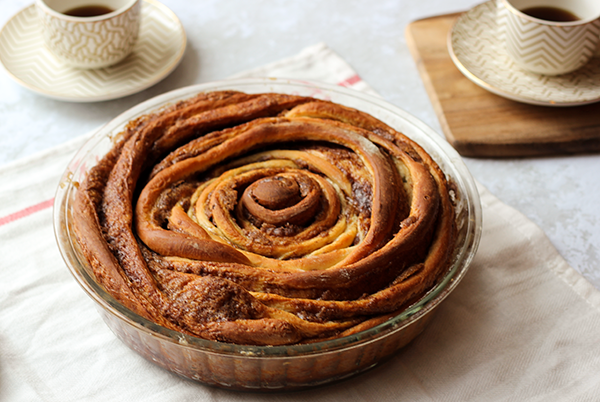 What's Next
In a 4-cup measuring bowl, combine milk, butter, sugar, and salt. Microwave on high for 1 minute or until warm. Whisk in the eggs.
Place the flour and active yeast in the bowl of a stand mixer (if you have one!) fitted with a paddle attachment. Add the liquid ingredients. Mix on low speed, stopping to scrape down the sides of the bowl from time to time, until the dough forms a soft mass and starts to pull away from the sides of the bowl (5-6 minutes).
 Remove the paddle attachment and switch to the dough hook. With the mixer on low, knead the dough with the dough hook. Sprinkle the dough with flour, a tablespoon at a time, if necessary, to keep it from sticking to the side sod the bowl. When the sough is smooth, not sticky, and springs back when you press it with your finger, you've kneaded enough (4-6 minutes). I like to finish kneading the old fashioned way – digging your hands in and doing some punches. I don't know why, but my buns always turn out better when I do this!
Place the dough in a large, oiled mixing bowl, cover with a tea towel, and let rise in a warm place for 45-60 minutes, or until almost doubled in size.
While the dough is rising, cook your pan sauce by combining butter, sugar, corn syrup and heavy cream in a sauce pan on the stove. Whisk until combined and boiling. Place in the bottom of your bun pan right before you place your buns inside!
Mix together brown sugar and cinnamon for the filling.
When the dough has doubled in size, transfer to a floured surface and roll out to an approximate rectangle – 16×20 inches.
Spread the dough with the soften butter (4 tablespoons) and then sprinkle the cinnamon mixture on top. Smooth out until entire dough surface is covered with the mixture.
slice the dough with a pizza cutter into 2″ stripes along the length of the dough. Loosely roll up one strip and place in the middle of your cake or deep dish pie plate. (Remember you add your pan sauce to the cake/pie plate before placing your first roll)!
Coil the remaining 5 strips around the center roll, starting each strip at the end of the previous one to make one large rolled cake. (the photos below are courtesy of Sally's Baking Addiction) 

Once you have coiled your dough, cover with a tea towel and let the dough rise again – doubling in size. (60-90 minutes)
Once double, preheat your over to 350F. Bake your cake for 30-45 minutes or until internal temperature reaches approximately 180F.
Remove from oven and let rest for as long as you can before giving in!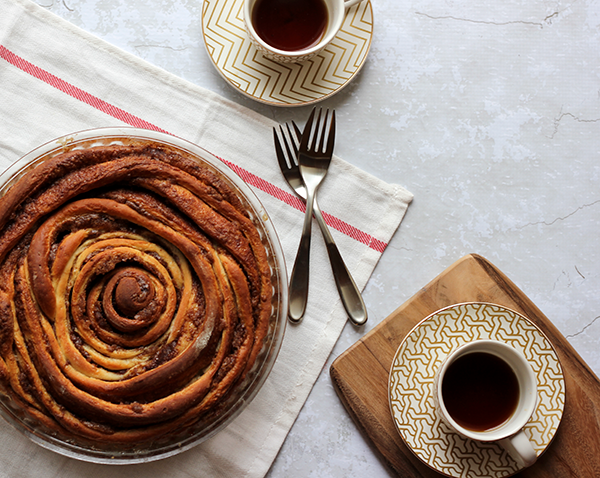 Olive says "OUR HOUSE SMELLS SO GOOD"!