02.01.2013
Baby Carrier (Moby Wrap)
I seem to have a reoccurring theme between last weeks challenge and this weeks! BABY! I guess that means time is tickin' away quickly for me as I try to get in all these last minute projects! This challenge is specifically geared towards mommies, daddies and babies, but don't fret! If you don't have a baby yourself, I'm sure you might know someone who does — perfect baby gift? I think so!
Today's challenge is to create a DIY Baby Carrier (Moby Wrap). I have a few friends who say they would not go a day without their carrier, so I have been researching to find the right one for us. The brand Moby Wrap seems to be the overall favourite, but at $50-$70 a pop, I have been looking for alternate solutions. I came across this great DIY, which literally (if you chose) only involves cutting fabric! Easy, right?! And the best part – I made 3 wraps for the price of 1 commercial Moby Wrap!
Before making your own ***DISCLAIMER: Please always use extra caution when wearing baby (especially  newborns and sleeping babies) and do your own research on the safety issues as that's not what is covered in this tutorial. I know a few things for sure; make sure baby's face is visible, their chin is off their chest and please note that jersey wraps should not be used for a back carry hold. This tutorial is just used to show how to create your own wrap. I do not assume any responsibility for any problems arising from creating your own wrap. Keep baby safe! ***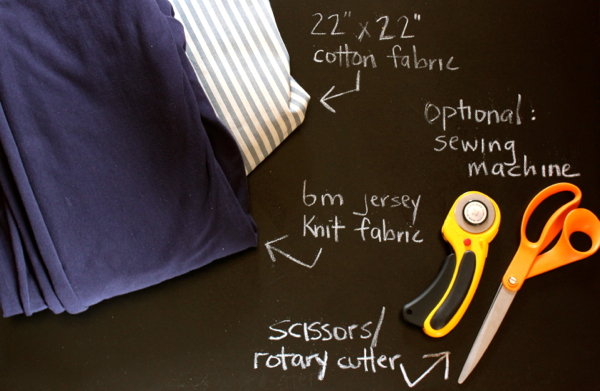 The Challenge: DIY Baby Carrier (Moby Wrap)
Time to Create: varies based on sewing ability and desired outcome (you will see what I mean!)
Original Creator: A Load of Craft
Share your Paper Canvas Art photos on Instagram using hashtag #thelittleredbutton
As you may have read from my post yesterday, I am just starting to venture into the sewing world. I have tried various quilting/pillow making projects with cotton fabric as well as paper sewing. Today's Pinterest Challenge involved a different fabric – Jersey Knit! As you can see in the photo above, this project is "sewing optional". If you choose not to sew, you are literally done after step 1! Quite appealing, eh?
Being my first time using jersey knit, I'm not going to lie, I was a little frustrated right off the bat. For those of you who don't know, the edges of jersey knit fabric like to curl up, making cutting/measuring harder than the more easily cuttable cotton fabric (that I now have way more appreciation for)! A few times I just wanted to throw the jersey knit out the window, but after cutting, this project is SOOOOO EASY!!! (and could be done if you chose to stop there)!
What's first?
You will want to lay out all 6m of your jersey fabric. The navy blue fabric that I purchased was 60″ wide, therefore I opted to cut the fabric lengthwise at 20″ intervals. This meant that I had three 6m long panels to make three different wraps. If you purchased 45″ wide fabric, you can make two 20″ panels. You can use either scissors or a rotary cutter to gnaw through all 6m! NOTE: I recommend cutting first, washing second because the edges will curl making it SO much harder to cut at 20″!  – I found this out the hard way!
Cut the fabric at the 20″ mark… for the entire 6m!! It seems to never end!
At this point you can either taper the edges (leaving less bulky fabric to knot) or you can leave as is! I chose to taper the edges. To taper, take a wrap and lay one end of it on the table FOLDED in half like the picture below. Starting about 20″ or so from the end, taper all the way to the end leaving about 4″ on the end (so really only 2″ since it's folded). Round the end 4″.
Guess what? YOU CAN STOP HERE IF YOU WISH! How easy was that? The carrier is just a loooong piece of fabric wrapped in a special way around your body. So not worth paying $70 for the commercial version, don't you think?
If you wish to "pretty" up your wrap you can continue here. You will need to cut your cotton fabric into a nice 22″x22″ square. Iron out any wrinkles. I cut two different fabrics for two different wraps
Next find the centre of your jersey fabric and measure the width. Mine ended up being 21″ (oops!!). Mark the centre point with a pin. Trim one edge of the cotton fabric to the width of your jersey wrap. (Mine ended up being 21″x22″). Iron the short side edges under 1/2″ so that the wrong sides are touching. Pin the top and bottom of the cotton fabric to the centre of your jersey wrap, right side DOWN (1/2″ tabs up).
Sew the top and bottom a 1/4″ from the edge. I read online that you will want to use a zig-zag stitch when sewing jersey fabric because this will allow the stitch to stretch with the fabric. A single straight stitch may pop if used.
After the top and bottom are sewed together, turn the wrap inside out (therefore the bottom panel will be right side out!). Iron the the panel to flatten all edges.
Next, sew around the entire perimeter of the panel, staying as close to the edges as you can! Clean up any thread, and you're done!!! Now I just need baby to make an appearance to I can actually put baby IN the wrap!! Here is a great
video
teaching you how to wrap all 6m around your body to secure baby!
Please share your Baby Carrier on Instagram by using hashtag #thelittleredbutton
I can't wait to see them!!
Peace, Love and Baby Wearing,
-Stacy