11.22.2013
Baked in a Pie: Apples and Beets
This morning I am so excited to share some news that I found out yesterday! Food52 (an amazing food website!) announced that my Salted Caramel Chocolate Pecan Pie was among the top best recipes for (American) Thanksgiving! I am beyond thrilled to be recognized. There were about 100 entries, and they all looked amazing! Head on over to Food52 to check out the other community picks and entries! How exciting is this?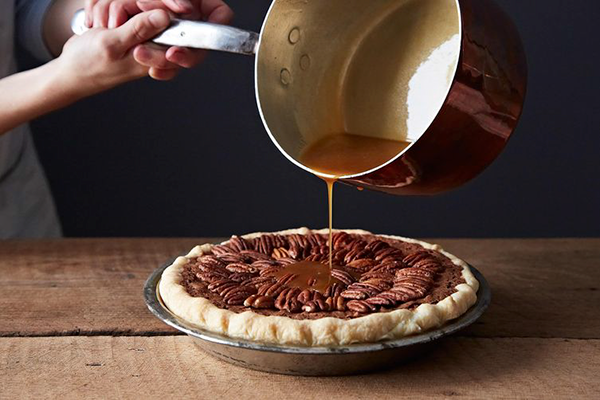 Now, with that exciting news out of the way, its time to share my pie recipe of the week. This pie blows my mind. I never thought the combination of these two ingredients would yield such an extraordinary taste. I made this recipe twice over the last week and a half – once for my mom and her friends (for their monthly "Desperate Housewives" get together! How awesome is that? I can only hope I have an amazing group of friends like my mom does to get together every month to eat yummy food, to drink tasty wine and to catch up on their life events. Maybe I need to start a second chapter of the Desperate's!) – and the second was for Scott's hockey team (in the handpie version). I made sure to tell my mom and Scott to make them guess what makes the pie red. I heard they thought everywhere from strawberries an raspberries to food colour and koolAid mix! No one could put their finger on BEETS until the secret was revealed!!
Pie No. 5: Blushing Apple Pie
Ingredients
Crust
Pie Crust Ingredients and Recipe
Filling
1/2 Orange
6 to 7 apples (about 2.5 pounds)
1/4 cup plus 2 tablespoons granulated sugar
1/2 cup packed light brown sugar
1/2 medium beet, oven roasted until tender and chopped into 1/2 inch pieces
1/4 teaspoon ground ginger
1/4 teaspoon ground caradmom
1/2 teaspoon kosher salt
3 tablespoons all-purpose flower
1 1/2 teaspoons vanilla paste (or vanilla extract if you don't have paste)
1/4 teaspoon orange zest
1 tablespoon cider vinegar
1 to 2 dashes Angostura Bitters
Egg wash (1 large egg whisked with 1 teaspoon water and a pinch of salt)
Demerara sugar (for finishing)

What's Next?
Roll out your crust and pastry round (or lattice top), place in pie plate and refrigerate both.
Juice the orange into a large bowl. Pell core and slice the apples. Dredge the apple slices through the orange juice. Sprinkle lightly with 2 tablespoons granulated sugar and set aside to soften and release some of the juices (20-30 minutes)
In the bowl of a food processor (or blender) combine the remaining 1/4 cup granulated sugar, brown sugar, chopped beet, ginger, cardamom, salt, flour, vanilla paste, zest, and bitters. Process until the beet is fully incorporated into the sugar.
Drain any execs liquid from the sliced apples and add the beet-sugar mix. Toss the apples to coat thoroughly. Tightly layer the apples in the prepared pie shell so that there are minimum gaps and mound in the centre. Arrange the lattice of pastry round on top and crimp as desired.
Chill the pie in the refrigerator for 10-15 minutes to set the pastry.
Meanwhile, position the oven racks in the bottom and centre positions, place a rimmed baking sheet on the bottom rock, and preheat to oven to 400F degrees.
Brush the pastry with the egg wash and sprinkle with the desired amount of demerara sugar
Place the pie on the rimmed baking sheet on the lowest rack of the oven. Bake for 20-25 minutes, or until the pastry is set and beginning to brown. Lower the oven temperature to 375F degrees, move the pie to the centre oven rack, and continue to bake until the pastry is a deep golden brown and the juices are bubbling throughout, 40-50 minutes longer.
Allow to cool completely on a wire rack (about 2-3 hours). Serve slightly warm or at room temperature.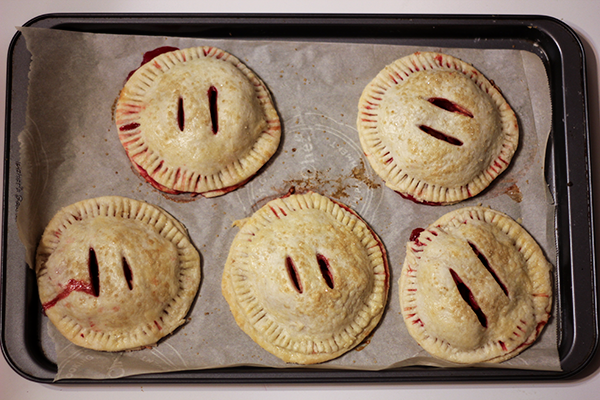 Olive says "If you eat too much… Your pee might turn red!!!"