12.03.2013
Baked in a Pie: Maple Syrup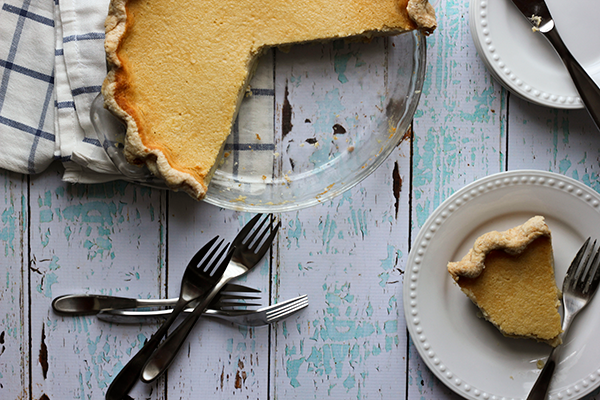 After last weeks semi-pie-disaster, Scott decided he was going to pick the recipe this week. He wasn't a huge fan of the Salty Honey Pie, but I think he just doesn't have a love for sweet and salty mixed together (because I thought it was pretty darn good)!
If Scott had to pick one thing to eat for the rest of his life it would be maple syrup. Hands down. When we go to a pancake house in our area, he literally drains the entire bottle that they put on the table (it isn't a small bottle either). So with that said, it did not surprise me that Scott decided he wanted a Maple Custard Pie.
Last weeks pie crust literally fell into the filling while baking. The recipe didn't call for a blind bake, but maybe I should have done that. I had nightmares about failed pie crust… But fret not, I think I found the solution!!! I made this weeks pie twice — once for Scott's hockey team and the other for Olive (okay for me, guilty!). I didn't have time to make the second one Sunday night so I rolled my crust out, plated it, and crimped the edges. I left it in the fridge overnight to let the crust set. In the morning I look the pie out of the fridge, poked the bottom 20-25 times with a fork, and then froze it for 15-20 minutes. I then partially pre-baked the pie in the oven. This was the FIRST time my pie crust didn't shrink at all! It stayed exactly where I put it!
Pie No. 7 – Maple Custard Pie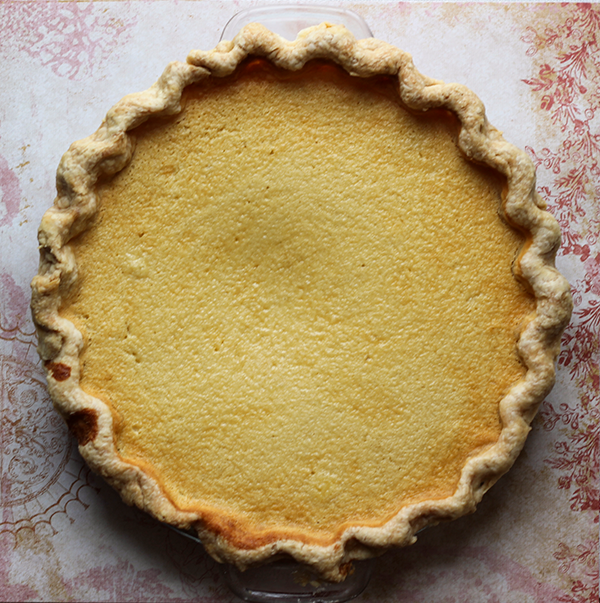 Note: We are deep-dish pie kind of people, so for the following recipe I decided I needed to make a recipe and a half so it would fill the pie. It worked perfectly. I ended up with about 6 tart sized mini pies with the remaining custard filling. This was a lifesaver, because they were done baking before the pie was done (it took extra time to bake because of the extra filling – science, I love it!), so Scott had something to mow down on while he waited for the "real" thing! The recipe below reflects the original single recipe. Recipe adapted from Four and Twenty Blackbirds.
Ingredients:
Crust
Pie Crust Ingredients and Recipe – roll out, plate and crimp. Refrigerate for at least 30 minutes (or overnight). Poke with fork 20-25 times and freeze for 15 minutes.
Partially prebake the crust. Place aluminum foil over the crust (and crimped edges) and add one layer of beans (or pie weights). Make sure there are more beans around the outside edge rather than in the middle. Bake crust at 425F for 20 minutes on the lowest rack. Remove aluminum foil and beans and bake for another 3 minutes. Allow crust to cool before filling with filling!
Filling
1 tablespoon all-purpose flour
1 tablespoon stone-ground white corneal (I couldn't find white, so I used yellow!)
1/4 cup packed light brown sugar
1/2 teaspoon kosher salt
5 tablespoons unsalted butter (melted)
1 teaspoon vanilla paste (or vanilla extract)
1 cup sour cream
3 large eggs
1 large egg yolk
3/4 cup maple syrup (Make sure its the REAL thing! No Aunt Jemima!)
1 cup buttermilk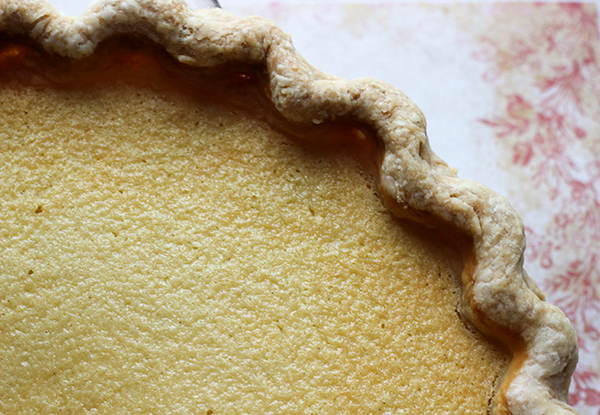 What's Next?
Partially pre-bake your frozen crust (as instructed above). Allow the crust to cool before filling with filling.
In a large bowl (I used my stand mixer bowl), combine flour, cornmeal, brown sugar, salt and melted butter.
Once mixed, add in the vanilla paste (or extract), and the sour cream. Blend until mixed smooth.
Add in the eggs and egg yolk (one at a time! Make sure each is mixed in before adding more!)
Add the REAL maple syrup and buttermilk (Note: If you do not want to buy a jug of buttermilk, make your own. Add 1 tablespoon of vinegar to a measuring cup. Fill with regular milk to the 1 cup mark. Let sit for 5 minutes! Voila!)
Strain filling through a sieve into the pie crust. This pie does not puff up very much, so I filled it right to the crimp. Bake on the middle rack for 45-50 minutes. (I think my deep dish baked for at least an hour and a half).
The pie is finished when the edges are set and the middle is slightly puffed and not liquidy. The middle will still be a little wobbly, but this will continue cooking when you remove from the oven. If you leave it in too long, the custard will separate.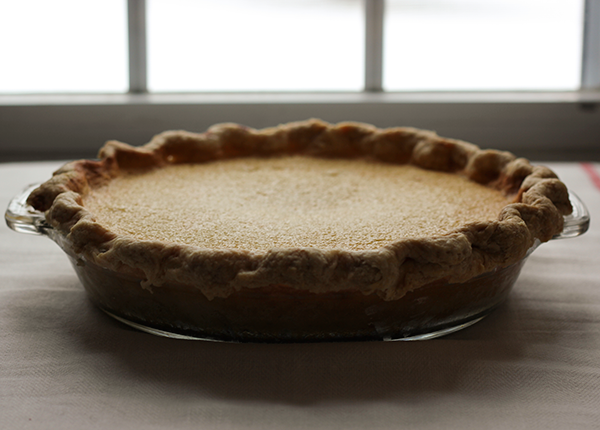 Olive says "Daddy was REALLLLLLLLY happy with this one!"