11.28.2013
Baked in a Pie: Salt and Honey
Today we are honouring our neighbours to the south and their Thanksgiving! It never made sense to me why the American and Canadian Thanksgivings were on totally different days in totally different months… Both the American and Canadian Thanksgiving are a holiday thank God for a good harvest. Maybe Canada's is earlier, because our harvest is earlier? Who knows! Either way, today we celebrated with Salty Honey Pie (recipe adapted from Four and Twenty Blackbirds and Food52)
Pie No. 6: Salty Honey Pie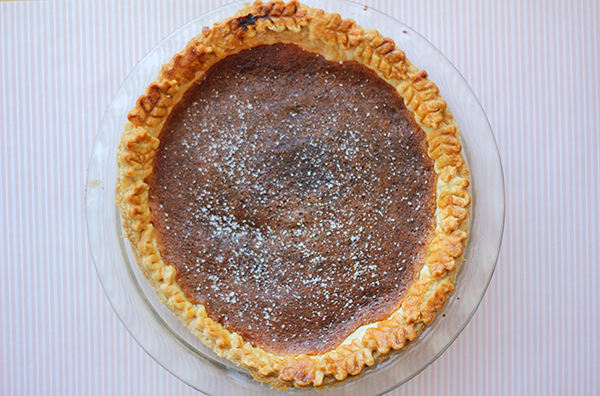 We kind of had a little (minor) disaster… We made two pies and on both the crust collapsed! (Can you hear the inhale of horror?). The recipe calls for your crust to be frozen. Maybe I didn't freeze it long enough after I rolled it out and plated it? Maybe I should have gone for a straight up crimp instead of getting fancy? Maybe I should have blind baked the crust first (the recipe didn't call for it.. but maybe I should have anyway?) Either way, the crust failed but pie is still as yummy as can be!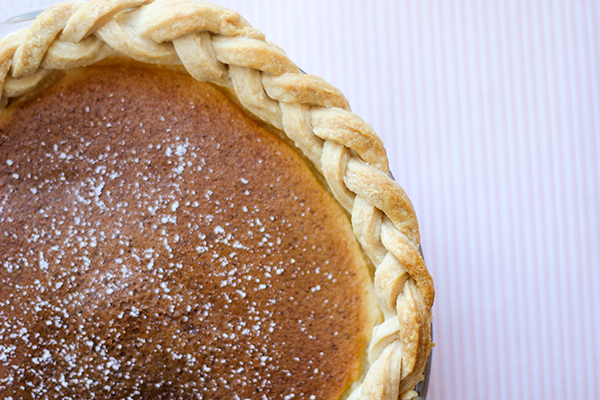 Ingredients:
Crust
Pie Crust Ingredients and Recipe – roll out and freeze in freezer
Filling
1/2 c butter melted
3/4 c white sugar
2 Tbsp white cornmeal
1/4 tsp salt
3/4 c honey
3 eggs
1/2 c cream
2 tsp white vinegar
1 tsp vanilla paste (use vanilla extract if you do not have vanilla paste)
1 or 2 Tbsp flake sea salt for finishing (Maldon is a good choice)
What's Next?
Preheat oven to 375F.
All of the mixing can be done by hand, or with an electric mixer.
Melt butter and combine with the sugar, salt and cornmeal to make a thick paste.
Add the honey, vanilla and vinegar and mix together.
Fold in the eggs, add the cream and blend. Pour the filling into the pie shell and bake at 375 F for 45 to 60 minutes. The filling will puff up like a marshmallow and the center will be just slightly wobbly. Once cooled (at least one hour), finish with a sprinkling of flake sea salt.
Slice and serve with freshly whipped cream.
Olive says "Way to screw up Ma!"