09.24.2014
Baking Life Lessons
When Olive was born, I, like many Canadian moms, was gifted with one full year of Maternity Leave. I was able to stay home with my baby girl. I was there when she woke up, I was there for all her 'big firsts', I was there for every bath time and every bed time. It was the most wonderful gift in the world. Our activities over the year changed drastically as Olive grew, but the one thing that remained constant was our love for baking together. Before my year at home, I baked every now and then, but it was more of a chore than anything else. It wasn't until my beautiful mother-in-law taught me how to bake a perfect pie that I truly discovered how magical it was to combine such basic ingredients and yield such a charming result.
Now, baking is so much more than baking. It is the special thing that Olive and I do together. We look beyond the ingredients and recipes and harness our imagination, empowerment and creativity. We aren't just baking. We are learning from the moment we pull the big bucket of flour out of the pantry. Olive is so curious. She pulls at my shirt tails until I swoop her up and place her on my hip in her blue and white striped ring sling. She smiles and rests her head on my shoulder as I search through my collection of recipe books. This time is magical. There is no place she (or I) would rather be.
I have many vivid memories of baking with my grandmother in her tiny kitchen — memories that I cherish every day. Even though I didn't know it at the time, she was teaching me many valuable life lessons that I now find myself passing down to Olive. Many she will not understand or embrace until she is much, much older, but some, like counting cup after cup of flour as we pour into the mixer, she is already demonstrating her awareness. "Ooonnne… Twoooo… Free!'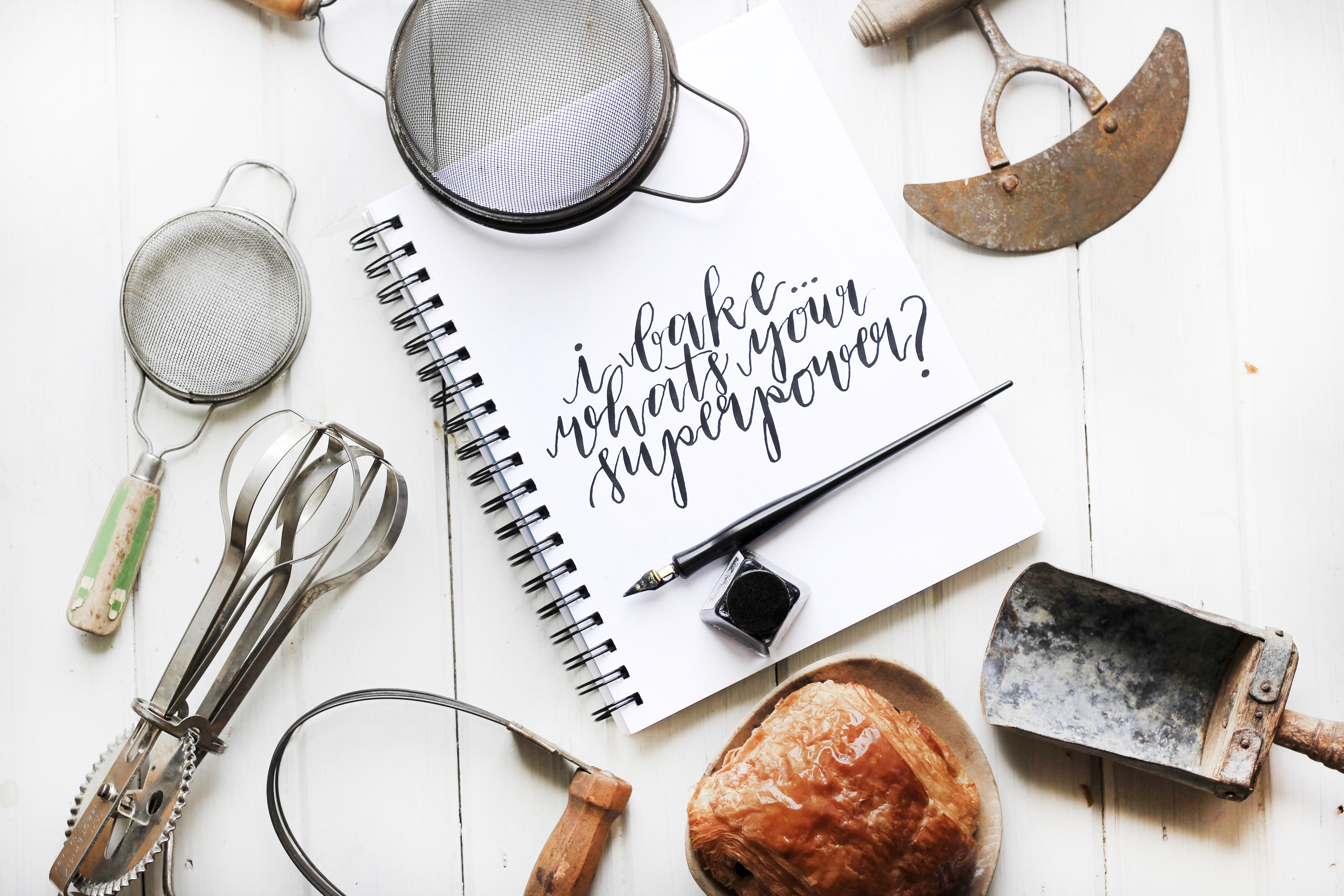 I want Olive to know that life is sometimes worth the risk. (Despite all the warnings, raw batter is almost always worth it).
Patience is necessary. (There are times when "good enough" is okay, but there are also times when taking the time, investing your attention, and making it happen perfectly is needed. Some things, like bread, cannot be rushed or it fails altogether).
Attention to detail can make it or break it. (Warm butter versus melted butter versus cold butter. It always matters. Paying attention to the little things can sometimes make all the difference in the world. So stop, read, and use your head).
You will have failures. (Never give up. You have to keep trying. Not everything will work out. No matter how hard you work, no matter how much you try, some things are just destined to fail. You try it, trash it, make notes, and try again later. There is always more heavy cream and eggs at the grocery store).
Don't put your cart before your horse. (Never promise a 5 tiered red velvet cake with intricate buttercream frosting if you've never made it before. Practice makes perfect. Practice before promises).
Some skills are so easy to learn, yet so impressive. (Take the time to learn them. Like piping icing. Everyone thinks it is an amazing secret to life, yet it really isn't that hard to do).
Homemade is nearly always better. (Except when it comes to fried doughnuts. Go buy those).
You have to trust but you have to be discerning. (You have to pull a new recipe out and believe that it will work. Yet know your source. Know that Martha requires serious skill, time, and attention (most of the time). Know that recipes on Pinterest are hit or miss).
If you start something, you have to finish it. (Sticking something in the oven then running outside to play in rain puddles will result in burned blueberry cobbler. Promise).
Don't put all your eggs in one basket. (You need to keep your options open. If you drop that basket, all the eggs will crack. Have multiple interests in life and always think about a back up plan)!
You can learn a lot about life from baking.