10.28.2013
Blueberries Baked in a Crumble Pie
On to another popular pie this week. Blueberry pie is one of my all time favourites. It definitely would be the pie I chose if given options — Lets just say that this pie did not leave house!
Pie No. 2: Blueberry Crumble Pie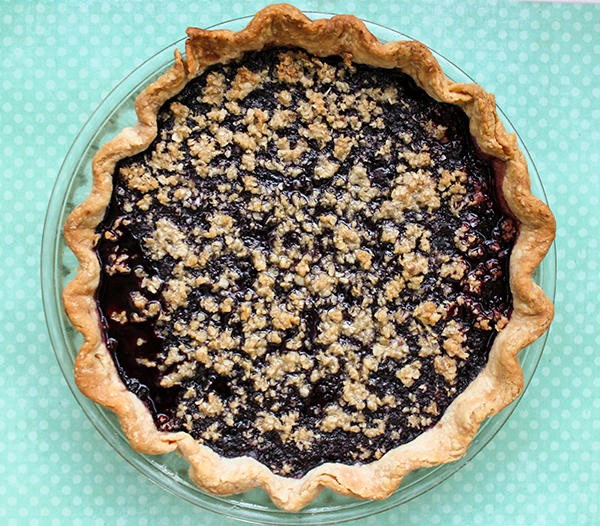 Ingredients
Crust
Pie Crust Ingredients and Recipe
Filling
6 cups fresh or frozen blueberries (I used 8 cups for a deep dish)
1/2 cup sugar
2 tablespoons cornstarch
1 tablespoon water
Crumble
1/2 cup old-fashioned oats
1/3 cup brown sugar
2 tablespoon flour
1/4 cup butter, cut into pieces
What's Next
Preheat oven to 350 degrees.
Follow my pie crust recipe. Typically this recipe will make 4 crusts, however I usually use a deep dish pie plate, so I get 2 crusts (with some extra to make a mini gallette!). For this recipe you should 1 crust on the bottom. Place rolled out crust in the pie plate.
Mix the blueberries and sugar together in a bowl. In a small cup, dissolve cornstarch in water. Stir into the berries. Fill the pie crust with filling. Sprinkle a generous amount of cornstarch (2-3 tablespoons) on top to help thicken your filling. (If you forget, you'll have blueberry soup instead)!
In a small bowl, combine oats, brown sugar and flour. Cut in butter until crumbly. Sprinkle over blueberries.
Bake at 350 degrees for 45 – 60 minutes, or yntil your filling boils. Cover top and crust edge with foil if it gets to brown. Let cool at least one hour before cutting.
Olive says "I want to be blue to, Ma!"
Smaklig Måltid!
-Stacy