09.21.2016
Blueberry Brioche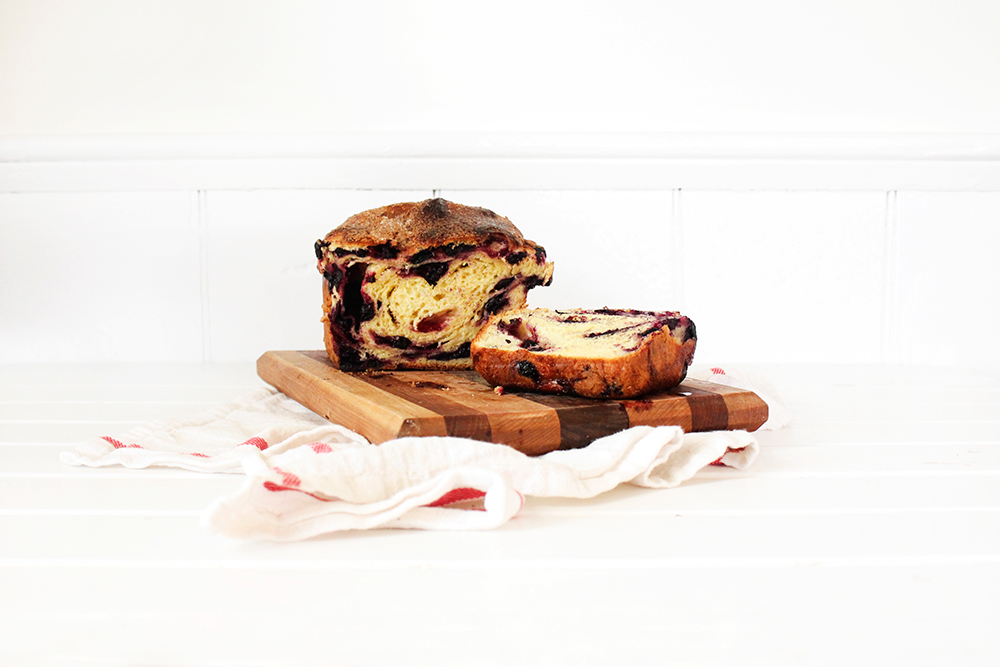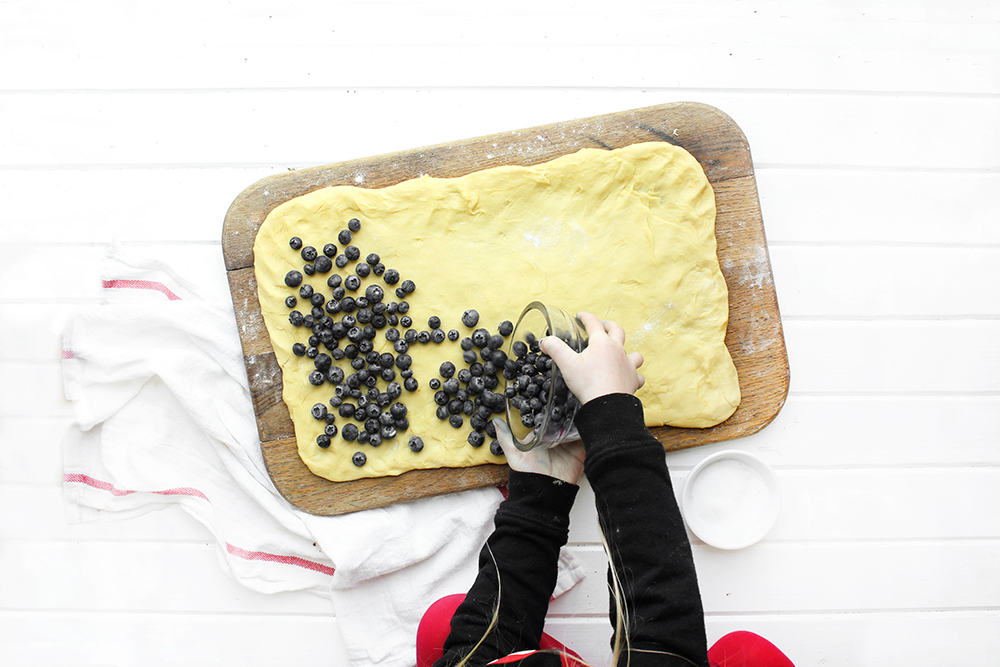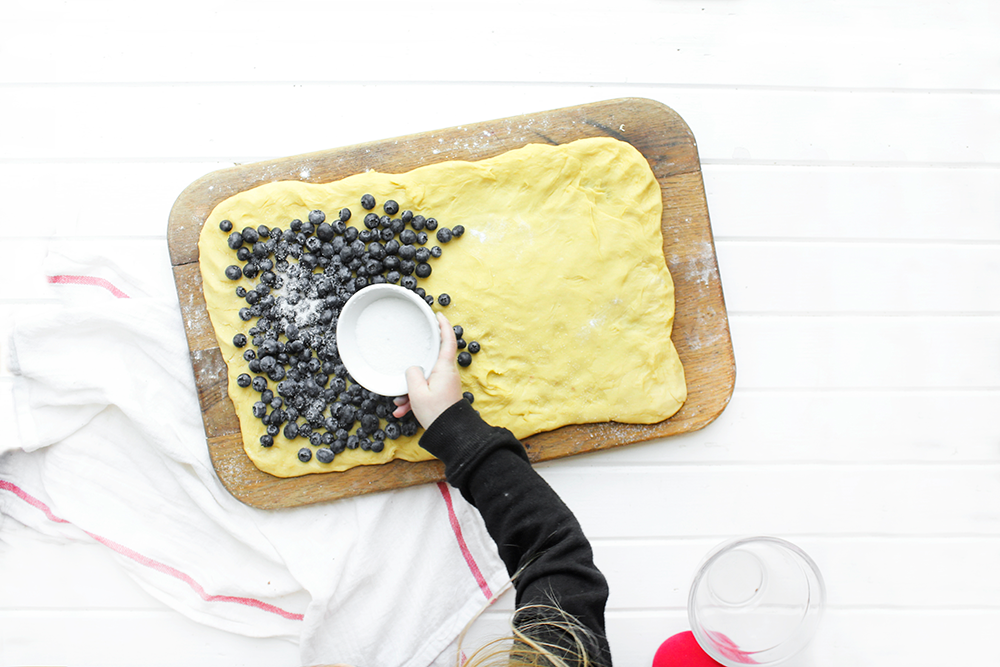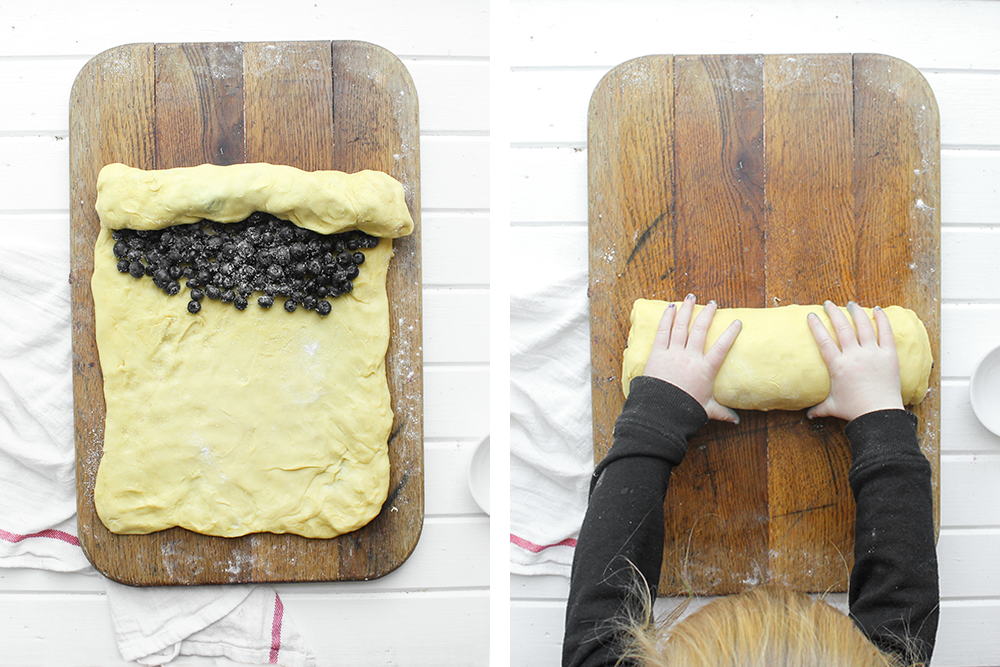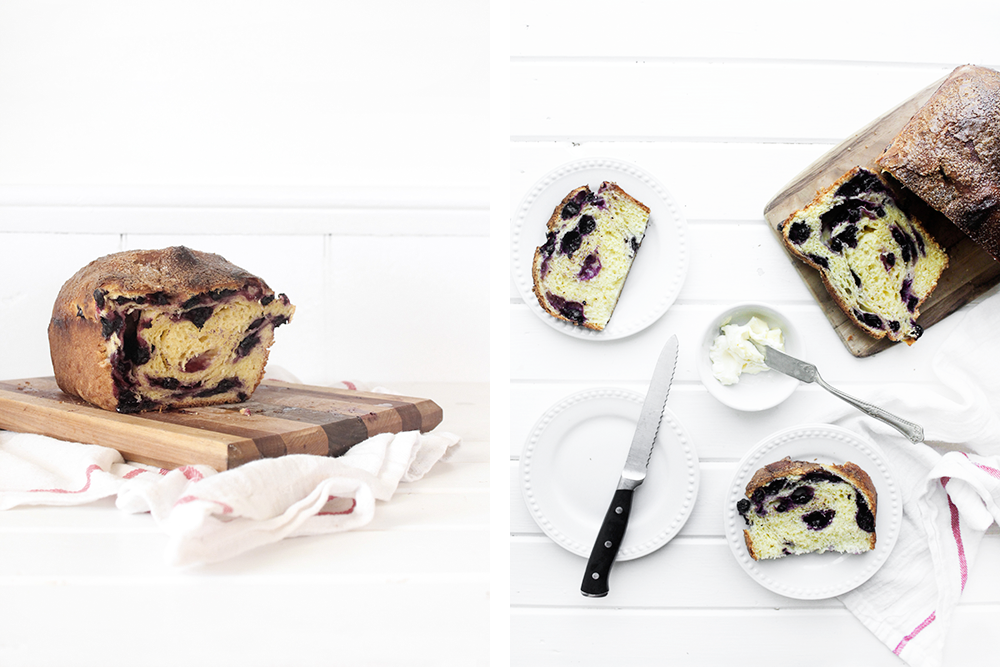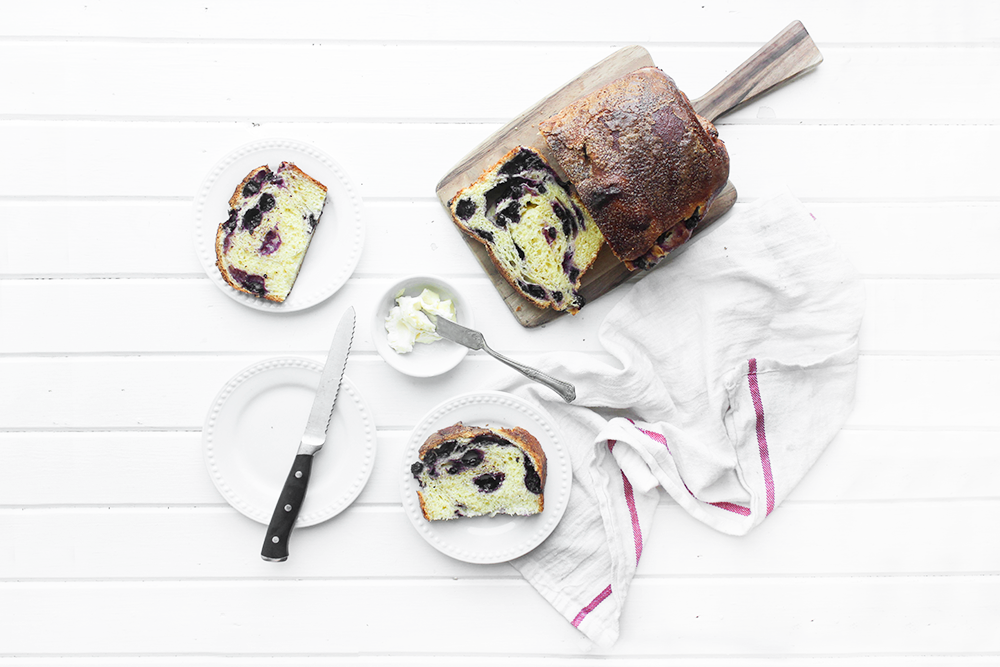 So much has changed since the last Distant Kitchens post just a few short weeks ago. I have returned back to work after a year off with my little growing family and Erin and her husband have been up to their eyeballs in shows and work for Richard Clarkson Studios. It is certainly taking some adjustment for me to get back into the working mom routine and keeping up to date on the blog and instagram. Suddenly I am not allowed to sleep in past 4:30am and I don't have near as much free time during the day to do the things I love the most, however, I am managing, for now!
If you are new to Distant Kitchens, Erin and I have started this little collaboration to demonstrate and investigate how different people interpret the same recipe in kitchens around the world. Every few weeks we "meet" (virtually) to pick a recipe from our collection of beautiful cook books to each bake, photograph and share. The results have been so amazing and we have certainly enjoyed seeing everyone try the recipes and post along with us. To learn more about our collaboration, and how you can play along with us (using #distantkitchens) you can head over here.
For this episode, we opted to try Zoe Nathan's Blueberry Brioche. I have had Zoe's cookbook, Huckleberry, on my shelf since it came out just over 2 years ago. If the book itself, with its yellow and white polka dot pages aren't enough to draw you in, the mouthwatering bread, biscuit, bagel and sweets recipes will keep you coming back. I have tried so many of her recipes with overwhelming success, but, up until now, I had never tackled the flagship recipe that adorns the cover of the book. I don't know if I felt intimidated by the lovely blueberry swirl, or maybe it was the fact that I have never tried baking a brioche before. Whatever my excuse was, it was lame.
Totally. Lame!
Lately, if you have been following, I have been coming up with recipes that require a lot of rest time, and this one does not differ from the routine. Brioche dough requires a lot of chill-out time in the fridge. The gluten will develop more fully, while the chill will slow down the speed at which the yeast acts, resulting in a more elastic dough. Brioche has a whole-heckuva-lot of butter, and a lot of handling will melt this butter. Warm brioche dough can be too soft to handle, and in the worst case will start weeping butter while it is still being shaped.
Build up the gluten. Check.
Chill the butter. Check.
I've learned a lot about brioche this week. It is a rich yeast dough made with eggs and butter. You're basically taking regular sandwich bread and turning it into something so tender, buttery, and rich that it walks the line between bread and cake. Brioche can exist in so many different forms, other than a loaf of bread… Sandwich loaves, dinner rolls, hamburger buns, hoagie buns, cinnamon rolls… You can make it all. Brioche is not, however, inherently sweet (but you can make it that way for sweet cinnamon rolls)!
So…
I set out to tackle this beauty with Olive in tow. Turns out, it isn't as intimidating as it looks. I was a little worried when I started adding in the butter, but after a long knead in my stand mixer, pausing to scrape down multiple times, the dough, albeit soft, came together nicely. At this point I totally understood the need for a long chill in the fridge. Olive spent most of the day taking peeks and asking if it was ready yet. It is a tough thing for a 3 year old to understand. It was tough for me too!
We rested. We rolled. We baked. We let sit. I just couldn't wait to cut in and see that swirl. I was hoping for a heap of blueberries falling out of the loaf, just like Zoe's, however I found that my swirl wasn't as prominent, nor were the blueberries abundant, but it was still brioche that Olive and I made together and it was still so, so delicious! I assume there is a trick to recreating this swirl — perhaps not spreading the blueberries out as much as we did… Or maybe it had something with the second roll after the long chill. Whatever it is, I plan to experiment and report back when I figure out the exact secret!
How did we do?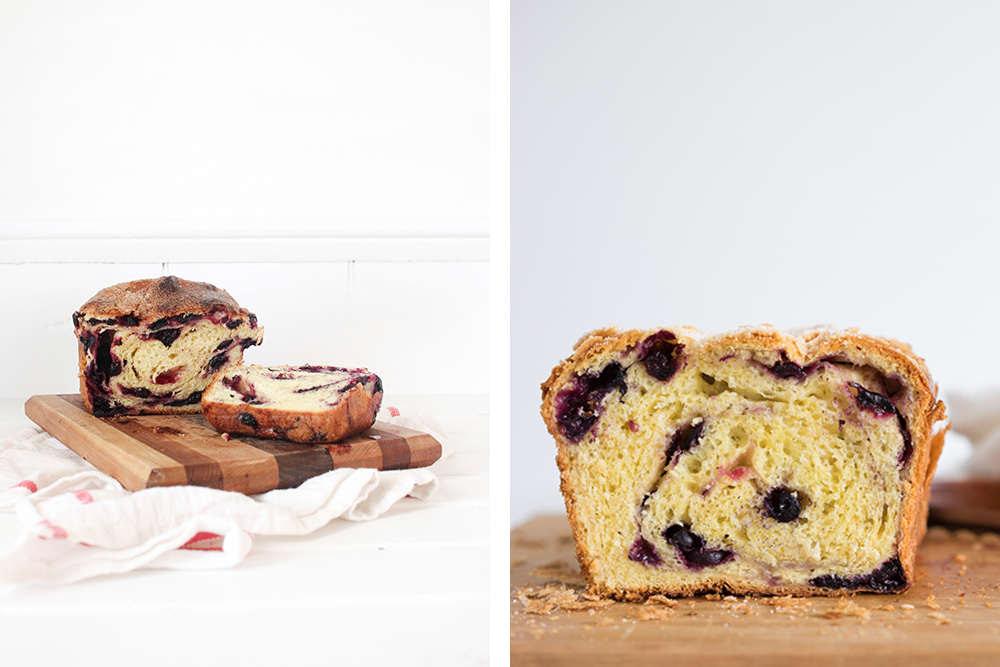 Like our Brûléed Lemon and Rhubarb Tarts, our results were much more similar than different. Even our swirls turned out more a like and not as prominent. Erin shared that she would have preferred a sweeter dough which I agree would be nice, but I also loved the sweetness ratio in this recipe as I found myself mowing down on the brioche at 4:00am on my way out the door to work. Like I discussed earlier, it is pretty easy to modify this recipe to suit your sweetness needs!
What did Erin think? Don't forget to head over to her blog to read about her adventures with Zoe's blueberry brioche and to see her stunning photos!!
---
BLUEBERRY BRIOCHE
adapted from Zoe Nathan's book Huckleberry
ingredients
brioche:
1 1/2 cups fresh blueberries
2 tbsp. whole milk
1 tbsp. plus 2 tbsp. all purpose flour
1 cup plus 2 tbsp. bread flour (see note below)
6 1/2 tbsp. sugar, plus more for sprinkling
1 tsp. salt
3 eggs
1 egg yolk
1/2 cup plus 2 tbsp. unsalted butter, very soft
egg wash:
1 egg yolk
1 tbsp. heavy cream
pinch salt
**Note: I copped out and just used all-purpose flour instead of a mixture of all-purpose and bread flour (mainly because I forgot to pick it up at the store and I didn't want to put two kids back in carseats to get some!) The recipe still turned out well with 2 1/4 cups all-purposed flour!
steps
Place the fresh blueberries on a plate and freeze in a single layer. Do not use frozen blueberries, as they are too watery.
Slightly warm the milk and pour into the bowl of a stand mixer fitted with the dough hook attachment. Add the yeast and whisk by hand to combine.
Add the all-purpose flour, bread flour, 2 1/2 tablespoons of the sugar, the salt, eggs, and egg yolk to the bowl. Mix on low speed until the dough comes together, 1 to 2 minutes. Increase the mixer speed to medium-low and work the dough for 6 minutes. Pause every minute to push the dough back down into the bowl and off the hook until it pulls off the sides and looks like a strong bread dough.
Reduce the mixer speed to low and slowly add the butter, a little at a time, over the course of 2 minutes. After 1 minute, pause to scrape down the bowl and hook. When the butter begins to blend in, increase the mixer speed to medium-high to fully incorporate the butter and bring the dough back together, 5 to 6 minutes longer.
Dump the dough onto a lightly floured work surface and press into an approximate 16 x 10-in rectangle. Position the dough vertically, with a short side nearest you; distribute the blueberries and 2 tbsp of the sugar along the top edge and gently roll down, toward you, into a log.
Place the log on a greased sheet pan, wrap in plastic, and refrigerate for at least 1 hour, or preferably overnight.
Grease a 9 x 5-in loaf pan. Reshape the dough one last time by pressing it into an approximate 12 x 6-in rectangle and cover with the remaining 2 tablespoons of sugar. With the dough positioned vertically, roll down toward you, tightly this time. Place into the greased loaf pan, loosely wrap in plastic, and allow to rise in a warm place until more than doubled in size, about 3 hours.
As the brioche nears readiness, preheat your oven to 350°F. Combine all ingredients for egg was and carefully brush the dough with, making sure the egg doesn't pool around the edges. Liberally sprinkle with sugar.
Bake until golden, 40 to 45 minutes. Allow to cool for about 15 minutes in the pan. Then transfer to a cooling rack.

---