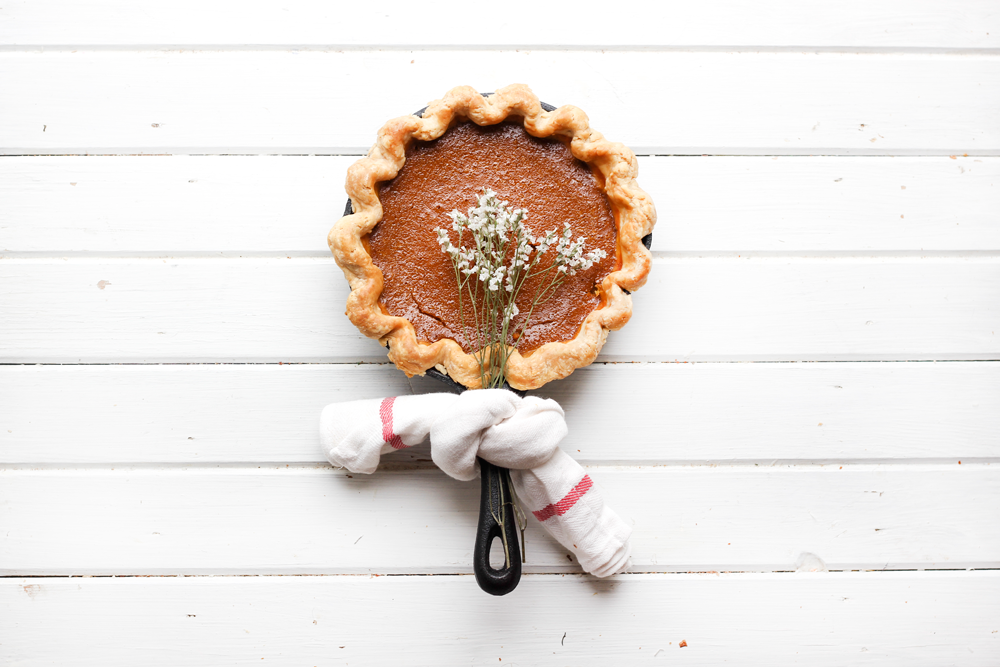 The Canadian Thanksgiving is upon us, and you are looking for that last minute amazing pumpkin pie recipe, aren't you? You forgot that it was your turn to bring dessert this year, didn't you? You are trying to one-up your sister, aren't you? Don't worry! I'm here to save the day! My husband will happily mow-down on this pumpkin pie any day of the week, so as long as there are pumpkins growing, we will be eating!
This recipe has a little twist to your grandmother's traditional pumpkin pie. I'm in love with the new flavour and the fluffy texture! I've tried this recipe in my little "skillet-for-two" as well as my deep dish pie plates (with a little quantity tweaking, of course). Both turned out perfectly!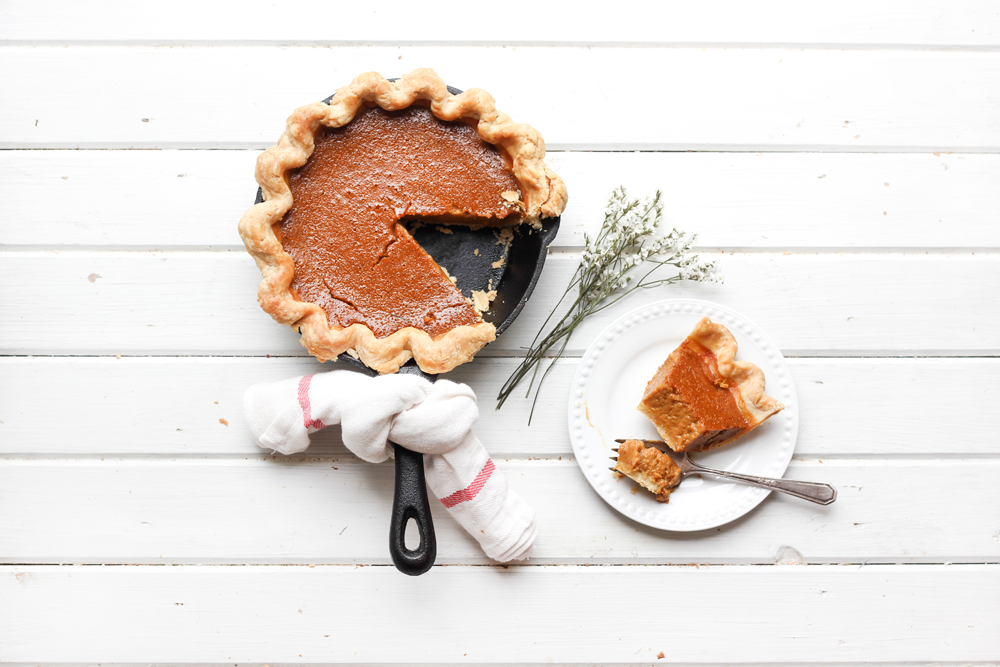 Butterscotch Pumpkin Pie
2014-10-13 10:58:02
Ingredients
1 crust (homemade or store bought), partially pre-baked.
6 Tablespoons unsalted butter
1 cup light brown sugar
2 Tablespoons water
1/2 cup heavy cream
1/2 teaspoon vanilla extract
2 large eggs
2 large egg yolks
1/2 teaspoon salt
1 2/3 cups pumpkin puree (see note)
1/2 teaspoon ground allspice
1/2 teaspoon ground cinnamon
1/4 teaspoon ginger
1/8 teaspoon ground cloves
1 teaspoon molasses
2 teaspoons fresh lemon juice
2/3 cup whole milk
Instructions
In a skillet, melt the butter over medium heat. Continue to cook while the butter foams and turns golden. Continue to whisk occasionally until the butter is nut-brown.
Once nut-brown in colour, immediately stir in the brown sugar. Next carefully add 2 tablespoons of water and whisk until combined. Bring mixture to boil and continue simmering until a thermometer reads 225F.
Once the temperature is reached, remove from heat and slowly add the heavy cream and whisk until smooth. Be careful! The mixture will bubble rapidly! Allow to cool for at least 10 minutes and then stir in the vanilla.
In a separate bowl, combine the eggs, egg yolks and and salt. Stir together and set aside.
In a food processor or blender, combine the pumpkin puree, allspice, cinnamon, ginger, cloves, molasses and lemon juice. Process until smooth.
With the machine running on low, slowly stream the butterscotch through the feed tube. Blend until smooth. Next add in the egg mixture followed by the milk. Continue blending until combined.
Strain the filling through a fine-mesh sieve into a separate bowl. Next, pour the pumpkin mixture into the cooled pre-baked pie crust. Bake on the middle rack at 350F for 45 to 55 minutes, or until the edges are set and puffed and the centre is no longer liquid but still quite wobbly.
Allow to cool on a wire rack for 2 to 3 hours.
Notes
While I am an advocate of using fresh ingredients, I'm a fan of using canned pumpkin puree. The consistency is way better, and the amount of labour is cut in half... But if you love your fresh pumpkins, I'm not stopping you!
Do not over bake the pie. The custard can separate and that would not be good!
27th and Olive http://www.27thandolive.com/