09.12.2016
Cherry Clafoutis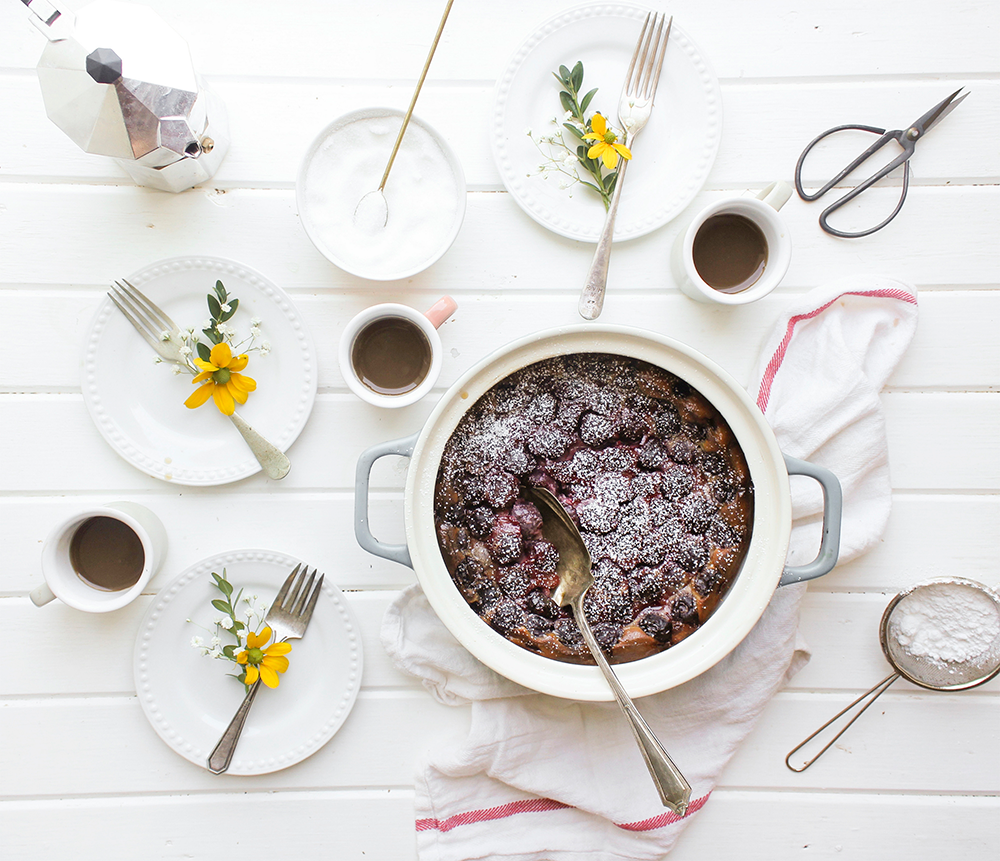 Big changes are happening to our family. After spending a year at home with my favourite little people, I am back to my cubical in Ottawa. I already miss seeing my babies every morning, sharing breakfast while talking about our plans for the day. I have already spent a few days out of my kitchen without baking anything, which just feels wrong. I am trying to get my head back into the engineering mode, but it is quite hard when I have a picture on my desk of two little cuties smiling back at me.
Oh how times have changed.
It truly is amazing how your view on life changes after having children. I vividly remember a time (well before Scott), where I thought I would be happy working the professional life, not too sure on the whole "kid situation", but then Scott entered the picture and suddenly my opinion changed. Now working the professional life is not as important as being the best mom I can be. We will just have to find our new groove.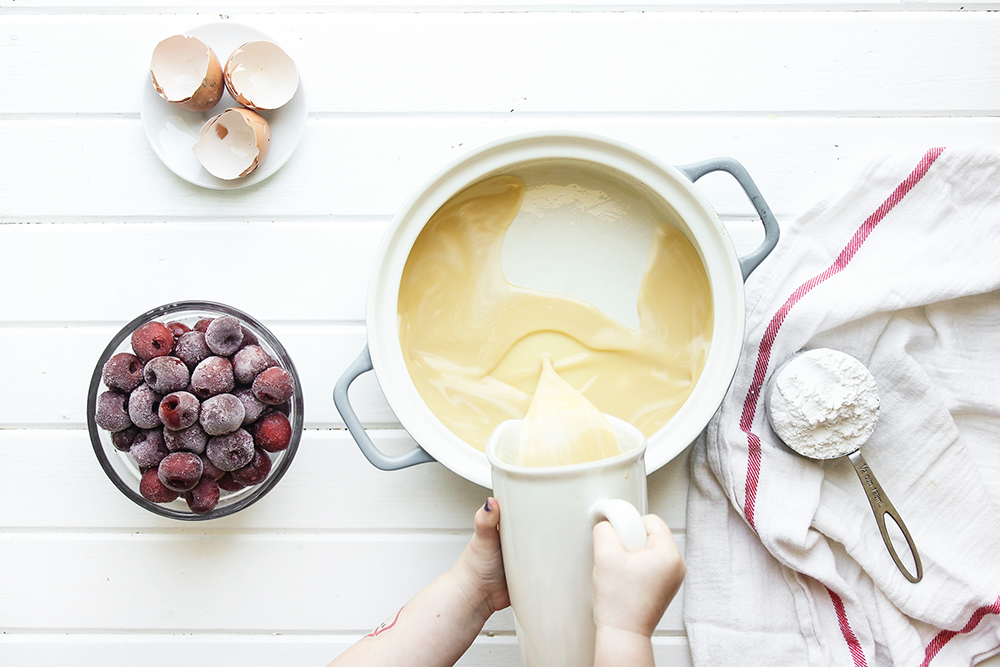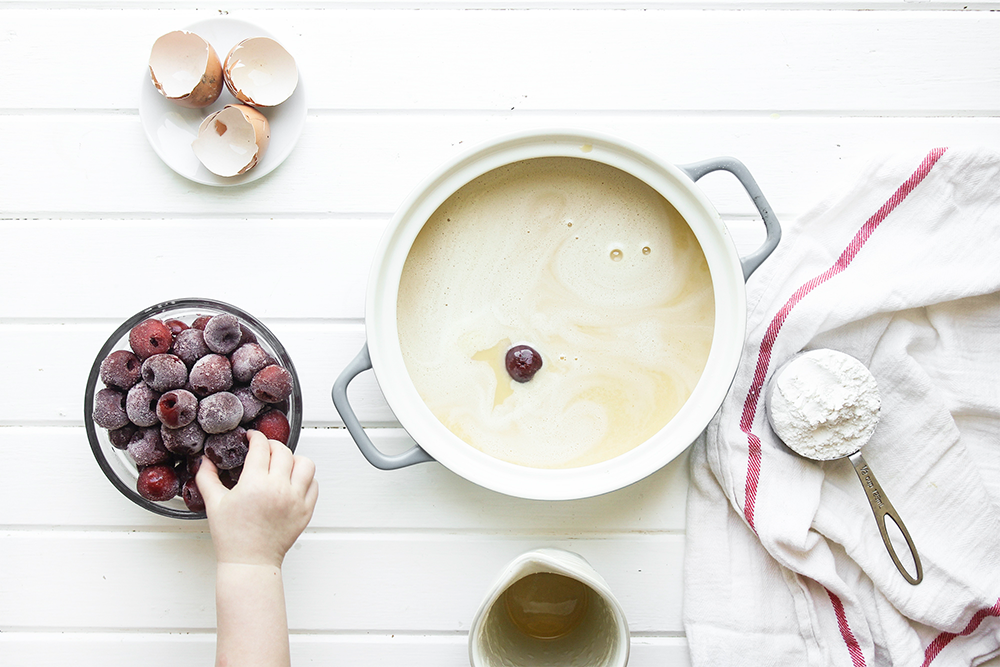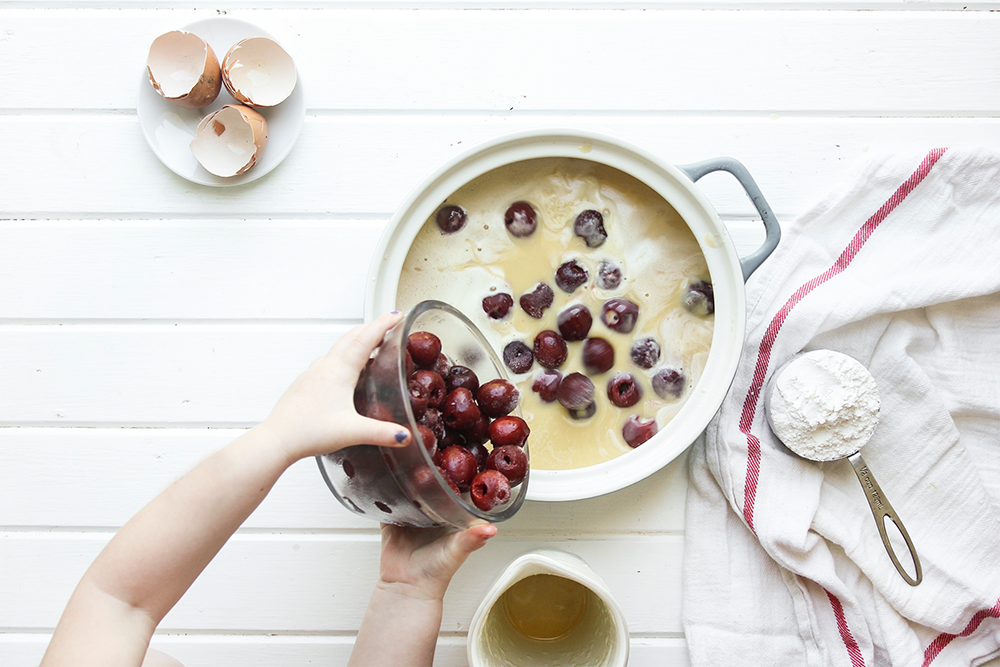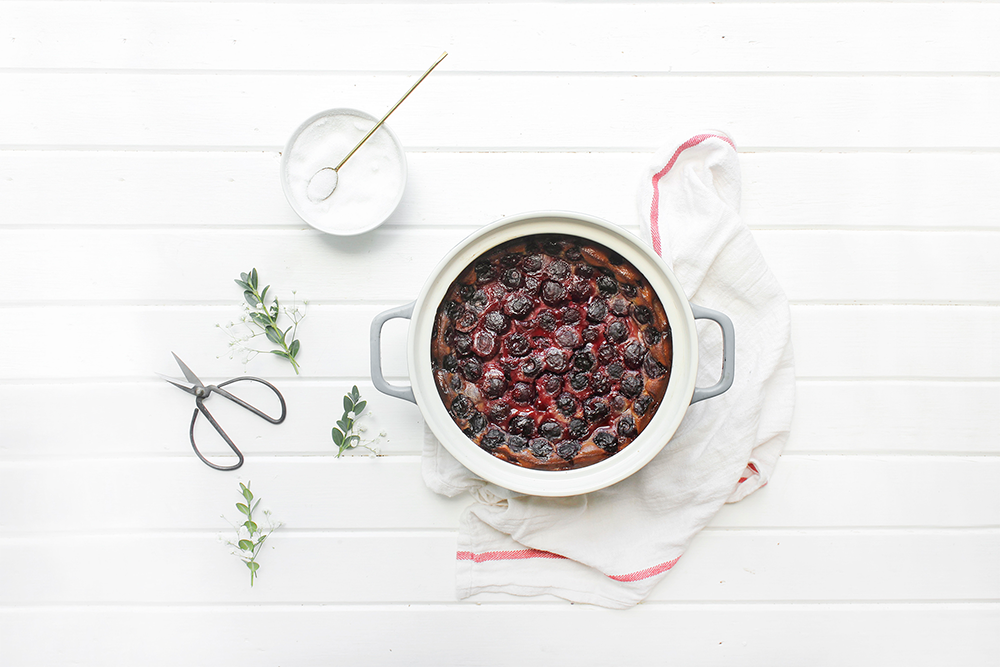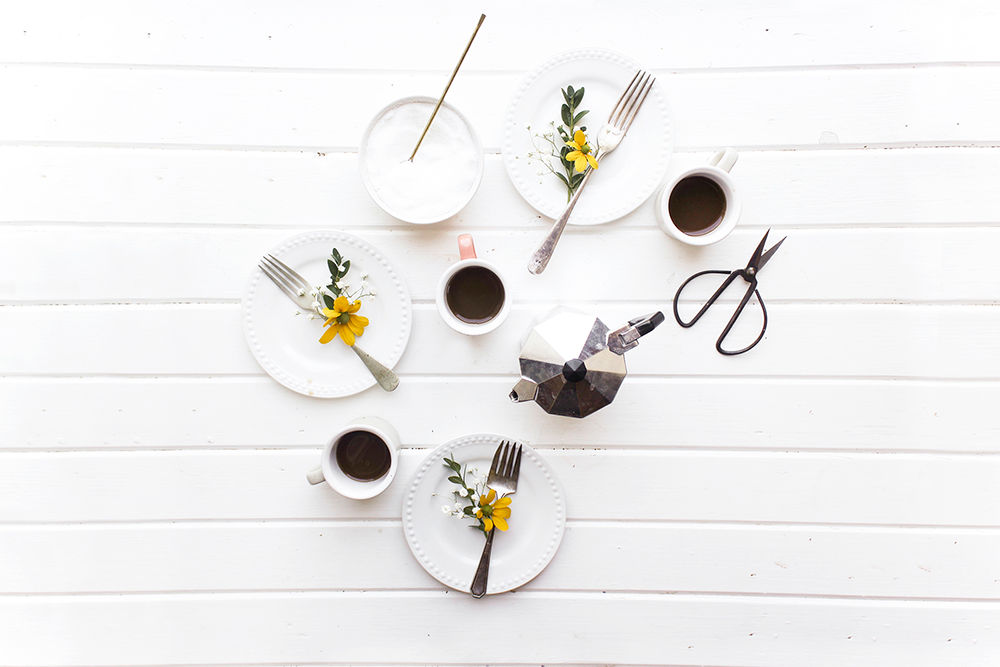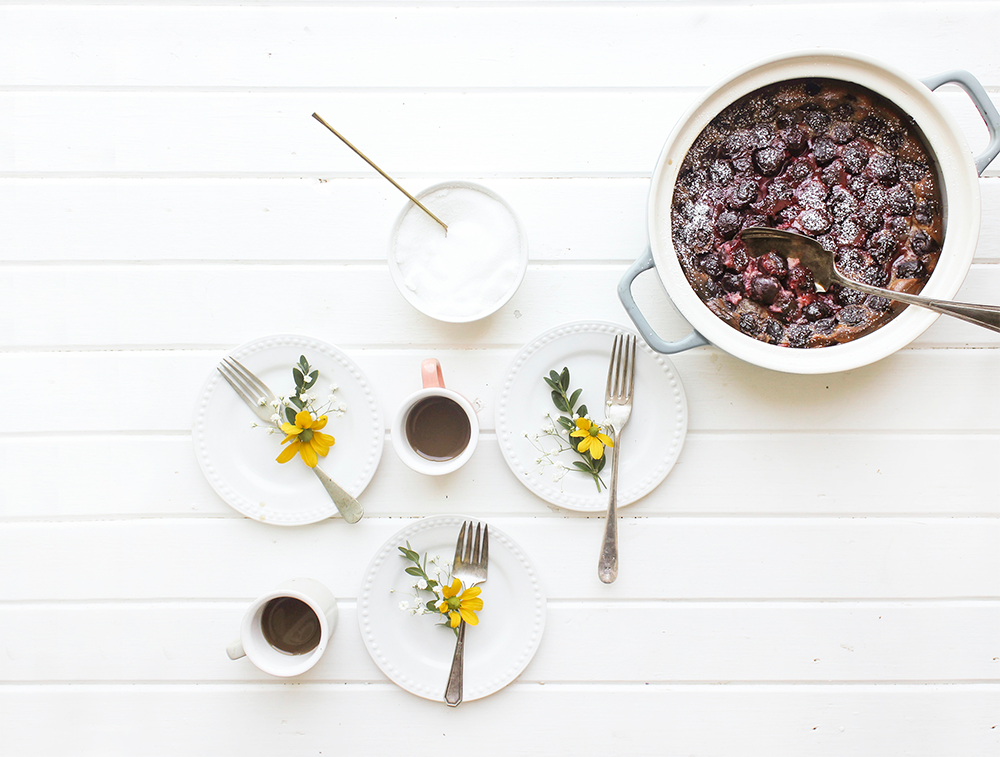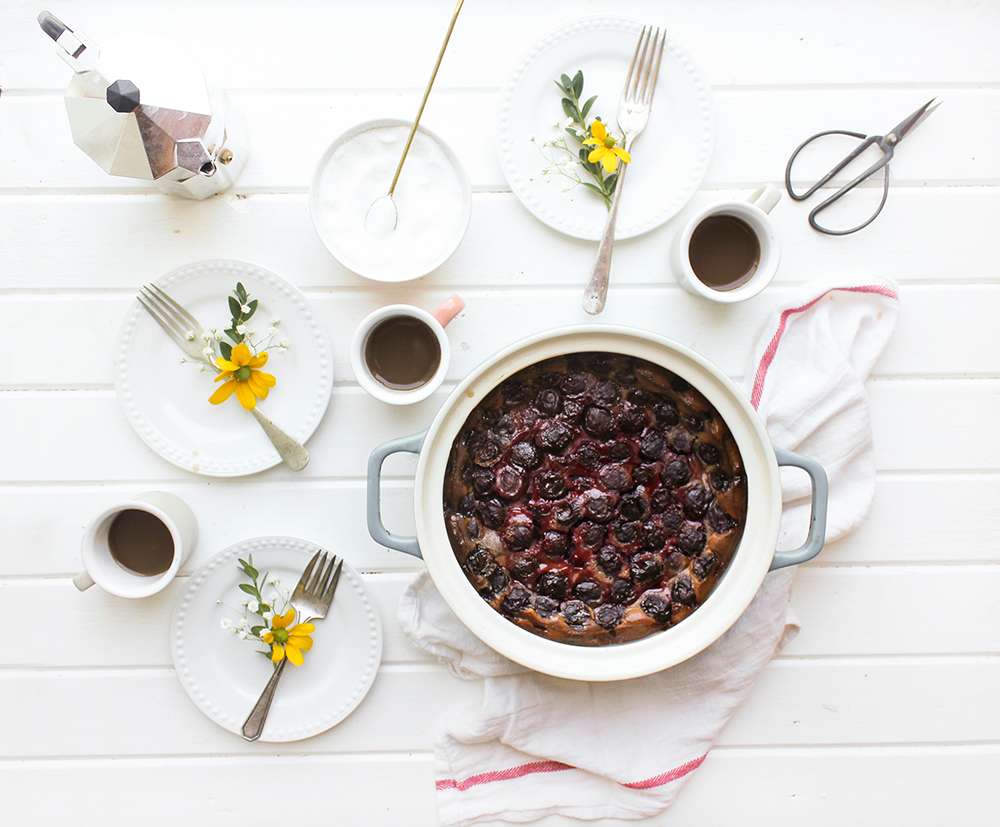 During my last week at home, we baked up a storm (without really realizing it)! It was like I subconsciously wanted to get all those recipes tried before I lost the time. While most recipes were new-to-us, this one is an old constant in our house. It is our take on one of Julia Child's classic, with a few little changes. With only a few ingredients, I have found that Olive can mix this up by herself with just a little instruction – and obviously her favourite part is dumping the cherries over top. Normally we use fresh cherries, but I had some left over frozen cherries, so we plopped them in instead. While it still tasted great, they did water up a lot more than fresh cherries, so we didn't get the classic "cherry dropped in the middle look", so if you can, always use fresh. (Right from the tree is even better)!
I'm holding on tight to these moments. I didn't know how much I really do enjoy spending time in the kitchen with Olive and Henry. Things are put into perspective now.
From now on, I cherish everything!x
---
CHERRY CLAFOUTIS
adapted from Julia Child
ingredients
70g caster sugar
1 egg
1 egg yolk
70g creme fraiche
70g almond flour
10g cornstarch
1/2 tsp. vanilla extract
cherries
steps
In a bowl, whisk together the sugar, egg and egg yolk. Add the creme fraiche and almond flour. Continue to whisk until smooth.
Pour into a stone baker and deep dish pie plate. Arrange cherries to your liking (a lot, or a little, its up to you!). Bake at 350F for 30-45 minutes or until the clafouti is puffed and brown. A knife plunged into the centre should come out clean!

---