12.16.2015
Chocolate-Pistachio Sablés + The Great Food Blogger Cookie Swap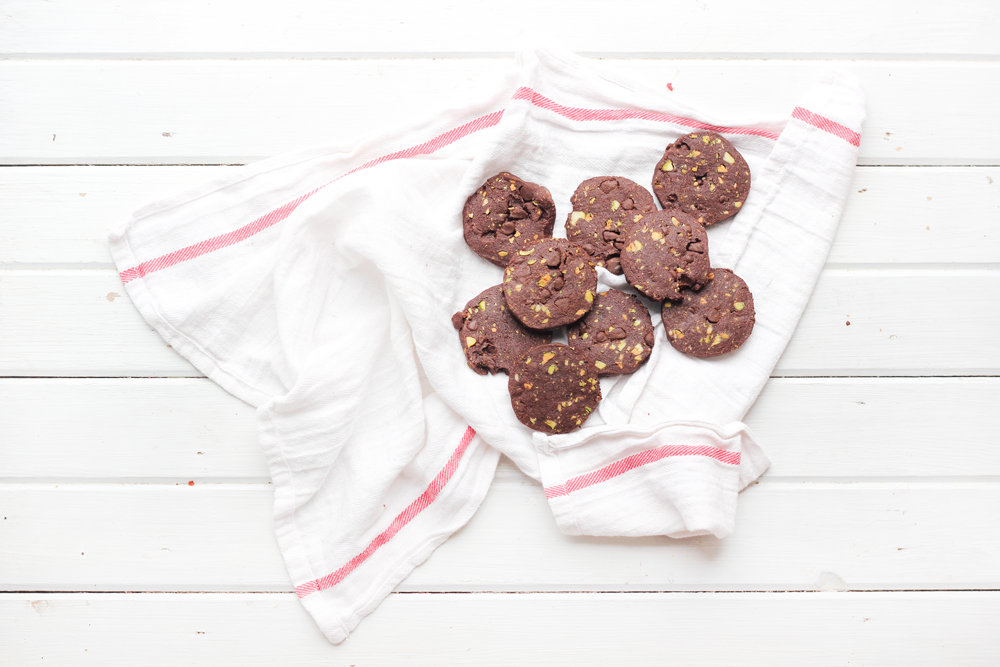 This year I was so excited to participate in the fifth annual Great Food Blogger Cookie Swap! This year the swap was joining forces with Cookies for Kid's Cancer, an American non-profit organization committed to funding new therapies used in the fight against paediatric cancer. What more could you ask for?
The premise behind the swap is quite simple – bake 3 dozen cookies to send to three of my fellow food bloggers (1 dozen each). In return, I sat patiently beside my mailbox while I waited for 3 dozen cookies to arrive from 3 other food bloggers! When I joined the swap I had full intentions of sharing my cookies, but they all arrived looking so delicious and such… I found myself hoarding them for myself! Yes… I ate 3 dozen cookies in a span of a week! Oops!!
Today I am sharing the recipe I made. These are my most favourite holiday cookies. Not only are they easy to make, they are also a great cookie to create ahead of time, pop in the freezer and pull out to bake right before guests arrive. I usually have a batch in the freezer ready to go whenever I have a craving, or when guests show up out of the blue.
(A word to the wise – buy shelled pistachios! In my haste the bake and send this beauties out into the world, I couldn't find my usual stash of shelled nuts… So I had to shell a few cups of these oh-so-yummy-but-oh-so-frustrating nuts! My fingers were quite sore!)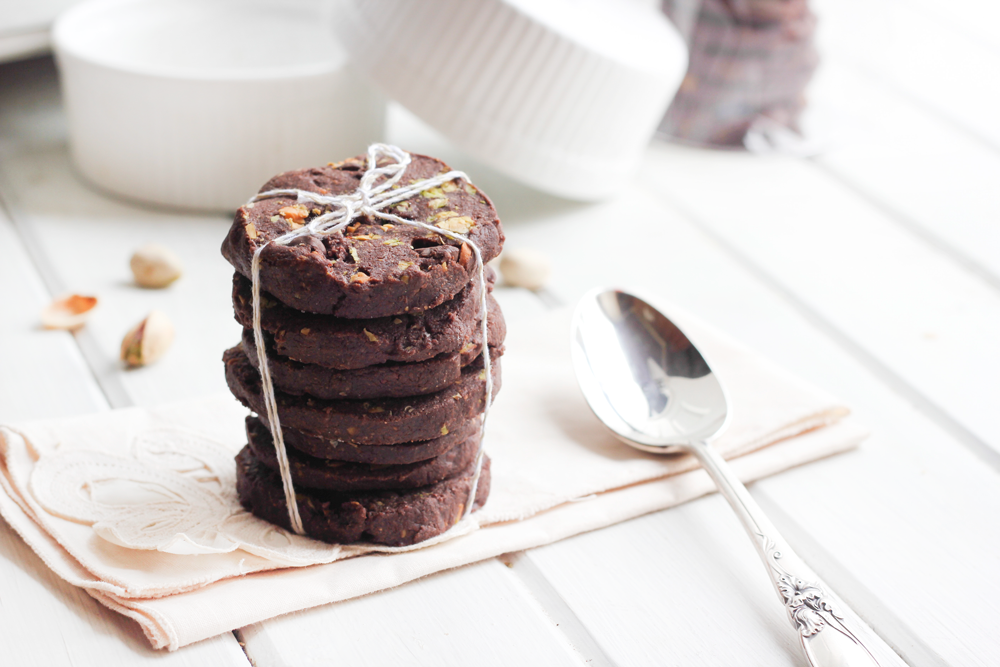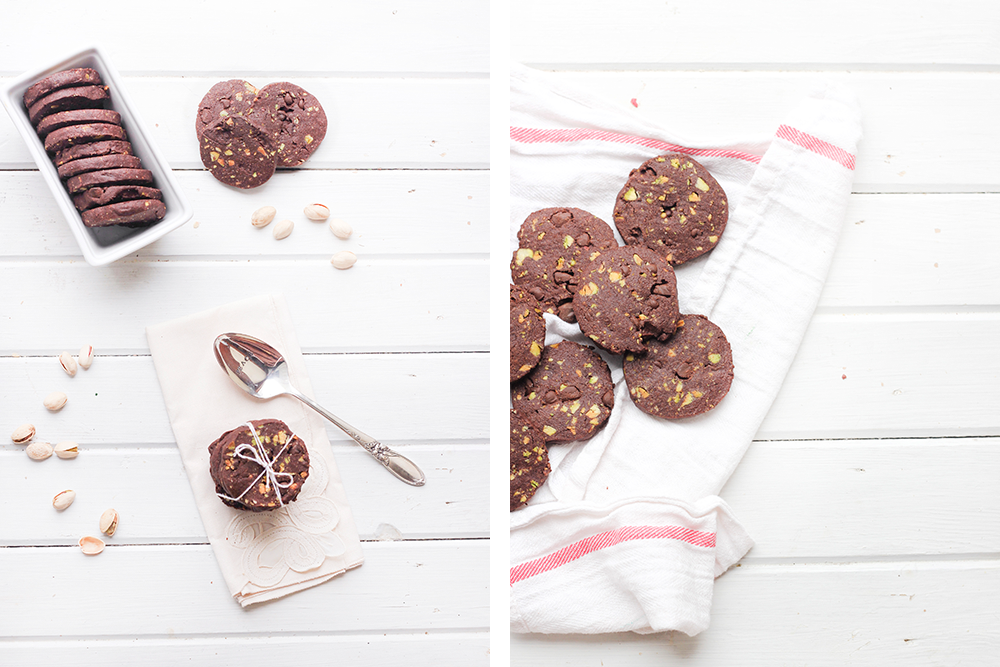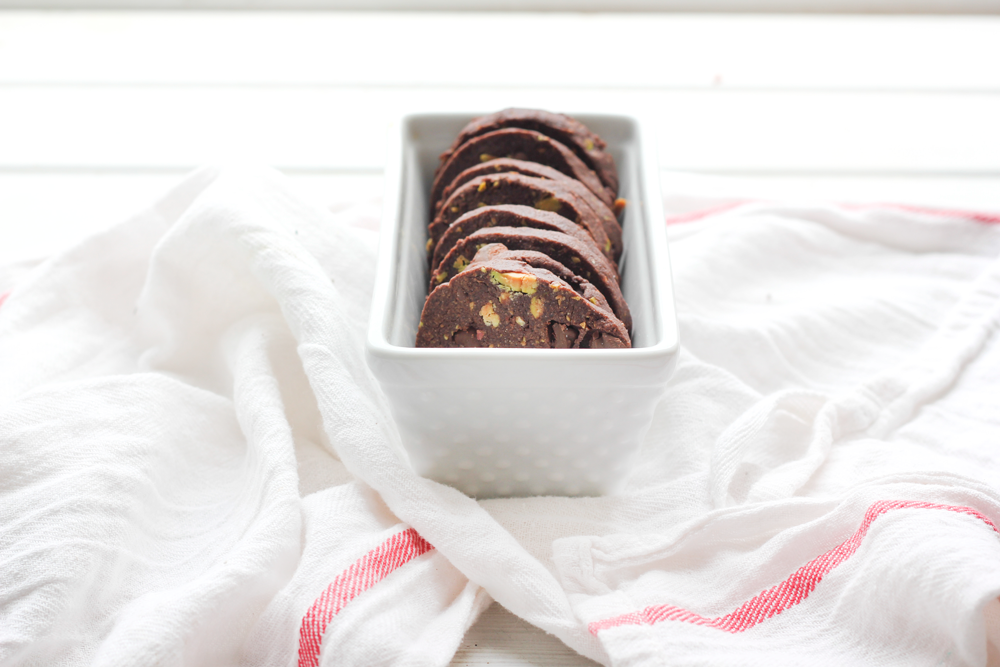 Chocolate-Pistachio Sablés
2015-12-14 19:01:43
2½ cups all-purpose flour
½ cup unsweetened cocoa powder
¾ teaspoon kosher salt
¼ teaspoon baking soda
1¼ cups (2½ sticks) unsalted butter, room temperature
1¼ cups (lightly packed) light brown sugar
1 teaspoon vanilla extract
1 large egg white
5 oz. bittersweet or semisweet chocolate, chopped
1 cup unsalted, shelled raw pistachios, coarsely chopped
Flaky sea salt (such as Maldon)
Whisk flour, cocoa powder, kosher salt, and baking soda in a medium bowl.
Using an electric mixer on high speed, beat butter, brown sugar, and vanilla until light and fluffy, about 4 minutes. Reduce speed to low and gradually add dry ingredients; mix just to combine.
Mix in egg white. Fold in chocolate and pistachios.
Divide dough into 2 pieces. Roll each piece into an 8"-long log about 2-3" in diameter, pushing dough together if it feels crumbly. Wrap tightly in parchment paper and chill until firm, at least 4 hours. (The colder your dough, the easier it will be to slice.)
Place racks in lower and upper thirds of oven; preheat to 350°. Working with 1 log of dough at a time and using a serrated knife, cut logs into ¼"-thick rounds and transfer to parchment-lined baking sheets, spacing ½" apart.
Sprinkle cookies with sea salt and bake, rotating baking sheets halfway through, until set around edges and centers look dry, 10–12 minutes. Transfer to wire racks and let cool.
Do Ahead: Cookie dough can be made 1 month ahead; freeze instead of chilling. Slice frozen logs into rounds just before baking.
Adapted from Bon Appétit Magazine
Adapted from Bon Appétit Magazine
27th and Olive http://www.27thandolive.com/