02.08.2016
Finally a Canadian Baby Subscription Box: Wee Nation + Giveaway!!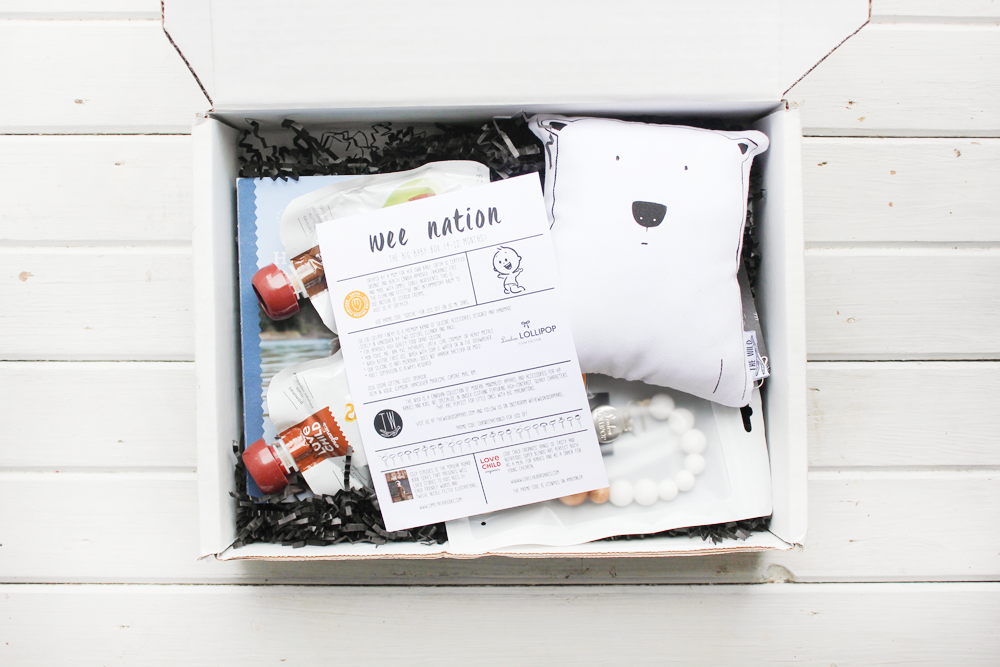 Do you get all tingly when you find the perfect subscription box? One that sends things to you monthly that you can actually see yourself using… Only to add it to your cart and realize that they do not ship to Canada?
Yes.
This has happened to me.
Many times.
But not this time! I stumbled upon a new baby subscription box, Wee Nation. Not only do they ship to Canada, the box is filled to the brim with all Canadian made products from creative entrepreneurs across this beautiful country of ours! I cannot stress how happy I am to know that this little box is supporting so many wonderful Canadian makers. The moment my first box arrived, I immediately fell in love. The clean white box sent tingles to my toes as I slowly opened to lid to see what was inside. (Keep reading to find out how you can win one 3 month subscription!)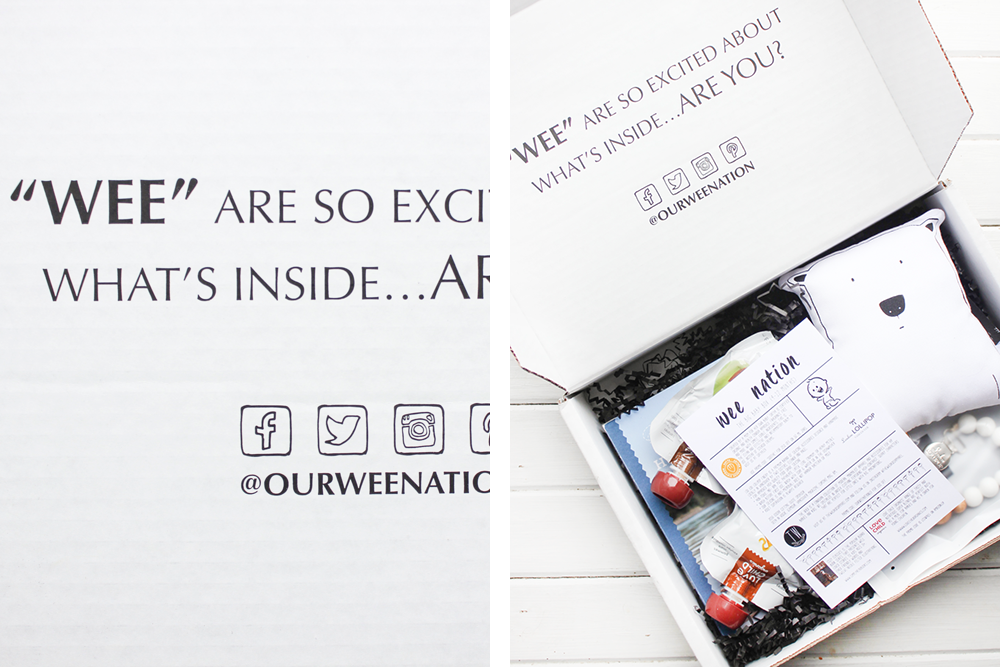 WHAT IS WEE NATION? Wee Nation is a monthly curated box of products for baby with the odd product included for parents (yes for Lindt Chocolate!) Products are selected with care based on quality, aesthetics and usability. When you sign up for a Wee Nation subscription you get to choose from 3 different age categories – 0 to 3 months, 4 to 12 months, and 1 to 2 years as well as for a boy or for a girl. From there, you can chose a one month subscription ($49.95), a 3 month subscription ($138.00) or a 6 month subscription ($252.00). Although it may seem a little expensive, the products and the experience that you receive are well worth the price. Looking at the treasures that arrive this month, I can easily say it is well worth it.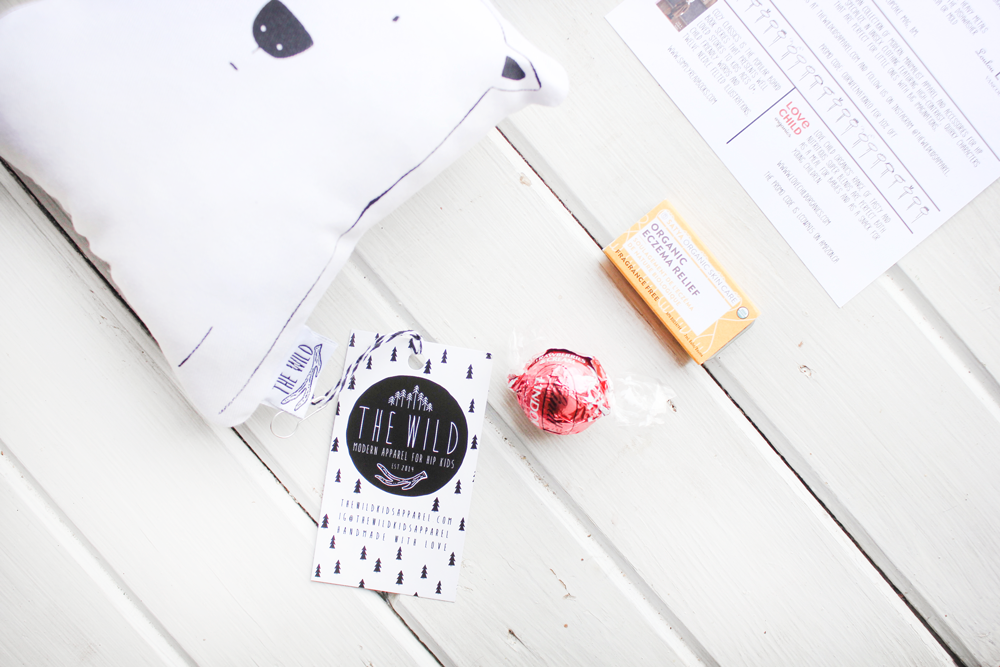 WHO ARE THE FACES BEHIND WEE NATION: Jillian and Jessica are Kindergarten best friends. Following the birth Jessica's newest baby, much like me, they found that there wasn't a subscription box for wee ones featuring Canadian made products. Unlike me, they set out to do something about this! They sat down and started to create the beautiful brand that is Wee Nation. From the conversations I have had with these two ladies, I can tell they are very passionate about their perfectly curated boxes. They are the kind of Momma's who inspire you to get out there and do what you want to do!
SO WHAT WAS INSIDE MY FIRST BOX? I wouldn't forget to show you all the amazing things we received for Henry, now would I? Neatly packed on top of crinkle cut paper I found the cutest little treasures.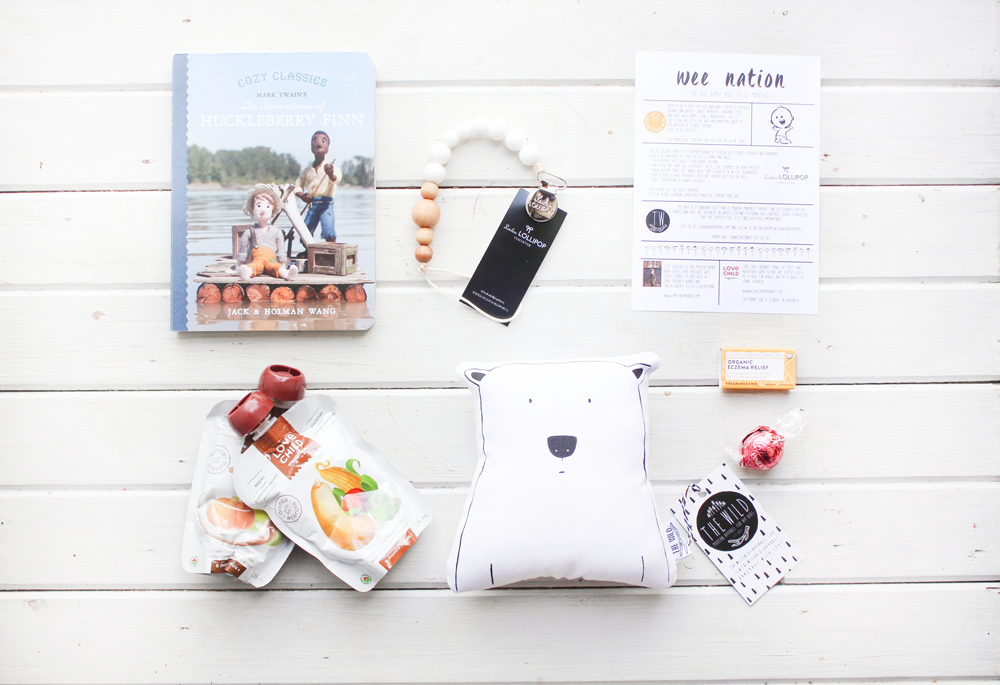 FROM THE WILD: a perfect little soft polar bear pillow that Henry has already claimed as his own! The Wild is a Canadian collection of modern, minimalist apparel and accessories for hip babies and kids based out of Hamilton, Ontario.
FROM LOU LOU LOLLIPOP: a premium silicone pacifier clip which I cannot stop singing its praises. Henry is thinking about growing his teeth, so these little food grade silicone balls are perfect to gnaw on at home and on the road! Lou Lou Lollipop is premium brand of silicone accessories designed and handmade in Vancouver, BC by two sisters, Eleanor and Angel.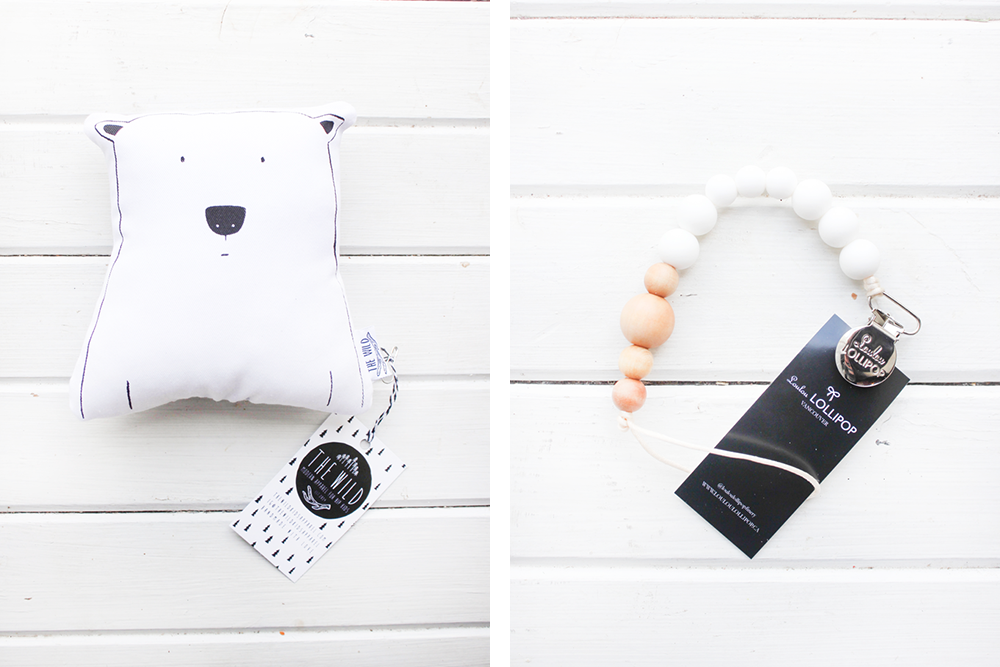 FROM SATYA: A little jar of of organic eczema relief cream. I have already started using it on Olive who, like me when I was younger, is showing signs of mild eczema on her arms and legs. Already I've noticed her not itching as much! Stay, based out of British Columbia, is a certified organic and Health Canada approved Eczema relief cream. It is fragrance free and made with simple, edible ingredients!
FROM SIMPLY READ BOOKS: A popular board book, The Adventures of Huckleberry Finn, that presents the well known story with child friendly words and needle felted illustrations! Olive has claimed this book as her own. She is at the stage where she wants to "read" books to us by making up stories that go with the pictures. This book is perfect for her to learn the action words on each page!
FROM LOVE CHILD ORGANICS: Just in time for Henry to start eating solids came two pouches of Love Child's organic, nutritious and tasty super blends packed in the perfect little eating tubes. Now the challenge is to keep Olive away! Based out of Whistler, BC.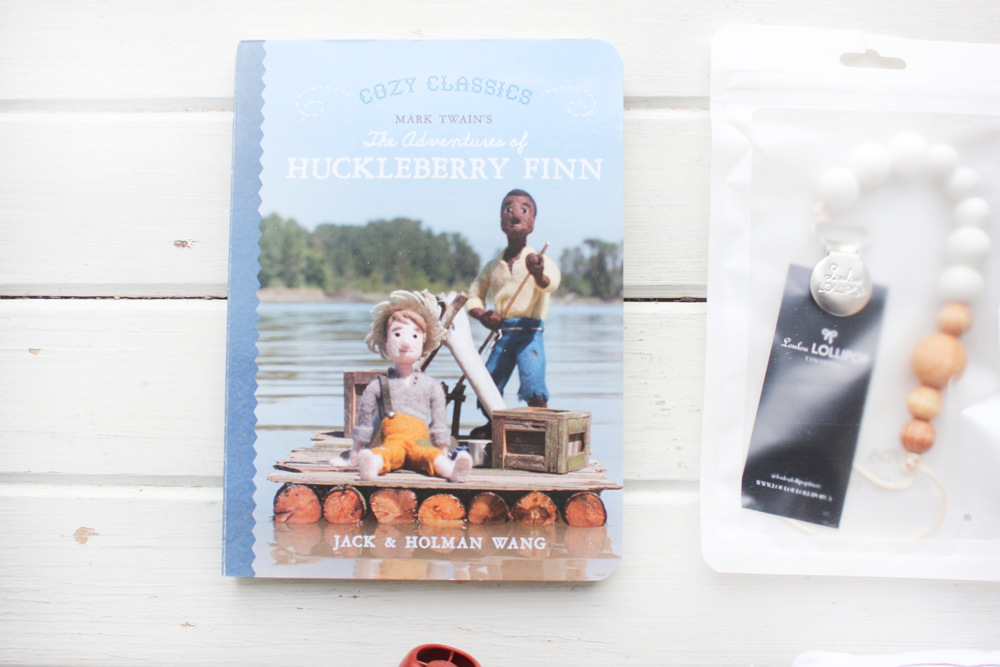 I am very excited to let you know that I have partnered with Wee Nation to give away one 3-month subscription to one of my Canadian readers! Friends, I cannot tell you how excited I am to gift this to one of you! You will receive a beautiful box like this, filled with Canadian-made products for you and your baby, delivered to your door step for 3 consecutive months! Entering is simple – All you have to do is follow @ourweenation and @thelittleredbutton on Instagram and comment on my giveaway post in my Instagram Gallery. Tag friends for more entries (one friend per comment)! Canadian entries only please! What are you waiting for? Head on over to enter!