05.09.2014
Fourteen Months with Olive
­­­­­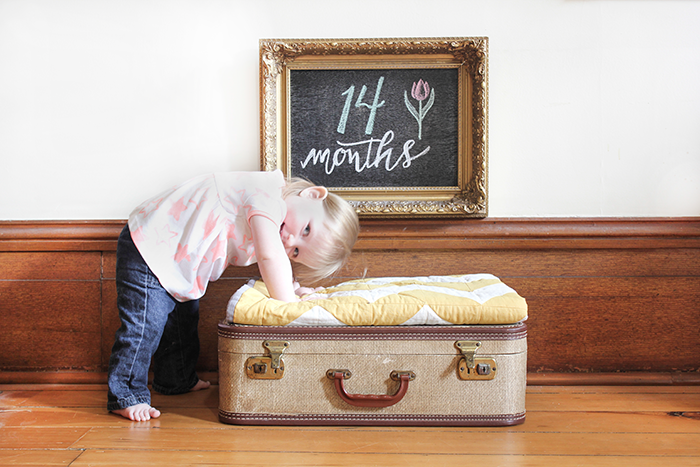 Dear Olive,
I can't believe I have been back to work for two months already! Time is just flying by so quickly. We have settled into a really great routine that is working well for all three of us. I am now getting to work around 6am and am home in time to pick you up at Sara's. The best part of my day is sneaking in the door and watching you play until you notice that I am there. You smile so big, and scoot over to me as fast as your little legs can take you. You give a few kisses and then go right back to playing with the kitchen set. You take right after your Momma and her love of a good kitchen… You love Sara's kitchen set… Even if it is just for the drawers you continuously open and close!
You are becoming quite the little monkey! You are getting so much stronger and are able to pull yourself up on just about everything now – including the bathtub. Still, every time you stand up, you giggle and smile so big before plopping down on your bum and doing it all over again. You figured out how to get from your back to standing in the crib one night, so that meant a late night mattress lowering project. You were so proud of yourself. You would pull yourself up to standing, and then let your little bum bounce off the mattress. You laughed as hard as I ever heard laugh and then you did it again… and again… and again! You are just about as proud as I am. You have started to walk around the edge of the coffee table and couch with much more confidence. Sometimes you even take a huge risk and let go of one hand. You love walking (sometimes even running) when you hang on to Momma and Daddy's hands and your birthday walker is taking you on tours of the kitchen daily. It won't be long until you decide it's time to head off on your own, but right now I'm cherishing how you make a little fuss that means "Come over here Ma! I want to walk!" It is the cutest!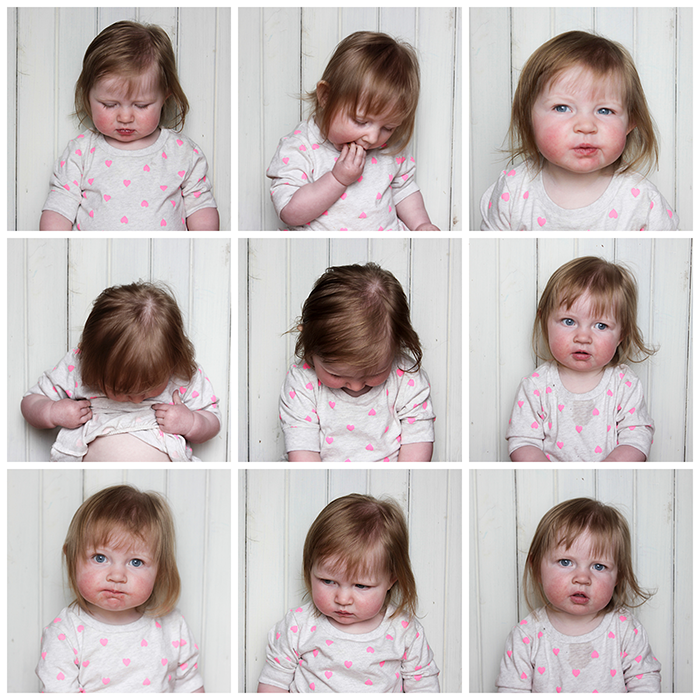 Your new favourite game involves any couch or bed. You have figured out that beds and couches are soft and bouncy. When we set you on one, you look up at us with a little mischievous smile, you do a little bounce on your bum, pause, and then throw yourself backwards so your whole body can bounce. I tell you every time "Olive, ONLY on the bed…" Somehow, I think you understand the difference because you have never tired to do this on the hard floor (knock on wood)! I hear from Daddy that this is your favourite game to play in the mornings before going to Sara's. What a girl. This makes us both laugh everytime you do it. It never gets old!
We celebrated your second Easter this month! It was a busy, busy weekend. We did a ton of baking (pies, hot cross buns, cakes) and lots of visiting. We spent Good Friday at home and then went to church for 3pm. After church we went and had a lovely dinner with the Lynn's. You love playing with Rubie. She was so nice to show you around her bedroom and let you play with all her toys! You loved it. Saturday we went to Granny and Grandpa's for an early turkey dinner. The Easter Bunny had stopped by their house early. He brought you some clothes, Mum-Mums (big smiles for that one), and your own little summer fedora! You had fun letting Grandpa wear your hat most of the day! You looked so cute in your little white dress and moccasins! You were the star of the show again as you ate all your turkey dinner and then moved on to the carrot cake. On Sunday we headed downstairs to see if the Easter Bunny paid you a visit! Guess what? HE DID! You got markers and crayons and paper and bubbles and a little gel sketch pad (and some of Daddy's chocolate)! You wanted to colour more on yourself than on the paper, but you loved it all the same. Sara has been teaching you how to colour lately (we had some great Easter pictures hanging up)! I love watching you explore colours and discovering that you can leave a mark (on anything!) when you have a marker in your hand. You hold on to it at the very top, almost like you are holding a music directors baton and then you lightly sway it back and forth until you decided it's time to make dots – then it isn't so light!
After we emptied your basket and gave the markers a test drive, we went to Easter Sunday church in Elgin and then headed to Great Aunt Angie's house for a big ham dinner! Everyone was so excited to see you in your pink and green polka dot dress! I barely saw you all afternoon! You spent lots of time on Grandma's lap, and walked around with Auntie Hilary and Auntie Kara. You chatted it up with Auntie Jamie and Great-Great Aunt and Uncle Brenda and David and you made fun of Great Uncle Ben (because that's easy to do)! You had a blast, and were stuffed as full as you could be with all the yummy food. You slept until 7am the next morning – that's how tired you were! On Monday we went to visit Cousin Jessica and Great Aunt Suzette. You had a lunch snack there before heading downstairs to get your hair cut – front and back! I find it crazy how just a little trim can make you look so much older. ( Later that night Daddy said you "look more mature" while your face was entirely covered in pasta sauce)! We made a quick trip in to Brockville with Jess to visit Great Uncle Mike and to have some sushi before we headed home to recover from the crazy weekend! You officially celebrated your second holiday. You were only a few weeks old last year for Easter!
You have become quite the little helper. Daddy has been doing a lot of work on the yard now that the snow has finally disappeared. A few weekends ago he dressed you up in your snowsuit and sunglasses and headed out to do some raking. You were trying to scoot and climb up on everything in sight. You must have been out there for few hours just playing and having a ball. Eventually Daddy brought you back to the house because you decided you were hungry and the dirt looked REALLY good. Let's just say Daddy did some digging in your mouth and Momma gave you bath! Mmmm Mmmm Good!
Momma and Daddy bought two kayaks last weekend! We are so excited to get out on the lake. Just about a month ago we were walking across the lake… Now the ice is all out and ready for some summer fun (when it warms up)! We went to Frontenac Outfitters and tested out a few kayak models before settling on two Tempest 170's. Daddy, of course, wanted red. We brought them home on a Saturday evening and waiting all day Sunday for it to stop raining. Finally around 7pm we were able to bring you down to Grandma and Grandpas to hang out with your Aunties while Daddy and I went for our inaugural paddle. They were fantastic. I used to kayak everywhere, but I outgrew the model I had a few years ago. It felt so great to get out on the lake again. We went across to the north shore to check out the waterfall coming down the mountain, then into Westport, and back to the Blair's. Daddy can't wait to get you out with us – we just have to figure out how to strap you down so you don't try to stand up!
Other notable things from this month:
You are clapping and waving and blowing kisses like crazy!
You are eating: cake, ice cream, brussel sprouts, pasta and pasta sauce WITH ONIONS (Uncle Kenney wouldn't even eat it!) – actually, anything we eat, you eat – spice and all –but you really really don't like tomatoes (even with Daddy's persistent effort to show you how good they are).
You (still) have 8 teeth (that we know of)!
We have started walking a lot more now. The streets of Westport missed us! We walk every night at 5pm with Granny. We see the same people every lap around the block and they always stop to see Little Miss. Olive. It's so nice to go outside without a coat and see everyone around town.
Once upon a time you loved emptying every box you could find. Now, you love putting things away! You are a great help when it comes to cleaning. All your toys, books, bath duckies, and shoes are all put in something… Daddy keeps finding your ABC fridge magnets in his boots in the morning and I have had to a few frantic early morning searches before hitting the road trying to find where you hid my shoes the night before!
You love to flop around on Momma and Daddy's bed! I lie you down and you start kicking your legs and hitting the mattress with your hands – smiles as big as anything. You are so funny!
You love to make tidal waves in the bath. SPLASH, SPLASH, SPLASH! The waves just keep getting bigger and bigger! You also love kissing yourself in the mirror before you get into the bath. You probably kiss yourself at least 8 times before I tare you away from the mirror. Oh silly girl!
Everytime music is playing, whether in church, at home, or in the car, you dance. You bop your head up and down while smiling, and wiggle your little body until you cannot wiggle anymore.
You spent a morning with Auntie Hilary while Momma went to the dentist. I think you had a blast because there were little shreds of paper all over the floor when I came to pick you up. You discovered that Grandma's low window sills were the best thing to walk along! You were almost sprinting from one side to the other.
As I lay you down to sleep every night I find myself thanking God for giving us such a special gift. You and Daddy are the only two things I will ever say that I need in my life. I can live without everything else. As long as we are here together, my heart is so full of love, of joy, and of happiness. Looking in your eyes, I wonder what you are thinking. Your little mind must be going a mile a minute, trying to keep up with all these new things you are experiencing every day. I cannot begin to even express how much I love you, my sweet garlic girl. You are my world!
Xoxoxox
-Momma