11.19.2013
Home-Brewed Chai Tea Concentrate
It's no secret (or maybe it is?) that I am addicted to chai tea lattes. I just love that little ounce of bite you get from every sip that warms you from the inside out. This can be a rather pricey addiction – especially if you live rural like me with not many coffee shops in the area! Have I driven an hour just to get a chai tea latte? I'll let you assume the answer to that one! With my bank account decreasing (and Starbucks revenue increasing!), I decided that it was time to make my own concentrate and figure out how to use that Bodum Milk Frother that has been sitting in our cupboard since our wedding. I was surprised at how easy this recipe was to make, and further surprised at how incredible it tasted. I'm not just pulling your leg when I tell you that I would compare this to any Tazo latte!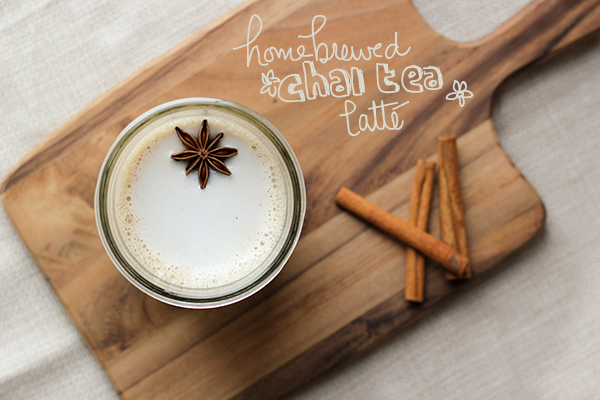 Homemade Chai Concentrate

Yields: 1 batch of concentrate, approximately 4 cups
Recipe adapted from Tasty Yummies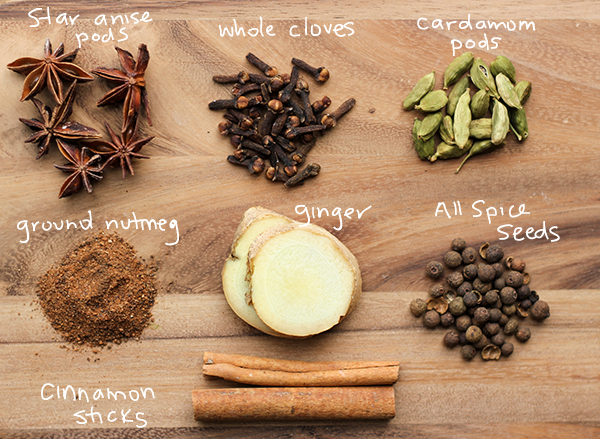 Ingredients
4 1/2 cups water
8 bags black tea
2 cinnamon sticks
1 vanilla bean, split in half (or 1 tablespoon of vanilla extract added at the very end)
1/2 cup Demerara sugar (I may use less for my next batch)
1 – 3-inch section of fresh ginger, cut into pieces
10 whole cloves
8 cardamom pods
10 All Spice seeds
1/2 teaspoon freshly ground nutmeg
2 whole star anise pods
1/2 teaspoon of whole black peppercorns
1 teaspoon orange zest
1 tablespoon raw honey
1 small square section of cheesecloth, approximately 6″ square (if you don't want to mess with cheesecloth, make sure you have a good strainer you can use at the end)
kitchen twine

What's Next?
Gather teabags and remove tags (if there are any!). Prepare the spices, including the vanilla bean and orange zest by laying them in your cheesecloth. To save room in the cheesecloth, I left my cinnamon sticks out of the pouch. Tie the cheesecloth pouch shut with a small piece of kitchen twine. *If you don't wish to use cheesecloth, you will just add all of your spices directly to the pan when the time comes and strain them out after.
Add the water and sugar to a medium sized saucepan and bring to a boil over a medium-high heat. Once boiling, reduce the heat to a simmer and put in the tea bags, cheesecloth pouch and cinnamon sticks. Simmer for 20 minutes.
Remove the pan from the heat strain the concentrate through a sieve or just remove the tea bags, cheesecloth pouch and cinnamon sticks. At this point if you want a bit more sweetness you can add a tablespoon of honey, stir to dissolve. Additionally, if you didn't use a whole vanilla bean, add your vanilla extract now. Stir to combine.
Allow the mixture to cool before pouring it into an airtight jar or container such as a 1-quart mason jar. Store in the refrigerator for up to one week.
To serve, I mix 1 part concentrate with 1 part frothed milk. I usually heat the concentrate in the microwave for 1.5 minutes while I froth my cold milk. When frothed, I place both the concentrate and the milk back in the microwave for 1 minute. Combine and enjoy! (You can also serve this cold over ice!)
Some things to note: I made a double batch which yielded about 2L of concentrate. I reused the tea bags, cinnamon sticks and cheesecloth pouch the second time and it all turned out great. Next time I may put less sugar and/or honey as it is a little sweet after being refrigerated for a day.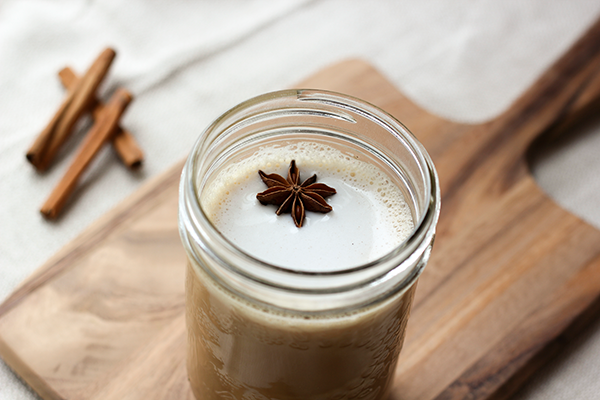 Olive says "Now Momma has more money to spend on me!"