01.05.2015
Instagram Love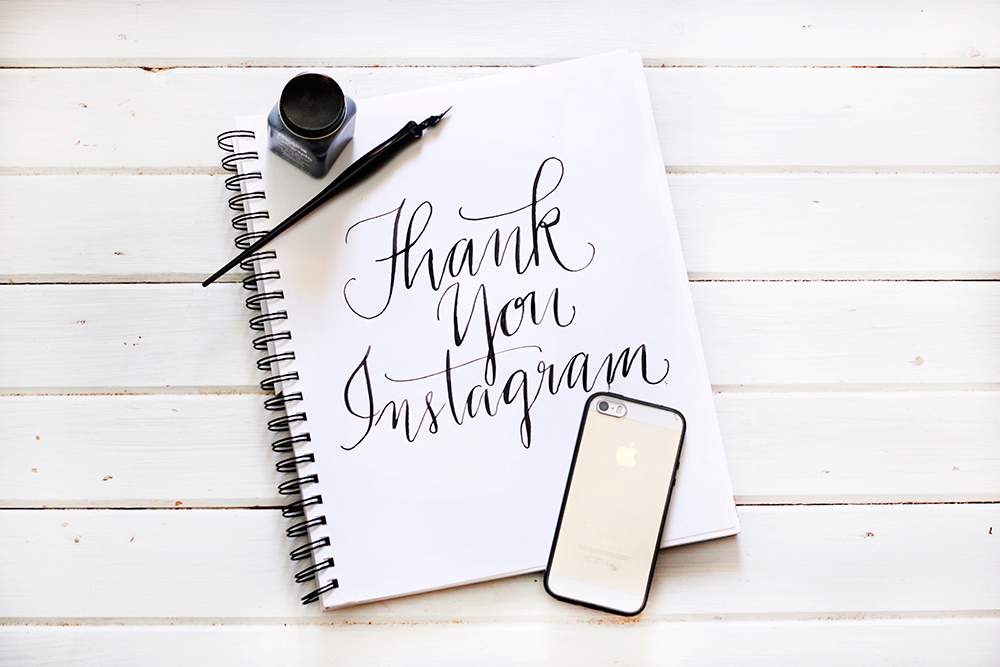 I joined Instagram a few years ago. I didn't know much about this new app, and had no grasp on the power it held. Sure, I posted a few photos here and there… but it wasn't something on the forefront of my mind, and I definitely wasn't gaining notice from the Instagram Community worldwide. I really looked at it as a place to store some not-so-good-looking photos. I never imagined what it would become a few years down the road.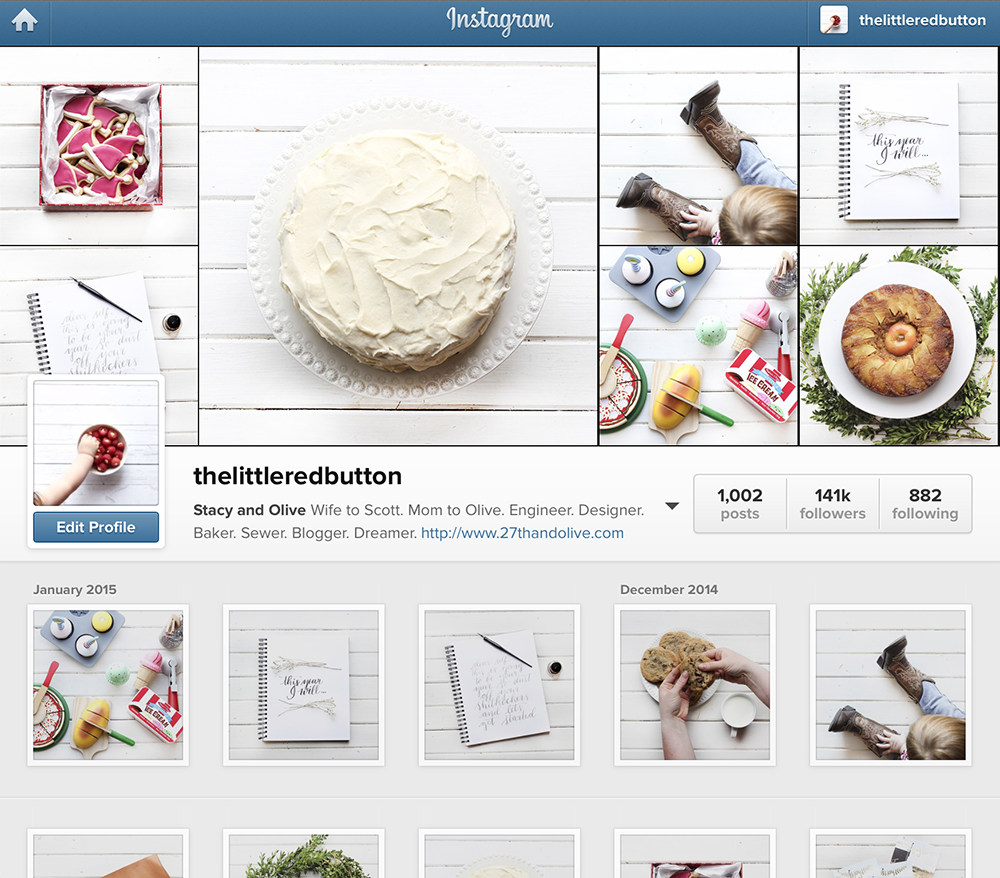 I really started to discover the power of Instagram after Olive was born. I quickly discovered that late night feedings were difficult as I sat there trying to stay awake while I listened to Scott snoring around the corner. I know some mom's may frown on Instagraming and Feeding, but it kept me entertained and alert while wee-Olive was nourished. I quickly discovered the power of the Instagram Mom World – from entrepreneurs to really cool moms who took really cool photos of their family. I was hooked. Scrolling through my feed, I was constantly inspired to try new things and be the best mom I could be. I continued to post a few pictures here and there, but now my interests lied in what other moms were doing, making, and selling. (I also did a lot of Instagram shopping in the wee-hours of the morning, but we won't tell Daddy)!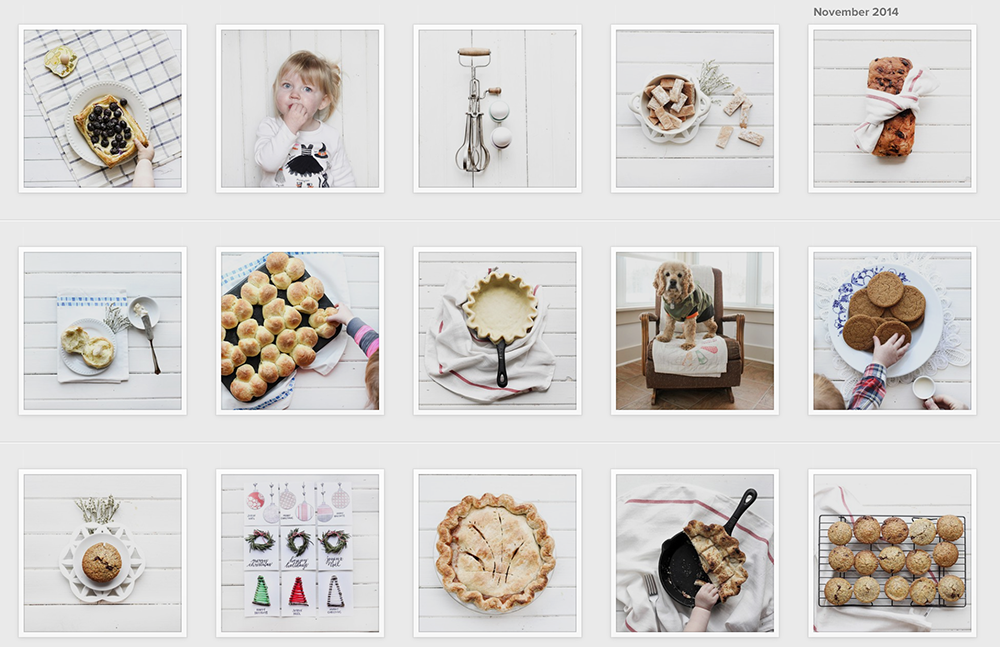 When Olive started to get a little more independent and I was able to venture back in the kitchen, I really found my love of baking… and more specifically, Food Photography. Unfortunately by this time, my year of maternity leave was almost up. My free time was soon going to be taking up by commuting and working. Not long after I returned to work I set a goal that I would clean up my Instagram Feed and try to be one of those cool moms would could inspire other new late-night-feeding-mommas around the world. I never, in a million years, could have expected the results.
I slowly developed my own style, sifted through antique stores for amazing props, and worked on my camera skills. I never expected for people to find my work, let alone follow me, but that is exactly what happened. On March 15, 2014, I had about 300 followers (most of whom I knew in person), but as I honed in my style, more and more people started following me. People I didn't know "in real life". People from all over the world. I was amazed and really inspired to keep going. Bake, Bake, Bake, Snap, Snap, Snap. Every so often I would throw in a little Olive hand into the mix, which people loved! By May 2, I had reached the infamous 1000th follower. I was ecstatic. I couldn't believe it. At that point I decided to shoot for 5000, thinking maybe it would be attainable within the year. I reached that goal by August 29. At that point I thought "wow… maybe I can reach 10k by the end of the year…" (I also added in a "but I won't be disappointed if I don't" just so I wouldn't be disappointed when it didn't happen!!).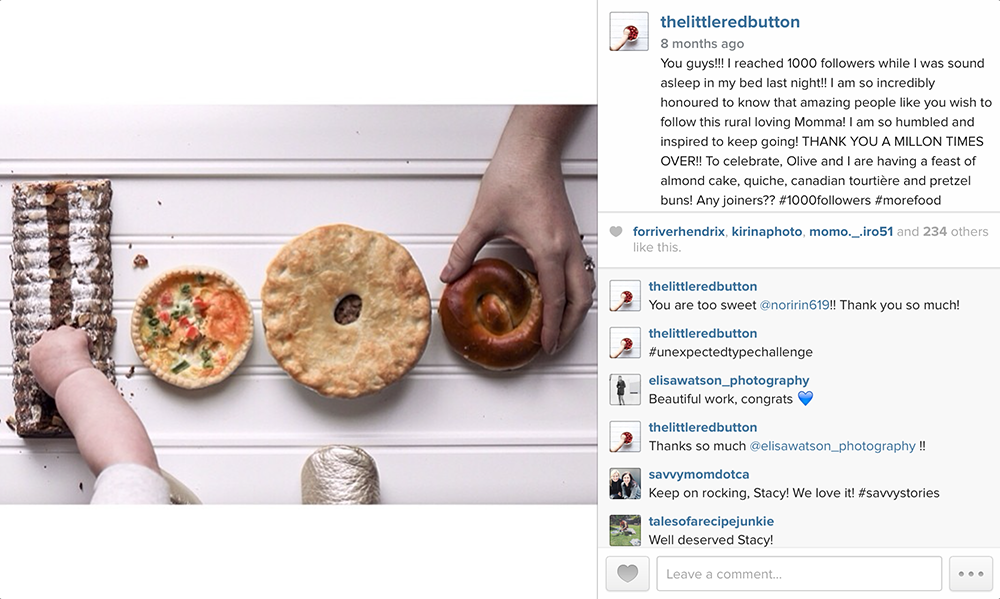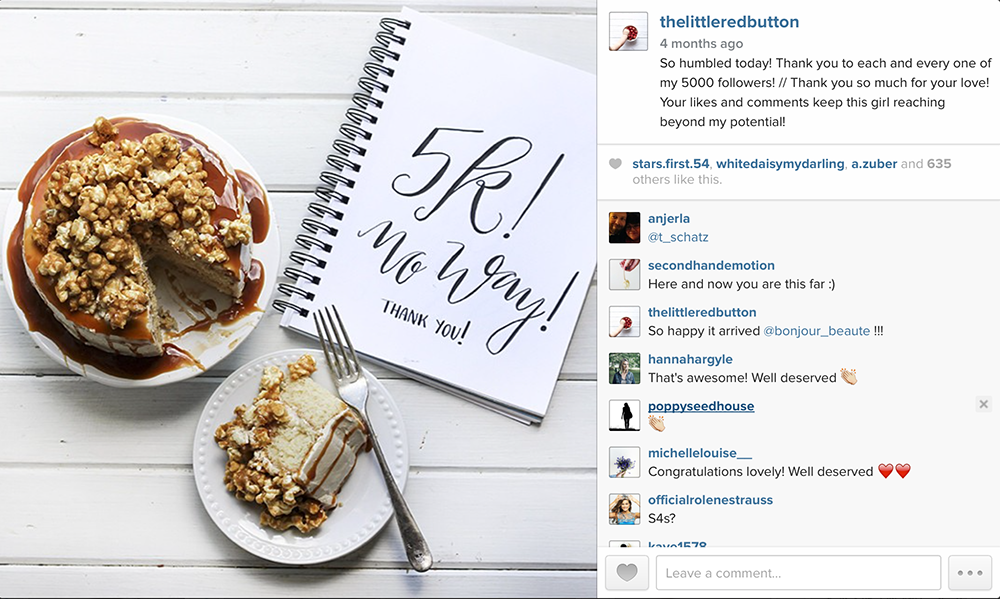 December 4, just 7 short months after really decided to jump all in, I reached 10k. Unbelievable. Along the way I formed so many beautiful friendships with ladies around the world. I never knew it was possible to feel a part of someone's life, even if you had never met one-another. We grew together, learned together, and celebrated together, even though we were oceans apart.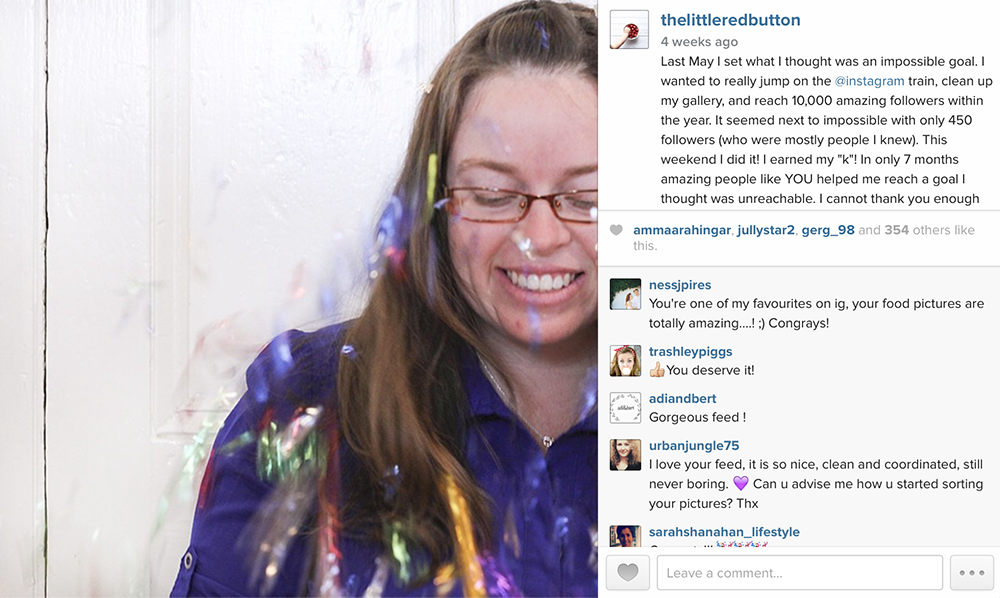 Just 8 short days after earning my Instagram 'k', something truly amazing happened. Something I never imagined would happen to me. Something I only thought happened to select individuals who studied and dedicated their lives to photography. Instagram recognized me and my photos. They added me to the Suggested Users list. Over night my account became alive. Thousands and thousands of people quickly discovered my curated gallery and liked it. They followed me. Little-old-me from middle-of-nowhere-Canada. I was touched. I was tickled pink. I was proud. I had worked so hard on my gallery and now the world has found me. It was been an incredible few weeks. I am still soaring high. I will never forget that little Direct Message I received from Instagram as I was half asleep on a lazy Saturday morning. I was immediately wide awake. The moment I saw that Instragram messaged me, I was on cloud 9. I knew exactly what it meant. I didn't even have to open the message to know what was about to happen. Today, January 5, 2015 I have over 140,000 followers. Unbelieveable. Amazing. Honoured. Speechless. Thank you!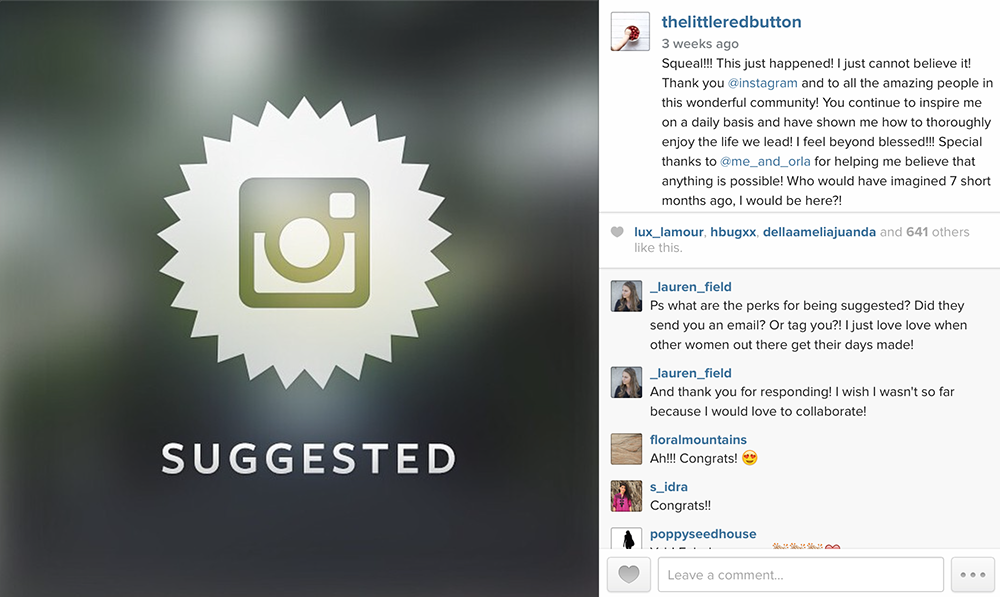 Simply put, the Instagram Community is amazing. I cannot begin to explain how I have grown over this year. I found something that I love to do. To some, it may have looked like a simple ride, but it truly took a lot of work and a lot of dedication to reach this point. I feel that so many doors have been opened for me. 2015 is really looking up! I have big plans for this coming year, much of it centring around this amazing photo app. I cannot even begin to express my gratitude to each and every one of you. To those who have helped me get to where I am. To those who come back daily and leave such inspiring messages. To those who believed in me right from the beginning. Thank you, from the bottom of my heart.
I am truly humbled!
(You can find my ever-growing Instagram Account here)