01.13.2013
Leah LaBrosciano Cline
This past year has been one heck of a whirlwind! I had the pleasure of helping bring wedding day visions to life with 70 brides worldwide! I shipped as close as Toronto to as far away as Australia! It has been such a humbling experience to know that these brides chose to have my art featured on their wedding day. The best part about making these bouquets and accessories are the pictures that follow the wedding. I absolutely love receiving emails from my brides with photos from their day. It makes this "job" so much more real when I see the beautiful couple smiling with my bouquet in hand!
I had the pleasure of creating this bouquet for a bride name Leah, a mother of 3, from La Palma, California. She was such an easy-going person to work with, and she also started off my hair accessory line by requesting three custom designs! Leah opted for a sea glass green coloured dress instead of the traditional white. We were able to match the colour perfectly in her bouquet and added accent "tangy taffy magenta" to make her style really pop.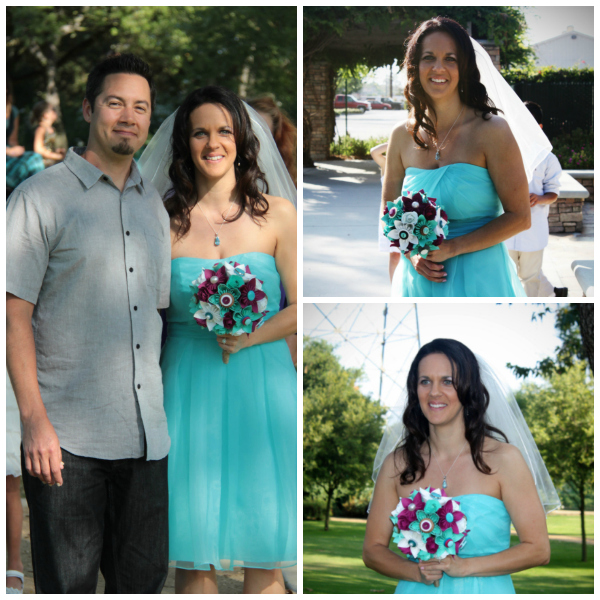 Leah planned a beautiful park wedding with 75 guests. They wanted a very casual, fun-loving, non-traditional day. They had a close friend officiate their nuptials, and no suits were allowed! Leah was so excited to have paper flowers because they will provide a permanent decor piece in their home as the start this new chapter in their lives!
Congratulations Leah! I am so please I was able to create your vision!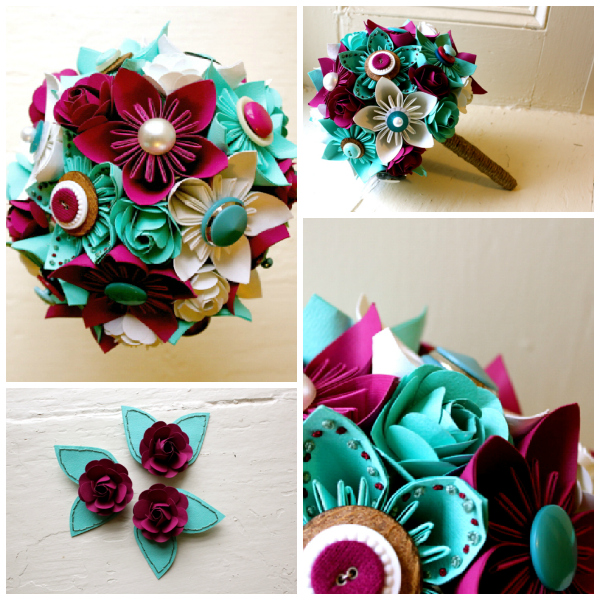 Peace, Love and Sea Glass Green Dresses!
-Stacy