09.22.2014
New Name, New Look!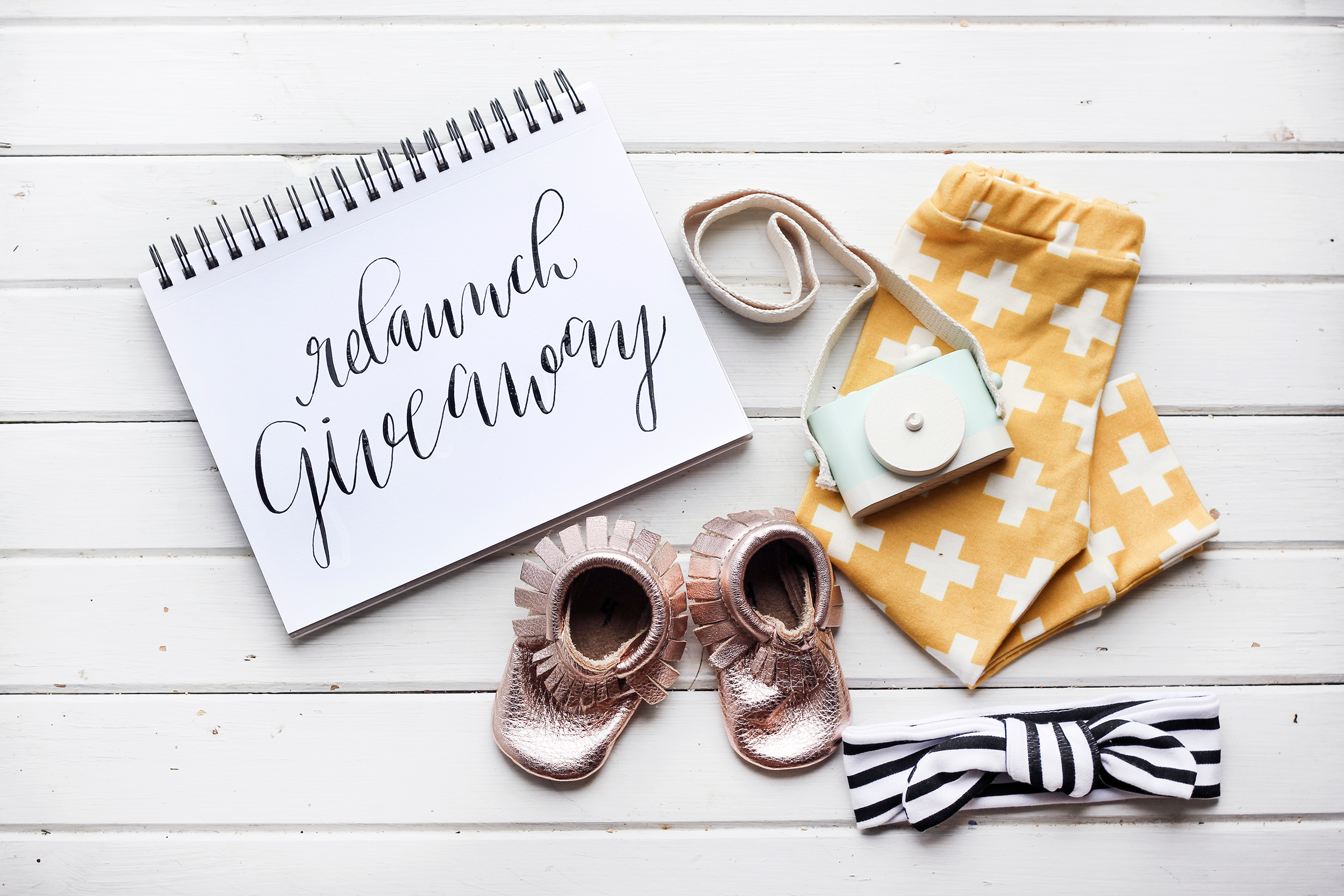 Big things are happening around here, if you didn't already noticed! I've been working with the very talented Breezie Castell to re-design my little space in the blogosphere. Breezie was such a doll to work with. She listened to everything I had to say, and put up with my edits, upon edits, upon edits! After having some less-than-positive experiences with past designers, I took some courses from Nicoles Classes and Atly to learn about the design process and how to use both Adobe Illustrator and Photoshop. I luckily came across Breezie who had no problem designing from my initial ideas. Breezie has added the breath of fresh air I have needed to get my blogging bee-hind in gear. Best of all, she is a Momma of a wee lad named Phoenix. I can't even begin to express how important it is (for me, anyway!) to support hard working 'mompreneurs'. There is a whole world of momma's out there who are supporting their families all while working out of their home. Thank you so much, Breezie, for all your hard work. I am so inspired to kick it up a notch! If you ever need design services, I highly recommend this gal. Seriously! Go check her out!
What's new? First and foremost – New branding!! 'The Little Red Button' is now '27th and Olive'. This name change has been a year in the making. I've debated many long nights whether this was a risky move, but in the end I decided that 'The Little Red Button' does not represent who I am. So what is the meaning behind the name? Olive is pretty obvious (my baby girl), and I was 27 when she was born. Maybe not the most creative, but it does have a personal meaning that I love. What else? Gone is the dated, dark background. Over the last five months I've really been focusing on my Instagram feed which has developed my love for white. White makes everything pop, in my opinion. I opted for a minimalist design in hopes that more focus will actually be made on my posts and pictures themselves. I am thrilled with the direction I am heading, and I have a lot more up my sleeve! One more big thing? I have joined the SavvyMom Collective. The Collective is part of the amazing Mom website SavvyMom. From time to time I may feature some Sponsored Posts as part of this Collective, but more often than not, I will be sharing my mom stories over on SavvyStories! I'm thrilled to be part of this team!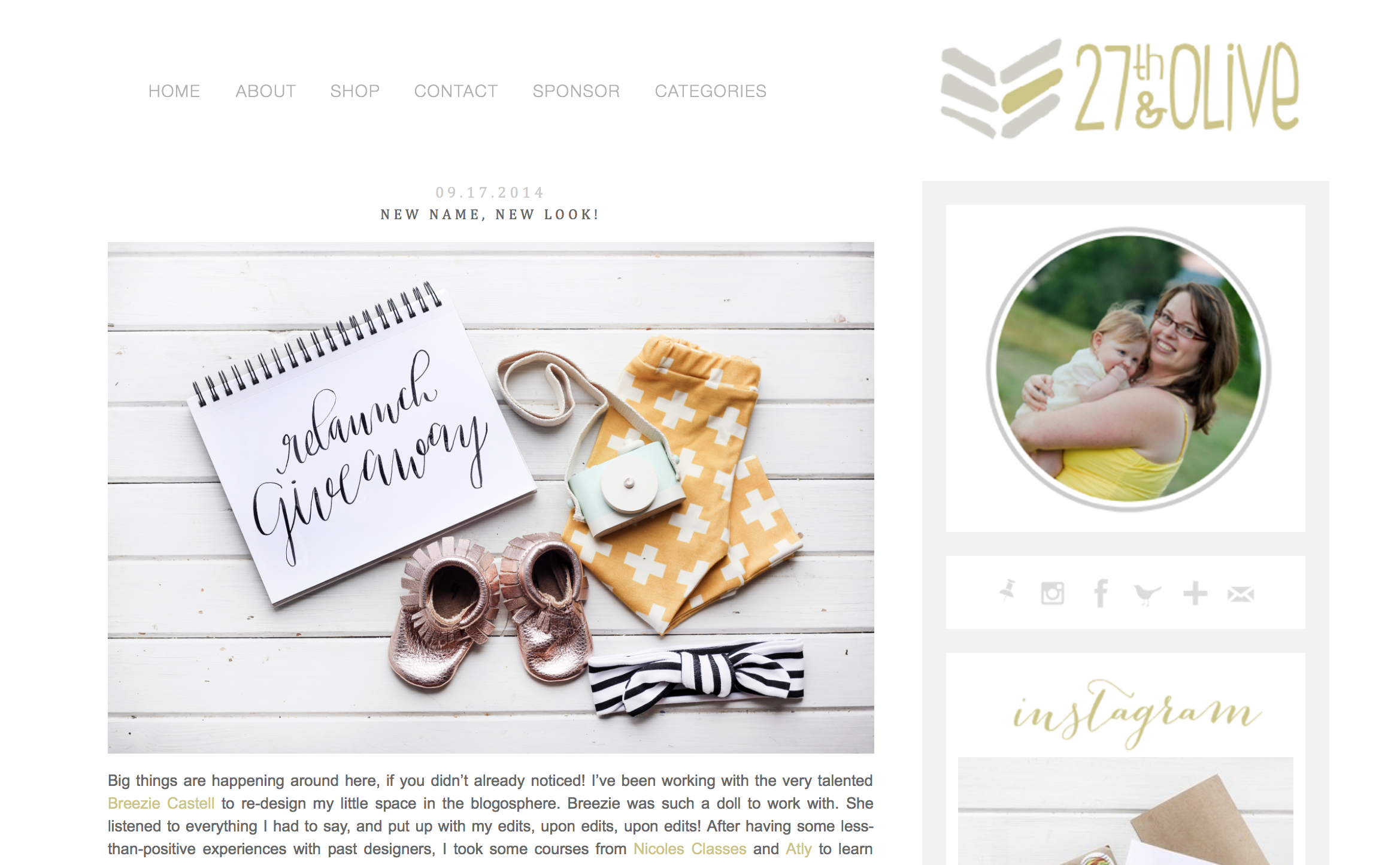 Without you, my readers and Instagram followers, my passion for life would not be as high as it is. It is you who inspires me to dig deep, to keep going, and to continue challenging myself. Without your comments, questions, advice and love, I would not be where I am today! As a thank you, I've teamed up with some amazing mompreneurs for a giveaway that any little tot would love! These moms create some of Olive's favourite every day toys and wear. I am please to announce that I have teamed up with Susan Peterson of Freshly Picked, Erin Mercado of Candy Kirby Designs and Melissa of Twig Creative.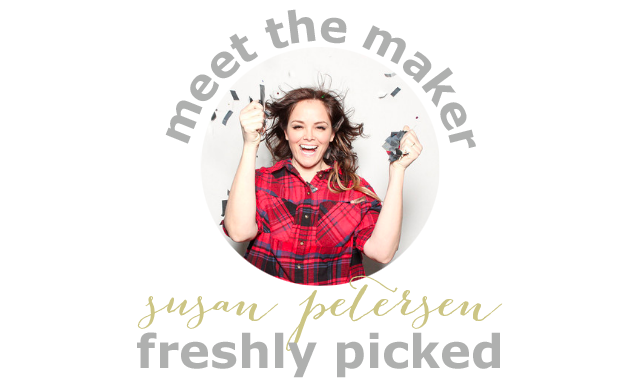 Susan Petersen of Freshly Picked. Many of you probably already know who this inspiring woman is. I discovered her during a late night instagram-feeding party (that only Olive and I were invited to)! In the wee hours of the morning while I was trying to stay awake, Freshly Picked popped up on my phone and it has never left. Susan's story is what dreams are made of. Doing everything you can to save up just enough money to buy an itty bitty piece of leather to create a tiny pair of moccasins. Today, Susan is a successful entrepreneur who made a deal with Daymon John on Shark Tank. I'm not one to sit down and watch TV, but I made sure to tune in the night she was in the Tank. It was so exciting to watch. Her Instagram presence makes me feel like she's been my best friend for ages and when she fought back against the sharks ('I am not a headache') and struck a deal, I was overwhelmed with excitement! Olive has been wearing Freshly Picked moccasins since she was about 5 months old, mind you; they were really just accessories until she actually started walking a few months ago! These soft soled shoes are amazing. They encourage foot development as your little one walks on all surfaces (including gravel!), during all seasons. They are so easy to slip on, and require absolutely no tying or velcro! There is a built-in elastic that not only holds the moccasin on your baby's foot, but it also makes it incredibly difficult for them to pull off themselves! So long, missing shoes! Freshly Picked has developed many seasonal lines with different colours and patterns. Susan always has a fresh look for your babe. I could go on for days about these shoes and the creator behind them. I am excited to tell you that Susan has teamed up with me to giveaway one pair of her stylish moccasins in your desired colour and size! It doesn't get much better than this!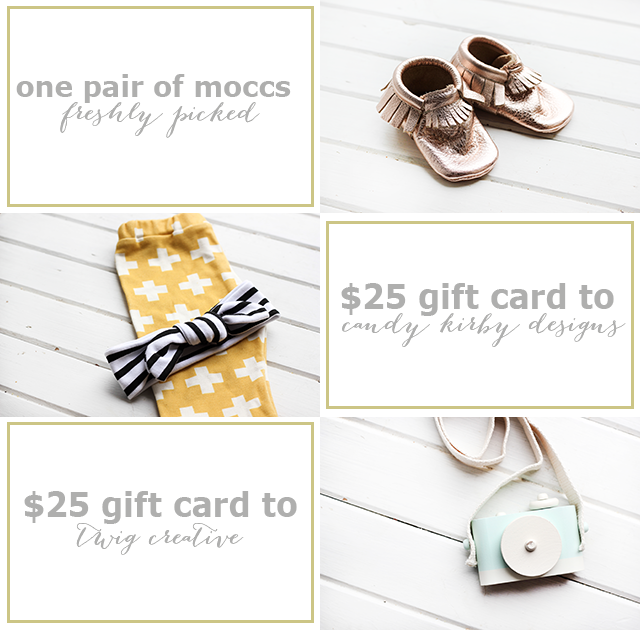 The Giveaway starts TODAY and ends this Friday, September 26 at 5:00 PM! Please use the form below to gain multiple entries (refresh your browser if the form does not appear)! Extra entries will also be given when you like and tag up to 5 friends on Instagram! Good luck friends!
a Rafflecopter giveaway

Follow my blog with Bloglovin