08.04.2016
Peach and Rosemary Almond Tart: The Distant Kitchens Series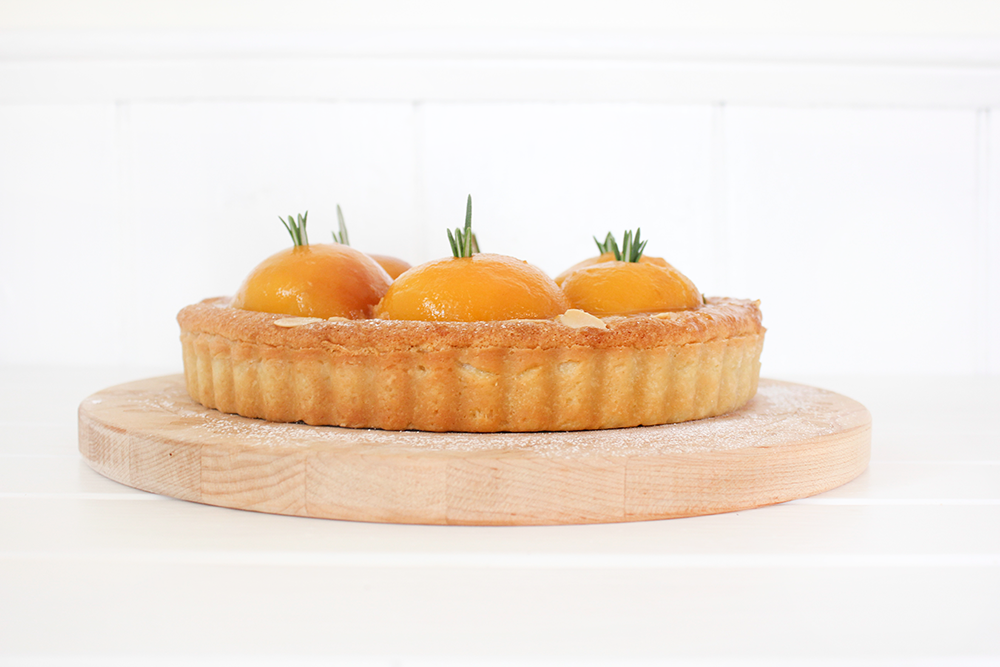 A little while ago I found myself thinking about how people interpret recipes. In a Pinterest world, where millions of recipes are available to you at the click of the button, I find it fascinating to see how the same recipe can have so many different outcomes. It came to me in a dream. A little project, a collaboration with another blogger, to explore this very thing.
Slowly, the Distant Kitchens series was born.
In my family, food is what brings us together. No matter the occasion, big or small, food is at the centre. Distant Kitchens is about creating and celebrating food that matters with people around the world. It is about bringing friends together to discover new recipes, new techniques, and new ingredients and to challenge each other to celebrate the food we eat. Social media plays a huge role in our society. We already feel closer to people who are countries away from us, and thanks to Instagram (my favourite media, if you didn't already know!), we develop life-long friendships with amazing people you may never have the chance to meet in person. For me, I admire other self-taught bakers like myself, and wish that we could cozy up in a kitchen for a day to see what would come out of our oven. Distant Kitchens is our chance to do the next best thing.
I am so thrilled to bring to you an exciting, new, on-going collaboration with my dear friend Erin from Cloudy Kitchen. We are two self-taught bakers and avid Instagram users (Erin / Stacy). Erin originally hails from New Zealand, but is currently living in New York City with her amazingly talented husband Rich and turtle Ron. I am in Canada, in the Ottawa Valley, living in an old stone home with my husband and two children. Erin and I met through Instagram, but never in person. Our lives parallels in so many different ways, and often we find ourselves caught up chatting about how similar we really are. At the heart of our friendship is food. We both share of love of baking and preparing meals for our family, (but not before styling and posting to our IG galleries of course)! Our friendship has blossomed over sharing pictures of pies and cake.
In an effort to try to bake together, we decided to start Distant Kitchens. Each month we will pick a few recipes – from books, from pinterest, from family – to each bake in our own kitchens. We will style and shoot our results and only then will we share with each other (and the world)! We are so excited to try this experiment. We can't wait to compare the similarities and differences when using the exact same recipe. Sometimes one may have to stray from the recipe. Sometimes it may be a complete fail. Sometimes, we may find that our results are really quite similar. The only rule we have made: No sharing until we are completely finished.
Distant Kitchens is a labour of love in an effort to cook with those we care about, but who may not be physically close to do so. We would love if you would follow along with us. You can find us both on Instagram (Erin / Stacy) and Bloglovin' (Erin / Stacy), as well as on the hashtag #distantkitchens. We both plan to blog each recipe so don't forget to check out each post to get the whole experience!
On to our first recipe!!
---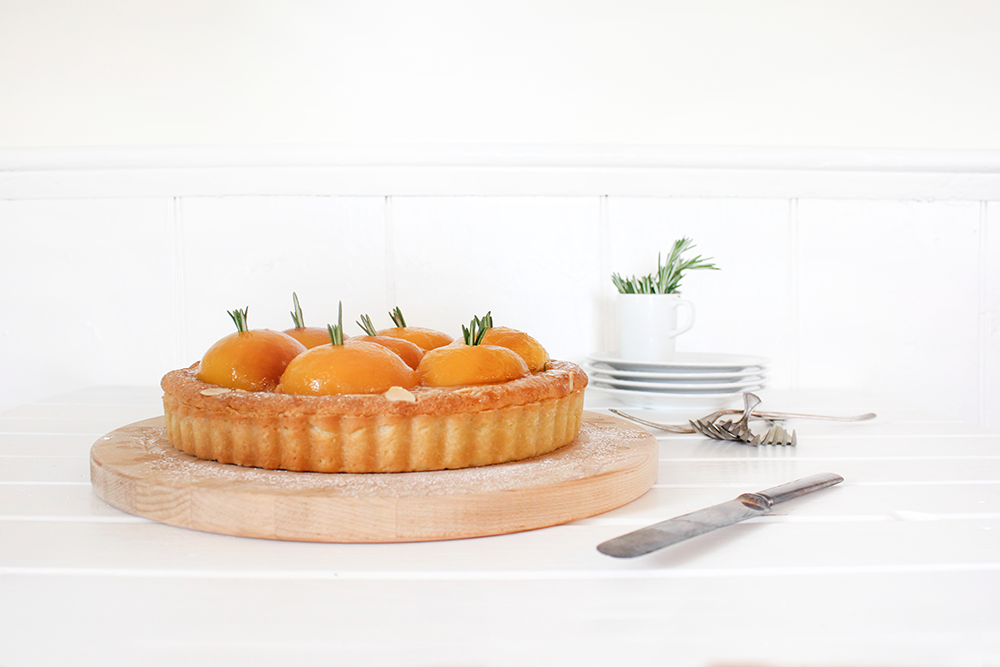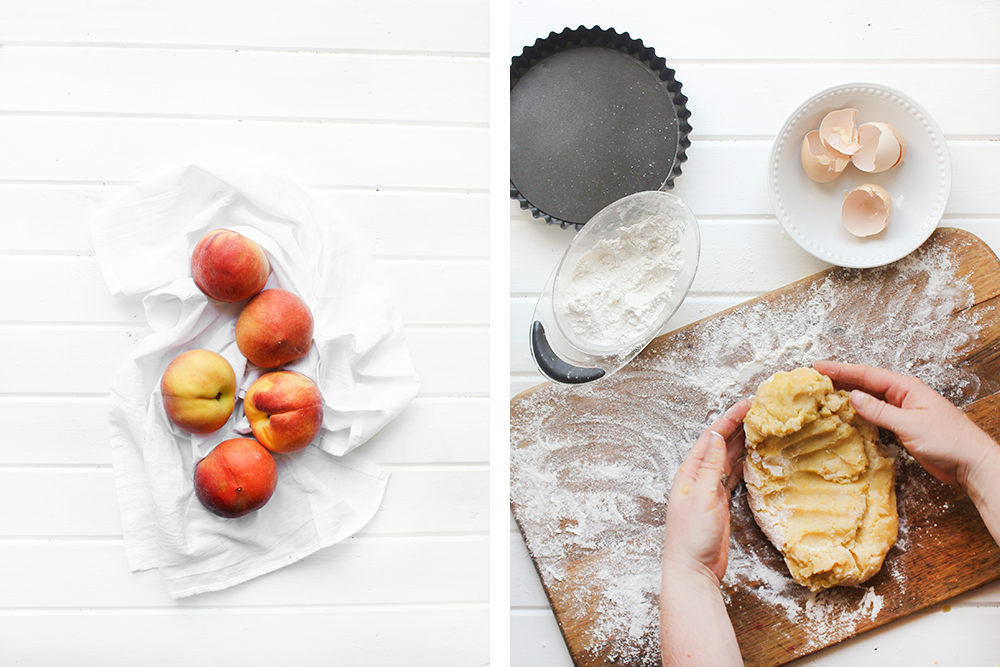 Hi, Peach! I missed you!
Peaches are starting to pop up at markets between Westport and New York City, so we thought the perfect start to our project would be to feature this beautiful fruit. After some searching, we decided our first recipe would be Richard Bertinet's Peach and Rosemary Almond Tarts from his book Pastry.
Although the end result was one of the most delicious tarts I have ever made, the road to get there was much longer than anticipated. I think Erin agrees! His recipe was kind of all over the map… or maybe just not the way we would have approached it, so we have tried to simplify and reorganize it for you.
If you have ever made pastry before, be it pie crust or tart pastry, you understand the importance of the chill! I always make my pastry the day before, and let it hang out beside the milk and eggs in the fridge for the evening. Beside ensuring cold butter, it is much easier to roll out the next day.
That is advice number 1.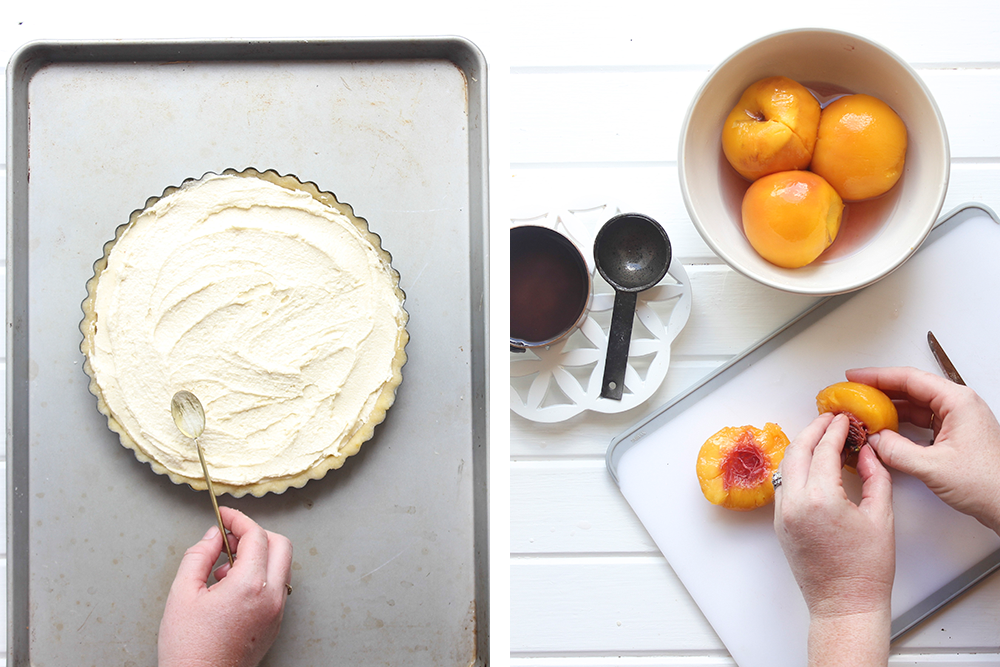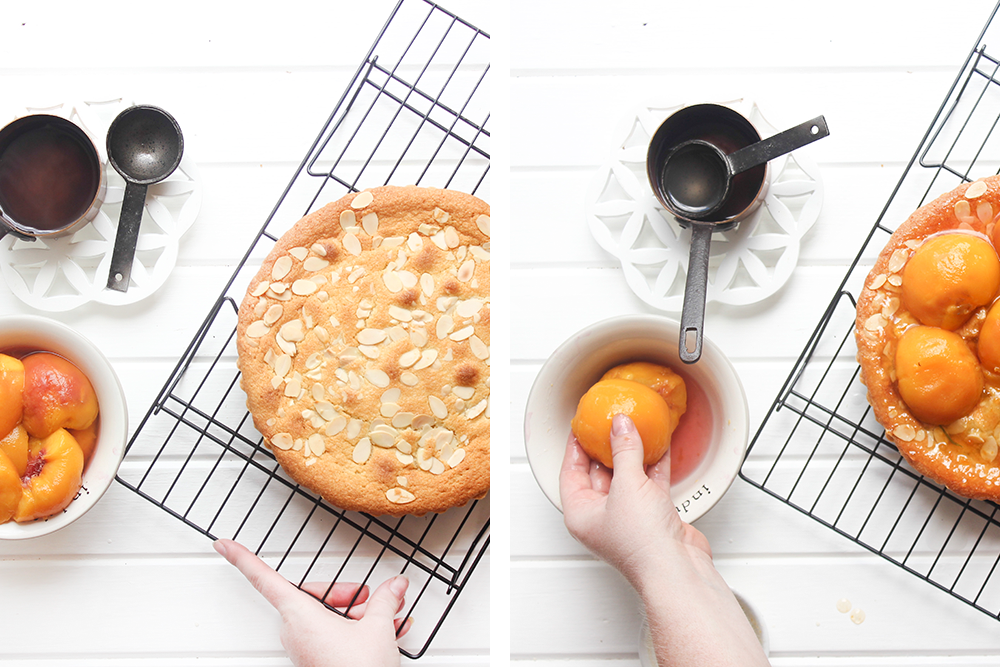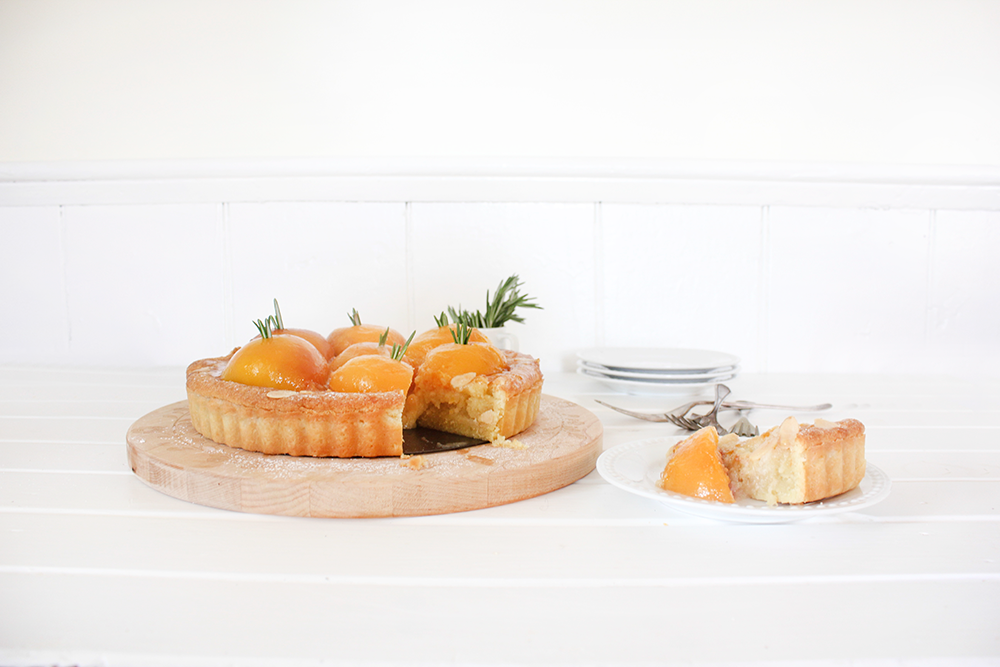 Advice number 2 would be to read through the entire recipe and have all the components ready before rolling out and assembling the tart. Make the almond cream, and let it sit in the fridge while you poach your peaches in the rosemary sugar syrup. While the peaches are poaching, roll out your pastry, fit it into the pan and place it beside the almond cream in the fridge. Make your apricot glaze before filling your crust with the almond cream and bake. While the tart is in the oven, gently peel and slice your peaches. From there, all that is left is assembly and devouring!
Advice number 3? This isn't a tart to just whip up In 30 minutes! Give yourself the time. It is worth it. I promise! I would definitely make it again (and maybe this time, share it with someone other than myself)!
So how did we do?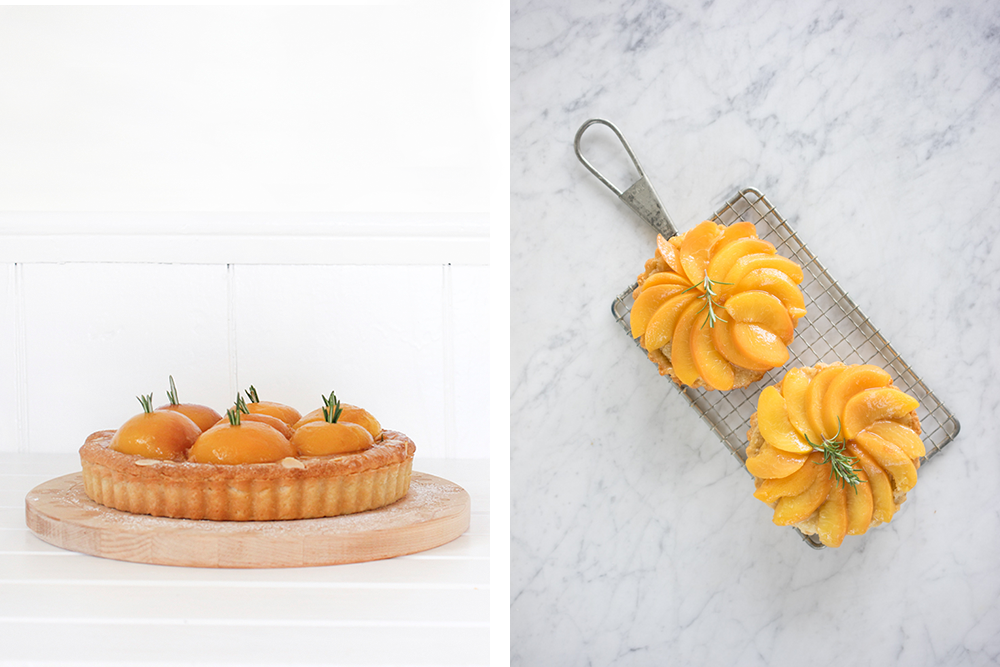 For a first run through, I have to say, I am so pleased with the outcome! We followed the same recipe, but the results are smashingly different! Where I made one large tart, Erin opted for multiple smaller tarts. Where I opted to keep the peach whole, Erin gracefully cut and arranged her's on top. I sprinkled sliced almonds before arranging my peaches, whereas Erin let all the almond come out in her pastry and almond cream filling.
I have to say, I am quite excited to see where Distant Kitchens takes us. Although we live hundreds of miles apart, I can't help but feel like Erin was beside me the whole time.
What did Erin think? Don't forget to head over to her blog to read about her adventures with Mr. Bertinet's tart and to see her stunning photos!!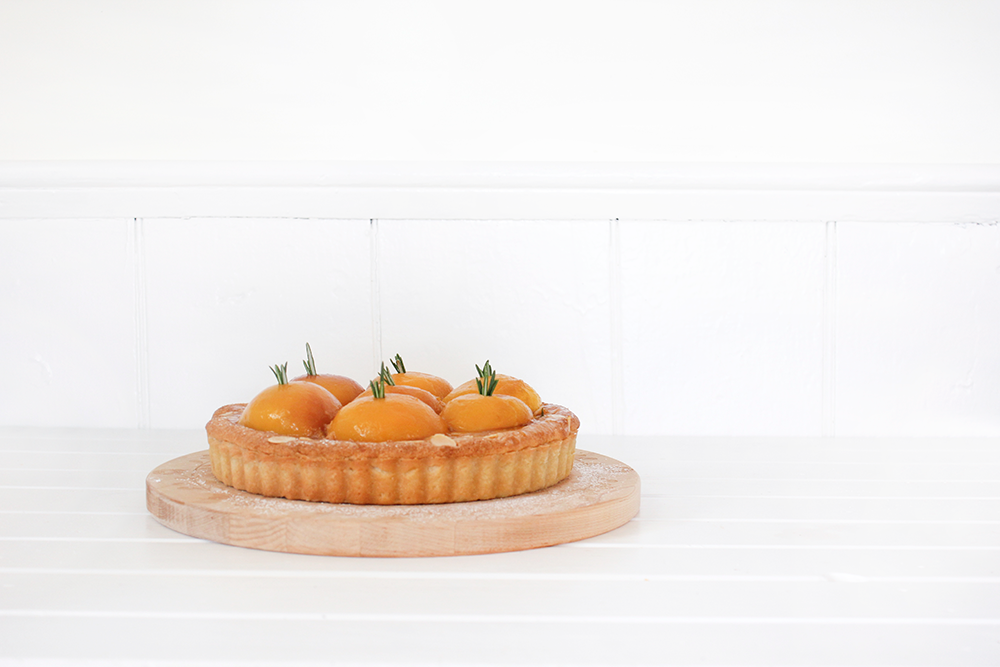 ---
PEACH AND ROSEMARY ALMOND TART
adapted from Richard Bertinet's book Pastry
Note: This recipe has many different components. It is best to make the pâte sucrée pastry a day before. Allow a few hours to make, assemble and bake the second day!
ingredients
pâte sucrée:
8.9 oz. all-purpose flour
3.5 oz. almond flour
4.4 oz. unsalted butter
4.4 oz. sugar
2 eggs
1 egg yolk
pinch of salt
almond cream:
1 cup plus 1.5 tbsp unsalted butter
1.25 cups caster sugar
2.5 cups almond flour
6 tbsp all-purpose flour
3 eggs
2 tbsp dark rum
poached peaches:
2.5 cups granulated sugar
2 sprigs rosemary
1 litre water
4 peaches
apricot glaze:
2/3 cup apricot jam
2 tbsp water
tart assembly:
1 recipe pâte sucrée
1 recipe almond cream
2-3 tbsp sliced almonds
1 recipe apricot glaze
1 recipe poached peaches
butter or baking spray
rosemary sprig, for finishing
steps
pâte sucrée:
Measure out all ingredients prior to starting and have eggs cracked, in bowl, unbeaten.
Combine flour, almond flour and salt in a mixing bowl. Place cold butter between two sheets of parchment paper and roll with a rolling pin until butter is about 1/4″ thick. Place entire butter disk in the flour/salt mixture.
Cover the butter with flour and tear into large pieces. Continue to flake and mix the butter in with the flour/salt mixture with hands. Do not squeeze the butter, but rather, use a soft skimming motion. Make sure all butter continues to stay covered with flour so as not to get sticky. Stop mixing when the shards of butter are the size of a large pea. Large chunks of butter lends to a lighter, flakier pastry.
Add the sugar, and mix evenly. Pour the whole eggs and yolk into the mixture and mix everything together. Press the dough with both thumbs, then turn the dough clockwise a few degrees and press down and turn again. Repeat multiple times.
Turn pastry out onto a lightly flour dusted work surface. Work the dough as you did while in the bowl – pressing down and rotating. The dough should feel like plasticine, and look homogenous. Roll the dough into a sphere and lightly press to flatten.
Cover in saran wrap and place in the fridge for 30 minutes or, even better, over night. A chilled pastry is a better pastry!
almond cream:
Beat the butter in a stand mixer until soft and smooth. While mixer is still running, slowly add in the sugar and continue to mix until combined.
Add in the almond flour and all-purpose flour and continue to mix.
Add eggs, one at a time, mixing each until fully incorporated.
Mix in dark rum. Combine until smooth.
Transfer almond cream to a piping bag and store in the fridge until ready to use. Alternatively, if you do not have piping bags, a covered bowl will work as well.
poached peaches:
Add sugar and 2 rosemary springs in a sauce pan with 1 litre of water. Bring the mixture to boil. Lower heat and simmer until the syrup is colourless.
Place whole peaches into the syrup and bring to below a simmer. Cook very gently for 20 minutes.
Remove saucepan from heat and let peaches sit in syrup for an additional 20 minutes.
After 20 minutes, remove peaches from syrup. Peel fruit, then cut in half carefully. Remove and discard the stone. Let rest on cutting board, cut side down, until tart assembly.
Reserve 3-4 tbsp syrup.
apricot glaze:
Place apricot jam with 1-2 tbsp water in a small saucepan. Bring mixture to just under a simmer. Do no let the jam boil or it will become too gooey to spread!
tart assembly:
Lightly grease an 8-in tart pan (with removable bottom). Roll your chilled pâte sucrée on a lightly floured dusted surface. Your dough should be about 5mm thick. Do not force the pastry to roll out, rather, let your rolling pin do the work.
Gently line your tart pan with the dough. Press the dough into the edges and trim the excess. Place in the fridge for 30 minutes or until chilled again.
Preheat the oven to 350F.
Using your piping bag (or a spoon), fill the chilled tart with prepared almond cream. Top with sliced almonds. Place the tart pan on a lined baking tray and bake for 40 minutes, or until almond cream does not wiggle. Let tart rest for 15 minutes and then remove from tart pan.
Let tart rest for additional 30 minutes.
With a skewer, make small holes in the baked almond cream and gently pour about 3-4 tbsp reserved poaching syrup over the tart and let soak in.
Using a pastry brush, gently glaze the top of the tart with 2-3 tbsp of the apricot glaze. This will give the peaches something to stick to. Arrange the halved peaches, cut side down, on top of the tart. Glaze peaches and tart again.
Push small sprigs of rosemary into the fruit to finish (optional).
Let tart rest 30 minutes before cutting!
Enjoy!

---
I hope you join along with us on our journey with Distant Kitchens! Our next recipe will be here before we know it. Show us your version of the Peach and Rosemary Almond Tarts by tagging #distantkitchens! I wonder what yours will look like?
Peach and Rosemary Almond Tart from Stacy Blair on Vimeo.