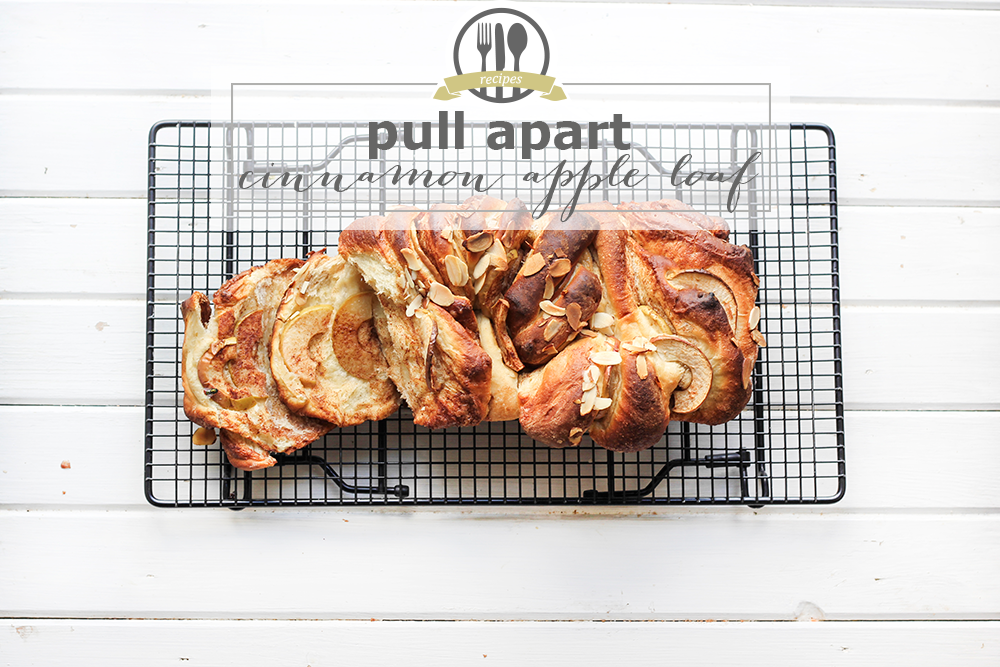 If you have been following me on Instagram, you will know that I have a place in my heart for a good loaf of bread, especially of the cinnamon persuasion. A few short weeks ago Olive and I went on an apple picking adventure, and ever since our kitchen has delightfully smelled of apples and cinnamon. Not a bad problem to have, in my opinion!
We are in full swing of continuing to celebrate all that is fall. Our kitchen has been full of apple pies, apple-squash soup, apple tarts, candy apples – you name it. Discovering the simple pleasures this amazing ingredient adds has been heavenly. This past week I decided to make an apple cinnamon pull apart loaf. It was so funny watching Olive slowly pull a piece from the whole loaf. She would look at me as if saying "you are going to let me eat this whole thing?", and then she would run away before I could even answer.
No sharing. Not this loaf!
I was so looking forward to enjoying a piece over breakfast the next day, however it didn't make it past the mid-afternoon snack. I think we have to re-test this recipe on the weekend, you know, for good measure!
NOTE: we had full intentions of glazing this loaf, but we weren't quick enough!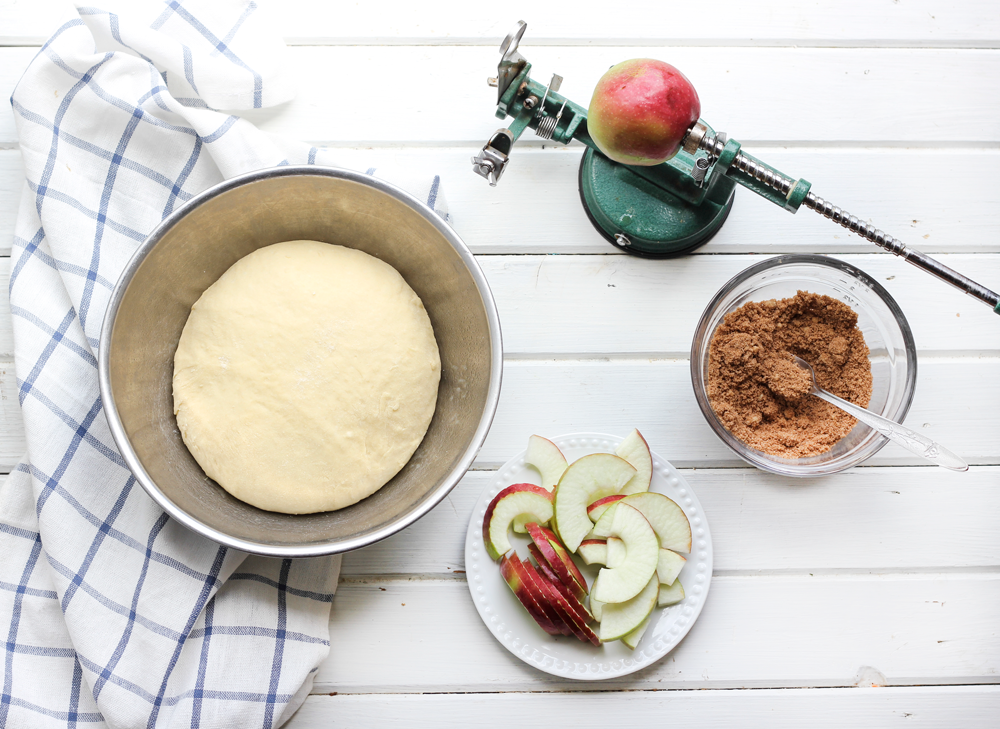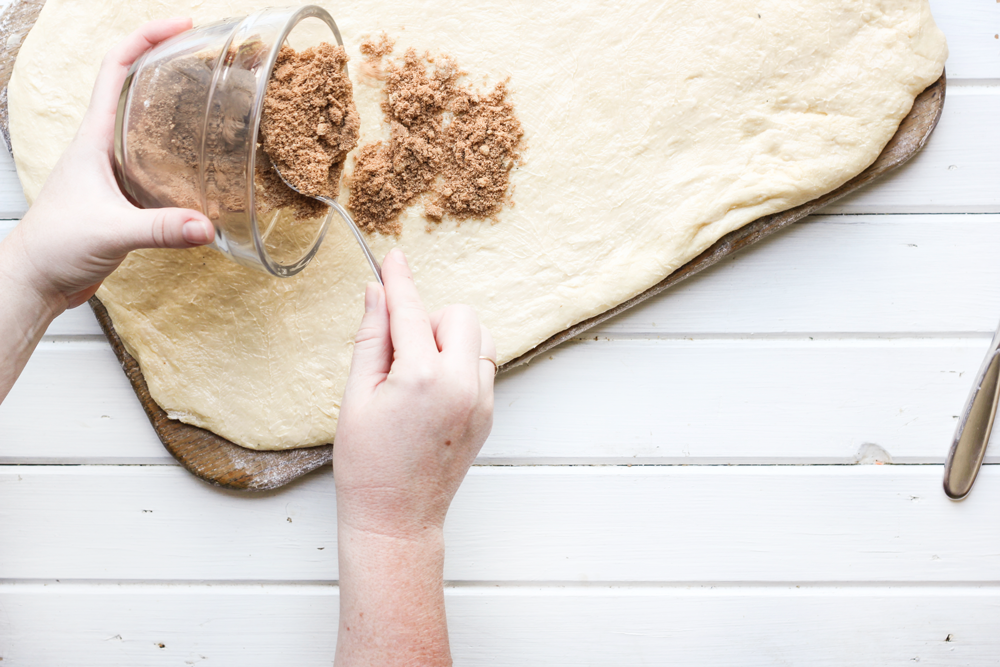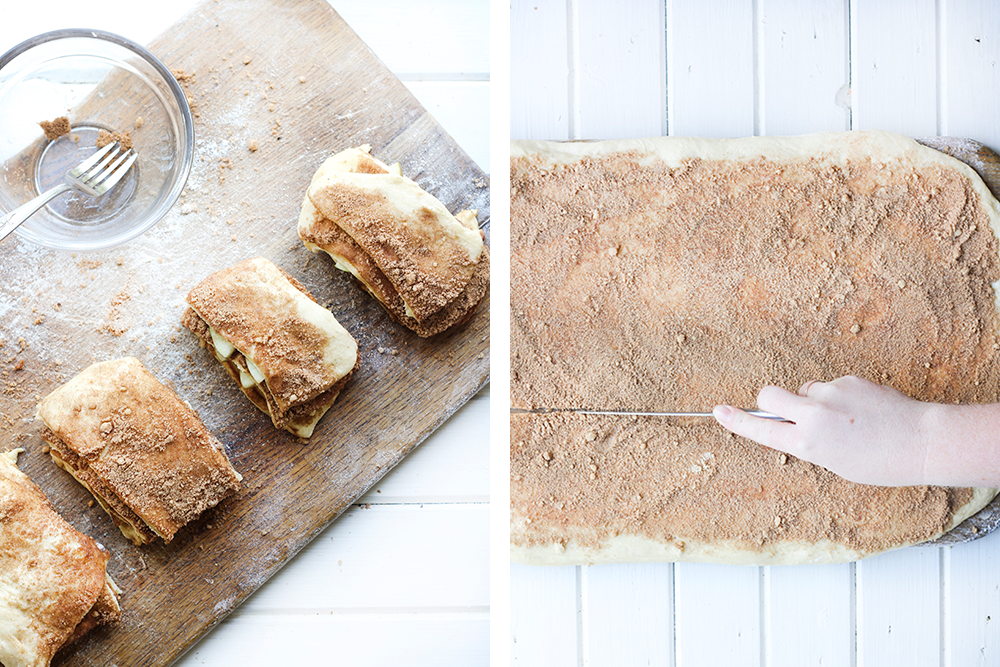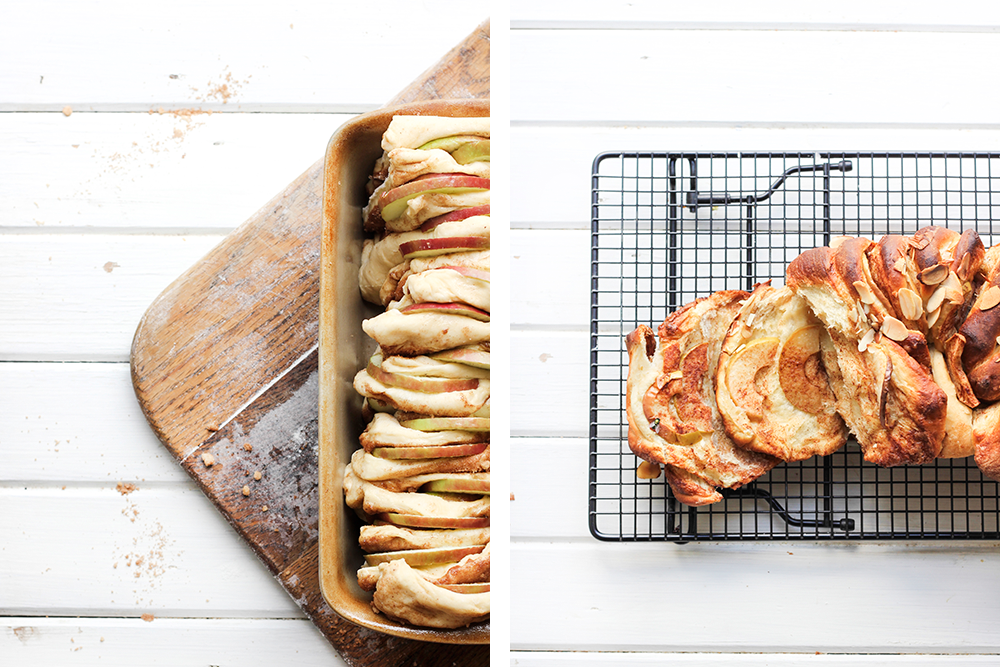 Pull Apart Apple Cinnamon Loaf
2014-10-01 08:34:04
Serves 8
Ingredients
FILLING
2 tablespoons unsalted butter
1/2 cup packed brown sugar
1 tablespoon ground cinnamon
1/2 teaspoon vanilla extract
3 medium apples (about 2 cups), peeled, cored, and thinly sliced
1/2 cup pecans or walnuts, chopped (optional)
&nbsp
DOUGH
4 tablespoons unsalted butter, melted
1/3 cup lukewarm milk
1/4 cup lukewarm water
2 large eggs
1 teaspoon vanilla extract
3 1/4 cups All-Purpose Flour, divided
1/4 cup sugar
1/2 teaspoon salt
2 1/4 teaspoons instant yeast
&nbsp
GLAZE
1 cup powdered sugar
1 tablespoon milk
Instructions
Whisk together the butter, milk, water, eggs, and vanilla extract. This will make up the wet ingreidents.
In the bowl of a stand mixer fitted with a dough hook, mix together the flour, sugar, salt, and yeast (dry ingredients). Add the wet ingredients. Knead the mixture until the dough is smooth. The dough will be quite soft. My dough was still very wet, so I added another 1/4 of flour, 2 tablespoons at a time, until I achieved the soft, elastic texture.
Place the dough in a lightly greased bowl, cover, and allow to rest until doubled in size (approximately 1 hour)
Grease a 9" x 5" loaf pan.
Gently deflate the dough and turn it out onto a lightly greased surface. Roll the dough into a 12" x 20" rectangle.
Stir the vanilla into the melted butter. Spread the butter mixture over the entire top on the dough (use a pastry brush to get the butter evenly spread over the surface of the dough).
Combine the brown sugar and cinnamon. Stir until all the clumps are combined.
Sprinkle the brown sugar mixture over the dough using your hand to spread it evenly over the butter.
Cut the dough crosswise into six 3 1/2" x 12" strips, then cut the strips into thirds. Layer the dough and apple slices (about 4-5 layers per stack).
Turn the stacks on edge, and place them in the loaf pan one in front of the other until the pan is full. Sprinkle nuts (if using) and any remaining apples over the dough.
Cover the pan with a towel and allow the loaf to rise for 30 to 60 minutes, until it's almost doubled in size (do not over rise). While the loaf is rising, preheat the oven to 350°F.
Bake the loaf for 45 to 55 minutes in the center of the oven, tenting it with foil after 30 minutes. Remove the loaf from the oven, and transfer it to a rack to cool for 15 to 20 minutes before turning it out of the pan to cool completely.
While cooling, mix the glaze ingredients together in a small bowl. Add more milk if necessary to get desired consistency.
While still slightly warm, spoon the glaze over the top of the bread.
27th and Olive http://www.27thandolive.com/