11.03.2014
Risotto, Four Ways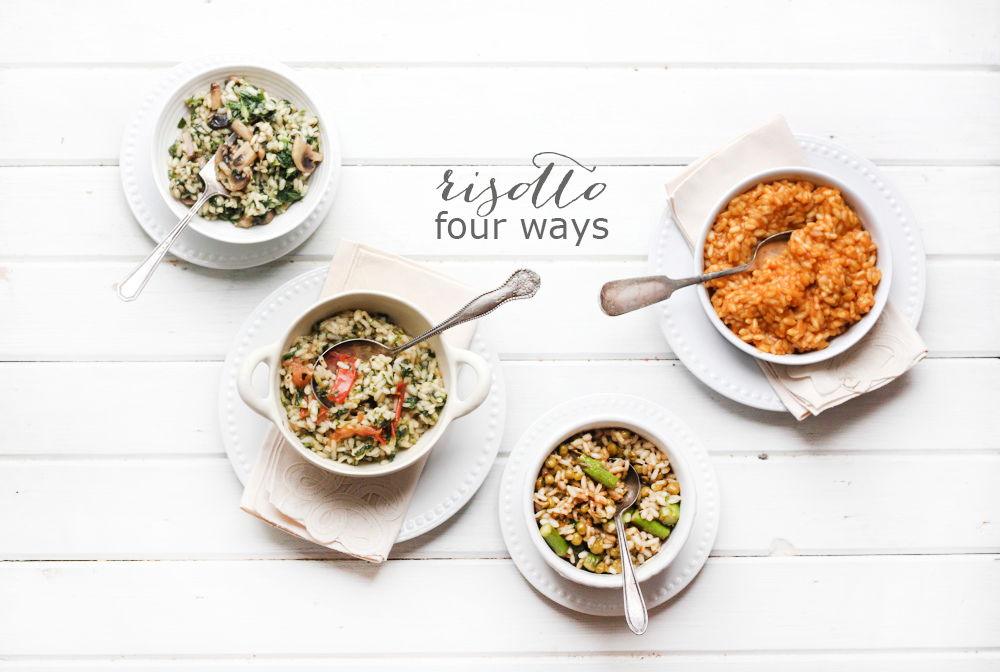 Three years ago we honeymooned in the Mediterranean. It was here where I become utterly obsessed with Baklava and Risotto. As we island hopped around Greece, I noticed a quick pattern in our eating habits. I would order Risotto, Scott would order a real Greek Salad. After we downed a glass (or two!) of wine, we would order baklava and discuss how it rated on our island scale. We concluded that Santorini had the best risotto and Mykonos the best baklava.
Coming home was bittersweet. It's always nice to come home to your own bed, but my new food loves were no longer readily available. I was a little intimated at first when I decided I needed to learn how to make risotto. I've watched my fair share of 'Hells Kitchen'. Risotto always seems to be the bane of every chef's existence (at least to Chef Ramsay's standards). I put off trying to make it because I assumed I'd never get it right. If I've learned one thing from my adventures in the kitchen, it is to never make assumptions before attempting to create it. Cooking risotto is not hard. Its quite easy in fact. I know I do not come close to that of Chef Ramsay's, but I do enjoy it very much. It will hold me over until our next trip to Greece, anyway!
I use the same technique to cook the arborio rice for every risotto I make, whether it be mushroom, tomato, or even pumpkin. I've decided to share how easy it is to make risotto four different ways – to satisfy everyone's tastebuds at the dinner table.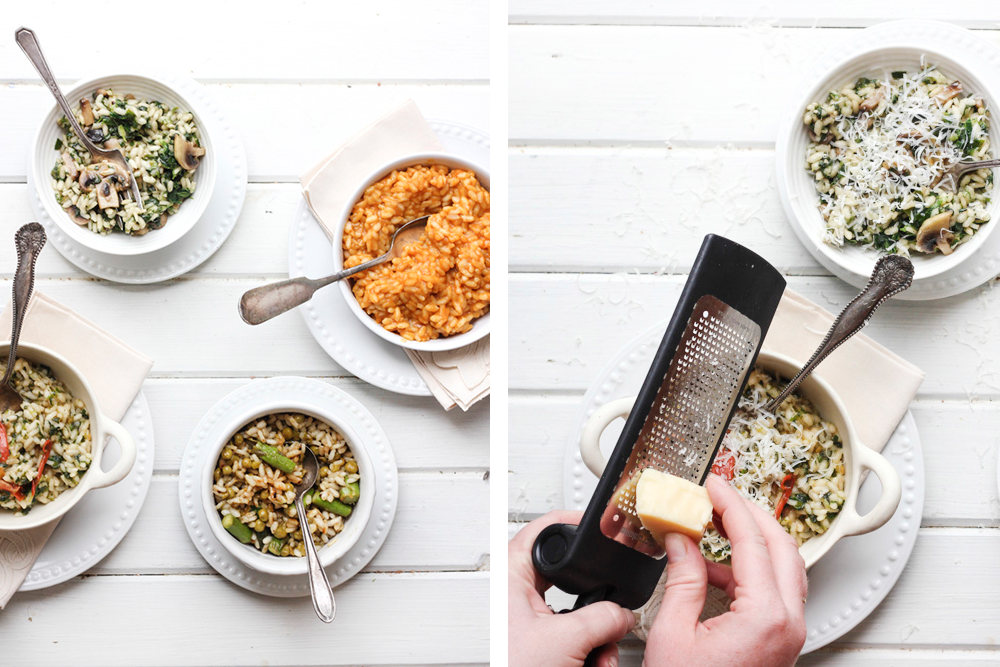 General Risotto
2014-10-19 06:33:16
2 tablespoons butter
2 cloves garlic, minced
12 ounces uncooked arborio rice
3½ or 4 cups chicken or vegetable broth
a splash of dry white wine (optional)
Heat 2 tablespoons of butter in a large skillet over medium high heat. Add two cloves of garlic and saute for 1-2 minutes until the smells of amazingness overtake your life.
Add the arborio rice and toss with the butter and garlic for a minute or two until coated. Add a splash of white wine to get things all sizzly-hot.
Add 1 cup of chicken broth and push the mixture around gently in the pan with a wooden spoon, letting it get all bubbly and nice. When most of the liquid has evaporated, add another half cup. Repeat this process over about 15-20 minutes until the arborio rice has cooked to the point where it's almost completely soft, and the whole thing takes on a creamy texture.
27th and Olive http://www.27thandolive.com/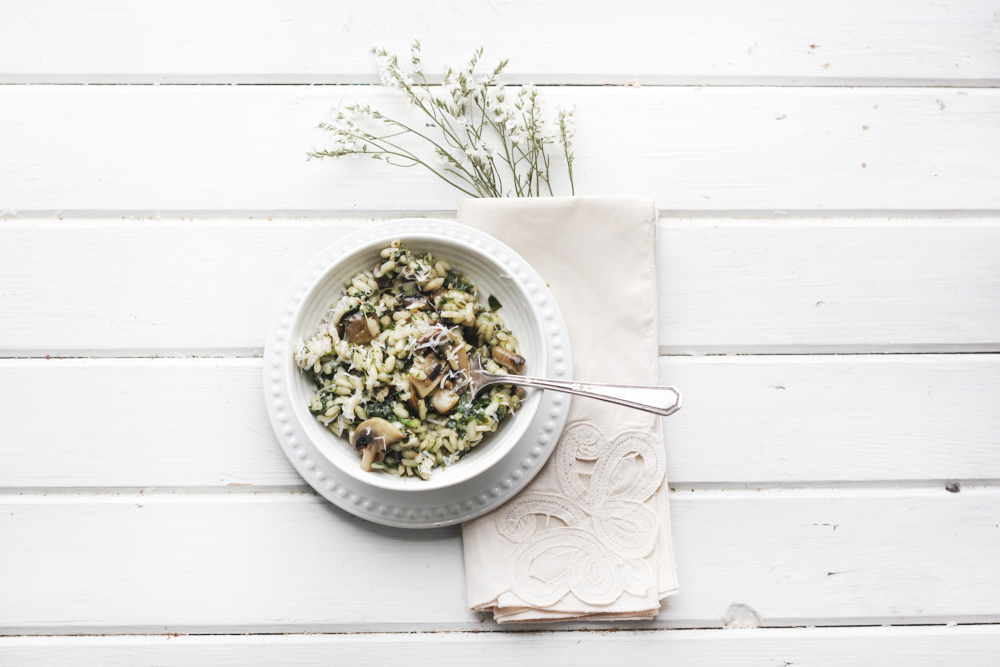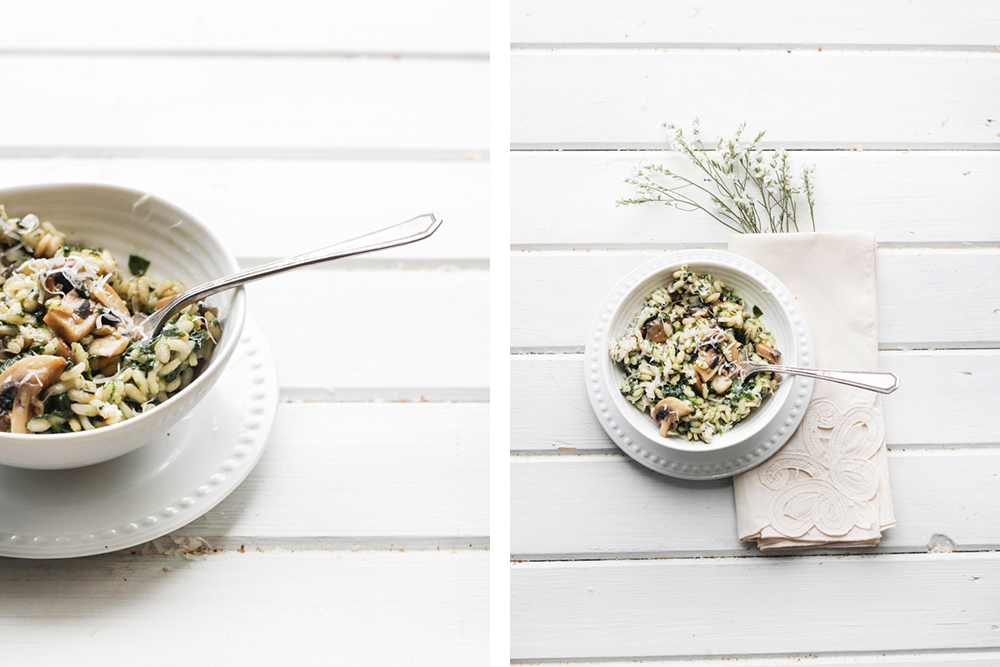 Garlic Butter Mushroom Risotto
2014-10-19 08:40:42
1 recipe General Risotto recipe
2 Tablespoons butter
2 Cloves Garlic, minced
12 ounces sliced baby portabella mushrooms
2-3 cups spinach or other veggies if you want
½ cup shaved Parmesan cheese
sea salt and freshly cracked black pepper
a squeeze of lemon
Start by cooking the arborio rice using my recipe above.
Melt the butter over medium high heat. Add the garlic, saute for 1-2 minutes, and add the sliced mushrooms.
Saute for 5-10 minutes until they're browned to your liking - I like to add another splash of white wine here - yummy sizzle.
Remove from heat, stir in the spinach until wilted, and transfer to the risotto pan. Stir to combine.
Top generously with Parmesan, salt, pepper, and lemon!
27th and Olive http://www.27thandolive.com/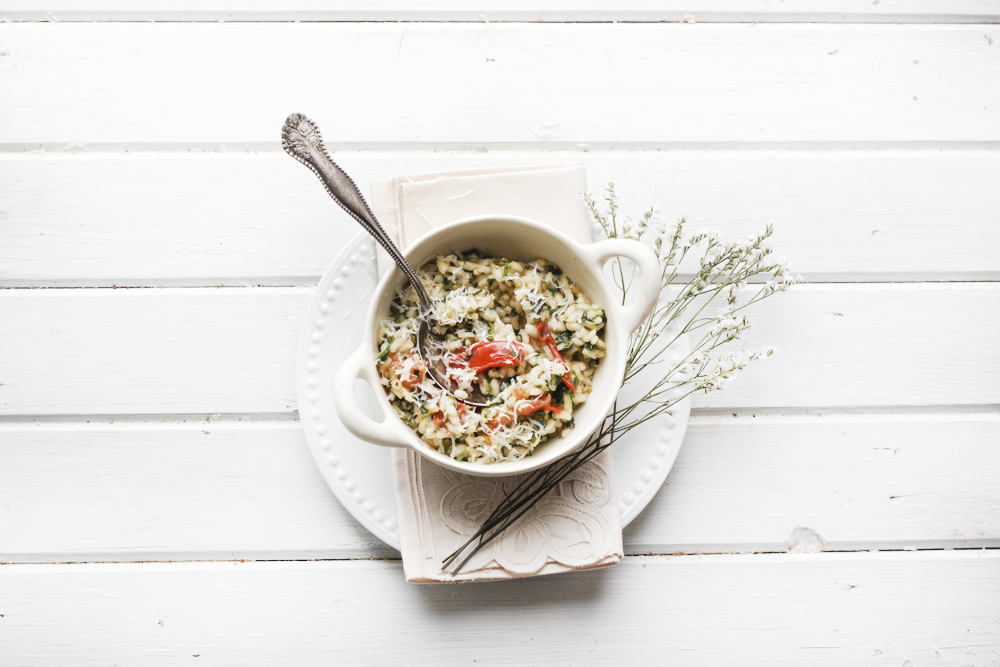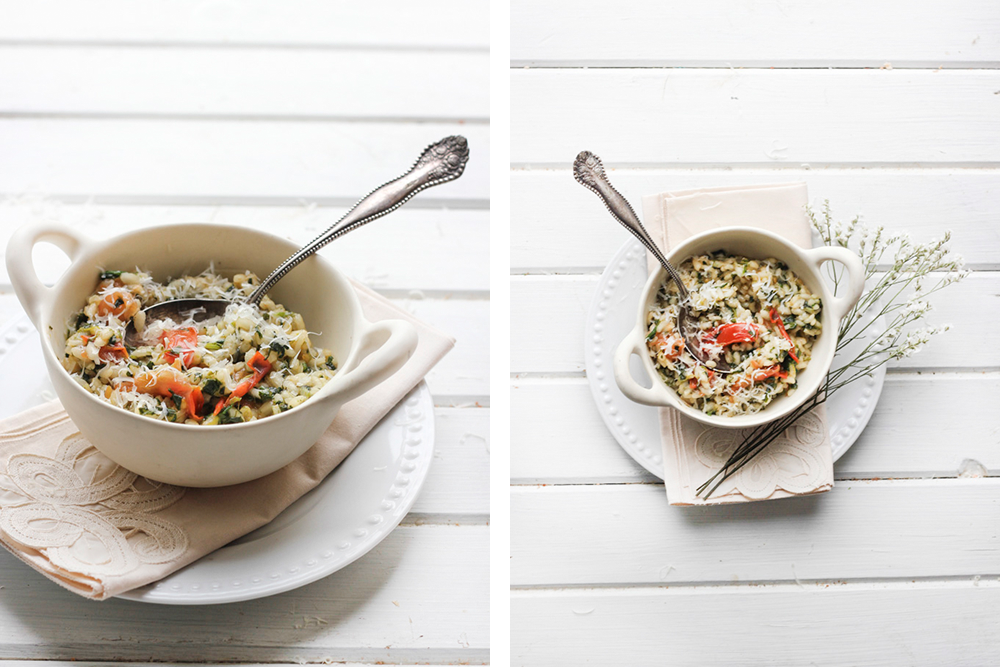 Tomato, Basil and Spinach Risotto
2014-10-19 08:47:42
2 vine-ripened tomatoes, seeded & chopped
2 cups baby spinach
handful torn basil
1/4 cup freshly grated parmesan cheese
Cook one recipe of my General Risotto, above.
When adding your third cup of chicken stock for the General Risotto recipe, add tomatoes then continue stirring.
Add baby spinach and basil with the last broth addition then continue stirring.
Stir in parmesan cheese then add more salt & pepper to taste.
27th and Olive http://www.27thandolive.com/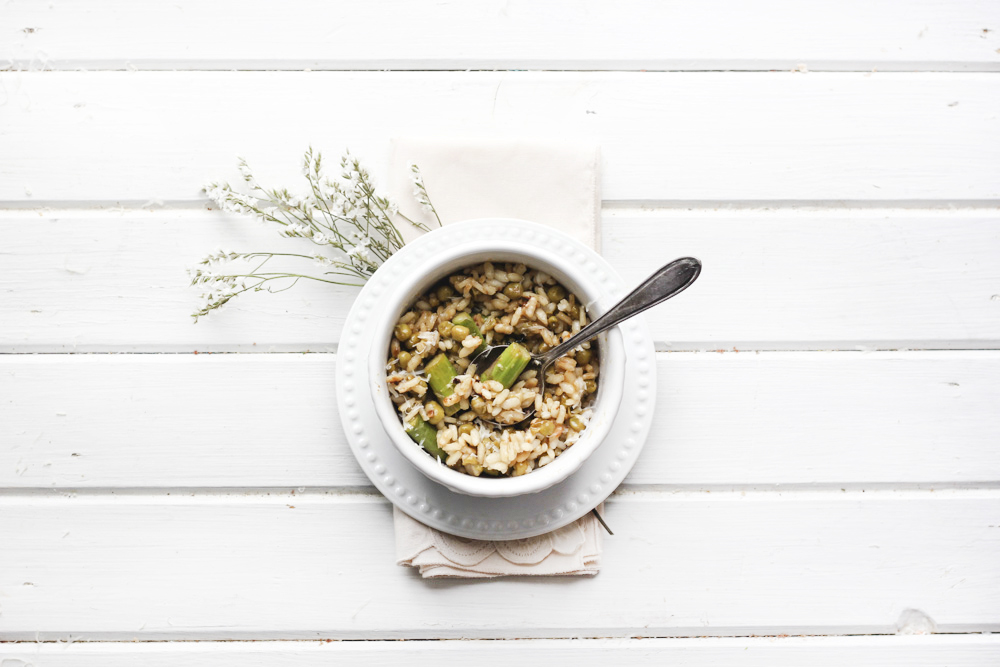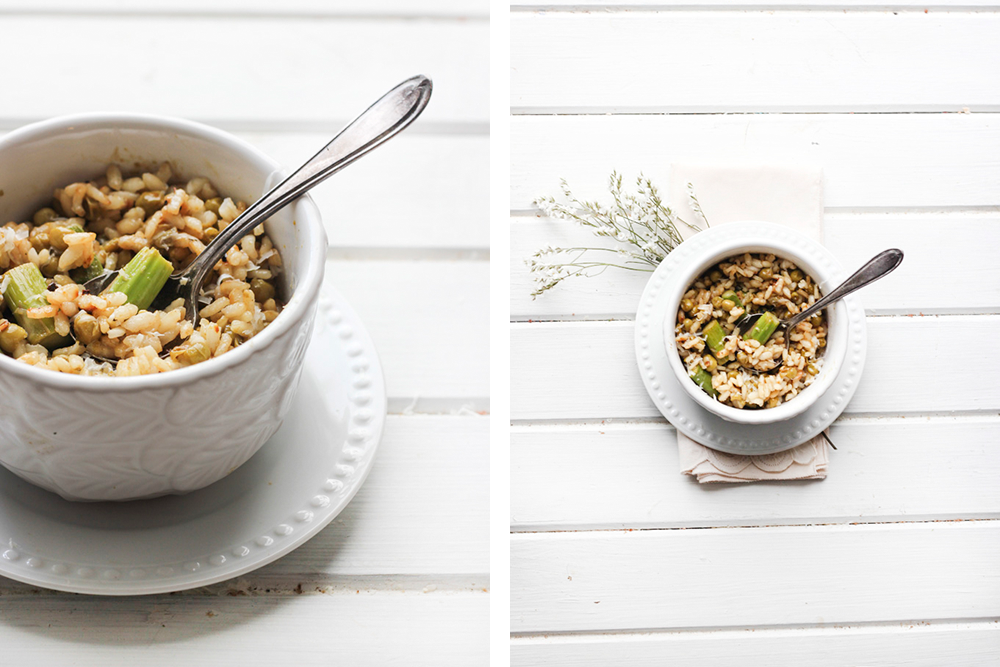 Pea and Asparagus Risotto
2014-10-19 09:15:32
1/2 lb asparagus, cut in half in length
2 cups fresh peas
1/2 cup freshly grated parmesan cheese
1 tablespoon butter
juice of half lemon
oil
salt
pepper
Cook one batch of my General Risotto recipe, above.
Once the arborio rice is almost done, add lemon juice, chopped asparagus and peas.
Once the asparagus is cooked to your liking, add butter and parmesan cheese.
Season with salt and pepper. Top with additional parmesan cheese if desired.
27th and Olive http://www.27thandolive.com/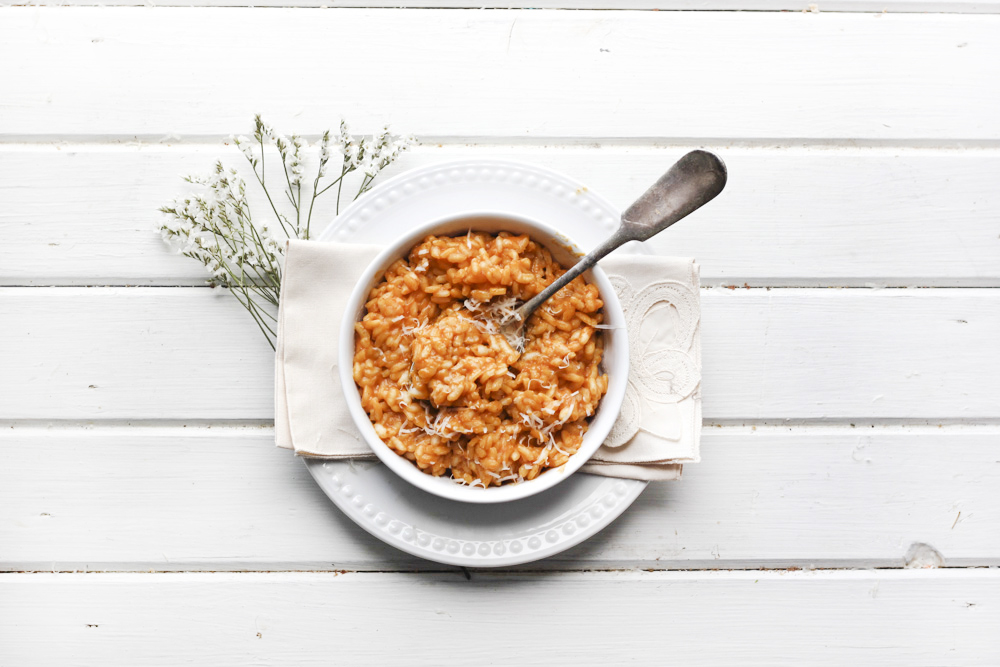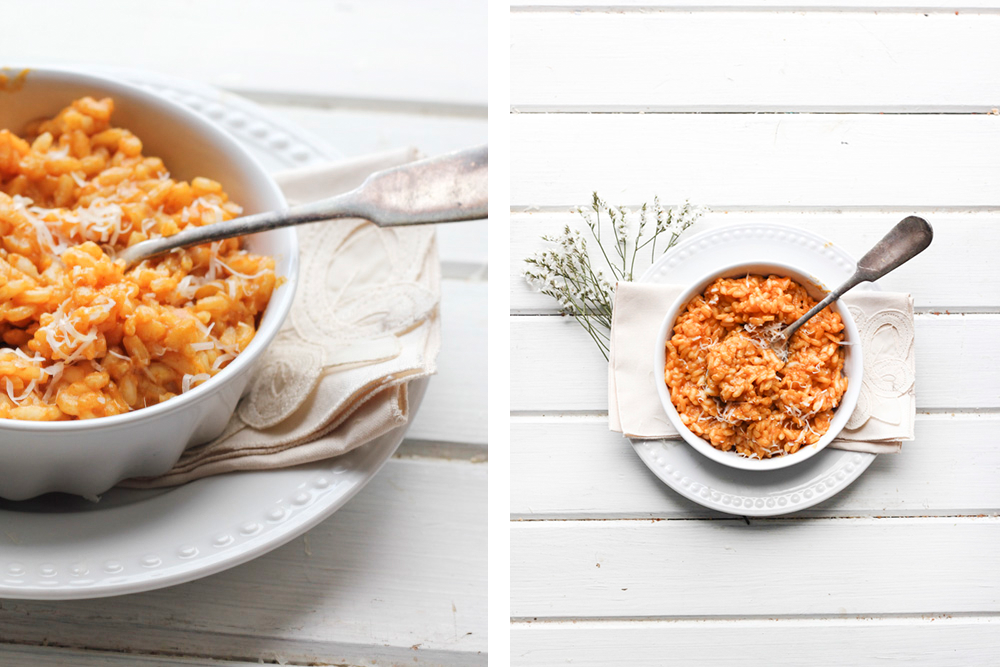 Pumpkin Risotto
2014-10-19 08:51:27
2 cups fresh pumpkin, cubed
1/3 cup parmesan cheese, omit for a vegan version
1 tsp celtic salt
Fresh parley, cilantro or rosemary
Cook one recipe of my General Risotto, above.
Add in the cubed pumpkin with the first addition of chicken stock.
Continue adding the stock and boil to allow the pumpkin cook.
Once both the risotto and pumpkin are cooked to your liking, add the herbs and parmesan cheese. Stir and serve while still warm.
27th and Olive http://www.27thandolive.com/