02.12.2014
Roasted Red Beets with Quinoa and Feta
Now that Olive is eating more and more, I am having so much fun coming up with meal ideas that are fitting for her and I both. I love watching her face every time she gets to try something new. She will literally eat anything you give her, which is a great attribute to have in our family because we are pretty adventurous eaters. Today I made this very simple, but very delicious quinoa salad. I think it is definitely a make-again meal… and so does Olive!
Ingredients
3 medium red beets, scrubbed
3 teaspoons extra-virgin Olive Oil
1 cup quinoa
1 oz. fresh spinach, stems removed, shredded
3 tablespoons raisins
3 tablespoons crumbled feta cheese
1/2 teaspoon fresh lemon juice
What's next?
Preheat the oven to 400F.
Arrange the beets on a rimmed baking sheet. Drizzle with 1 teaspoon of olive oil. Roast the beets until they are tender when pierced with a fork (25-30 minutes). Let the beets stand until cool enough to handle, then use wet hands to slip the skins from the beets. Cut the beets into quarters.
Meanwhile, in a 1 1/2 quart saucepan, bring 2 cups of salted water to boil. Add the quinoa and cook, stirring occasionally, until all the liquid is absorbed (20 minutes). Fold in spinach and set aside.
In a large bowl, fold together the quinoa mixture, beets, raisins, and feta together and drizzle with the remaining 2 teaspoons olive oil and the lemon juice.
Divide the entire recipe into both adult and child-friendly portions. For adults, serve as is. For baby, transfer to a food processor and puree or fork mash to desired consistency.
Recipe makes approximately 4 adult portions or 6 baby portions.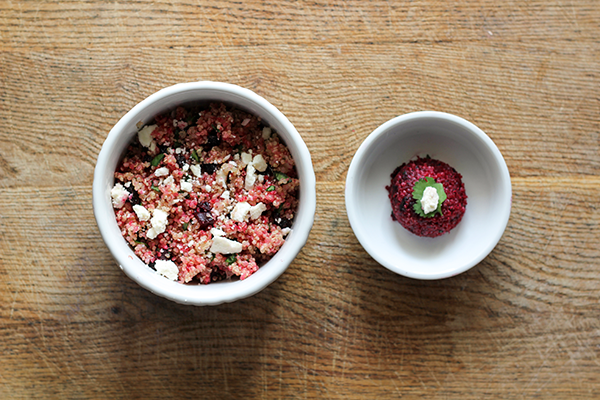 Olive says "I LOVE WHEN MY SKIN TURNS RED!"