01.29.2013
Real Weddings: Serena + Davide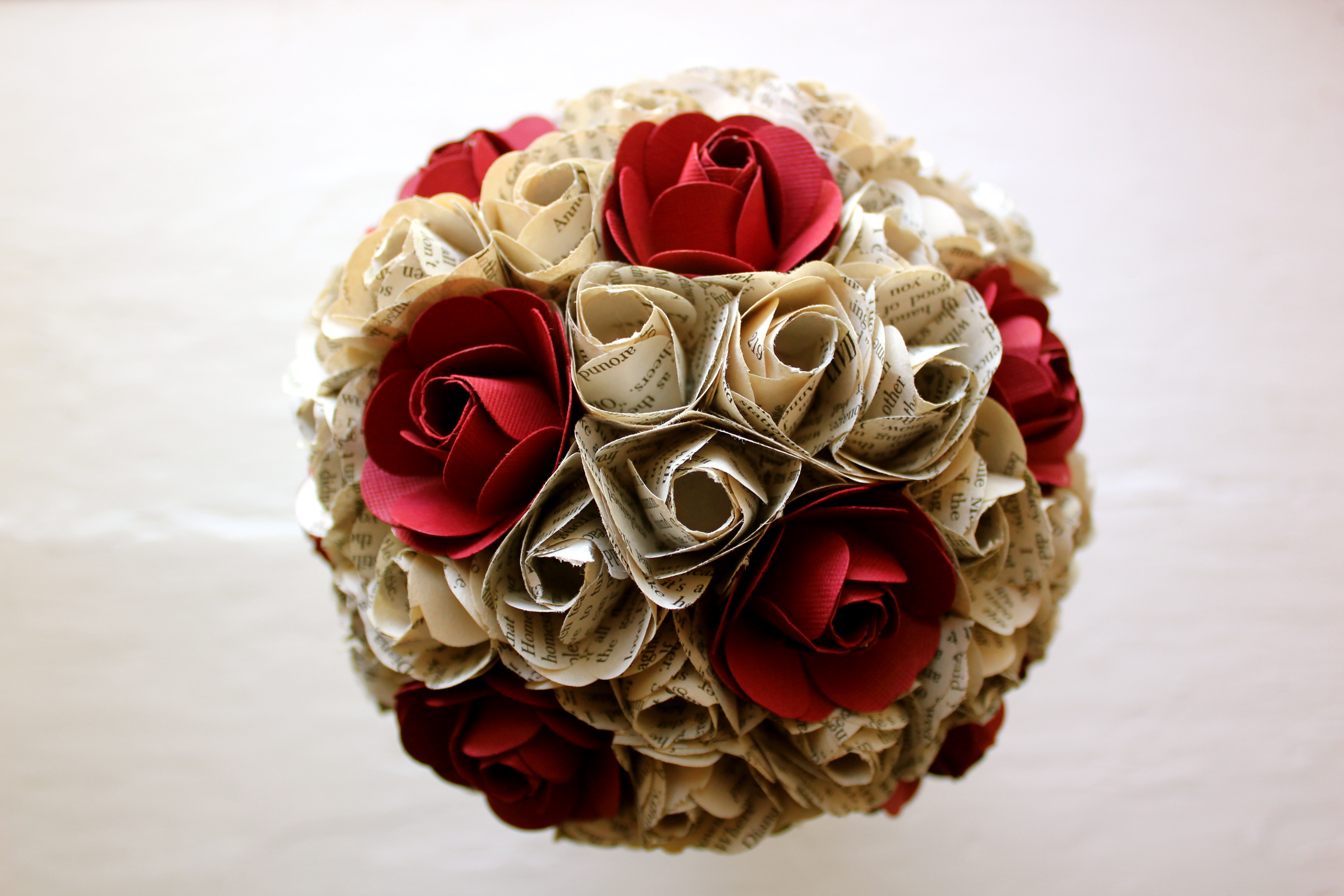 This past year I had the absolute pleasure of working with Serena, an Italian bride who I feel is my long lost sister! During my process I always like to ask my brides certain questions about the design and colour of the bouquet they are envisioning, however I also ask them to describe the day they are planning and the "feel" they hope to achieve. After reading Serena's answers, I realized that our weddings were very similar, but a world apart! Serena was planning a very Do-It-Yourself feel, with amazing little details that brought tears of joy to my eyes when I saw photos!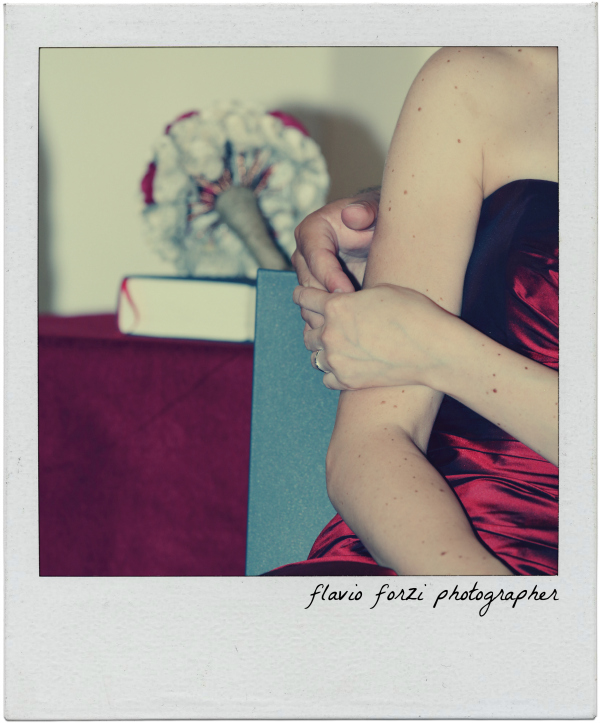 During our initial conversations, Serena informed me that she hadn't yet picked out her dress, therefore she wanted to wait on picking the flower colours. In my head I was wondering what she was up to (because white usually goes with everything, right?). A few weeks later I received a message from Italy. I could feel her excitement as she exclaimed "I FOUND MY DRESS". I opened the attachment to find a beautiful crimson coloured gown that made my mouth drop! It all made sense to me now!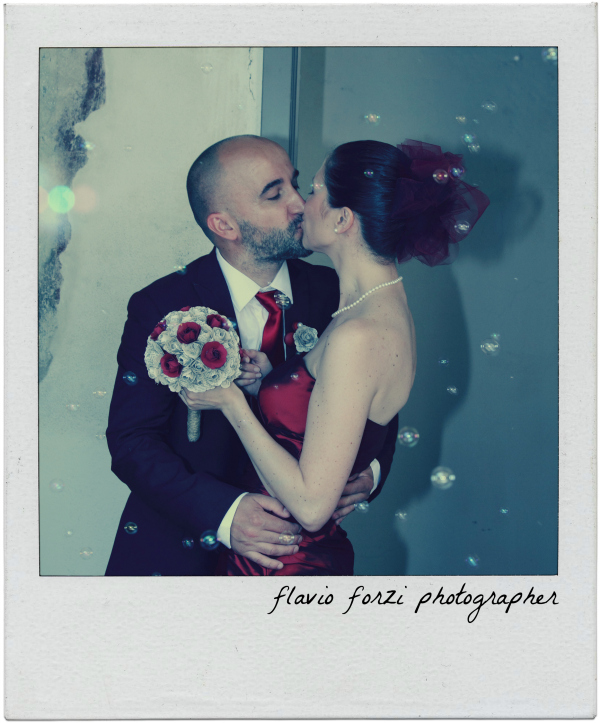 I recently had a chance to ask Serena a few questions about her fabulous day! She so graciously described all her details, and I cannot wait to share them with you!!
When are where did your wedding take place?
The wedding was celebrated on June 30, 2012 in a hall of a former Dominican convent, which dates back to the fourteenth century.
Who was your wonderful Photographer?
Flavio Forzi, a professional photographer, and Davide's friend. The photo-shoot was his gift for us!!! So happy!!!
What was the initial reaction to your amazing and unique dress? Did your husband-to-be (Davide) know your colour choice?
At first sight, people were undoubtedly surprised, but I think pleasantly surprised. I told some of my girl friends beforehand that they could dress in white if they wished, however, on such a hot day, burgundy was the most unique possible colour! Our wedding day reached 35-36 degrees Celsius! (95° Fahrenheit)
Davide knew I wouldn't have picked soft colours like white, ivory, pink (because of my pale skin), and he imagined the colour when I gave him the tie, but he really didn't know the style of the dress.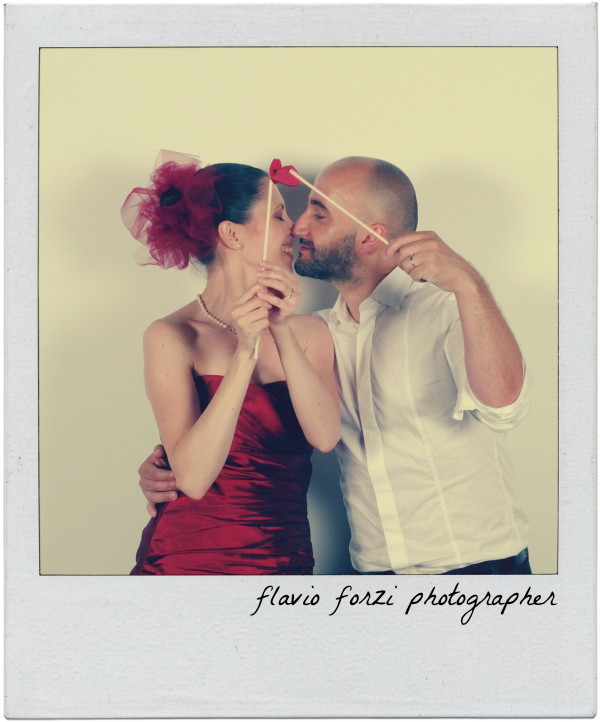 Why book page roses?
Davide and I are both avid readers. It was a "literary wedding": stacks of books on the restaurant table held together by baker's twine, one placeholder for table with the book's titles (such as The House of Sleep by Jonathan Coe, Kitchen by Banana Yoshimoto, Extremely Loud and Incredibly Close by Jonathan Safran Foer, Norwegian Wood by Haruki Murakami), origami hearts made with red and book page paper, and a ring holder as a hollow book "Jane Eyre"… We really love reading and books!
How many guests attended your wedding?
About one hundred, few relatives, many friends and colleagues.
Share a little bit about your "Worldwide Wedding" vendors:
We are both big fans of Internet and of the possibilities that e-commerce offers. We love to get in touch with people from different cultures and backgrounds, therefore we decided to buy everything on Etsy and Ebay [except for the wedding dress and suit and some accessories to set up the restaurant – these were bought from Ikea, from flea markets and from our trip in Istanbul]. We decided not to have real flowers, only made by paper.
So the project grew "packet after packet", waiting for the postman with trepidation. When I was at work and my father would tell me that something new had arrived. I couldn't wait to see what was there, so I asked him to open up the package and tell me what was inside… And then I asked him if he liked it! My father has been my number one accomplice. He also refurbished the vintage suitcases we put at the restaurant.
Here there is a list of some Etsy vendors: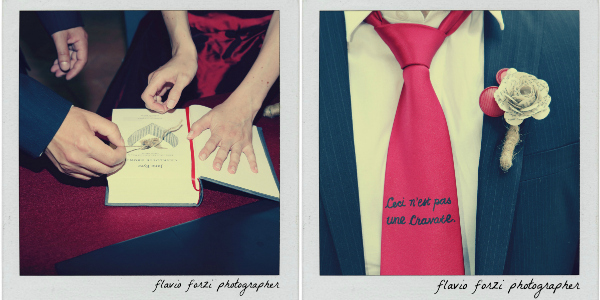 Does Davide's tie really say what I think it does (LOVE IT!!)?
Yes! It says "This is not a tie"! We both love Magritte and this words remind us about a trip in Tuscany we made at the beginning of our love story. We discovered a very nice restaurant with the logo saying "Ceci n'est pas un restaurant".
Furthermore, Davide is not a tie person. I thought this was a playful way to show his style!
What feeling were you trying to evoke with all your amazing details?
I wanted to make everyone feel at ease in a simple but well-finished athmosphere. We did not choose a restaurant that can be defined as luxurious (like an ancient villa that is very fashionable in Italy in these last years!) because we wanted the guests to feel at home, pampered with good wine and food prepared with perfection by the Chef Luca. Our day was full of creativity with some traditional dishes of Valtellina.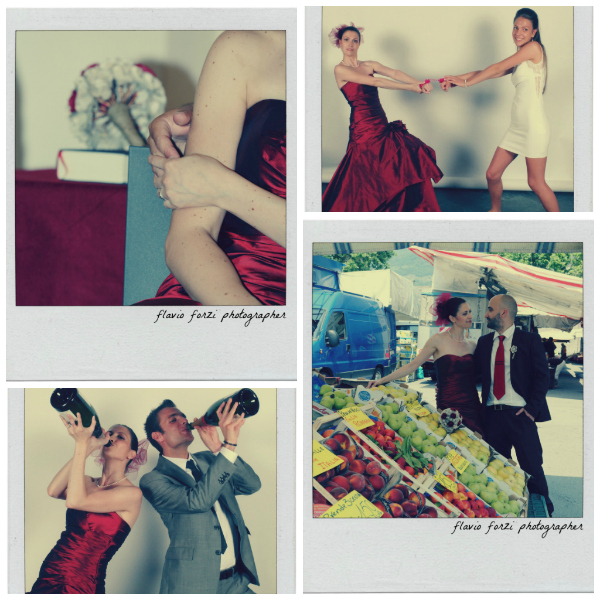 What was your favourite part of the entire day?
Surely when Davide saw me for the first time in the dress and when we traveled together by car, alone, to the ceremony location. Also when Veronica, a friend of ours, sang the beautiful "Ready for love" of India Arie.
Anything else you would like to share?
My University colleagues made a surprise for us: they brought everything you needed to create a painting to the restaurant: paints, brushes, canvas, easel… it was wonderful to see adults and children, who often did not know each other, work together to achieve the painting!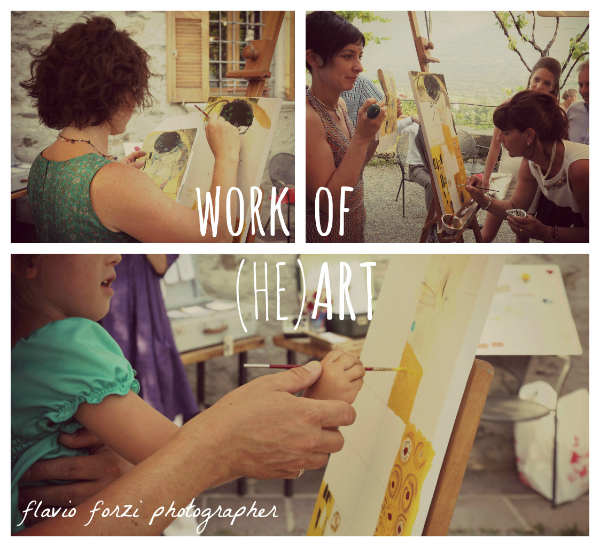 I am thrilled that I had the chance to participate in Serena's "worldwide wedding"! Serena has been such an inspiration to both me and many other brides who opted to have her bouquet recreated in their wedding colours! Serena's bouquet is definitely my most requested custom design to date.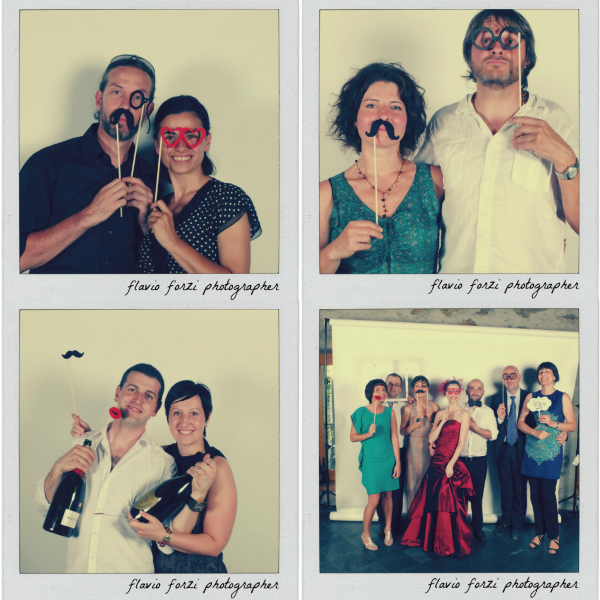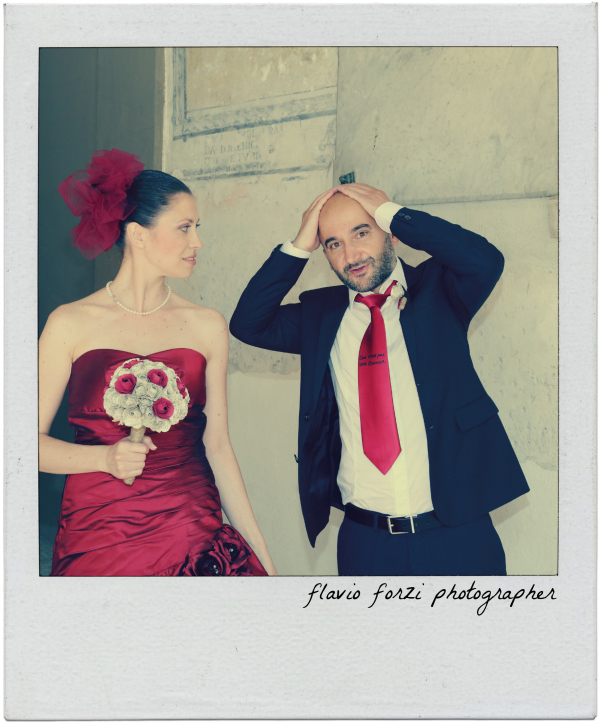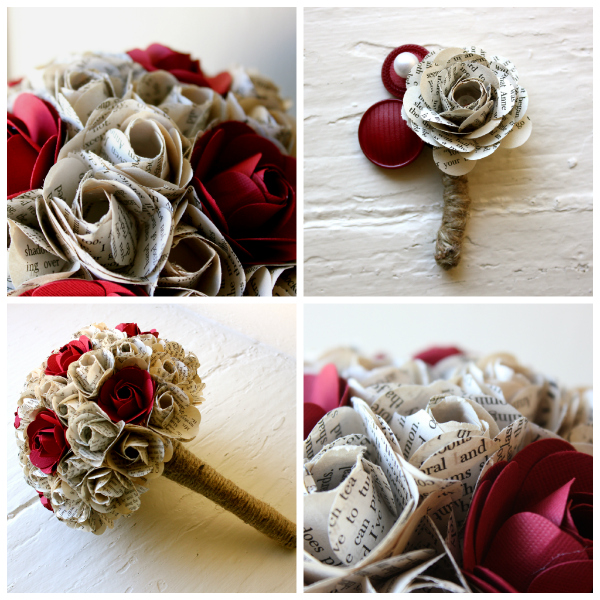 Serena – I cannot thank you enough for giving me the opportunity to work with you! I had so much fun and found so much inspiration during our design process! I will always remember my first Italian bride and hope that one day our lives will cross paths!! Cheers to a beautiful Bride and Groom!
Peace, Love and Creative Italian Brides!
-Stacy