10.27.2013
Soup Addict – Butternut Squash and Apple Soup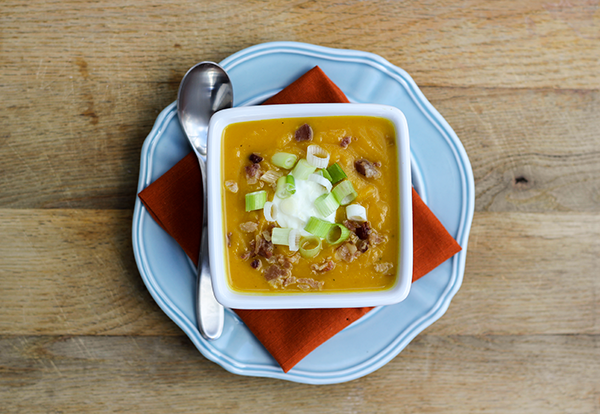 Last week while grocery shopping in town I picked up a huge beautiful butternut squash. I have no idea why I bought one of this size, and I definitely didn't have any plans for it at the time. Olive wanted to sit with it the entire way home, and then she wanted to play with it for a few days. I am more and more fascinated with the things that fascinate babies! Finally, when she let the squash out of her tight grasp, I found the perfect recipe that was worthy of such a lovely vegetable!
This Butternut Squash Apple Soup is to die for, mind you, it is a little sweeter than a hearty vegetable soup. It is a nice, light change of pace for the usual soup that graces our kitchen! And who can turn down anything with curry? This recipe makes a very large pot that is going to last us a few days, so if you aren't looking for soup for days, make sure to half the recipe!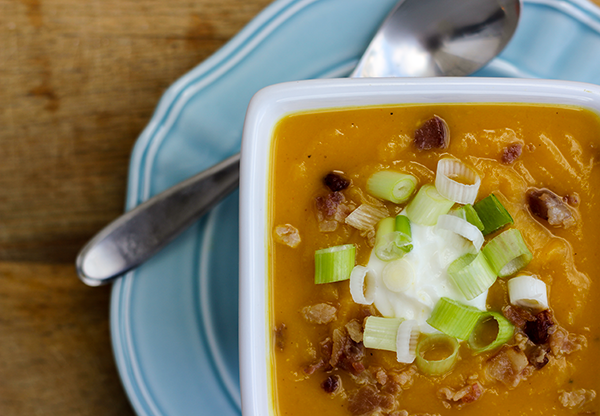 Ingredients
2 tablespoons unsalted butter
2 tablespoons good olive oil
4 cups chopped yellow onions
2 tablespoons mild curry powder
5 pounds butternut squash
1 1/2 pounds sweet apples, such as mcintosh
2 teaspoons kosher salt
1/2 teaspoon freshly ground black pepper
2 cups water
2 cups good apple cider or juice
What's Next?
Warm the butter, olive oil, onions, and curry powder in a large stockpot uncovered over low heat for 15 to 20 minutes, until the onions are tender. Stir occasionally, scraping the bottom of the pot.
Peel the squash, cut in half, and remove the seeds. Cut the squash into chunks. Peel, quarter, and core the apples. Cut into chunks.
Add the squash, apples, salt, pepper, and 2 cups of water to the pot. Bring to a boil, cover, and cook over low heat for 30 to 40 minutes, until the squash and apples are very soft. Puree the soup coarsely in the bowl of a food processor or blender.
Pour the soup back into the pot. Add the apple cider or juice and enough water to make the soup the consistency you like; it should be slightly sweet and quite thick. Check the salt and pepper and serve hot.
Garnish with chopped green onions, crispy bacon and a spoonful of sour cream!
Make it disappear!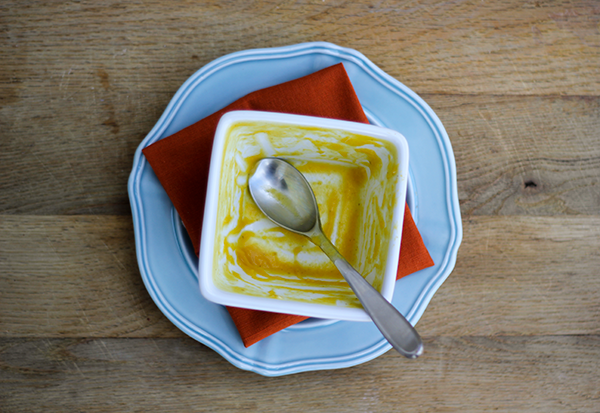 Olive says "EAT UP!"
-Stacy