10.20.2013
Soup Addict – Chunky Potato Leek Soup
I love coming home from the cold rink early on a Saturday morning and putting on a big batch of soup, ready in time for lunch! Yesterday I came home with three big, beautiful leeks to make a yummy pot of Chunky Potato Leek Soup. Why Chunky? Partially because Chunky is always better and partially because our blender in on the fritz (Its been making baby food non-stop for the past month)!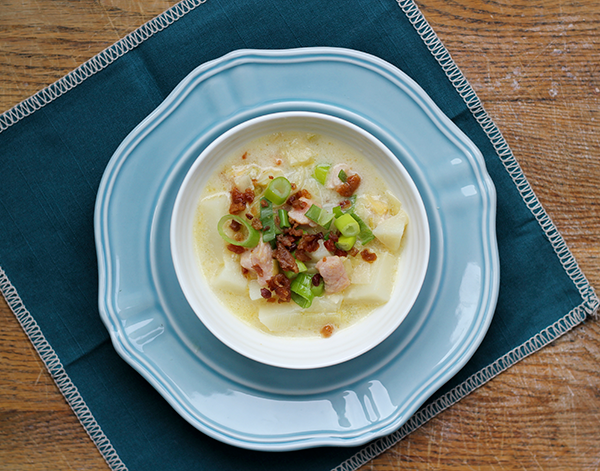 Ingredients
5 slices of lean bacon, cut into 1″ pieces (I used 3-4 slices of thick peameal bacon cut into 1/2″ pieces just to be different!)
2 tablespoons unsalted butter
4 cups washed leeks, trimmed and cut into 1″ pieces (How do you wash and cut leeks?)
1 tablespoon flour
2 cups low sodium chicken broth
2 cups 2 % milk
½ teaspoon garlic powder
½ cup white cheddar cheese
5-6 cups potatoes, scrubbed, peeled, and diced into ¾ – 1″ pieces
salt & pepper to taste
crumbled bacon and cheese to garnish
What's Next?
In a large stock pot cook the bacon until it's cooked but not crisp. Drain all the excess fat except for about a tablespoon. Add the butter, let it melt, and add all the leeks.
Cook the leeks over medium heat for about 15 – 20 minutes. You want them to be tender but NOT at all mushy.
Add in the flour, stir, and cook until it's dissolved.
Turn the heat up to high and whisk in the broth and then the milk. Toss in the garlic powder and cheese, stir until it's melted, and then add the potatoes. Bring the liquid up to a boil and then drop the heat, cover, and simmer until the potatoes are fork tender (7 – 10 minutes).
Salt and pepper to taste and garnish with the bacon, cheese and/or green onions.
Turn this: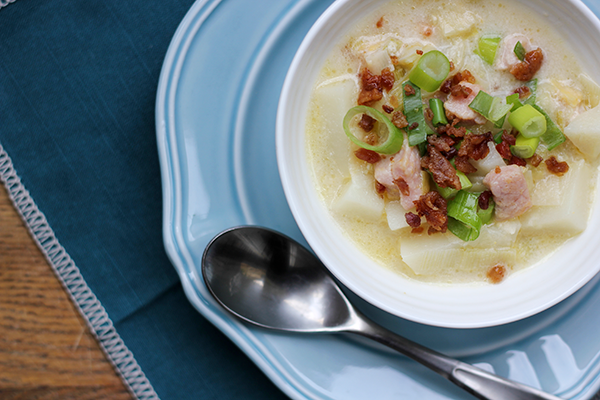 into this: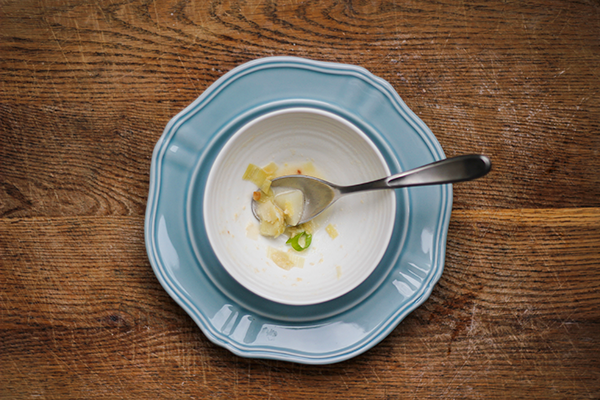 It's that simple!!!
Olive says "Bon Appétit!"
xoxo
-Stacy