10.30.2013
Starting New Traditions – Salted Cinnamon Candy Apples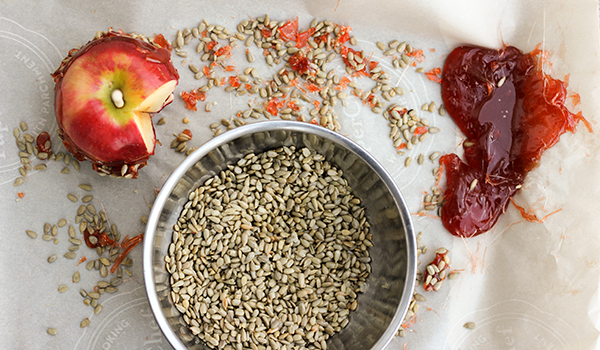 Traditions have been a huge part of my life. As a new holiday approached, I would always look forward to the things we did as a family – putting on my winter boots and hiking to find the perfect tree, or running around the yard trying search for eggs in the hidden hay nests, or the simplest thing like going to church every Sunday. I want to start new family traditions for our little family. Now that Olive is here, it is even more important to me so she can grow and look forward to certain things that we do together every year, just as I did – and still do!
Yesterday Olive and I finally broke out that candy thermometer that has been sitting in the back of the drawer for over two years! What says Halloween better than some homemade Candy Apples? They are so quick and easy to make and the possibilities are endless, which means this is the perfect tradition to start! Candy Apples for Halloween… Check! As crazy as it sounds… I don't think I have ever had a candy apple in my lifetime!
Ingredients
5-6 apples- washed and sticks inserted
2 cups granulated sugar
1/2 cup water
2/3 cup corn syrup
10-15 drops red food color
1 tsp cinnamon candy flavouring
3-4 cups salted sunflower seeds (quantity depends on how much you dip!)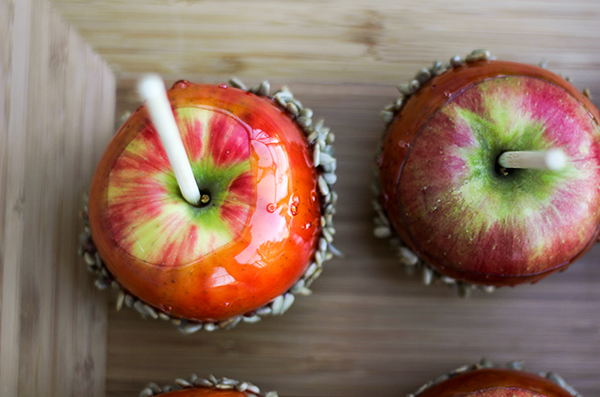 What's Next?
Line a baking sheet with parchment paper and set aside.
Place sunflower seeds in a medium dish that is easy to dip into.
Combine water, granulated sugar and corn syrup in 2qt saucepan.
Bring to a boil stirring constantly.
Continue to boil until you reach 300 degrees (hard crack temperature).
Remove from heat. Quickly and carefully add in your food colouring and candy flavour. Stir until well blended.
Immediately start dipping and rolling your apples in the liquid candy. You may need to tilt the pan to cover the apples depending on their size.
Dip the bottom of the apples into a the sunflower seeds. You may need to use your hands to push the sunflower seeds into the liquid candy (remember, the candy is HOT!!)
Allow the apples to sit at room temperature to harden. Do not place in refrigerator.
Store in an airtight container or wrap with plastic wrap.
WORD TO THE WISE – I made 15 apples. I decided to double the recipe to make sure I had enough candy for the apples.. BAD idea! It is best to do multiple batches because the candy starts to harden quickly… So your last few apples look pretty sad!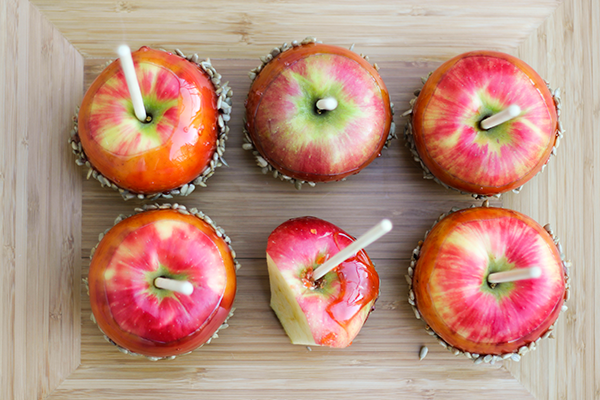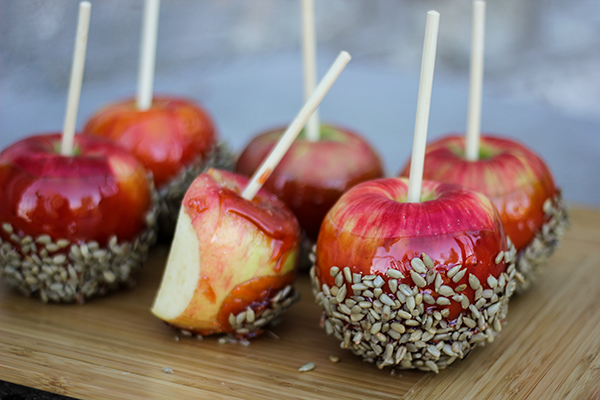 Olive says "Momma, I didn't eat that apple!"
Smakelijk!
-Stacy