01.09.2014
Ten Months with Olive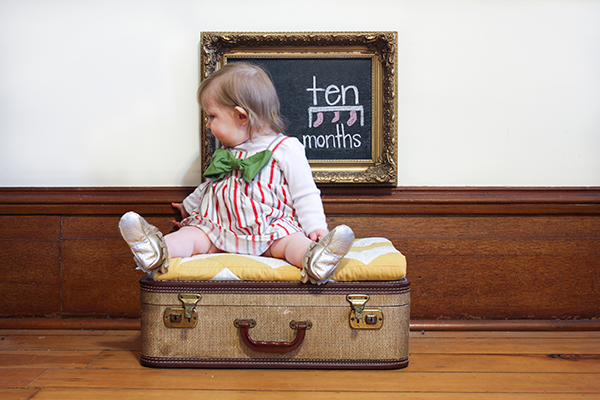 Dear Olive,
I think I am in denial. I look at you and see a little girl, not a baby anymore. You are growing more and more beautiful every day, with your long wavy hair and beautiful blue eyes. (You get those beautiful eyes from your Daddy)! This has been one crazy month full of parties, and visits, and Santa and singing! You have grown by leaps and bounds over the past month. I can see you becoming more independent, more giggly, and more cheeky (in the physical sense). You look at Daddy and I and I can see how much you love us. You smile your gigantic smile whenever we walk into the room and then scream your high pitched scream (you have definitely found your voice) while waving your hands frantically. Waving is your new love. You wave at everything and anything. Granny, Grandma, K9, the Christmas tree… you don't leave anyone out. It is the cutest thing. You really just started this over Christmas which was perfect timing as we were saying hello to so many people over the holiday. You raise your little hand, twist your wrist at a slightly strange angle, and start to wave with your mouth wide open. Did I mention that you mouth is barely ever closed now? Sometimes you look up, wave to the sky and in your gentle voice say "ga ga ga ga". I am convinced you are waving to Popa, Great Grandma and all the other angels watching over you. Every day I pray to them and ask them to keep you safe and healthy. I think the fact that you have yet to get a cold or flu is a testament to those prayers.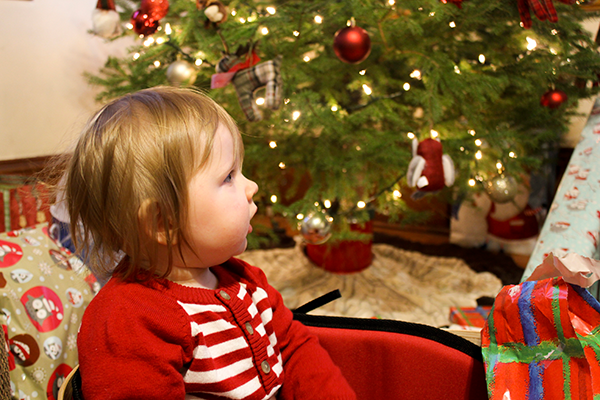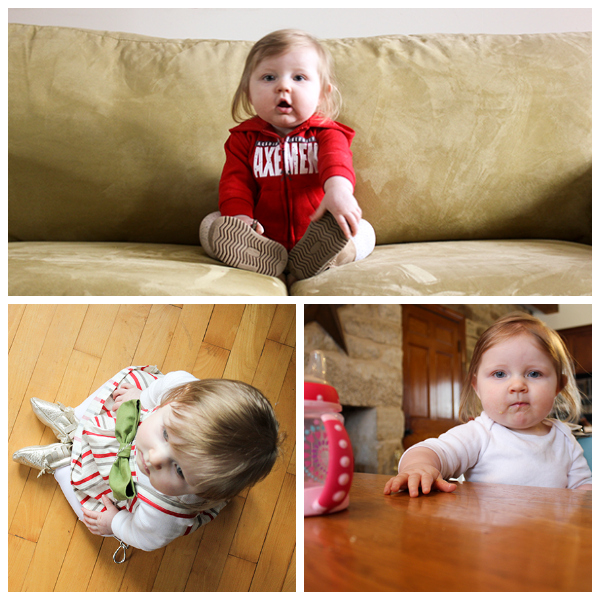 You love books. I never knew a baby who would choose to look through books rather than play with toys. You flip through every book, page by page, letting each picture bring a new toothy smile to you face. Sometimes you say "da da da da" or "ba ba ba ba" to the cow you see, other times you let out a high pitched squeal…. and sometimes you can't get the page turned fast enough! Tonight you were sitting on my tummy flipping through an animal book. You are so independent. You do not like me turning the pages. You must do it on your own. I was trying hard to hold back the tears as I watched every page light up your face with delight. Your little mouth opens wide, and then turns to the cutest grin I have even seen. You look up to me to see if I see what you see (theres a tongue twister!) and then you bounce up and down with excitement. I love how little things like bright pictures bring so much joy to your life.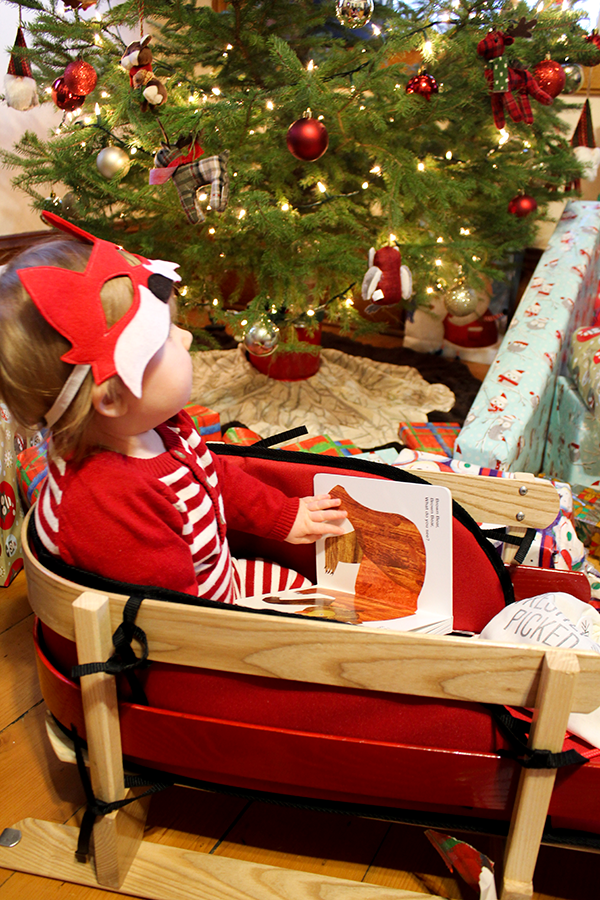 So many things happened this month! Christmas, New Years, Granny's birthday, teeth growing, new food.. I think this letter is going to be a bit longer than normal! I have so much say. A day in the life of Olive is an eventful one (even without Christmas in the mix). Daddy took the last two weeks off work, so we were able to have morning snuggles with him every single day. I found myself turning on the fireplace channel and cuddling for an hour (at least) while the Christmas carols cycled and the fire stoker stoked. I think these were the best mornings we have had yet. You look from Momma to Daddy and then back to Momma and give her the best morning kisses anyone would ever ask for. My favourite are the wide open lip smacks, with a little secret tongue! I know when you are older you will say "awwww Ma! Thats gross!", but I think they are they best! The way you look at me and know that I want a real kiss fills my heart as full as it can be. I never knew love the way I love you. The smallest things you do can bring a ray of sunshine to gloomiest of days. Who knew a slobbery baby kiss would make me so happy? We eventually decide it is time to get out of bed, get dressed, and have breakfast. Breakfast for you now consists of Apples, or Avocados, or Pears, or Oatmeal and your new favourite – Cheerios! I'm slowly getting over my fear of you choking… but not quite yet!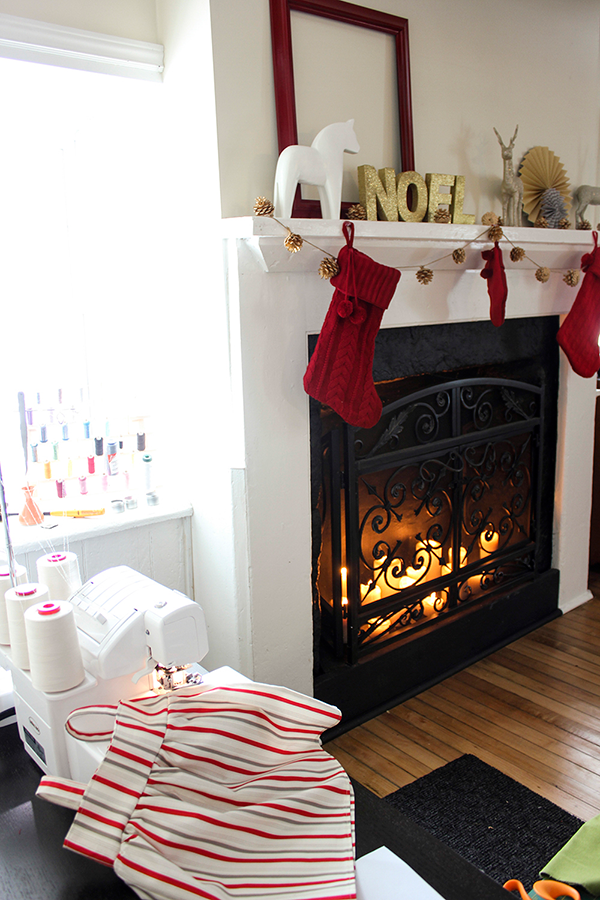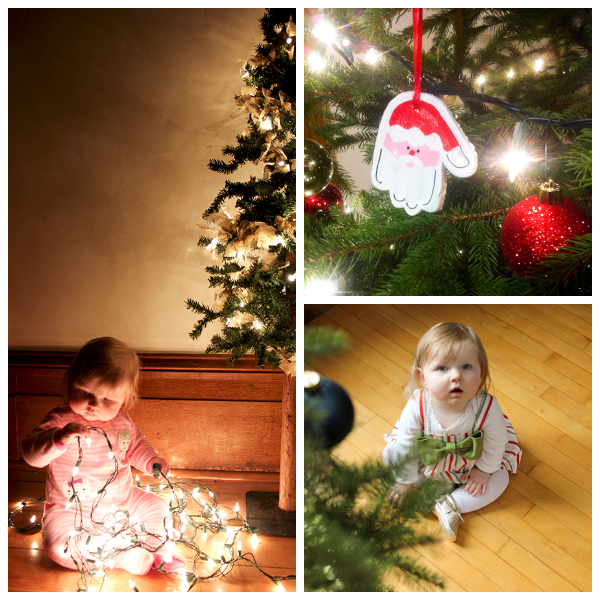 Do you know your favourite place to sit? It is on Daddy's shoulders. You get so excited, even if you were a little cranky. When he puts you up there you immediately giggle, and bounce, and pull Daddy's hair (until he screams like a little girl), and then you grin from ear to ear. Daddy walks around the house and you scream your high pitched scream. Delight. Joy. Happiness. Love.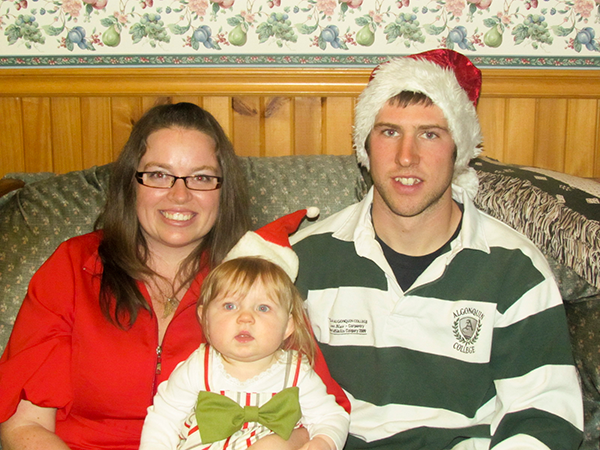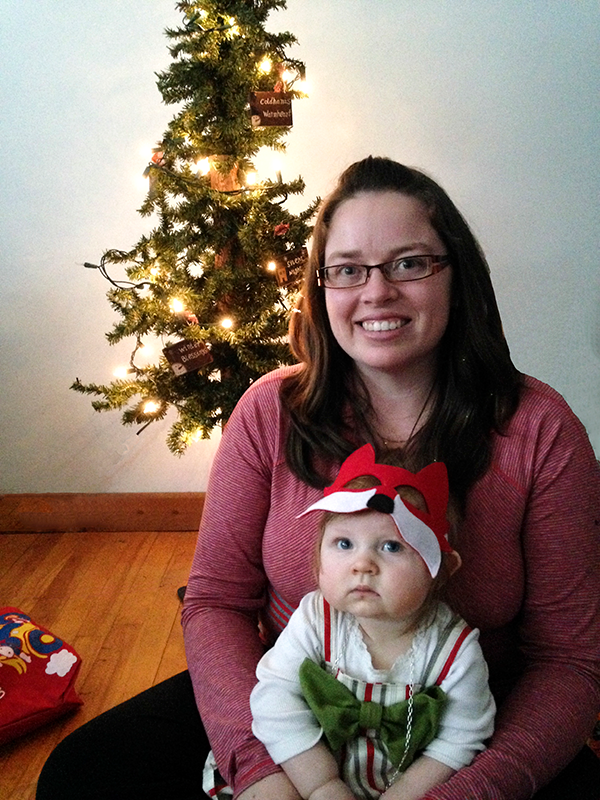 I was so excited about this month, even before you were here. Christmas is my favourite time of year. I love how we all get together to spend time with our ever-growing family. We started some new traditions, and kept all our old. For the weeks leading up to Christmas you helped Daddy wrap all his presents. You thought this was the best thing since sliced bread! All this paper to play with… To crinkle… To eat… I even caught you and Daddy "sword" fighting with the empty wrapping paper tubes.  You would not stop giggling! We started off our Christmas spirit by going to meet Santa for the first time. You were such a good girl. We watch about 10 crying children sit on Jolly Old St. Nick's lap before it was your turn. You strolled right up there in Mommy's arms like it was nobodies business! You sat on his lap, gave him a huge smile and then, unexpected to all of us, gave his beard a real yank! You just wanted to make sure he was the real thing – and he was! You said "ba-ba-ba" which I think meant "sleigh" and opened your mouth wide for a perfect first picture with Santa.  This wasn't the only time you had an encounter with Santa. You also went to breakfast with Santa and saw him again the Arnold family Christmas. You were quite fond of him every time.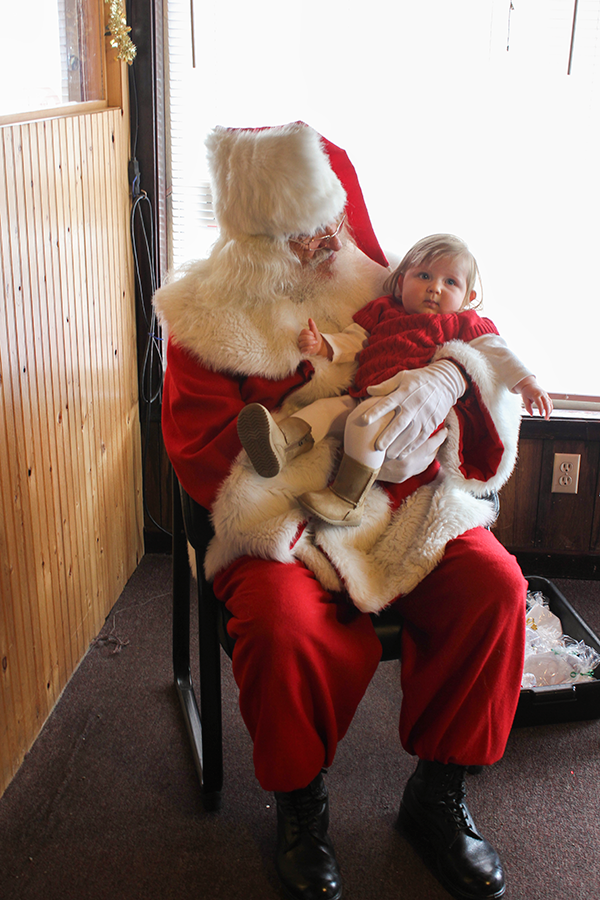 We spent Christmas Eve at Grandma and Grandpa Blair's. The entire family (close to 30 people!) arrives for dinner around 5:00. We all sit at one loooong table, all wearing Santa hats, reading jokes and telling stories. It is such a fun evening and you loved every minute. You had your own little Santa hat to wear while sitting in between Grandma and Grandpa. You had your first taste of turkey and a hand full of cheerios. You were in seventh heaven! This is one of Mommy's favourite traditions. It is so much fun sitting down with such a big group and looking down the table to a sea of Santa Hats!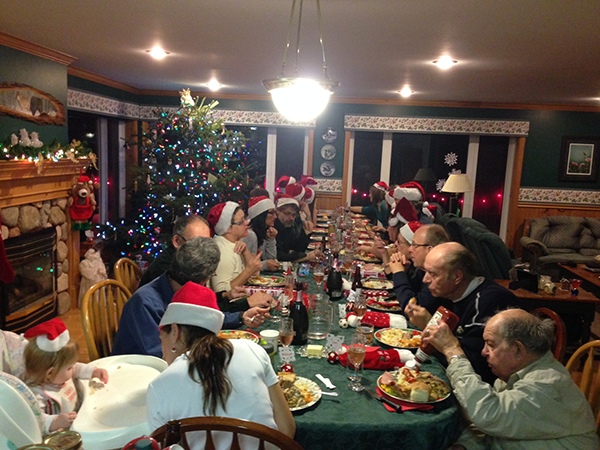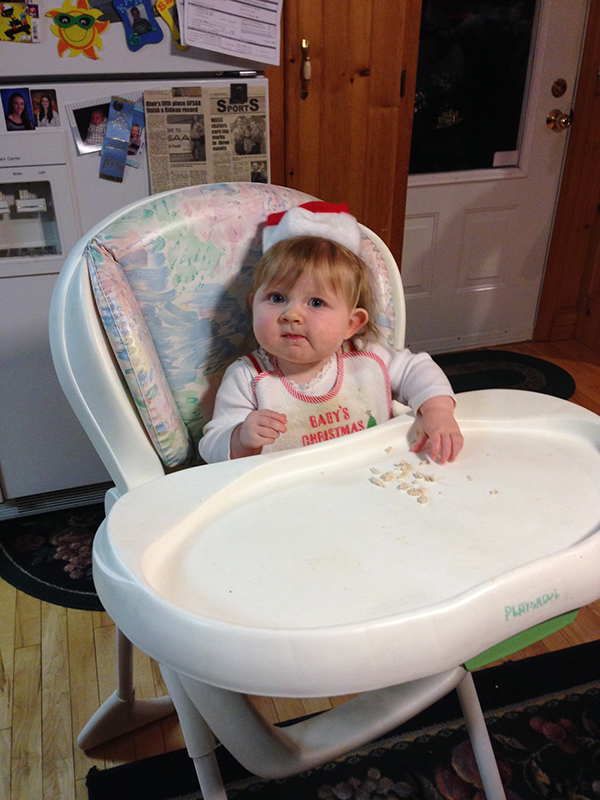 By 7:30 we had to quickly pack up and head to Elgin to attend Christmas Eve Mass at St. Columbanus. This is one of Mommy's favourite Christmas traditions. Your Great Grandma Murray was the choir director at our church. I remember sitting in the pew, looking up to the choir loft and giving her a huge wave every Sunday. Christmas eve was always a little more magical, and the singing exquisite. Your Great Grandma passed away right before Christmas in 1993. I joined the adult choir right after and sang every Sunday and every Christmas eve until I went away to school. Christmas Eve mass is when I really feel Great Grandma Murray with us, that is why I love it so much. Not many people would say one of their favourite things about Christmas is Christmas Eve mass. But it is mine… And I hope someday you can say the same someday.
Following mass we go down to Granny's to have a late night tortiere. You opened your first Christmas presents from Mommy and Daddy after we ate. A new set of PJ's and the book "The Night Before Christmas" which Grandpa read to you while you sat on his lap. I think we started a new tradition! This year we decided to spend Christmas morning at home. It was the first year I have spent it away from my mom and dad. It was a little bittersweet because I absolutely love traditions, but it was time to start new ones for our new family.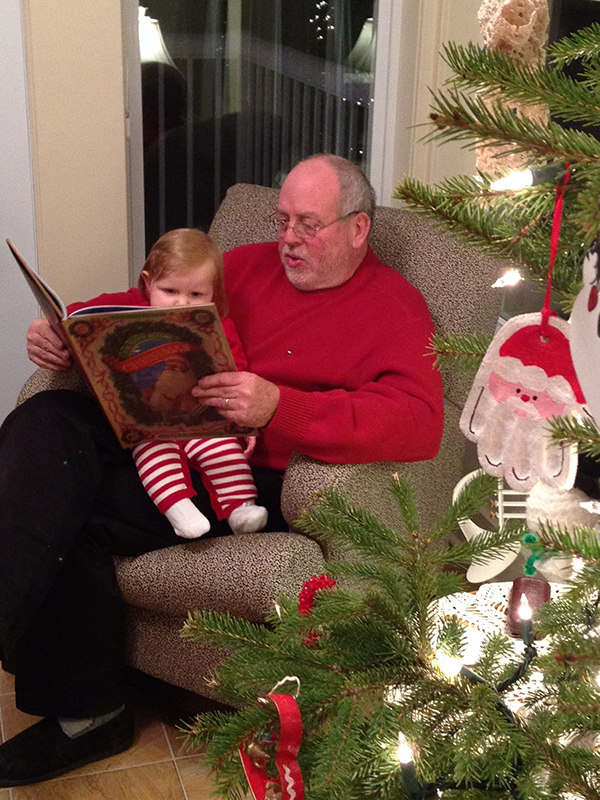 I was so excited to see if Santa brought you presents… So excited that I had to wake both you and daddy up at 7:00! I think you knew something was happening because you (happy) screamed all the way down the stairs. We walked into the living room and saw that Jolly Old St. Nick definitely remembered Olive. Sitting right there on our floor, under the tree, was a beautiful brand new red sleigh with a stocking full of toys! We spent the next 2 hours slowing unwrapping all our presents. You preferred to sit in your sleigh, and were actually excited about the presents, not just the wrapping paper! I cannot begin to describe to you how much this day meant to me. Seeing your face light up, seeing you (trying) to open presents, seeing how much you love Mommy and Daddy made me completely forget that I wasn't at home with my Mommy and Daddy. Olive, you are such an amazing baby. I know I say this every day, but you really are. I could see in your face that you were thankful for all the presents you received.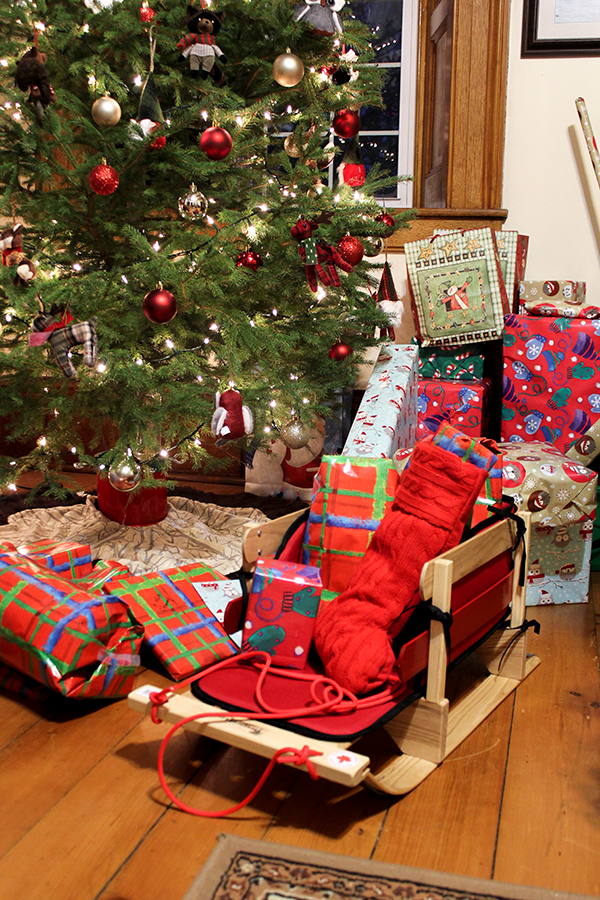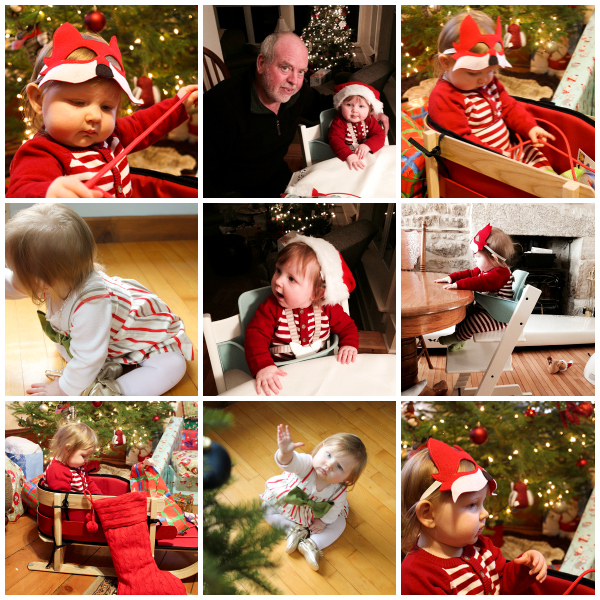 Granny, Grandpa and Uncle Kenney came to our house around 9:30 so you could show off your sleigh, Stokke high chair, and the collection of awesome books (including Brown Bear, Brown Bear and the Very Hungry Caterpillar), and toys that you found under our tree. You happily sat on the floor with Granny, showing her everything. Granny was just as excited as you were. You made her Christmas,  Olive. You really did. I have never seen Granny so happy!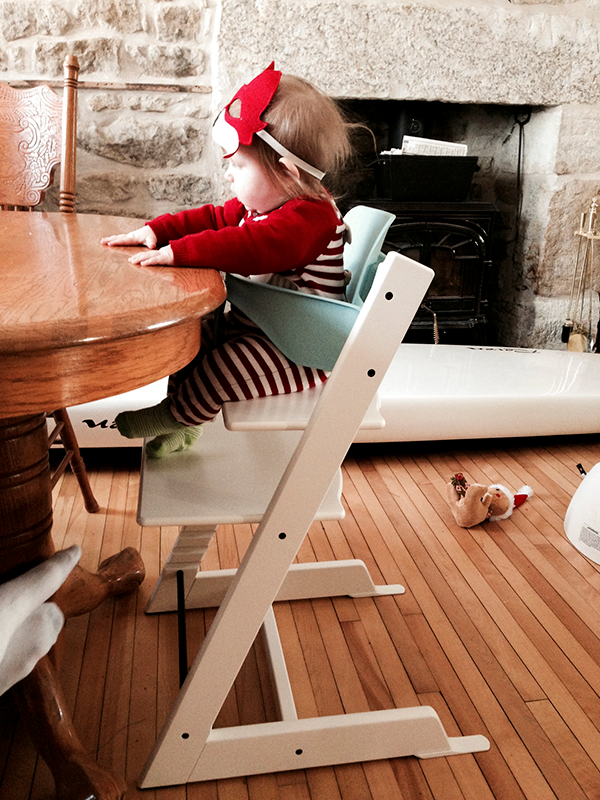 We spent the rest of the morning and early afternoon at Grandma and Grandpa's with all your Auntie's and uncles. It was a great morning of unwrapping more presents, eating the traditional Eggs Benedict (Mommy's favourite!) and playing Auntie Kara's new game – Just Dance 2014! You cuddled right up with Grandma all morning long and helped her open presents. Grandma and Grandpa bought you some new books, comfy jammies, and a high chair! Auntie Hilary bought you two new Christmas charms for your bracelet that she bought for your Baptism. It was the perfect morning at the Blair's with all our family. You loved every moment!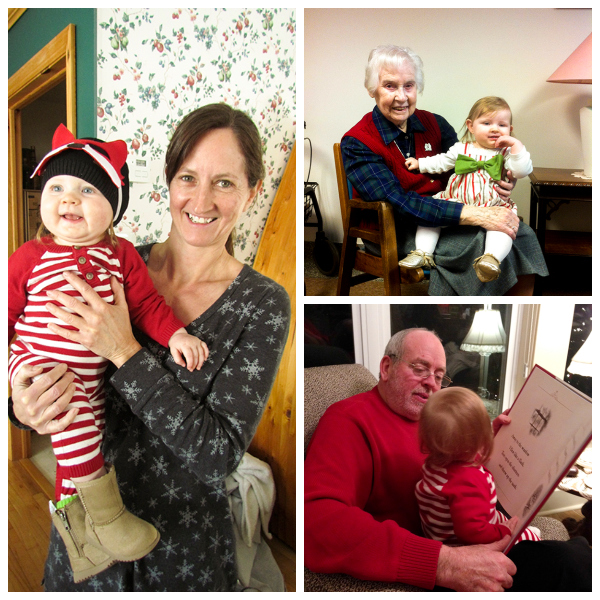 As the day began to wind down we headed to Granny and Grandpa's house for MORE present opening and our family dinner. Granny bought you a new wardrobe that included skinny jeans and cute down fillled vests! You look like a little girl in your skinny jeans!! Uncle Kenney got you a giant frog pod for the tub so you can store all your tub toys in style. Granny and Grandpa bought Daddy and I everything we would need for travel, including luggage, power converters, luggage tags and more… and at the end, we found a gift card for CAA travel! Looks like we are going to be hitting the skies sometime soon! Where would you like to go? We finished off our very busy day with a lovely dinner with the Raison's and Uncle Terry. Uncle Greg and his crew stopped by for dessert. By this time you were spent! I have never seen you so tired… But you were such a trooper! You stayed awake all day long. You didn't miss one second of your first Christmas. I can already see that you are going to love Christmas just as much as I do! Its our special holiday.
Some other things from this month:
At skating one of my little skaters came up and asked me "Coach Stacy, I forget your baby's name… Is it Garlic?" Gah! I tired so hard not to giggle! I thought it was the cutest thing. I now call you my Little Garlic Girl!
You are still not crawling. You do the "butt-scooch" to get things that you want, but can't figure out how to get your leg out of the way to crawl. I sit you up on your hands and knees and you look at me like a crazy woman! I think you are going to walk before you crawl! You are starting to pull yourself up when you hold on to my thumbs!
You first two bottom teeth appeared when you were 5.5 months old. We have waited nearly 5 more months more teeth to appear. I think Santa listened to your wishes! On Boxing Day we noticed that your top left tooth was all the way through (without any fussing)! The only way I noticed was because you were grinding you teeth! Over the next week I watched two more bottom teeth peek through, and just today I noticed your other top tooth is starting to appear. In a span of two weeks you have cut at least 4 teeth that we know of, and it didn't phase you at all! You are a trooper, my Little Garlic Girl!
Granny celebrated her 53 birthday on December 30! We were invited to a Murder Mystery Party that night, so Granny received the best present she could ask for – an evening with Olive! Granny and Grandpa came to watch you. You played, and laughed, and smudged Grandpa's glasses, and then you fell asleep in Granny's arm. She was in seventh heaven!
New food this month (You are no longer a herbivore!) – Cheerios, Rice Crispies, Chicken, Turkey, Venison, Green Beans, Broccoli, Cauliflower, Avocados, Bananas, Apples
You have a soft gentle voice… and a high pitch squeal!
You can pick up the smallest speck of dirt on the floor. Daddy and I cannot even see what you are trying to pick up!
You say: Da Da, Ba Ba, Ga Ga, and screeeeeammm. You also just said "Bye-Bye" (or so it sounds) when Granny is getting ready to leave from her visit!
You have became an Indian Giver! You love to share your cheerios, but want them back ASAP! (see video!)
(If you cannot see this movie, please refresh your browser of view it on YouTube)
Every month you make me the proudest Momma in town. I never thought I could love someone as much as I love you. I look at you and still cannot believe you are mine. Thank you, my Little Garlic Girl. I love you to the moon and back two times over!
Love you to the moon and back!

xoxoxo
-Momma