01.17.2013
The Pinterest Challenge: Week 2 – Roasted Carrot and Red Pepper Peanut Soup
As many of you have probably already figured out, I have a thing for soup. I don't know what it is about blending vegetables and mixing with brother that makes me so fanatical. I love the way that soup is the only thing that warms you from the inside out. I love the nostalgic feeling you get while sipping soup out of a mug while counting the snowflakes falling on the front yard. I love that it is so darn simple to make!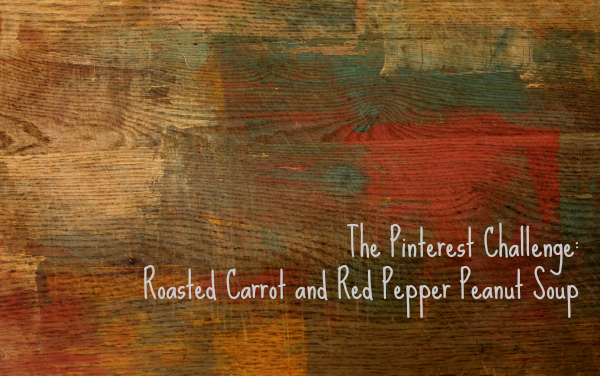 I came across this great recipe for Roasted Carrot and Red Pepper Peanut soup, and almost immediately headed straight for the kitchen. This was my first time tackling a soup the involved peanuts and I must say – DELICIOUS!
The Challenge: Roasted Carrot and Red Pepper Peanut
Time to Create: 1 hour
Original Creator: Averie Cooks
Share your soup photos on Instagram using hashtag #thelittleredbutton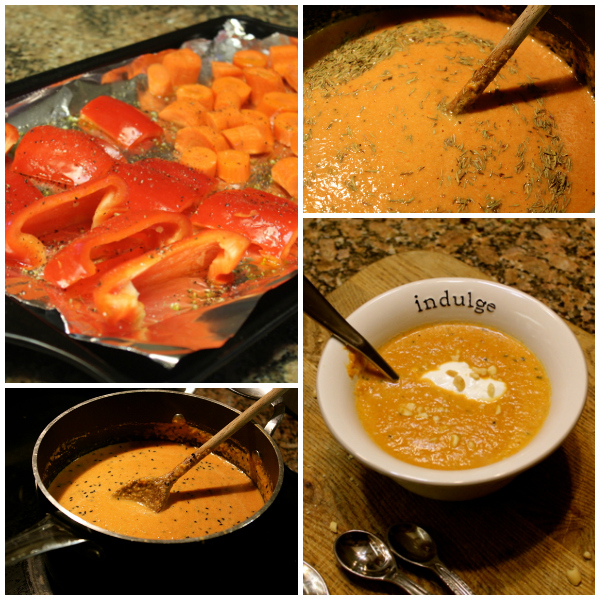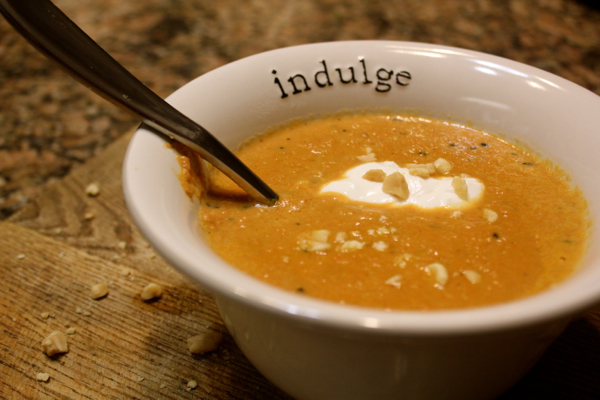 Ingredients:
1 pound carrots, peeled and chopped into about 1 1/2-inch chunks
1 very large (or 2 medium red bell peppers), deseeded and sliced into 4 to 6 large wedges
2 tablespoons olive oil
1 teaspoon Kosher salt, or to taste
1/2 teaspoon black pepper, or to taste
14 oz milk
1/2 cup peanuts (or 1/4 cup creamy peanut butter)
1 to 2 tablespoons agave, maple syrup, or honey, (optional and to taste)
1tsp garlic powder
1 tsp thyme
1 tsp sesame seeds
Chicken stock (add to thickness preference)
Sour Cream
Now What?
Preheat oven to 400F. Prepare a baking sheet by lining aluminum foil and spaying with cooking spray; set aside. Peel and chop the carrots into about 1 1/2-inch chunks, keeping them approximately the same size so they cook evenly. Quarter the pepper, or slice it into 5 or 6 large wedges. Keep pepper wedges larger to avoid shrinking and charing.
Place carrot and pepper slices on the baking sheet. Evenly drizzle olive oil over top of vegetables and sprinkle them with salt and pepper. Roast for about 40 minutes, or until carrots are fork tender and have browned and caramelized; peppers will be soft, limp, and blackened around the edges.
Add milk, roasted vegetables, peanuts (or peanut butter) to blender. Blend until smooth and creamy or leave this soup a bit chunkier and with some texture retained as desired. Transfer to  pot on stove and simmer until warm. Add chicken stock until desired thickness is reached.
Season the soup with garlic powder, thyme, sesame seeds or other desirable seasonings until you yell YUMMY!
Optionally before serving, garnish with finely diced peanuts or other nuts or seeds, a dollop of peanut butter, sour cream, yogurt, finely diced red peppers or grated carrots, a drizzle of milk, olive oil, fresh herbs, or salt and pepper.
Soup will keep for up to 5 days in an airtight container in the refrigerator or can be frozen for up to 3 months.
Don't forget to share you photos of your soup on Instagram using hashtag #thelittleredbutton
Peace, Love and Roasted Vegetables!
-Stacy