02.15.2013
Decorated White Porcelain Mug
Today I have one of the easiest projects EVER! It is a great way to put a little spark to your coffee, a little sweetness to your tea, and a little yum to your soup (does anyone else love sipping soup out of a big mug?)
Today's challenge is to decorate a porcelain mug with your favourite coloured Sharpies! This seems to be a popular Pinterest DIY project as I have noticed many Instagram photos of decorated mugs lately. This is a great idea to give as gifts, party favours or just to jazz up a boring white cupboard. I made my mug specifically for one of my favourite yummy treats (stay tuned for the recipe in an upcoming challenge post. Yes, it was a Pinterest find too)!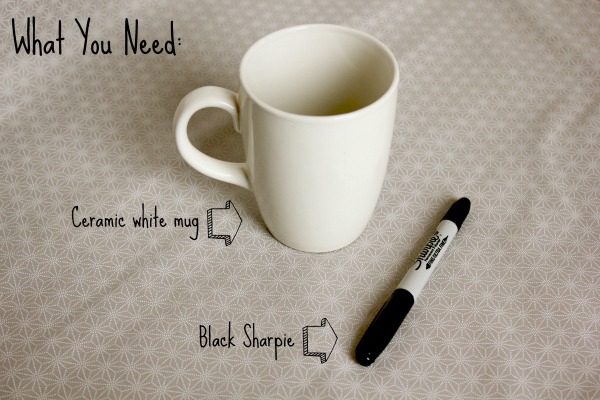 The Challenge: Decorated White Porcelain Mug
Time to Create: 32 minutes
Original Creator: A Beautiful Mess
Share your Decorated White Porcelain Mug photos on Instagram using hashtag #thelittleredbutton
What's first?
You can purchase cheap porcelain mugs and dishes from the Dollar Store or Walmart. You first want to decide on the design you wish to create. I decided on a saying that is very true about myself. I opted to use only a black sharpie, however you can use any and all colours your wish!
Draw your picture or write your saying on the mug. If you make a mistake, use a cloth and water to wipe off and attempt again! It is that easy. Once your design is perfected, place your mug or dish in the oven and bake at 350 degrees for 30 minutes. Remove your pieces from the oven and let them cool completely before use!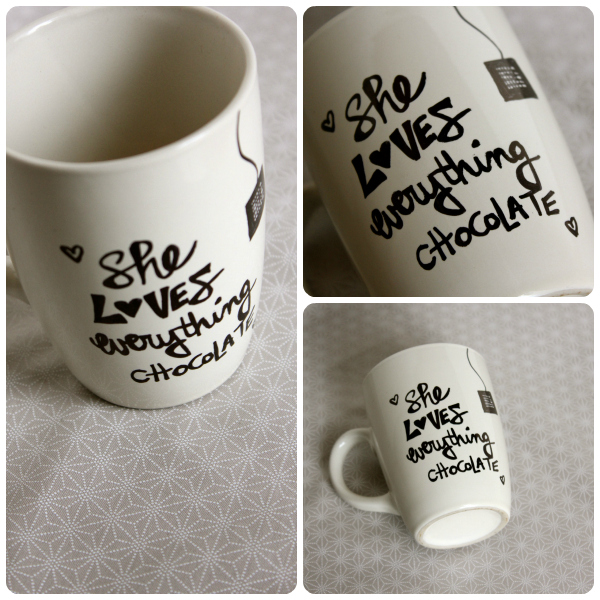 After my mug cooled, I tried washing by hand with a cloth and dish soap. Hand washing was a success, however using the dishwasher wasn't so great! When washing, remember that all your sharpie decorated dishes should be washed by hand! I have read some other stories about this project where the sharpie didn't stay, even with hand washing. If you run in to this problem you can use Pebeo Markers
 instead (they are geared for porcelain decorating)!
Please share your Decorated White Porcelain Mugs and Dishes on Instagram by using hashtag #thelittleredbutton

I can't wait to see them!!
Peace, Love and Fancy Porcelain,
-Stacy