10.23.2015
Five Things You Shouldn't Say to Women Planning Home Birth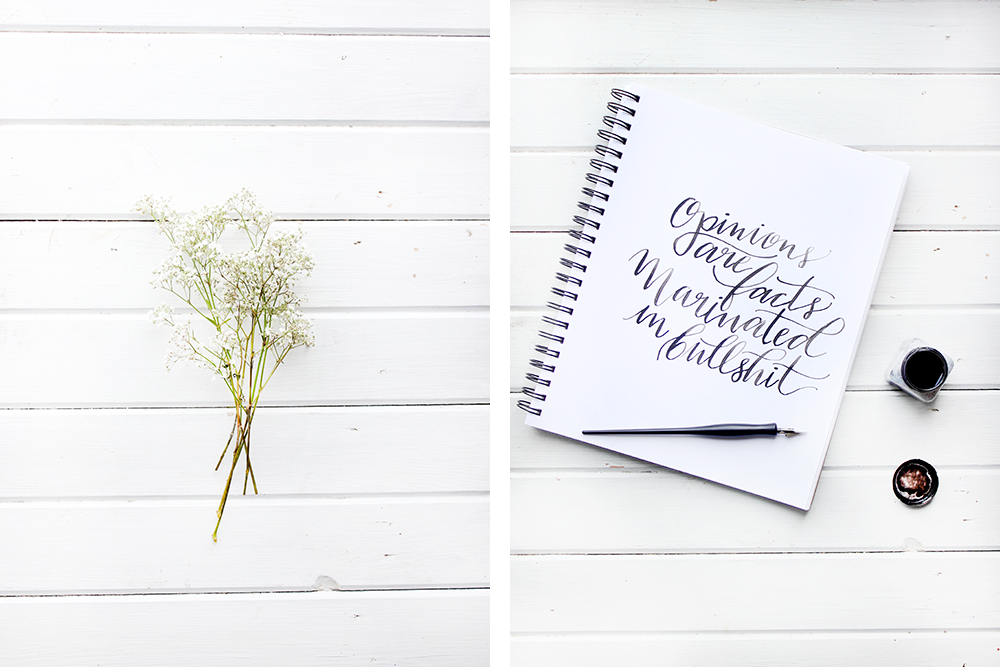 Childbirth, like raising children, is one of those subjects on which nobody can resist sharing their opinions or imparting their wisdom upon you – regardless as to whether they have actually had children or not. If you read my post earlier in the week, you probably realized that I received a lot of negative comments and poor advice with respect to our decision to have Henry at home. For some, I was able to defend our decision, for others I just didn't say anything at all because it wasn't worth my effort. For a mother planning her first home birth, the comments and lack of support I felt was overwhelming.
I understand that everyone has their right to share their opinion, but there are sometimes that maybe a smile, a nod and a "good for you" would suffice! For anybody reading this who knows someone who's planning a home birth, here are 5 of the things you could say that are neither helpful nor productive. So, um, don't say them!
(**As you read this, please remember that home births are only recommended for low-risk pregnancies. I am fully aware that complications arise and medical interventions/hospital births are required for the safety of both momma and baby. I am in no way saying that your hospital birth wasn't meaningful or that you shouldn't have gone to the hospital – what I am saying is that if a friend decides to have a home birth, support them, don't judge them!**)
#1 – "BUT WHAT IF SOMETHING GOES WRONG"?
Wow, thanks for the vote of confidence. – face palm –
Seriously, though. Why do people seem so determined to terrify you with all of the things that could possibly go wrong at a birth? The fact is, there are only a handful of possible complications that would require immediate medical attention at a hospital. Assume that the person planning a home birth has informed and educated herself, because she most probably has. Lets face it; the majority of people willingly go to hospital to give birth because it's standard. It's the 'done thing'. It's likely that a large majority of those women haven't actually researched anything about the safety or the risks of hospital birth. – Heck, with my first birth I went to the hospital because thats what I thought you were supposed to do! I didn't research… I didn't discuss… I just did it because everyone else was doing it! It's a case of "if I jump, will you?"
Why assume that this woman's body is broken? She was built to give birth, and unless there is some medical reason that could cause things to go wrong, it is safe to assume that she and her amazing body can handle it. And you know what? She and her body will likely be much better equipped to handle it at home, where she is most comfortable and not feeling like a patient; like a sick person who needs medical care and assistance.
#2 – "YOU WON'T BE ABLE TO HANDLE THE PAIN; YOU BETTER GO TO THE HOSPITAL IN CASE YOU WANT AN EPIDURAL."
Unfortunately, I was even treated with this gem from my grandmother after I told her I had a natural birth with Olive. What a shame that some people feel the need to ensure those around them are terrified.
I believe that pain during labour is exacerbated by fear. Indeed, my own experiences confirm this theory, and I'm sure many other women who have birthed multiple babies in different locations would agree that their hospital births were more uncomfortable than their home births. Yes, labour and delivery sucks! It is painful. I would be crazy to say that it wasn't… Both of my births were unmedicated – one in hospital and one at home. My home birth, while still incredibly painful, was far more comfortable than I ever imagined my hospital birth being.
If you ever feel tempted to undermine a woman's ability to cope with her labour sensations, DON'T. The media will have already taken care of that for her. The best thing you can do for her is to tell her she CAN do it, and that she WILL do it. A little old-fashioned encouragement goes a long way.
#3 – "WELL, I WAS GLAD I WAS IN THE HOSPITAL FOR MY BIRTH. I WOULD HAVE DIED IF I HAD BEEN AT HOME."
Yes, maybe… but were you a higher risk pregnancy or did complications arise during labour? These two situations would not warrant a home birth. Remember that midwives are trained to know when a transfer to the hospital is required. I know that sometimes complications are unavoidable, and yes I am grateful that modern technology has provided solutions to those complications that have saved the lives of many an infant and their mothers. I also know that births are interfered with in hospitals every single day, and this lack of respect for the normal birth process has resulted in a caesarean rate of almost one third of all births. Of course, a necessary caesarean is an amazing and wonderful thing! An unnecessary one can be a pain in the backside at best, and at worst can have serious ramifications.
#4 – "UGH, WHAT ABOUT THE MESS?!"
I admit, my husband was also concerned about this one!
Birth isn't actually all that messy in most cases. Other than a gush of waters (which could happen at home even if you plan to deliver in hospital), and some bleeding around the time of birth and afterwards, there is usually very little mess. A few sheets or some disposable drop sheets underneath your sacrificial sheet usually suffice to protect ones bed. And if you choose to have a water birth, your mess will be contained within the tub!
#5 – "YOU'RE SELFISH TO PLAN A HOME BIRTH. THAT MIGHT BE WHAT YOU WANT, BUT WHAT ABOUT WHAT'S SAFEST FOR THE BABY?"
Yes, yes, I am incredibly selfish to plan a home birth that is as safe, if not safer than a hospital birth. Many studies have been done that conclude that only 0.35% of midwife attended home births resulted in the death of the baby, in comparison to a 0.64% morbidity rate in physician attended hospital births. If you are at low risk, it is often better and safer to deliver your baby at home in your own environment.
Home birth isn't for everyone, and I'm not trying to convince anybody that it is. This post is simply here to empathise with mothers who have felt frustrated at the judgements of others over their plans.
What comments did you hear while planning your home birth?