01.09.2013
The Pinterest Challenge: Week 1 – Calendar Journal
My Pinterest Boards are growing by the day! I have gotten to the point where I am starting to re-organize by adding more specific boards so I can more easily find what I am looking for instead of combing through my 1000+ pins!! No longer is there a "recipe" board… I now have boards for everything from breakfast to desserts to drinks! I have, on many occasions, made creations from my pins, however  I have realized I am pinning way more than I'm creating! I'm setting out to challenge myself to make at least one pin a week, whether it be a DIY craft for the home, a new recipe, or even implement a new household cleaning schedule!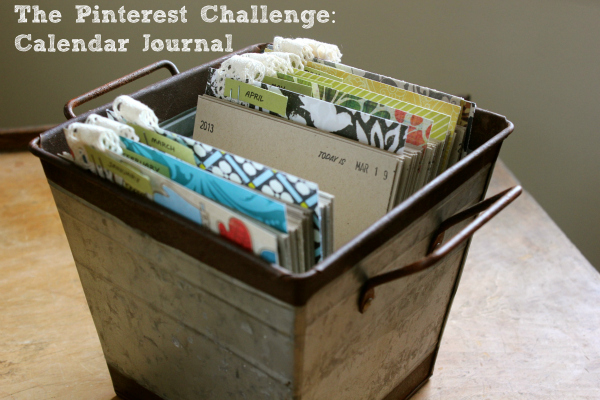 The Challenge: Calendar Journal
Time to Create: 2 hours
Original Creator: Design*Sponge
Share your Calendar Journal design on Instagram using hashtag #thelittleredbutton
This week I made my first DIY of the The Pinterest Challenge – A Calendar Journal! I have always envied the people who could keep a daily detailed journal. I think it is such a unique thing to share with future generations, however I have never been able to make myself sit down every day and write a page about my day. During one of my Pinterest sessions, I came across this unique way to journal from the Design*Sponge. This is a simple and easy way to journal your day, and the best part about it is that it literally only takes a minute to do! Being the start of a brand new year, I thought this was an appropriate pin to start with.
What is a Calendar Journal? A calendar journal includes a card for each day of the year. Everyday you write down the year and one thing you did that day. So, next year when I'm writing my calendar journal entry on January 9, 2014 (assuming I keep this up) I'll be reminded of what I did today. It will be especially satisfying once I have 5 or 10 years of entries on each card! What a simple and easy way to keep track of what I've been doing with my life. It will be nice to challenge myself to do something worth writing down each day—even if it's something small like baking cookies or going for a walk with Baby Blair!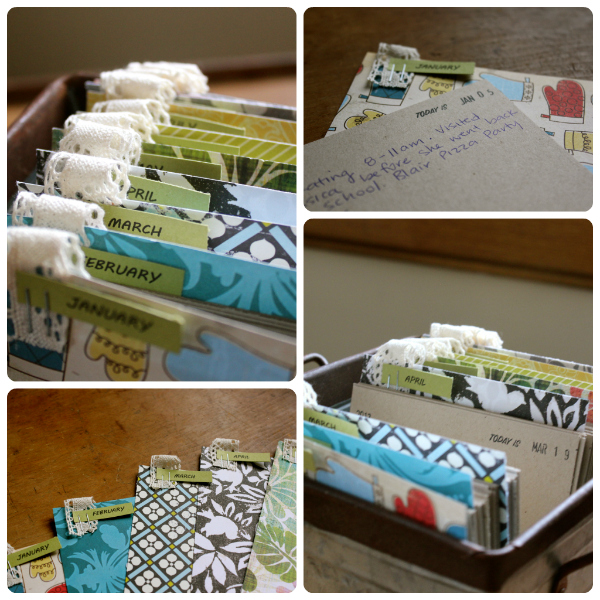 I opted to make my Calendar Journal a little fancier than the one I found on Design Sponge – mainly because I want it to look "attractive" in the future as well. I have had this little metal tin at my house for ages without a real purpose for it so I decided this would be the box I would use. I then made 365 cards with Kraft Paper and stamped every corner with a day of the year (you can simply use cue cards to save on the cutting time if you wish)!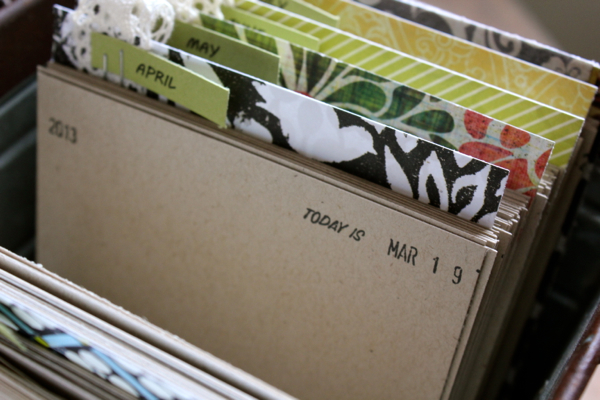 After all the stamping was done, I made dividers for each month using scrap paper I have been saving. I printed each month on a green sheet of cardstock and stapled it, with a piece of lace, to the dividers. It's as easy as that!!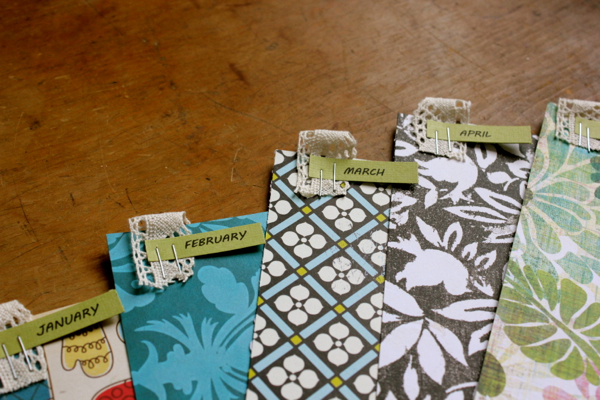 This project took a few hours to complete from start to finish, however I could have cut down on the time if I used pre-made cue cards instead of making my own. Do you think you might try creating your own Calendar Journal? Please share your creations on Instagram by using hashtag #thelittleredbutton – I can't wait to see them!!
Peace, Love and Journaling!
-Stacy