05.09.2015
Twenty Six Months With Olive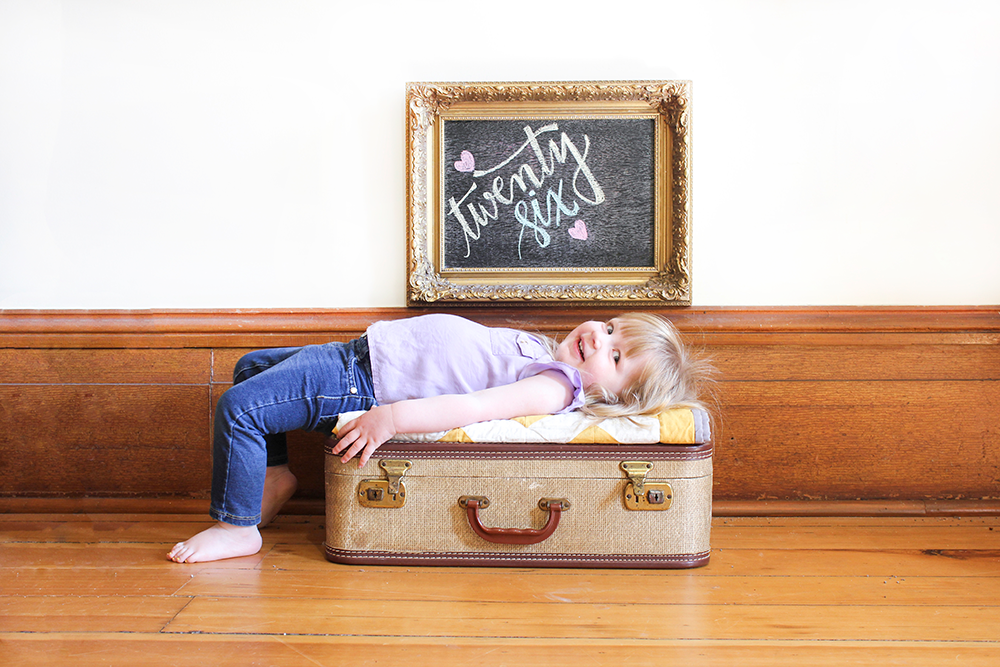 Dear my thoughtful Olive,
Every month I write you these letters, and someday when we look back and read them together I think they'll serve just as much as a record of my life as of yours. Sometimes I look at you and say something that I believe you have never heard before, but yet you fully understand what I want you to do. I just can't grasp how your little mind can handle all this new information (daily!) and remember what every little things means. You truly are a miracle and I love watching you change with every passing day.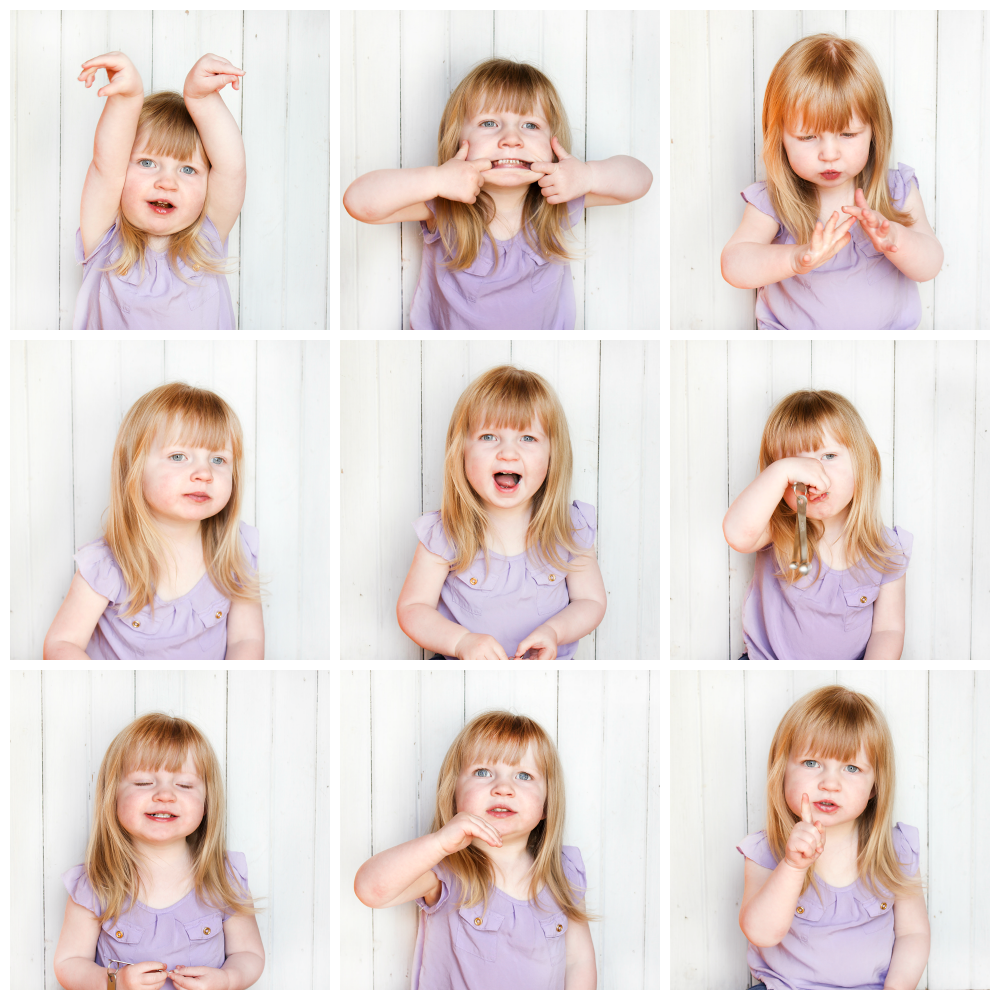 A few weeks ago G and Momma took you on a surprise trip to Kingston for a special Olive Day. We took you to the Grand Theatre to watch Dora the Explorer find her lost Teddy Bear! I didn't know if you would want to sit and watch the entire show or not, so I bought the seats at the very back just in case we had to leave early. Boy, was I wrong! You never took your eyes off the stage. You were so intrigued, every moment! Your eyes lit up the moment Dora and all her friends entered the stage. You were dancing, and singing, and yelling "HI DORA! HI DORA!" You understood exactly what they were doing, because as soon as Dora found her Teddy Bear you started clapping and cheering! To this day, I can still ask you what Dora was trying to find and you will say "Bear". It just amazes me how much you understand. G and I had so much fun watching your reactions during the play. It made for a perfect Sunday. I'm so glad you liked your surprise. You made it so worth it!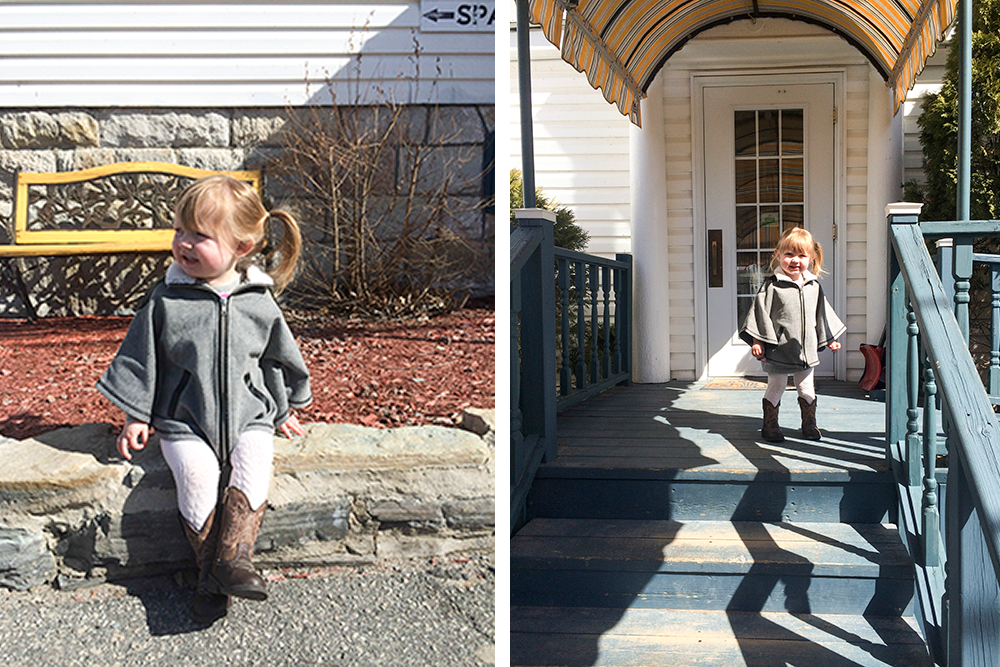 You never miss a thing. Not long ago you spotted a statue of a cow at the Mulville farm on the way into Westport. Now every time we are on our way to Westport you ask "Moo Moo?" and I say "maybe! Watch out your window"! As soon as you see the Moo Moo you scream and cheer and clap! You then follow that up with "Cereal Milk? CEREAL MILK!!!!!!!!" as we pass by the ESSO (because just one time I stopped to buy milk for your cereal after the grocery store was closed). You never miss a thing, Miss Olive… And you never forget! Its little things like this that make me smile! I look forward to our trips in to town just to see how excited you are to see these two "landmarks"!
At just 26 months old (2 years and 2 months!!!), you know how to count to 10. It is just like second nature for you now! You barely have to think about it! It took a little practice to not skip 6, but you don't forget anymore! Actually, sometimes you even remember 11! We have a few counting books that we read on a regular basis, and now you can read them to us. You count the number of dots and look at the picture to tell us what it is (One bike! Two wagons! Three cars!) I know I keep saying this, but 2 years ago you couldn't even hold your own head up, and now you can "read" us a book! You make me so proud!
You are a fan of making phone calls on Mommas "Rone". In the evenings you will come up to me and say "G, Hello? Popa, Hello? Ken Ken, Hello?" That is your way of telling us you want to call them, so I pull out my cell phone and put it on speaker. G usually picks up first and you immediately say "POPA!", G groans and then puts Popa on the phone. He says hello and then you saying "G"! Its your fun little game you play with them! I think it is pretty funny, although I sometimes I think G wishes you would just talk to her!! She loves you so much! You will sit for a little while and have a conversation with them (often insisting that the phone be on your lap). Eventually you will get squirmy and bored of talking so you give the phone kisses and hugs, say "BYE BYE" and "WUV YOU" and press the red button. (Sometimes the red button is pressed mid-conversation so we have to play phone tag to call back). Ken Ken loves getting your calls too, although they usually only last about a minute!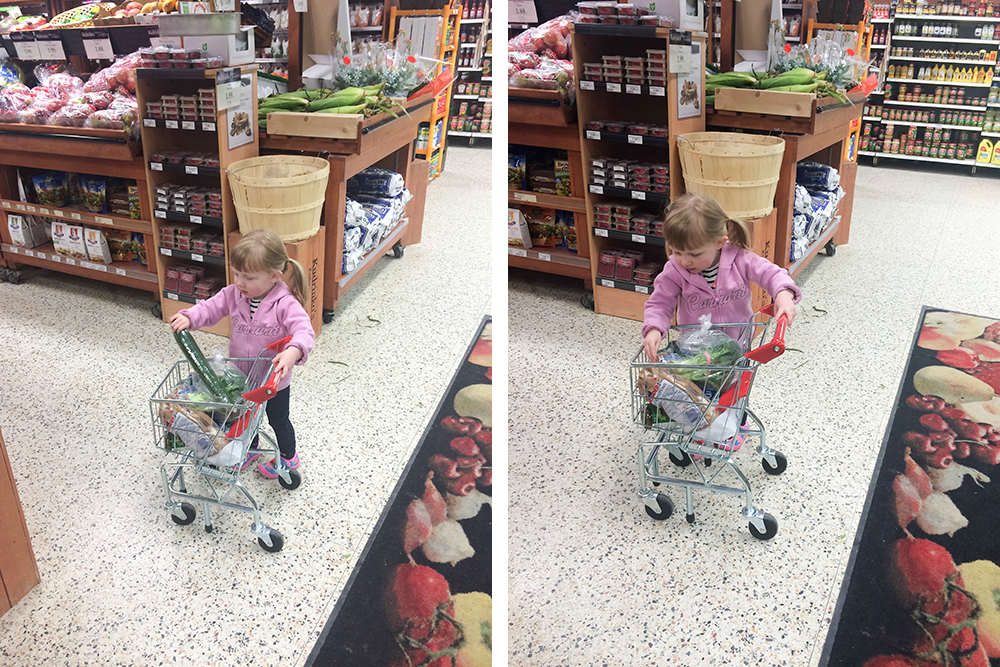 You sure do know how to melt your Momma's heart. One evening we were snuggling on the couch in the kitchen when you looked up at our big wedding photo on the wall. You pointed and said "Momma, Princess!" It literally brought me to tears. It made me realize that you see me for the person that I am and not for the flaws that I criticize myself for every day. You made me feel so special and gave me the best reminder any Momma could ask for. You are such an observant little girl. Lately if I put on a new shirt (or an old one you haven't seen), you come up to me, rub my shirt and say "niiiiice!" or "Momma pretty". The compliments that you come up with are exactly what I need, at exactly the right time. How did I get so lucky to have such a beautiful, loving and caring little girl to call my daughter?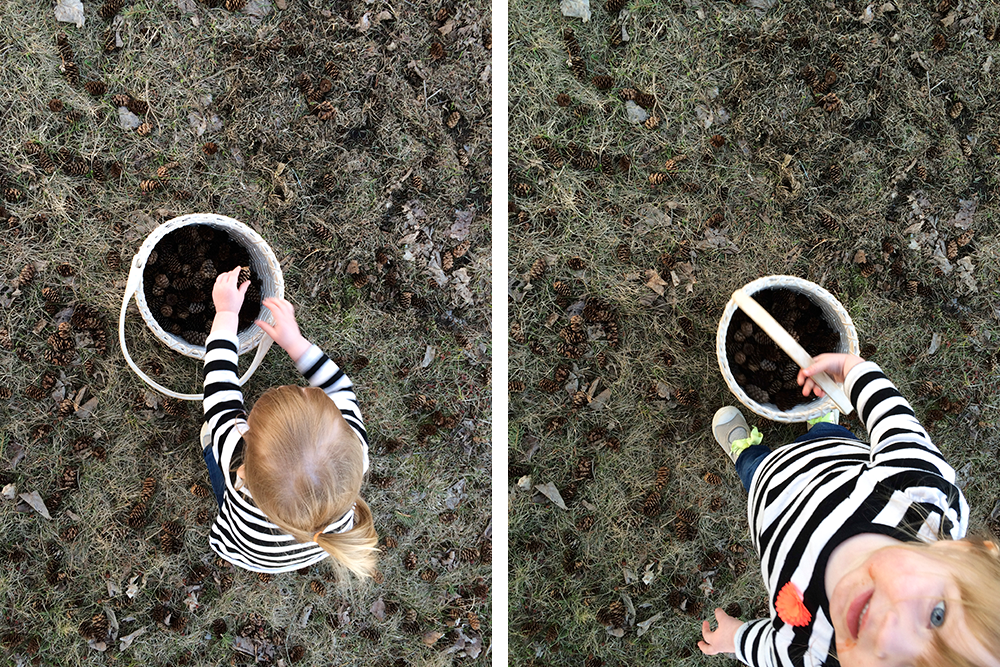 What else is new this month?
Your hair is ridiculously long! When dry, it reaches the middle of your back! We (even Daddy!) try to put it up every day to keep it out of your face. Lately we have been all about the French braids (when you will sit still long enough)!
You are a pocket girl. You love them. You insist on only wearing clothes with pockets. If pockets are still a thing when you get married, I can only assume you will be looking for a dress with them (I only hope that you won't fill your wedding dress pockets with rocks!)
You love apples. You will eat an entire (big) apple all by yourself. You love carrying them around by their "handle" (the stem)! Just the other day you found an apple in our fridge with a "handle" that was 2 inches long! Your mind was blown!
DaDa bought a new work van this month! It's a big white dodge with a 7ft ceiling. You've been having dance parties in the back, and even christened it (you forgot to tell us you had to go pee-pee when you were wearing your Minnie panties! Oops!)
We have been playing outside every day. This winter was so cold, we barely played in the snow at all. Now that spring is finally here, we have been enjoying the warmer weather and green grass! G bought you a wheelbarrow from the hardware store. You have been a great help moving all the weeds and dumping them! Your wheelbarrow goes everywhere!
We have started our Saturday morning dates again. We get up, get dressed, have a quick breakfast and then head in to town before it gets busy. We go to the bakery where you always ask for a bun (pretzel bun) and we also get a loaf of bread and some other treats. Sometimes we stop at the grocery store before heading out on a walk around town. We often end up at St. Ed's sliding down the slides and running on the lawn. I look forward to these dates, just Olla and Momma. I cherish every moment!
Every chance you get, you try to steal Momma's "Rone" (phone) to look at pictures. You love swiping through my album, looking at all the Olla photos and watching all your videos! We try to limit your time on the phones (which you highly disagree with)!
Your favourite colour is still "Lellow-Blue"… I'm not quite sure if you actually mean Green? Or maybe you have discovered a new shade?! Everything is Lellow-Blue (except Orange. Orange is Orange)!
You got your first boo-boo… and you second… this month. You don't really walk anymore – you run! And you found out the consequences of running on pavement! You scratched your knee and you elbow, but to my surprise you think they are pretty! You show everyone your boo-boos and nod your head while saying "PRETTY"! It is so funny!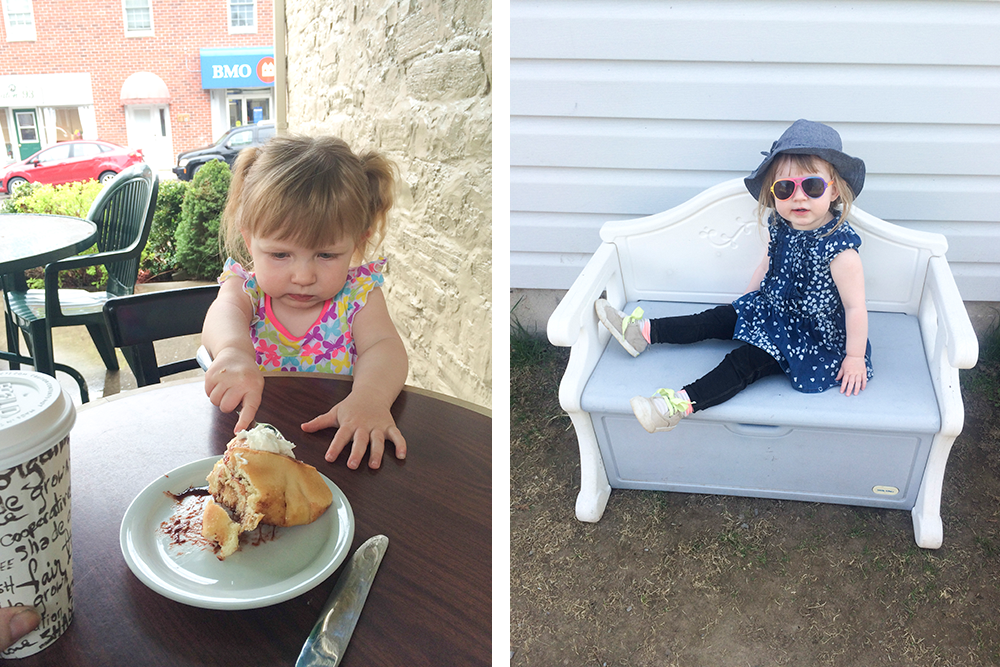 The best thing about raising a young girl is watching her alternate between when she wants to be quiet and left alone, and when she wants to be loud. That kind of self-knowledge is very impressive. It's a powerful and inspiring thing to watch a little girl get to know herself before the world tells her who she's supposed to be. I feel like my job as your mother, first and foremost, is to protect your soul and keep you safe from the voices that will always surround you, trying to lure you away from what you know is right for you. The things you want to do, the ideas and dreams that feed your soul and bring you happiness, and the pride you feel for every little victory as you figure it all out are the most important things for me to protect as a parent, and the greatest honour too. These are changing times, and you're part of a unique and auspicious generation, and you will have a lot of power and influence over the world as you grow up. I'm doing what I can to make that world a good place for you, a safe place for you. When you get older and leave my nest and pick up the torch and make your own name in the world, I promise that I did everything I could to help you know your own power. In the noise, and in the quiet.
I love you to the moon and back.
xoxoxox
-Momma